Last offseason, we improved our modeling and methodology for the PFF Fantasy Expected Points Tool, which looks back at past weeks and calculates how many fantasy football points we should have expected from players based upon the context of their usage — including down, distance and field position. For passing plays, the expected fantasy points model also factors in whether play action was used, horizontal field location and if the catch was contested.
Editor's Note: PFF's 2021 Fantasy Football Draft Guide and 2021 Fantasy Football Cheat Sheets are LIVE!
While some players, especially quarterbacks, consistently produce with more or less efficiency than league averages, most of the fantasy production for running backs and receivers is dependent on opportunity, either created by themselves in the case of targets or given to them with carries. 
By comparing the number of fantasy points we would have expected for players to their actual scoring, we can identify those with the most fruitful usage and easily point to players due for positive or negative regression. 
The Fantasy Expected Points Tool has data going back to 2019 and is customizable by week, allowing us to see how players' usages changed depending on their quarterbacks, which defenses they faced or shifts in their roles over the season.
Below are the top 10 running backs from the 2020 season in fantasy expected points per game. Their stats are broken out by rushing and receiving, with exact figures on each component of fantasy scoring for expected and actual numbers.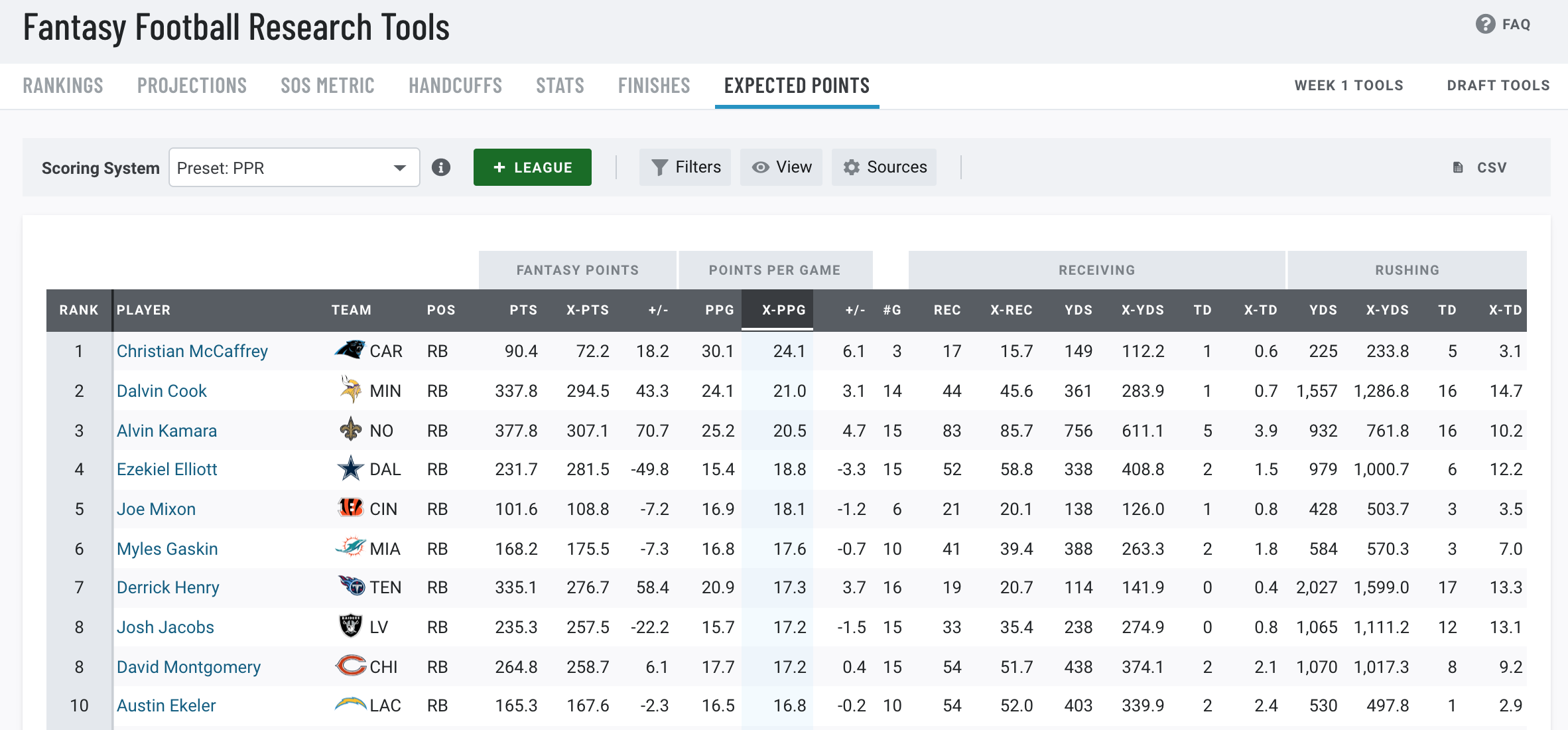 McCaffrey averaged 24.4 fantasy points per game last year despite missing parts of two of the three games in which he played. He played 97% of the Carolina Panthers' offensive snaps in Week 1 but only 64% and 71% of the snaps in Weeks 2 and 9, respectively, before leaving due to injury. 
McCaffrey is such a safe bet as the 1.01 because he easily led the field in fantasy scoring without dramatically outperforming his fantasy expected points mark. His somewhat limited workload in the three games he played was good enough for 24.1 expected fantasy points per game, 3.1 more points than any other running back last season and only two points lower than his 2019 figure.
Mixon ranked fifth with 18.1 fantasy expected points per game in 2020, roughly 2.5 more points than his 2019 average. He slightly underperformed based on those expectations over the first six weeks of the season — when he was healthy — but he was part of a Cincinnati Bengals offense that struggled with its efficiency early in the season with rookie Joe Burrow.
Subscribe to PFF Edge to continue reading
Already have a subscription? Sign In