Every February, fantasy football analysts start building out a set of rankings for the incoming class of rookies and continue to adjust it up until the draft. Once the draft hits, those ranking become dangerously wrong. While original evaluations should always play a major role in rankings, landing spot becomes the biggest factor.
Not only is team landing spot important, but so too is where in the draft a player is selected. The higher a player is drafted, the more likely he is to achieve fantasy success. It makes sense in theory too — teams have more invested in these players, and thus, are more invested in seeing them succeed.
Taking these factors into account, here is a look at the prognoses for the 2019 draft's most notable fantasy quarterbacks.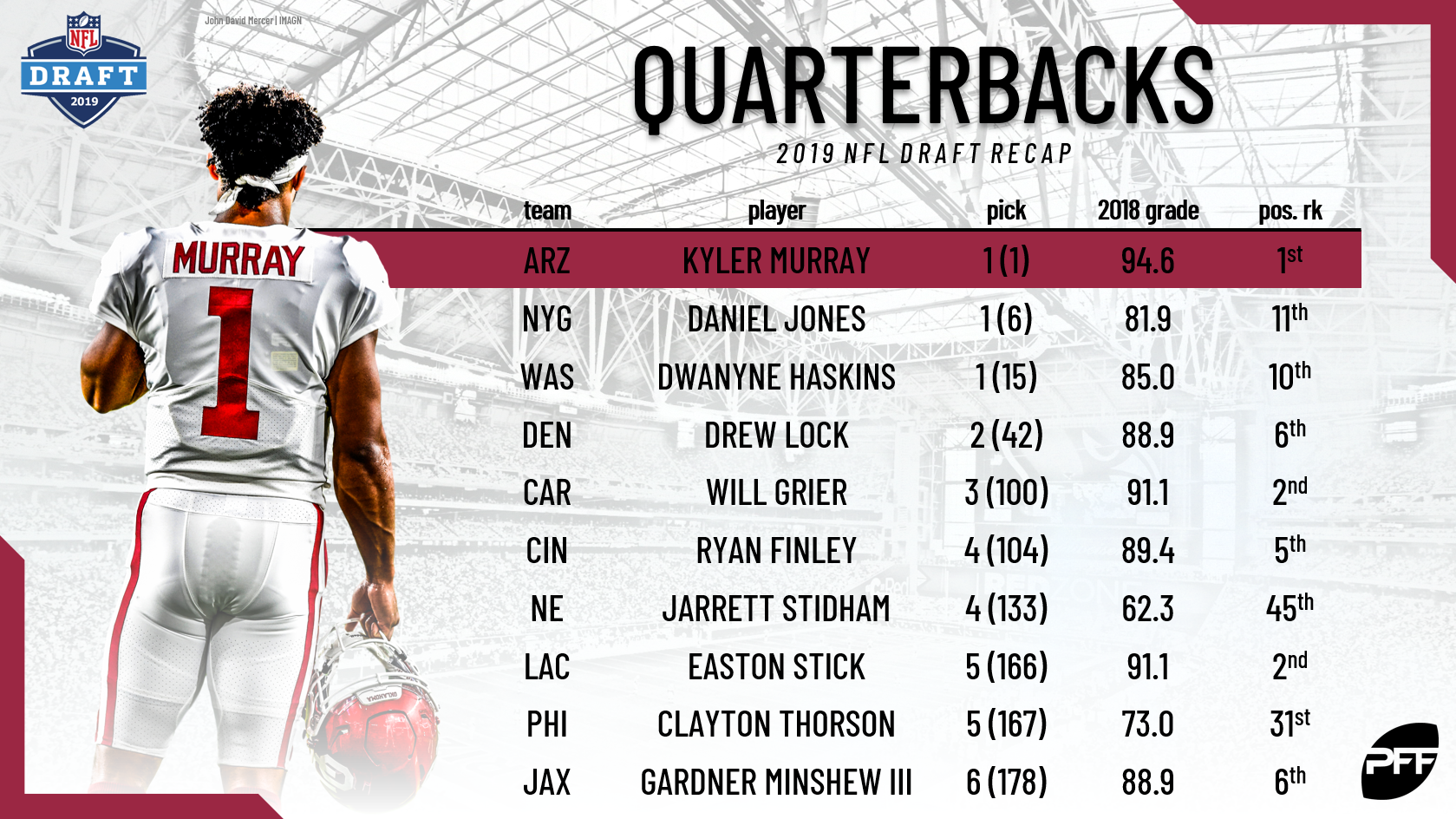 Arizona was always Murray's most likely landing spot, but it was also his ideal one. What this landing spot lacked in roster talent was made up for by scheme fit. New head coach Kliff Kingsbury runs a potent fast-paced and high-powered offense that once helped lift another mobile quarterback to elite heights. In 2012, with Kingsbury as his offensive coordinator, Johnny Manziel totaled 510.2 fantasy points, or the fifth-most by any Division I quarterback since 2000. In 2013, after Kingsbury left, Manziel saw a massive reduction in fantasy points (429.5), rushing volume (1,410 to 759), and rushing efficiency (7.0 yards per carry to 5.3).
Last season, Murray totaled the most passing yards and most passing touchdowns of any Division I quarterback with at least 1,000 rushing yards. His passing stats were nearly identical to Baker Mayfield's best season, while also adding 1,071 yards and 12 touchdowns on the ground. Murray's ability as a runner cannot be overstated in terms of its fantasy impact. From Week 11 until the end of the regular season, Josh Allen ranked second and Lamar Jackson 11th (of 32 qualifying quarterbacks) in fantasy points per game, despite ranking second- and sixth-worst, respectively, in passer rating. Murray is at least comparable to both as a runner, while also being dramatically more efficient and accurate as a passer.
This draft also helped elevate a roster that was initially devoid of competent pass-catchers. Arizona drafted two of our top-six wide receivers in Andy Isabella and Hakeem Butler, while also adding our No. 7 tight end (Caleb Wilson) and another wide receiver in KeeSean Johnson. Offensive line is still an area of need, however, as Arizona earned our worst overall team pass-blocking grade and didn't select an offensive lineman until the sixth round. Despite that, as well as general inexperience, Murray flirts with QB1-upside in Year 1.
Dynasty rookie ranking: QB1, No. 16 overall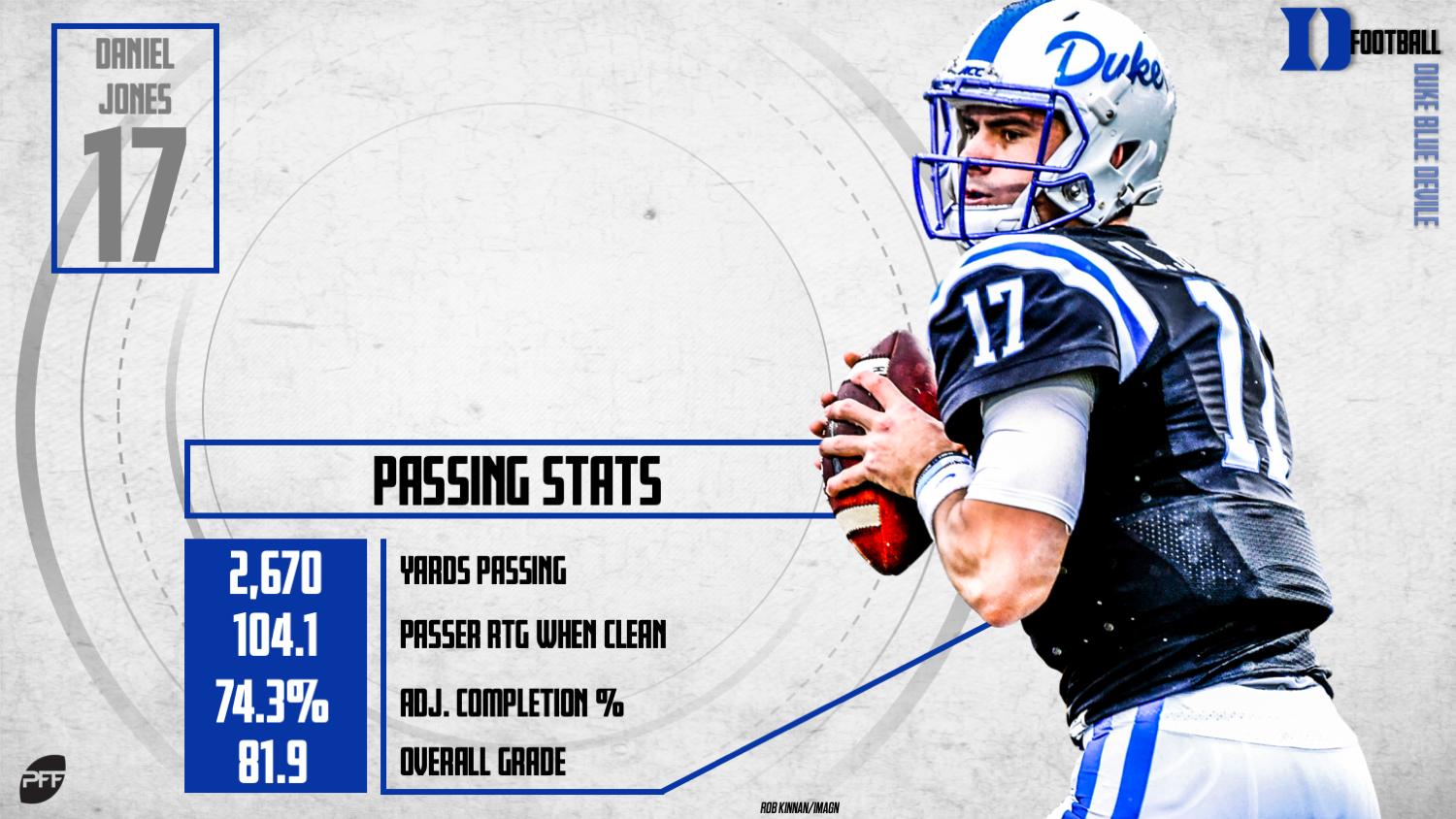 This was easily the most divisive pick in the draft, and Jones was easily one of the most divisive players in the draft. His raw numbers look particularly underwhelming compared to the capital spent to acquire him, but as I argued here, those numbers need to be taken with a grain of salt. Jones struggled with atrocious pass-blocking and a poor receiving corps but did uplift his supporting cast and played well when adjusting for those factors.
Still, he was only the No. 5 quarterback in our draft guide and now joins an anemic Odell Beckham-less run-first Giants offense. Worse yet, following the selection of Jones, Dave Gettleman made sure everyone knew Jones would not be competing with Eli Manning for starting duties in Year 1, and might even sit for three years (following the "Green Bay model").
A risky prospect, on a poor roster, who might not even start for three years? Yeah, Jones shouldn't be high on our radars, and might not even be worth a draft pick outside of superflex or 2QB dynasty leagues.
Dynasty rookie ranking: QB3, No. 46 overall
Haskins — the No. 2 quarterback in our draft guide — might prove to be one of the steals of the draft, falling to the QB-needy Redskins. Following the selection, head coach Jay Gruden made it clear that if Haskins outperforms Case Keenum and Colt McCoy in training camp, he'll see the field. That might be likely considering Keenum's performance last year. He ranked fourth-worst in passer rating and sixth-worst in PFF grade (of 27 qualifying quarterbacks) last year. McCoy too, might have an uphill battle, as he'll miss a portion of training camp rehabbing from his third surgery on a broken leg suffered last year.
Gruden's quarterbacks underwhelmed for fantasy last year, but he has a long history of coaxing QB1 production from his passers. As a team, prior to last season, Gruden's quarterbacks have ranked seventh, fifth, 10th, and 16th in fantasy points over four seasons as head coach. In Gruden's final season as offensive coordinator (2013, with Cincinnati) Andy Dalton finished third at the position in fantasy points per game.
In fantasy rookie drafts, Haskins might not be worth a high draft pick, but he should be the second quarterback off the board.
Dynasty rookie ranking: QB2, No. 35 overall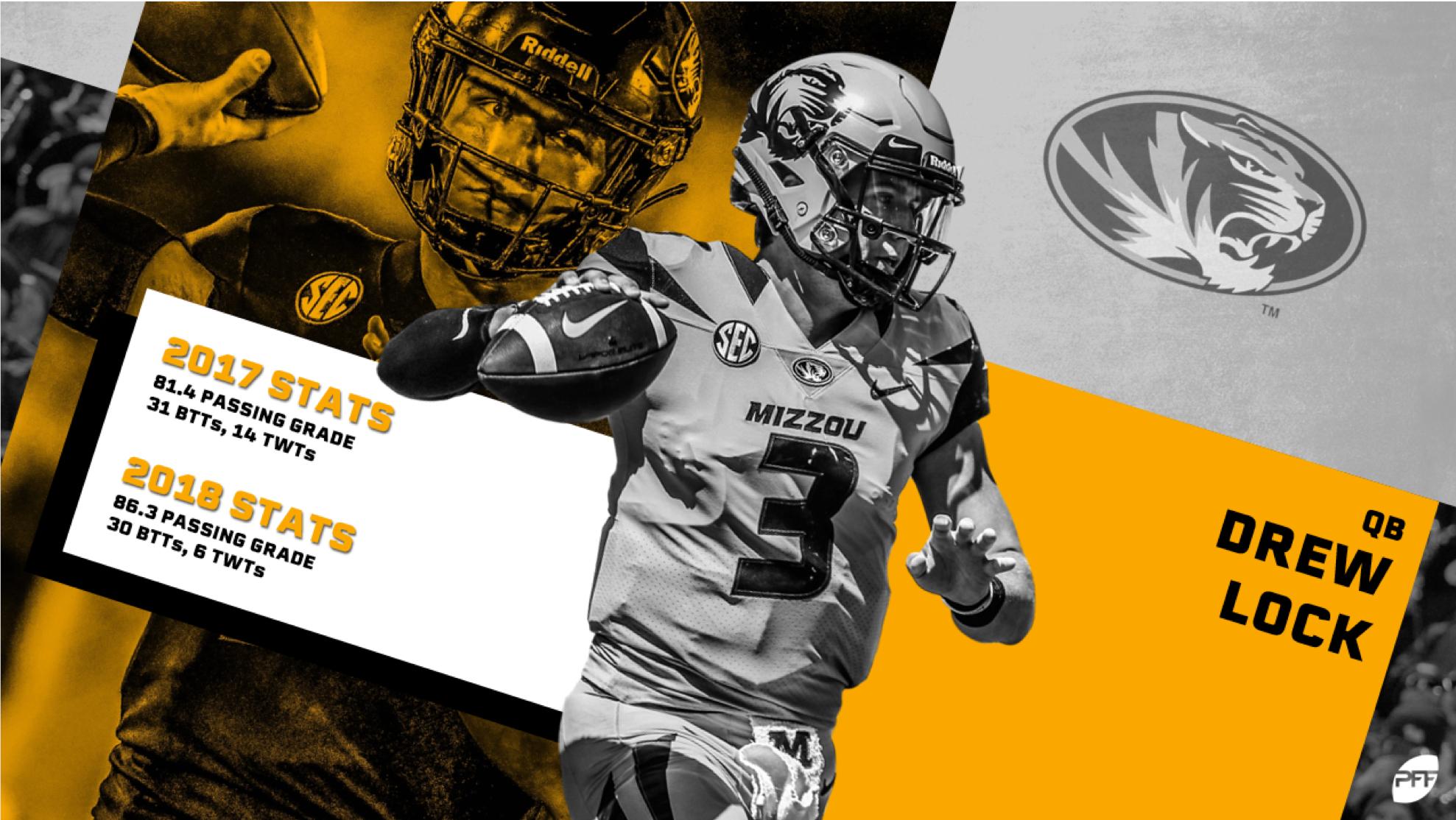 Following Denver's Day 2 selection of Lock, GM John Elway confirmed Joe Flacco was going be his starter in 2019, but also told reporters Lock was the top quarterback on his board. We weren't quite as high on Lock, ranking him fourth in our draft guide, but it is important to note for his long-term upside just how highly the team regards Lock.
Like with Jones, Denver's roster talent is a bit worrisome for Lock's fantasy appeal. Over the past four seasons, Denver's quarterbacks have ranked 25th, 23rd, 27th, and 29th in fantasy points scored. They drafted a competent pass-catching tight end in Noah Fant, but don't have much of a receiving corps outside of him. Emmanuel Sanders is 32 and coming off an Achilles injury, and fellow wide receivers Courtland Sutton, DaeSean Hamilton, and Tim Patrick all graded among our bottom-26 wide receivers last year of 84 qualifying.
Like Jones, Lock is not someone to really keep an eye on outside of in superflex and 2QB dynasty leagues.
Dynasty rookie ranking: QB4, No. 47 overall
Although Grier was just the fifth quarterback drafted, he was my second-favorite prospect, blowing away all non-Murray quarterbacks in PFF grade, depth-adjusted completion percentage, and adjusted passer rating. Unfortunately for his fantasy prospects, he'll be buried behind Cam Newton for a number of years. Newton has just two years left on his contract (with $0 guaranteed), but it's unlikely Grier sees the field anytime soon without Newton suffering an injury. GM Marty Hurney and head coach Ron Rivera confirmed as much in their Day 2 post-draft press conference. He's a player to monitor, but not necessarily one to draft.
Dynasty rookie ranking: QB5
What Stidham lacks in buzz and pedigree (the No. 10 quarterback in our draft guide) gets made up for in landing spot. Tom Brady is turning 42 years old this year and head coach Bill Belichick is the greatest coach in all of sports. That alone makes Stidham worthy of a draft pick in deep dynasty leagues.
Dynasty rookie ranking: QB6