At this time last year, there was a long, drawn-out and unnecessary debate in the fantasy football community as to which rookie quarterback was the top one to own in dynasty leagues. For PFF, the answer was easy: Baker Mayfield.
For similar reasons as to why we liked Mayfield, Kyler Murray is our top quarterback in the draft this year and the top quarterback in our dynasty rookie rankings. This shouldn't even be a debate.
A better question is, "Who should be the first quarterback drafted after Murray in dynasty leagues?" So, let's spend some time looking at who stands out directly behind him. Our data suggest it's one of either West Virginia's Will Grier, Missouri's Drew Lock, or Ohio State's Dwayne Haskins.
Let's compare those three here using our best metrics:
Grades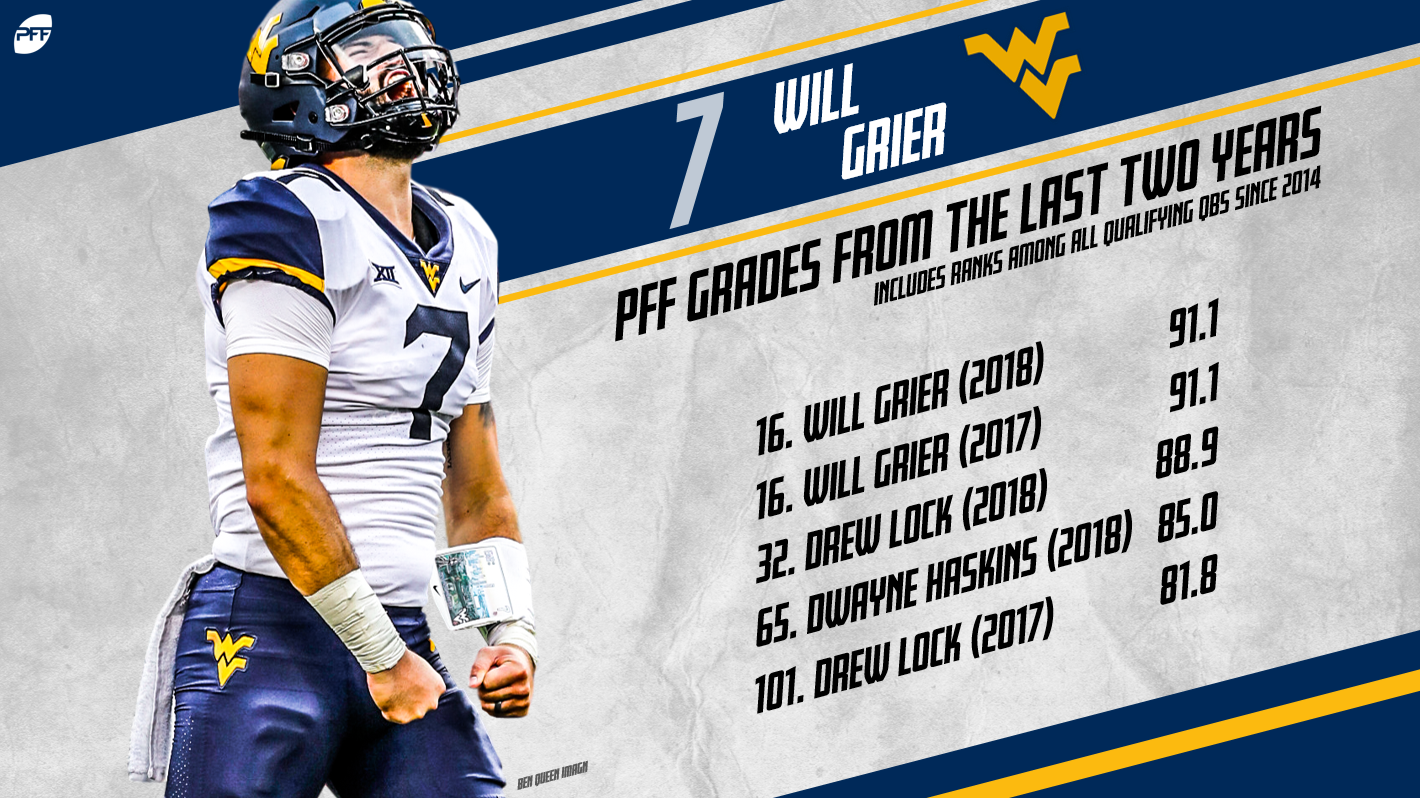 We first started tracking NCAA players in 2014. In that span, Grier owns two of our 20 highest-graded seasons ever awarded to a college quarterback (at 91.1 in both 2017 and 2018, he's tied with himself for 16th). Murray is the only other draft-eligible quarterback with a season in the top-25 — his 2018 season ranks behind only Mayfield's 2017. Lock's best season (2018) ranks 32nd, while his other seasons all rank outside of the top-100. Haskins' best season (2018) ranks just 65th-best since 2014.
Advantage: Grier
Depth-adjusted completion percentage
My favorite metric for measuring quarterback accuracy is depth-adjusted completion percentage, which I explained in-depth last week, and Josh Hermseyer proved is a highly effective metric for predicting success at the next level.
Among all Power-5 quarterbacks last year, Grier ranked third-best in depth-adjusted completion percentage, behind only Murray and Tua Tagovailoa. Haskins ranked 12th and Lock 21st. In 2017, Grier ranked second-best, behind only Mayfield. Haskins failed to qualify in 2017, while Lock ranked fifth-best.
Advantage: Grier
Passer rating
In 2018, Tagovailoa led all quarterbacks in passer rating (137.5), followed by Murray (137.2), Haskins (122.9), and then Grier (121.9). Lock ranked 21st (101.7). Throughout their respective careers, Haskins (126.0) again ranks higher than both Grier (117.2) and Lock (97.9). Although Haskins seems to have both quarterbacks beat in this metric, adjusted passer rating tells an entirely different story.
Grier has a career adjusted passer rating of 112.8, which ranks third-best (behind only Mayfield and Murray since 2014). Meanwhile, Haskins' 105.3 adjusted passer rating ranks 14th-best of 201 qualifiers. Of those 201 qualifiers, Haskins was also our third-biggest faller when contrasting actual passer rating with adjusted-passer rating (-20.7).
Although Haskins was elite in touchdown rate (fifth-best), he was actually well below average in big time throw percentage (128th). Similarly, he ranked fifth in interception percentage but 21st in turnover worthy throw percentage. This implies Haskins got a little lucky in the interception department (perhaps a number of these throws were dropped by defenders), while continually getting bailed out by playmakers scoring touchdowns due to skills after the catch (thank you Parris Campbell) rather than from quarterback play. The reverse was true for both Grier and Lock.
Though Lock struggled by this metric early in his career, he ranked behind Grier and ahead of Haskins in each of the past two seasons.
Advantage: Grier
Strength of schedule
Lock has played in 51 career games, compared Grier's 23 and Haskins' 22.
Haskins has started in four games against defenses ranking top-25 in passer rating allowed throughout his career. Although all of these teams held their collective opponents to a passer rating below 80.0, Haskins averaged a 118.1 passer rating against them, with 350.0 passing yards per game and a 13:2 touchdown:interception ratio.
In seven career games against teams ranking top-25 in passer rating allowed, Lock averaged a passer rating of just 66.7. Grier, meanwhile, never played against a defense ranking top-25 in passer rating allowed.
Advantage: Haskins
Supporting cast
Among all 64 Power-5 teams in 2018, Grier's West Virginia Mountaineers ranked second-best in team passing grade, while Lock's Missouri Tigers ranked ninth and Haskins' Ohio State Buckeyes ranked 12th.
Missouri ranked 21st in team pass blocking grade, while West Virginia ranked 27th and Ohio State ranked 33rd. Ohio State ranked sixth-best in team receiving grade, while West Virginia ranked ninth and Missouri ranked 36th.
Advantage: Even
Conclusion
Based on everything we've looked at here, I feel confident ranking Grier as the No. 2 rookie quarterback in 2019 dynasty drafts. After him, it's a much closer call between Lock and Haskins for who is more deserving of QB3 status. And then, after them, there's a steep dropoff — both in my rankings and in the metrics we've already discussed.
As always, when analyzing rookies, landing spot and draft capital tend to be the true deciding factors. This could easily move Lock or Haskins above Grier after the draft, or maybe even Daniel Jones above anyone but Murray.
On Tuesday, Adam Schefter reported that both Jones and Lock will be attending the NFL Draft while Grier and Haskins will be watching at home, perhaps implying the consensus is neither quarterback is likely of being a Day 1 pick. This alone broke the tie for me between Lock and Haskins. Lock was our highest-graded draft-eligible quarterback on deep passes last year, which is certainly something NFL teams tend to covet (read: overrate), so it wouldn't surprise me if he's the second quarterback drafted later this month.
By every metric we've looked at so far, Jones looked significantly worse compared to Grier, Lock, or Haskins, but, as I tried to outline, he also had a number of extenuating factors working against him negatively impacting his numbers.
To see our full dynasty rookie rankings, click here.