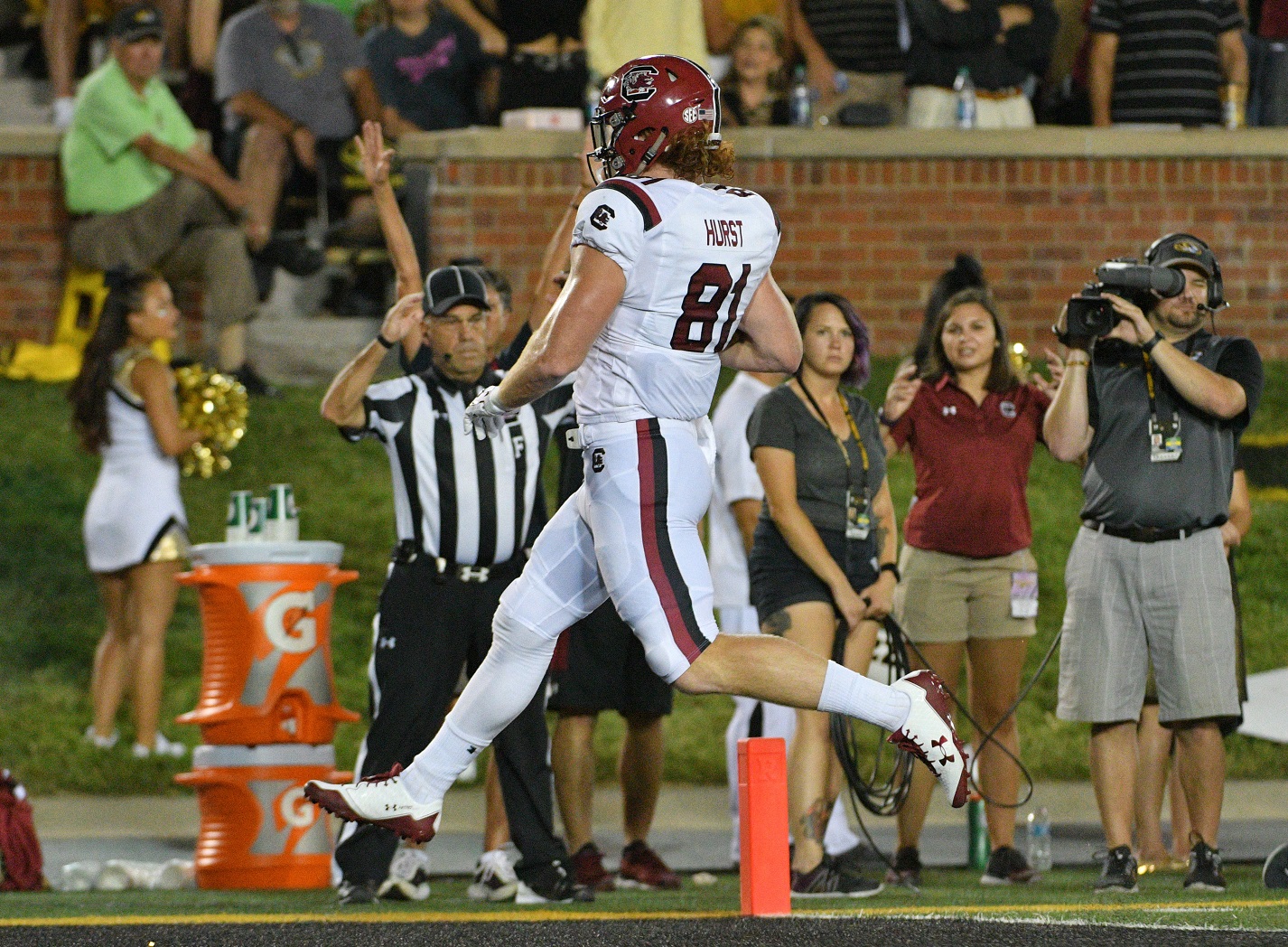 Sep 9, 2017; Columbia, MO, USA; South Carolina Gamecocks tight end Hayden Hurst (81) runs in for a touchdown during the second half against the Missouri Tigers at Faurot Field. Mandatory Credit: Denny Medley-USA TODAY Sports
Similar to redraft leagues, dynasty and devy fantasy football leagues see stock fluctuations throughout the season. However, they are not always as obvious since these fantasy owners are playing both a short- and long-term game. This series will examine some dynasty and devy options who are emerging or fading as a result of injury, performance, or opportunity.
Dynasty stock up
Keelan Cole, WR, Jacksonville Jaguars
Almost included in the last edition, Cole has since been the top-ranked fantasy wide receiver. The 24-year-old rookie was dominant in college, albeit at a small school (Kentucky Wesleyan), and averaged 24.6 yards per reception his last year before the NFL draft. Decent size (6-foot-1, 194 pounds) and a clear role, 24 percent of his targets are 20-plus yards, makes Cole an intriguing option as the Jaguars receiving group gets sorted out this offseason.
Rod Smith, RB, Dallas Cowboys
There is no path to a starting role in Dallas thanks to Ezekiel Elliott, but Smith has shown enough versatility to assume a role going forward. During Elliott's suspension, Smith has caught 14 of 16 targets, valuable considering Elliott has 19 total catches on the season. The last six weeks also has Smith ranked 12th in total routes run by a running back, furthering the idea that he could be a complement to Elliott as a receiving back.
Trey Burton, TE, Philadelphia Eagles
Just like last year, when Zach Ertz has been hurt, Burton does more than just fill in. He is the top tight end in fantasy over the last two weeks, scoring three touchdowns during that time. An undrafted free agent in 2014, Burton is a good athlete who is scheduled to become an unrestricted free agent. With plenty of teams looking for a playmaking tight end, Burton should see no shortage of interest.
Damiere Byrd, WR, Carolina Panthers
A long shot in the truest sense of the phrase, Byrd has suddenly become a player of interest after a two-touchdown performance against the Packers. Coming out of South Carolina, Byrd was not seen as a strong prospect, but did have one asset. Considered a speed demon, Byrd clocked a 4.28 40-yard dash at his pro day, a nod to his track and field days. He may see more time, and a bigger role, if he can make a strong push to end the season. That, along with his special-teams abilities, should make Byrd an intriguing hold in deeper formats.
Devy stock up
Hayden Hurst, TE, South Carolina
The draft community is split on Hurst's draft value, but he has prototypical size for the position (6-foot-5, 250 pounds) and is a good athlete, having been in the minor leagues for the Pittsburgh Pirates. That also makes him an older rookie (25 by the NFL season) but with 40-plus receptions the last two years, averaging close to 14 yards per reception, there is big-play ability. Add in his No. 7 rank for forced missed tackles and sixth ranking for total pass routes run and a team would get an instant contributor, which is sorely needed with nearly half the NFL looking for a difference maker at the position.
Will Grier, QB, West Virginia
Normally, it is difficult to raise the stock of a potential top player returning to school. However, Grier has red flags around his suspension and transfer from Florida as well as an injury to his hand that slowed him a bit down the stretch. Not only does Grier have a chance to push these questions further into his past, but he won't have to contend with a strong 2018 quarterback class. Waiting a year could just as easily make him millions as it could cost him.
Dynasty stock down
Matt Breida, RB, San Francisco 49ers
There was some optimism going into the season that the young running back could work his way into a timeshare. While that has proven true to some extent, Breida is averaging less yards after contact and has a lower elusive rating than Carlos Hyde. He also only has one run of 15-plus yards, meaning that he does not provide explosiveness that the team needs. Expect the 49ers to look for a new featured running back with Hyde becoming a free agent with Breida battling to remain a part of the offense.
Josh Doctson, WR, Washington Redskins
This is a slight decline in value. Doctson has been a starter most the season but has seen nearly 100 percent of the snaps in the second half of the year. With Jordan Reed, Terrelle Pryor, and Chris Thompson all out of the lineup, it was expected that Doctson would step up into the spotlight. Instead, Jamison Crowder has emerged as the primary option while Doctson hasn't exceeded 40 yards in a game for an entire month. There is still time here but the team could look for another wide receiver this offseason.
Mike Williams, WR, San Diego Chargers
Talk about premature. Williams has only appeared in seven games, but he has failed to do much with limited opportunity. He has barely caught half his targets (53 percent) and has four games under 10 receiving yards. While his snap count seems to be monitored (31 percent), the success of Keenan Allen and flashes by Tyrell Williams is keeping him suppressed. If his value is dropping, it is worth offering an owner a discounted price.
Austin Hooper, TE, Atlanta Falcons
A hot tight end sleeper before the season, Hooper started well (128 yards with a touchdown in Week 1), but has since struggled. Some of that is related to Matt Ryan's unsurprising fall from grace, but Hooper has seen two targets or fewer in 40 percent of his games. The talent isn't being questioned here, simply what role the Falcons envision for him in future years.
Devy stock down
David Sills, WR, West Virginia
While Grier's decision to stay seems like a positive, this decision is harder to see helping him as an NFL prospect. Sills has size (6-foot-4, 205 pounds) and used it to lead college receivers in touchdowns (18) despite just 60 total receptions. One-third of his targets went for 20-plus yards with Sills catching 12 of them including five for touchdowns. The NFL always puts a premium on big play, physical receivers who are capable of winning downfield or in the red zone. The upside to another year in college seems limited.
Nick Fitzgerald, QB, Mississippi State
A regression in his passing stats including declines in yards per attempt (from 6.7 to 6.2) and touchdown to interception ratio (21:10 to 15:11) is compounded by Fitzgerald missing the upcoming bowl game. He is a dynamic runner, just 16 yards short of his second straight 1,000-yard rushing season along with 30 rushing touchdowns in the last two years. This was a big stage for Fitzgerald to impress scouts before deciding on whether to declare for the NFL draft. Likely, he will be back for another year to try and make improvements.