Of our Signature Stats at PFF, I'm particularly engrossed by a running back's breakaway percentage — or, the percentage of a back's rushing yards that come on runs of 15-plus yards.
I find it a fascinating number, not only because it's open to interpretation. If a percentage is high, is the back so explosive that you want to invest in him, or did he stumble into a handful of runs that aren't repeatable? If it's low, is he a plodder who relies on quantity over quality, or does that prove that his team trusts him even if an offensive line isn't giving him great lanes?
The truth is that it depends. Leonard Fournette had the longest run of 2017, at 90 yards, and tied for the third-longest, at 75. His third-longest run? 28 yards. Fournette had a productive rookie year, finishing as the No. 10 PPR back even having missed three games, but he only topped 4.0 yards per carry in three of his 13 games, and two of those were only on the backs of those two longest runs. By contrast, Kareem Hunt's rookie year featured 16 games — and more than 4.0 yards per carry in 11 of them.
Below, I'm just having some fun with the history of breakaway percentage, back to 2006. Some tidbits and interesting takeaways:
In 2007, Chris Johnson had 30 runs of 15-plus yards. That's the second-most since 2006. The most? Adrian Peterson in 2012, with 40. He had a full 10 breakaway carries more than the second-best of the last 12 years. By contrast, Hunt had the most 15-plus-yard carries in 2017, at only 19.
Year-over-year changes: In 2016 with the Bills, Mike Gillislee had 100 carries, including 10 of 15-plus yards. In 2017 with the Patriots, he had 104 carries, including one of 15-plus yards. Of Gillislee's 383 rushing yards, 16 came on that single "breakaway" run. The only qualified running backs with fewer breakaway yards since 2006 were:

Fred Jackson, 2012 (1 run for 15 yards)
Danny Woodhead, 2013 (0 breakaway runs)
Kevan Barlow, 2006 (0 breakaway runs)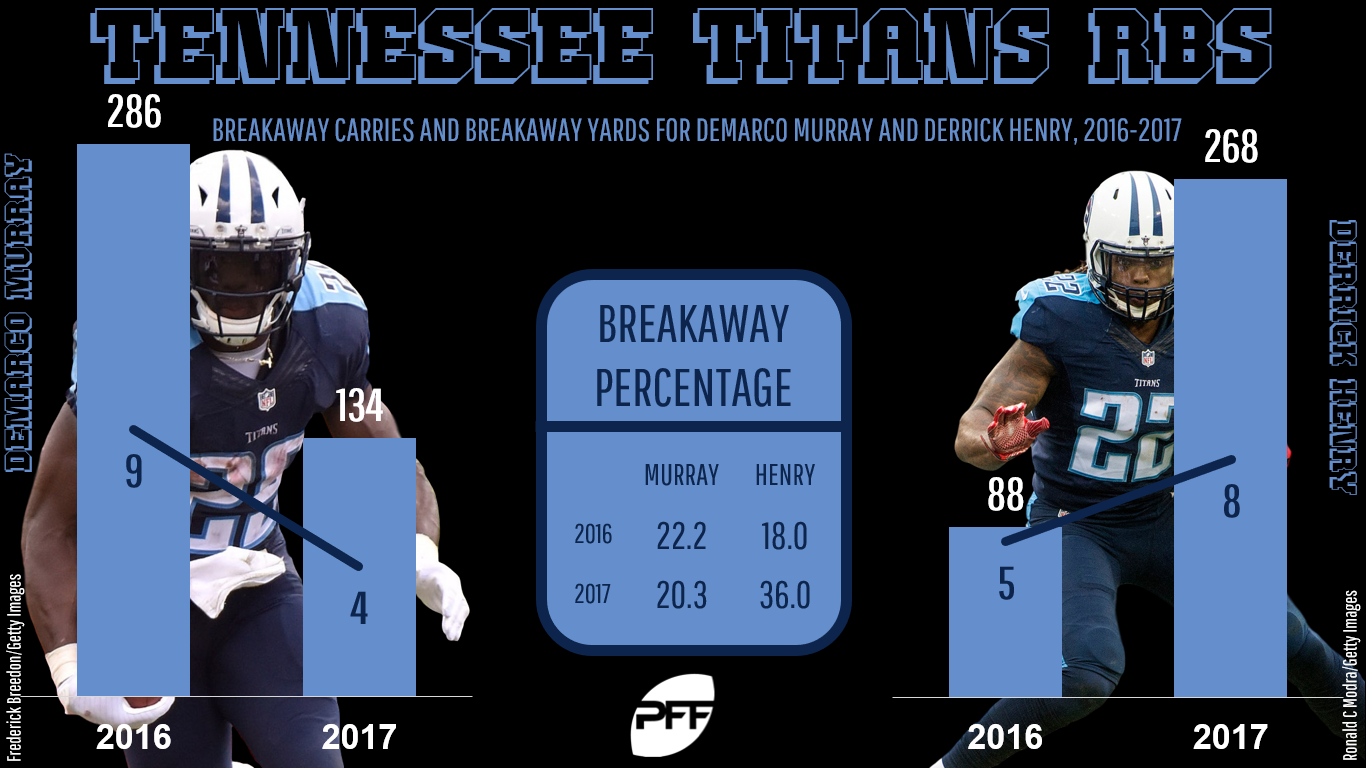 Yards per carry without breakaway numbers
I took every qualified running back's overall rushing numbers and took out all carries of 15-plus yards. I don't think this number means much of anything, but I found it interesting in a list. Here's the top 10:
Yards Per Carry Without Breakaway Carries
Name
Team
 Carries
Yards
YPC
 Alvin Kamara
NO
107
426
3.98
 Matt Breida
SF
101
393
3.89
 Wayne Gallman
NYG
108
416
3.85
 Dion Lewis
NE
169
640
3.79
 Aaron Jones
GB
73
266
3.64
 Mike Gillislee
NE
103
367
3.56
 Duke Johnson
CLV
76
268
3.53
 Alfred Morris
DAL
109
384
3.52
 Todd Gurley
LA
264
928
3.52
 Jamaal Williams
GB
152
531
3.49