One of the advantages of being a "data scientist" is that everyone assumes you know what you're talking about. While that has its privileges, more important to the craft is the ability to leverage statistical programming packages, such as R and Python, and apply them to almost any question that can be answered through data.
---
Click here for more PFF tools:
Rankings & Projections | WR/CB Matchup Chart | NFL & NCAA Betting Dashboards | NFL Player Props tool | NFL & NCAA Power Rankings
Best Bets Tool
---
I publish analyses on the single-game DraftKings showdown slates that use the combination of current projections, historical game results and similarity algorithms to simulate an upcoming game by looking back at the most similar historical matchups. In this analysis, I'm taking the same outline and applying it instead to the DFS main slate by projecting the likelihood each individual quarterback, running back, wide receiver, tight end and D/ST option will be the highest scorer of the slate. In doing this, we can find the unlikely tournament plays who may not have been on your radar.
METHODOLOGY
For the DFS Saturday and Sunday wild card slates, I looked through thousands of NFL matchups from 2014-2021 and found the closest analogies according to the following parameters: betting spread, over/under and average fantasy points scoring for the top-ranked positional players of both rosters (QB1, RB1, WR1, TE1).
Once I find the 75 most similar matchups for each upcoming game, I then simulate the main slate 10,000 times by randomly choosing one of the 75 matchups for each game. Then I find the highest-scoring quarterback, running back, wide receiver, tight end and D/ST on the entire slate.
The last step is totaling the number of times a particular team shows up as the top option for the slate at each position and dividing by the total simulations. That number is what I call "highest-scoring %" in the team-labeled bar charts below. Below the charts, I join the highest-projected player on that team for the position, then list their projected fantasy points and salaries for DraftKings and FanDuel.
Saturday Slate
QUARTERBACKS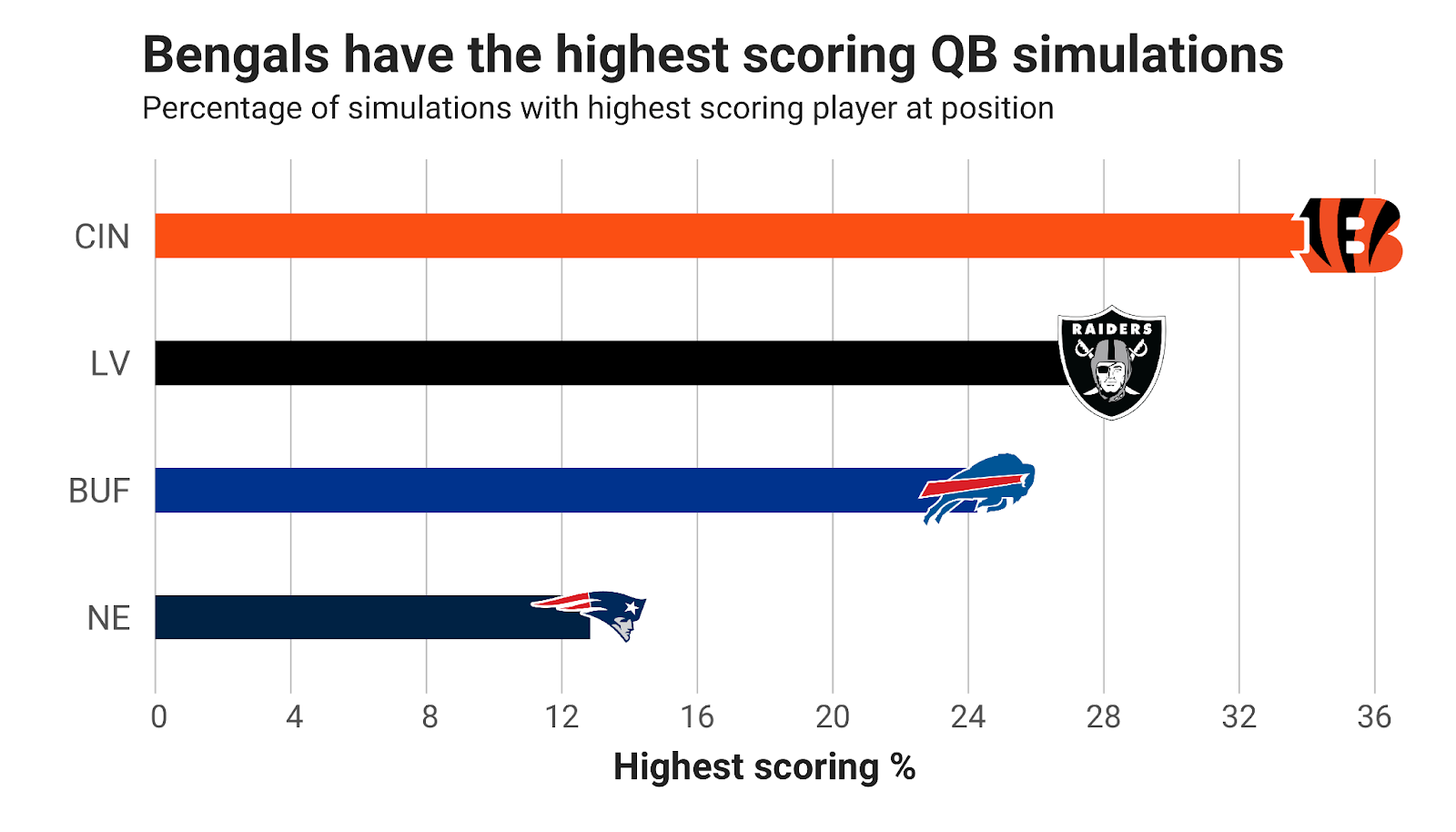 | | | | | | | | |
| --- | --- | --- | --- | --- | --- | --- | --- |
| Pos | Highest % | Player | Team | DK Fpts | DK Salary | FD Fpts | FD Salary |
| QB | 35.26 | Joe Burrow | CIN | 24.0 | 6,800 | 22.1 | 7,800 |
| QB | 28.24 | Derek Carr | LV | 18.3 | 5,500 | 17.0 | 6,800 |
| QB | 24.27 | Josh Allen | BUF | 25.4 | 7,800 | 23.7 | 8,800 |
| QB | 12.84 | Mac Jones | NE | 17.8 | 5,100 | 16.6 | 6,500 |
RUNNING BACKS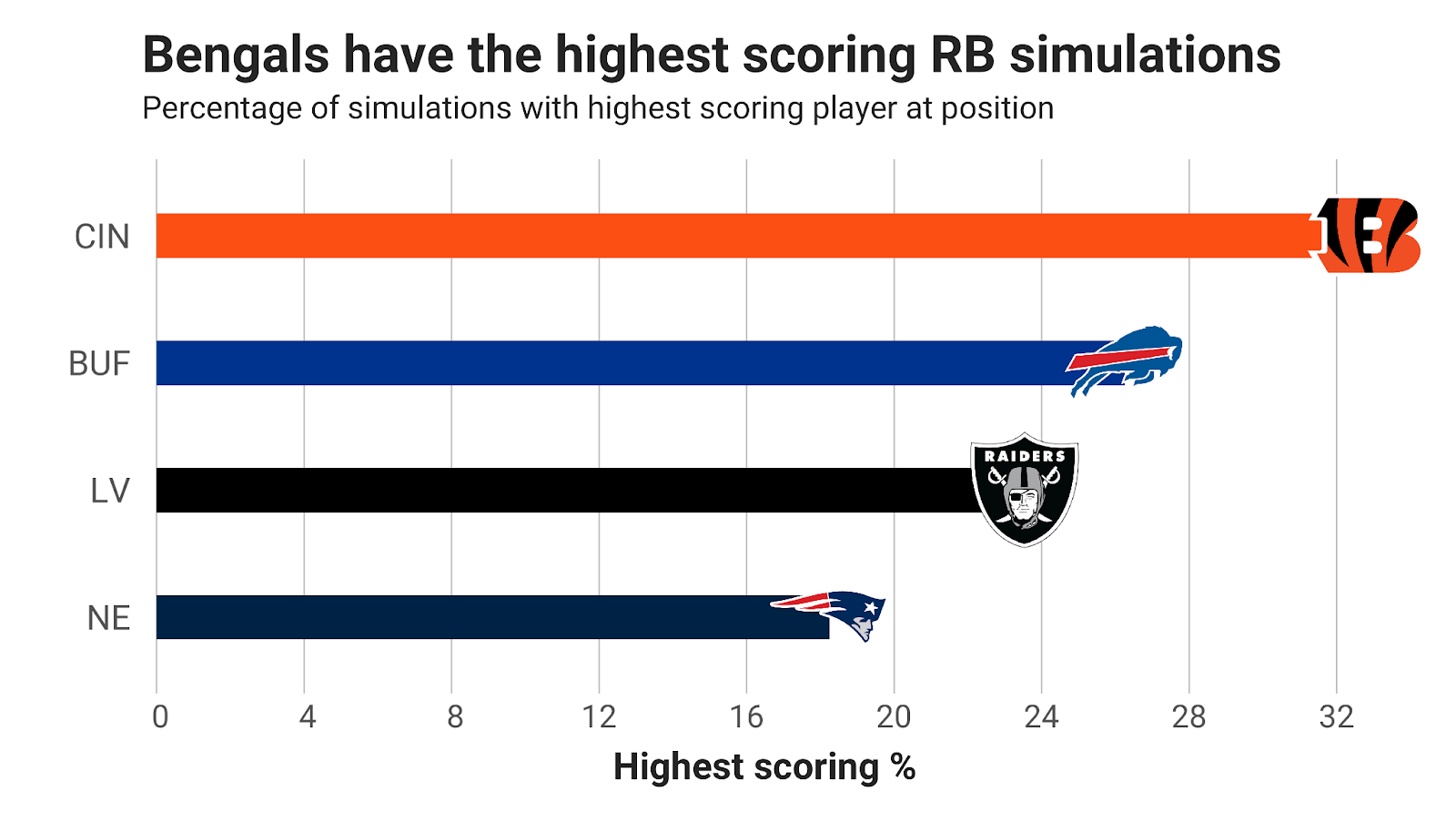 | | | | | | | | |
| --- | --- | --- | --- | --- | --- | --- | --- |
| Pos | Highest % | Player | Team | DK Fpts | DK Salary | FD Fpts | FD Salary |
| RB | 32.83 | Joe Mixon | CIN | 17.7 | 6,800 | 15.3 | 8,500 |
| RB | 26.25 | Devin Singletary | BUF | 12.8 | 5,700 | 11.0 | 6,900 |
| RB | 23.54 | Josh Jacobs | LV | 15.6 | 6,500 | 13.4 | 7,200 |
| RB | 18.25 | Rhamondre Stevenson | NE | 9.4 | 4,700 | 8.5 | 5,200 |
WIDE RECEIVERS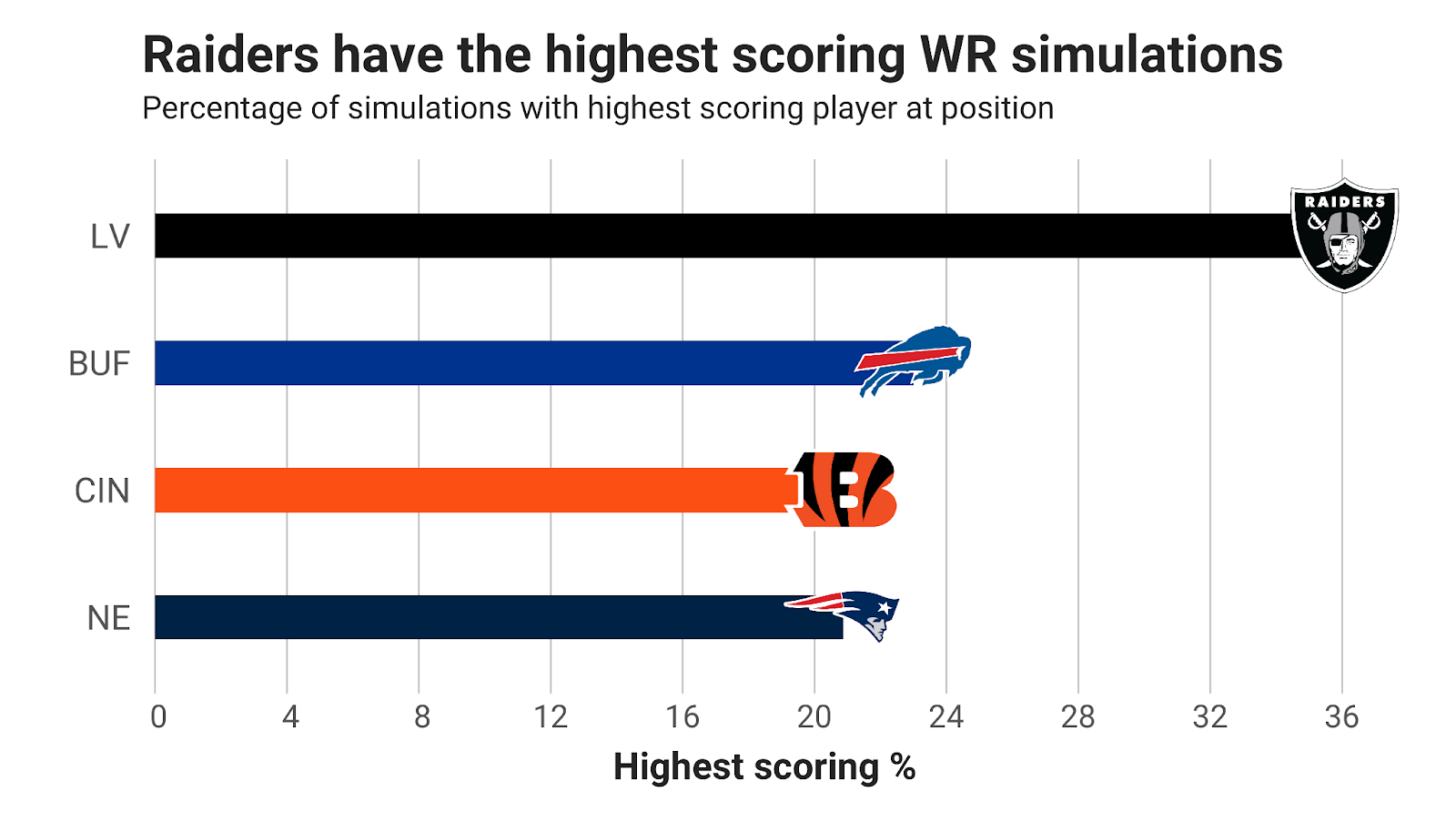 | | | | | | | | |
| --- | --- | --- | --- | --- | --- | --- | --- |
| Pos | Highest % | Player | Team | DK Fpts | DK Salary | FD Fpts | FD Salary |
| WR | 36.08 | Hunter Renfrow | LV | 14.5 | 6,000 | 11.2 | 7,300 |
| WR | 23.00 | Stefon Diggs | BUF | 19.3 | 7,200 | 15.0 | 8,000 |
| WR | 20.88 | Ja'Marr Chase | CIN | 20.2 | 7,400 | 16.1 | 8,200 |
| WR | 20.87 | Jakobi Meyers | NE | 12.8 | 4,500 | 9.9 | 5,900 |
TIGHT ENDS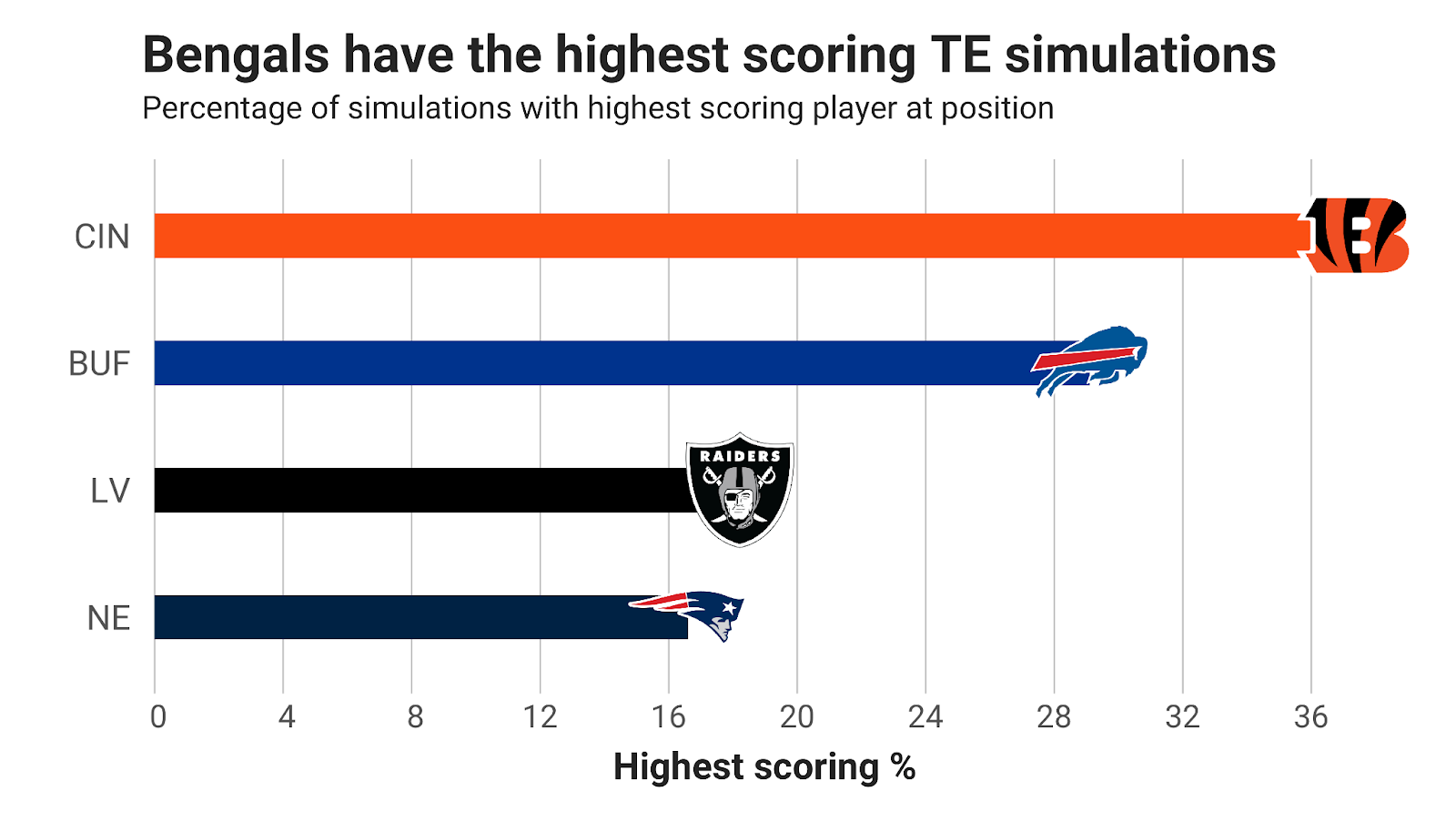 | | | | | | | | |
| --- | --- | --- | --- | --- | --- | --- | --- |
| Pos | Highest % | Player | Team | DK Fpts | DK Salary | FD Fpts | FD Salary |
| TE | 37.39 | C.J. Uzomah | CIN | 8.7 | 3,200 | 6.9 | 5,200 |
| TE | 29.11 | Dawson Knox | BUF | 8.9 | 4,800 | 7.2 | 6,000 |
| TE | 18.22 | Darren Waller | LV | 14.3 | 5,700 | 11.3 | 6,300 |
| TE | 16.60 | Hunter Henry | NE | 9.2 | 3,700 | 7.5 | 5,900 |
DEFENSE/SPECIAL TEAMS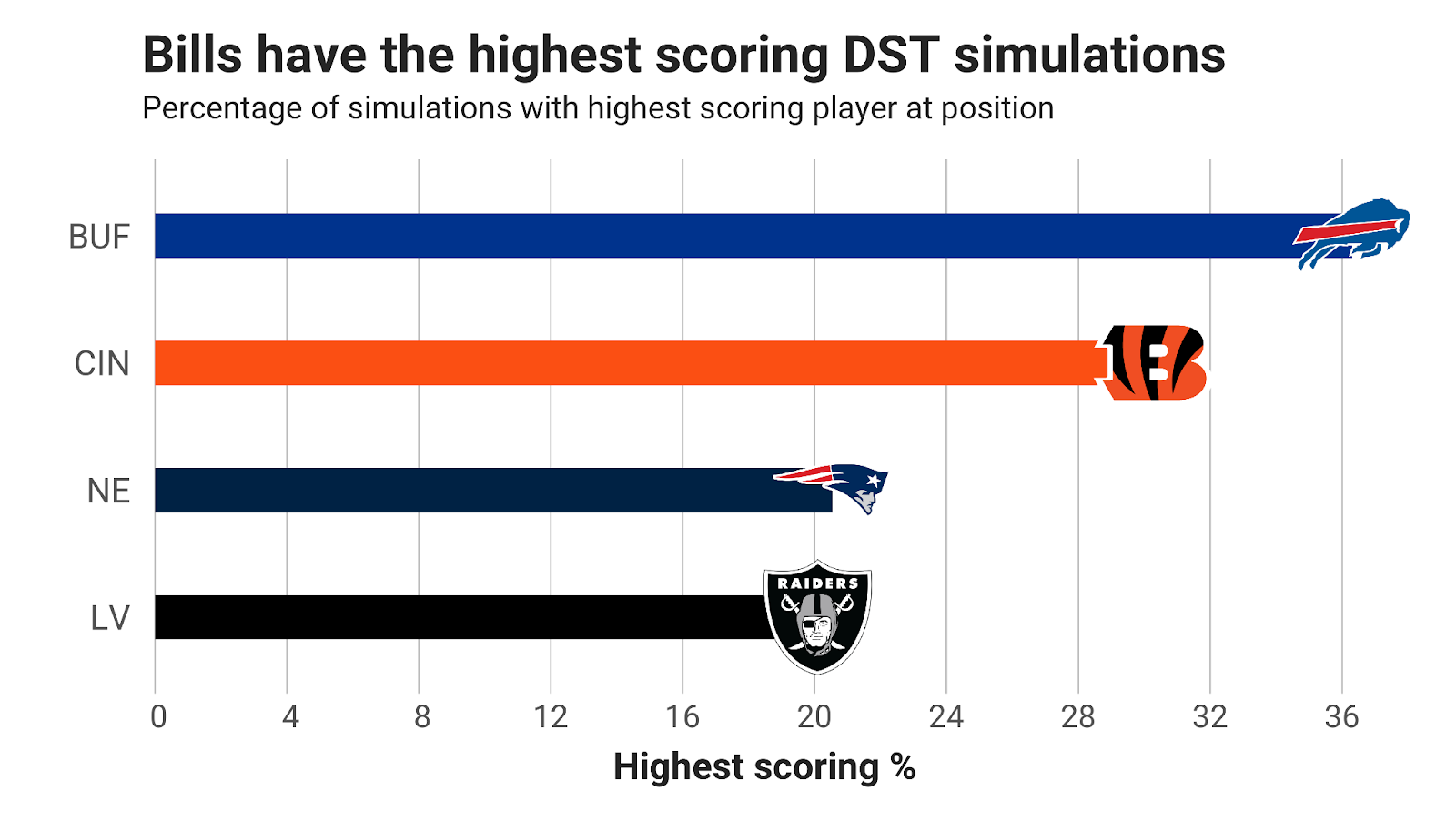 | | | | | | | | |
| --- | --- | --- | --- | --- | --- | --- | --- |
| Pos | Highest % | Player | Team | DK Fpts | DK Salary | FD Fpts | FD Salary |
| DST | 36.30 | Bills | BUF | 7.4 | 3,200 | 7.4 | 4,500 |
| DST | 30.27 | Bengals | CIN | 5.5 | 3,000 | 5.5 | 4,300 |
| DST | 20.54 | Patriots | NE | 5.8 | 2,600 | 5.8 | 3,800 |
| DST | 20.10 | Raiders | LV | 6.3 | 2,900 | 6.3 | 3,300 |
Sunday Slate
QUARTERBACKS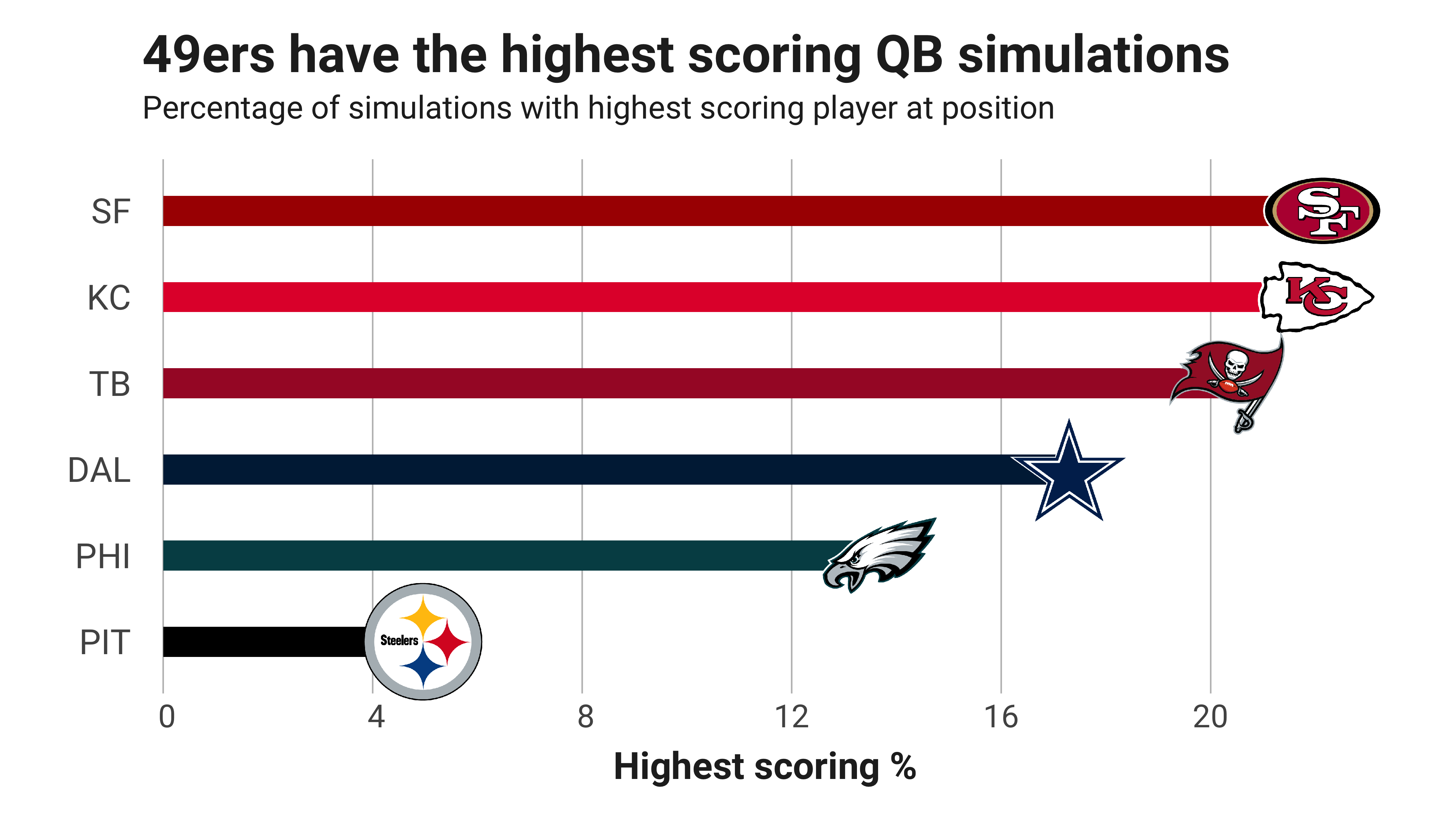 | | | | | | | | |
| --- | --- | --- | --- | --- | --- | --- | --- |
| Pos | Highest % | Player | Team | DK Fpts | DK Salary | FD Fpts | FD Salary |
| QB | 22.14 | Jimmy Garoppolo | SF | 19.5 | 5,300 | 18.0 | 6,800 |
| QB | 22.04 | Patrick Mahomes | KC | 23.3 | 7,400 | 21.7 | 8,700 |
| QB | 20.32 | Tom Brady | TB | 25.9 | 7,300 | 23.6 | 8,400 |
| QB | 17.31 | Dak Prescott | DAL | 22.9 | 6,400 | 21.2 | 8,000 |
| QB | 13.70 | Jalen Hurts | PHI | 21.5 | 6,100 | 20.1 | 7,700 |
| QB | 4.96 | Ben Roethlisberger | PIT | 14.1 | 5,200 | 13.1 | 6,400 |
RUNNING BACKS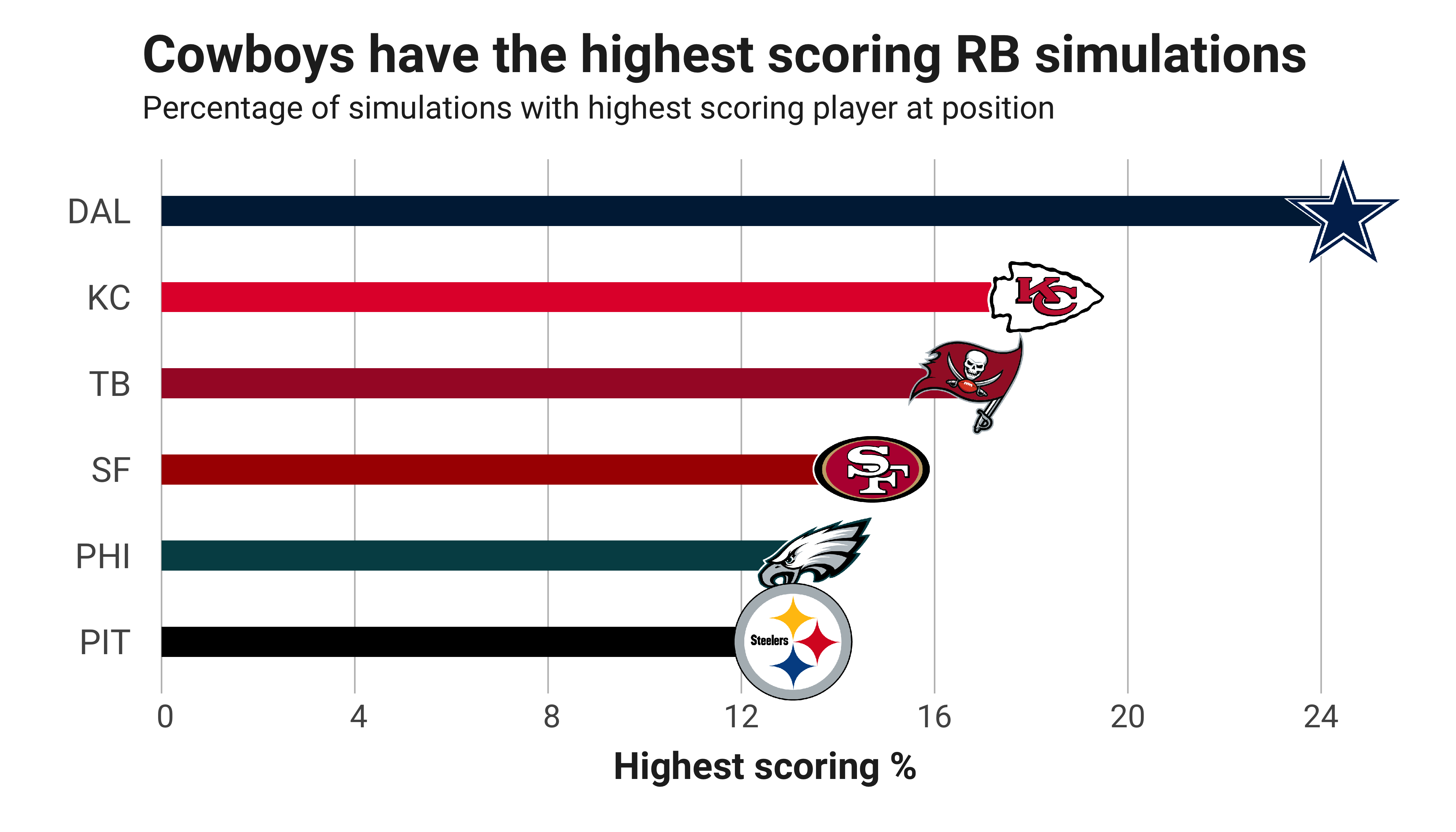 | | | | | | | | |
| --- | --- | --- | --- | --- | --- | --- | --- |
| Pos | Highest % | Player | Team | DK Fpts | DK Salary | FD Fpts | FD Salary |
| RB | 24.47 | Ezekiel Elliott | DAL | 15.5 | 6,100 | 13.5 | 7,700 |
| RB | 18.33 | Clyde Edwards-Helaire | KC | 11.8 | 5,600 | 10.5 | 6,600 |
| RB | 16.66 | Leonard Fournette | TB | 17.9 | 5,900 | 15.4 | 7,300 |
| RB | 14.71 | Elijah Mitchell | SF | 17.8 | 5,500 | 15.4 | 7,400 |
| RB | 13.54 | Miles Sanders | PHI | 9.6 | 5,100 | 8.2 | 5,900 |
| RB | 13.07 | Najee Harris | PIT | 17.3 | 6,600 | 14.6 | 8,000 |
WIDE RECEIVERS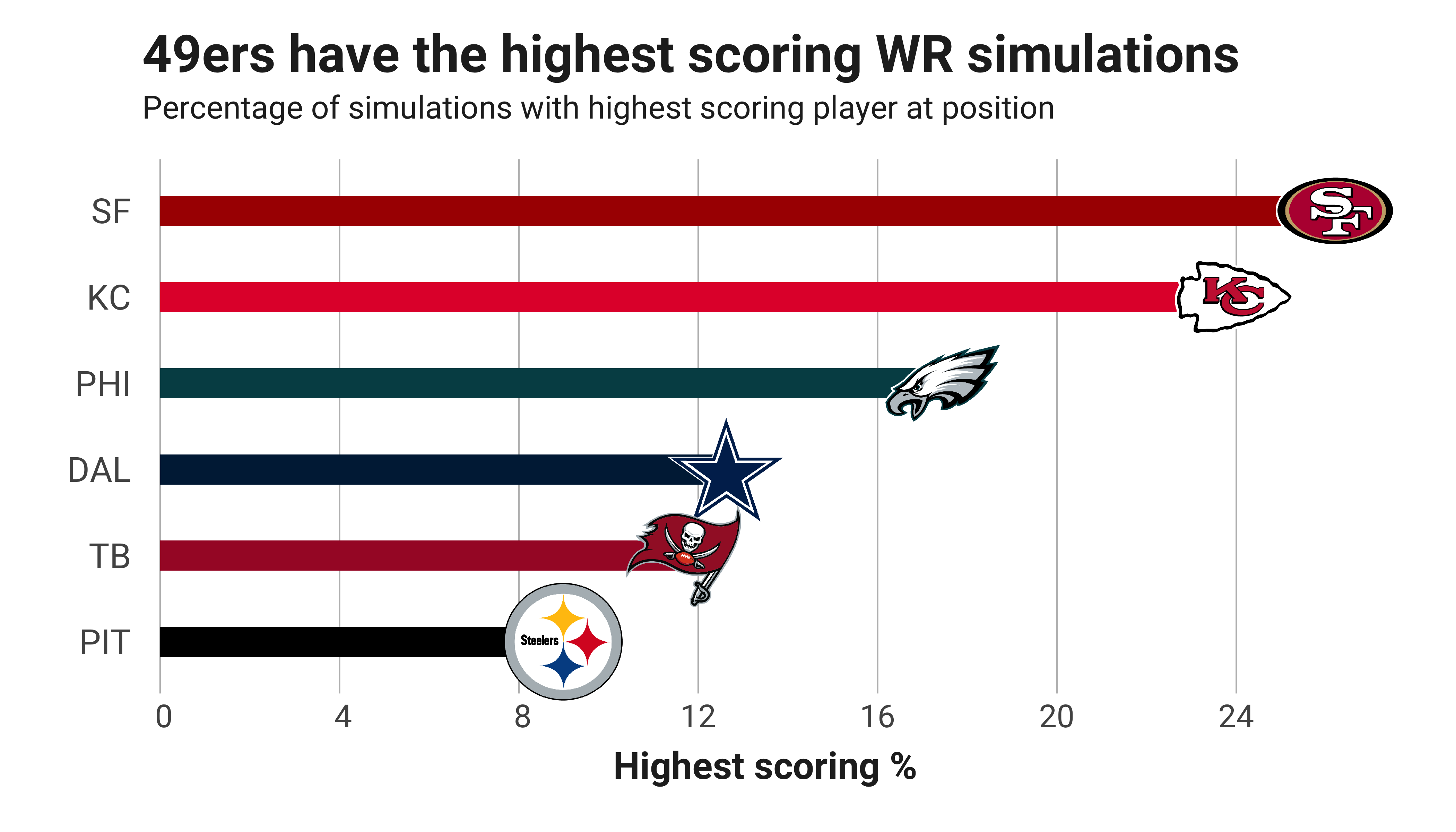 | | | | | | | | |
| --- | --- | --- | --- | --- | --- | --- | --- |
| Pos | Highest % | Player | Team | DK Fpts | DK Salary | FD Fpts | FD Salary |
| WR | 26.21 | Deebo Samuel | SF | 18.1 | 8,100 | 14.1 | 8,700 |
| WR | 23.96 | Tyreek Hill | KC | 17.0 | 7,100 | 13.6 | 8,000 |
| WR | 17.47 | DeVonta Smith | PHI | 14.1 | 5,500 | 11.1 | 6,200 |
| WR | 12.64 | CeeDee Lamb | DAL | 16.2 | 6,200 | 12.8 | 7,300 |
| WR | 11.68 | Mike Evans | TB | 16.6 | 6,900 | 13.4 | 8,200 |
| WR | 8.99 | Diontae Johnson | PIT | 15.4 | 6,700 | 11.7 | 7,200 |
TIGHT ENDS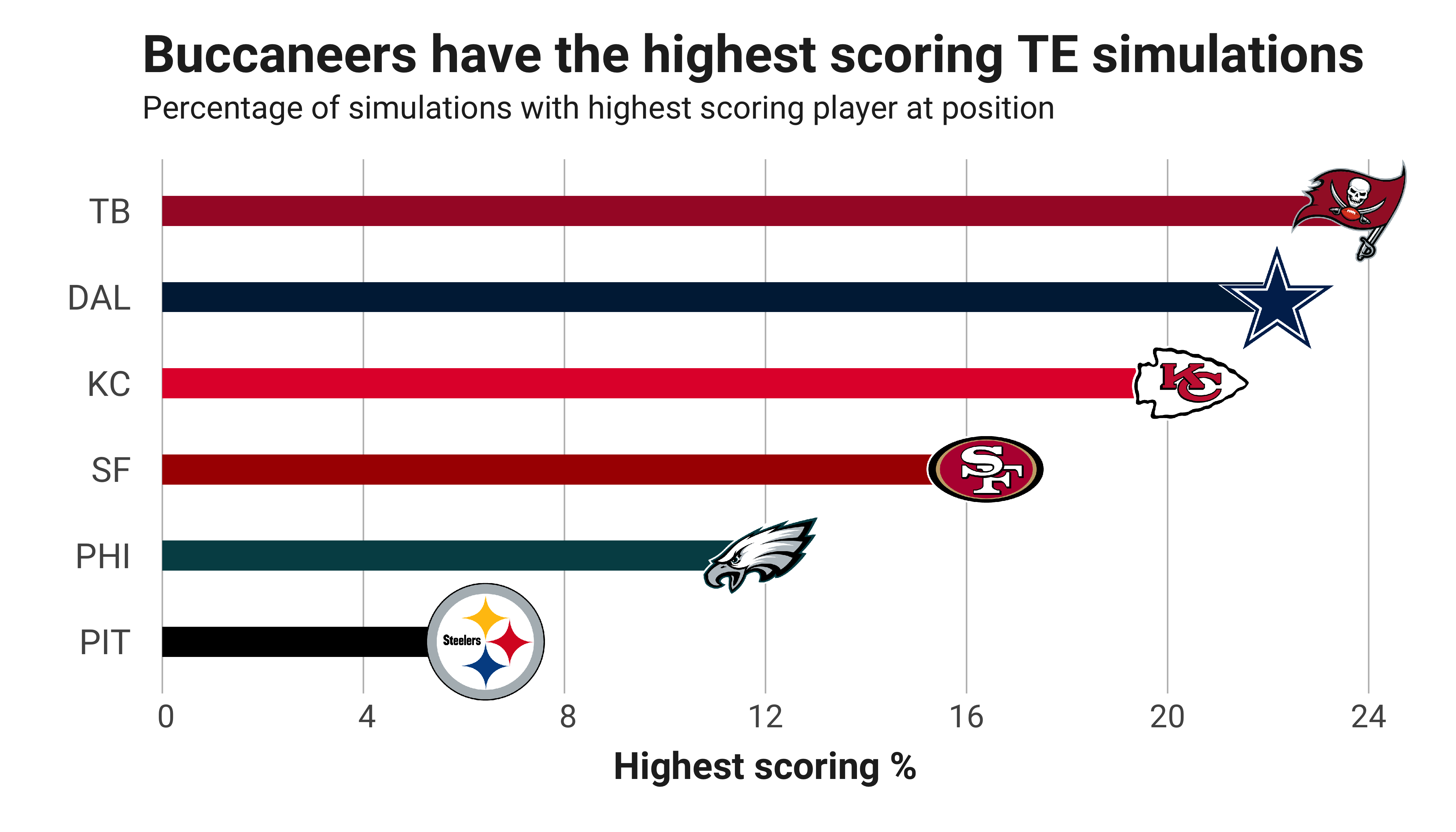 | | | | | | | | |
| --- | --- | --- | --- | --- | --- | --- | --- |
| Pos | Highest % | Player | Team | DK Fpts | DK Salary | FD Fpts | FD Salary |
| TE | 23.62 | Rob Gronkowski | TB | 13.6 | 6,400 | 11.0 | 7,400 |
| TE | 22.19 | Dalton Schultz | DAL | 12.6 | 5,000 | 9.9 | 6,200 |
| TE | 20.48 | Travis Kelce | KC | 15.9 | 6,700 | 12.5 | 7,500 |
| TE | 16.39 | George Kittle | SF | 15.4 | 6,000 | 12.1 | 6,500 |
| TE | 11.92 | Dallas Goedert | PHI | 11.5 | 4,500 | 9.1 | 5,900 |
| TE | 6.43 | Pat Freiermuth | PIT | 9.5 | 4,200 | 7.4 | 5,400 |
DEFENSE/SPECIAL TEAMS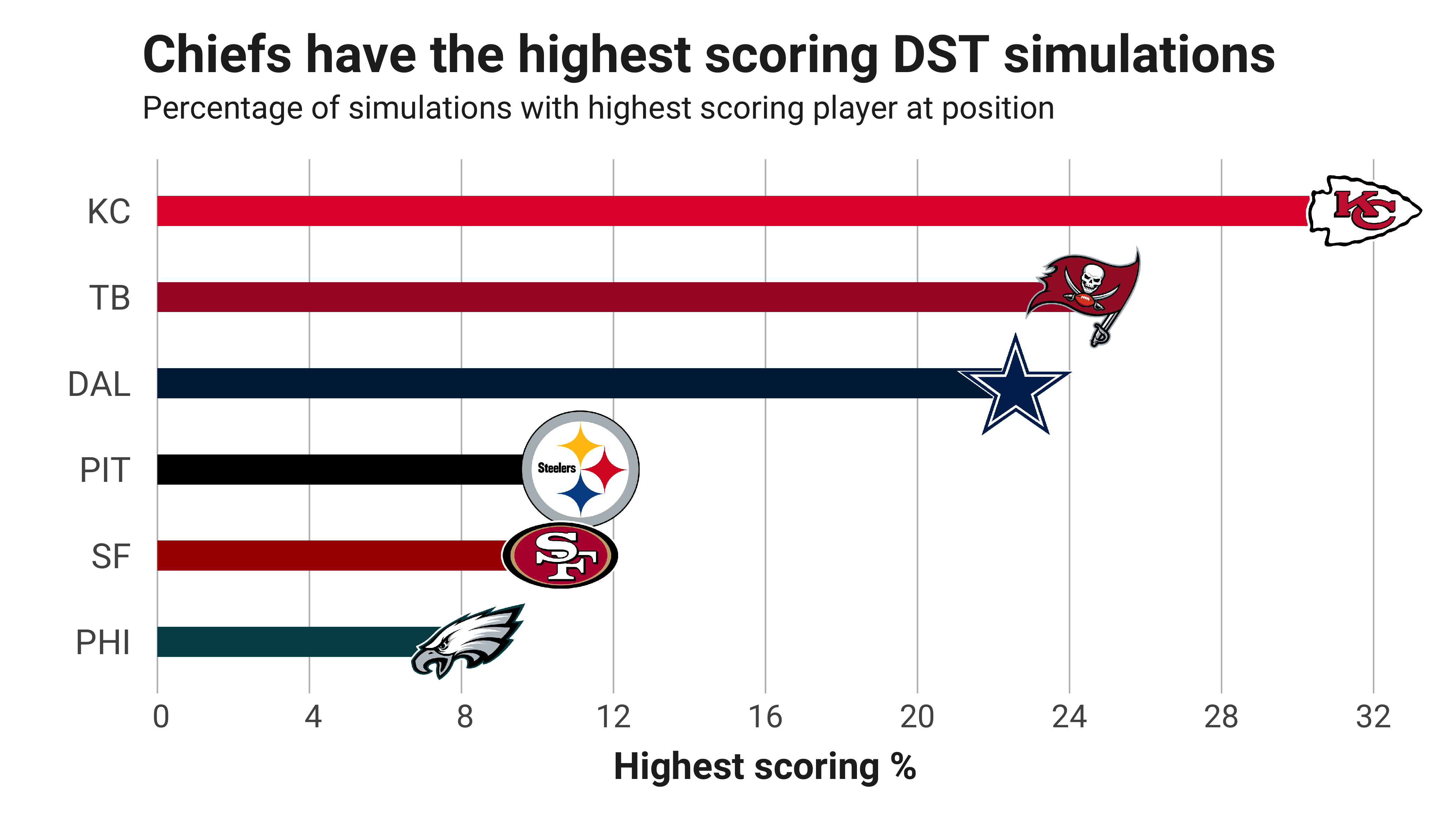 | | | | | | | | |
| --- | --- | --- | --- | --- | --- | --- | --- |
| Pos | Highest % | Player | Team | DK Fpts | DK Salary | FD Fpts | FD Salary |
| DST | 31.79 | Chiefs | KC | 7.8 | 3,300 | 7.8 | 4,800 |
| DST | 24.37 | Buccaneers | TB | 7.7 | 3,400 | 7.7 | 4,200 |
| DST | 22.60 | Cowboys | DAL | 6.6 | 3,100 | 6.6 | 4,100 |
| DST | 11.13 | Steelers | PIT | 4.0 | 2,400 | 4.0 | 3,100 |
| DST | 10.61 | 49ers | SF | 4.9 | 2,800 | 4.9 | 3,700 |
| DST | 8.20 | Eagles | PHI | 2.8 | 2,500 | 2.8 | 3,300 |
[/am4show]