When filling out fantasy football lineups for DFS, one of the handiest approaches is knowing who to build around, which players to lock into your lineup and go from there.
Each week in this space, I'll be highlighting the players I'm building most of my lineups around on that week's main slate. Lock these guys into lineups and go from there. Check out below for Week 3.
Quarterback
There are four super-obvious names at quarterback this week — Patrick Mahomes and Lamar Jackson facing each other, plus Dak Prescott and Tom Brady facing the Dolphins and Jets, respectively. Our DFS ownership projections have them all pretty highly owned, with Mahomes and Jackson both over 10% and Brady and Prescott both over 6, and there's a strong argument for any of them. But it's also an easy argument. So if you want to pivot, here are a few names that interest me.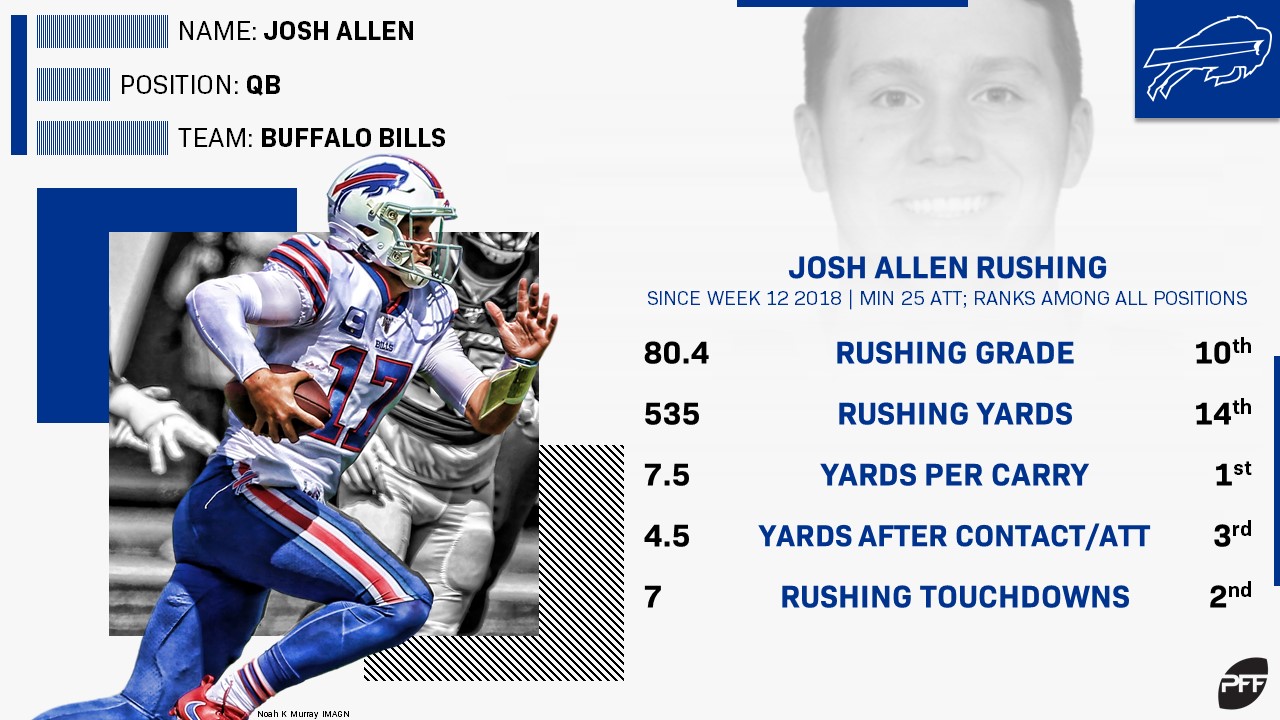 Since Week 12 of last season, only Derrick Henry has more rushing touchdowns (10) than Allen's 7, and just for the record, Allen's a quarterback. Allen is also 13th in the league in rushing yards in that time. As I'll note later, the Bengals would have trouble tackling me these days, which should let Allen's legs put up plenty of points. Add in a healthy dose of John Brown being covered by Dre Kirkpatrick — he of the perfect 158.3 passer rating allowed in coverage — and Allen has a high ceiling this week.
Considering Stafford's subpar 2018 season, the fact that he's the fantasy QB5 through two weeks is a pleasant surprise. Per our Jarad Evans in his Week 3 DFS facts to know column, the Eagles have allowed the second-most yards (374) and the most touchdowns (4) on the most targets (38) to outside wide receivers so far, and with Kenny Golladay off to a roaring start, that makes for an intriguing and slightly under-the-radar stack.
Do you know how rare it is to get a min-priced starting quarterback in DFS? Usually there's at least enough warning that a guy who gets a starting job at least sees his price bumped up to $4,500 on DraftKings instead of the min $4K. But assuming Cam Newton is out this week, Allen is in fact at that minimum price, cheaper than guys like AJ McCarron, Cooper Rush, and Brian Hoyer. He beat out third-rounder Will Grier for the Carolina backup job and would be the starter in what could be the fastest-paced game of the year against an Arizona pass defense that hasn't done much to stop passing games so far. Imagine the lineup you can build around a quarterback who is priced at the minimum.
Running back
This is a good week to pay up at running back, especially if you start with the aforementioned super-cheap Kyle Allen. So the lock suggestions will mostly stay on the super-expensive end.
The Cowboys have the highest implied point total of the week, at 34.25. Their opponent, the Dolphins, have the second-lowest, at 13.25 (yes, somehow the Jets are projected to score even fewer points). That sort of gamescript should create a massive workload for Elliott who, after splitting the backfield carries with Tony Pollard in Week 1 13-13, saw things get back to expectation in Week 2, with 23 carries to Pollard's 5. A massive workload against a team that gives up massive production to running backs makes Zeke incredibly appealing.
As mentioned above, the Panthers/Cardinals game could be the standard-bearer for pace in 2019, even if Kyle Allen is the quarterback. McCaffrey, who essentially never comes off the field, could work as the safety valve for the inexperienced quarterback, and should have little trouble carving up the Cardinals defense.
At 8 points, the Vikings are the biggest favorite of the week in games that feature two NFL teams (so, non-Jets, non-Dolphins). That should lead to a big workload for Cook, who is already second in the league in carries through two weeks at 41 and has averaged a massive 4.5 yards after contact per attempt (most in the league for any back with at least 20 carries). Cook season is here.
Frank Gore, Buffalo Bills (vs. Cincinnati)
If Devin Singletary appears to be good to go for Sunday, this advice pivots to him. Either way, if you don't want to go super-expensive at the position, the Bills guys are a good pivot. Singletary has looked extremely elusive through two weeks, and while elusiveness isn't Gore's game at this point in his career, an absent Singletary would let Gore get a massive workload against a team that can't tackle in a game where the Bills are six-point favorite. That's tasty.
Wide receiver
Only Michael Thomas (26) has more targets than Allen's 25 through two weeks. That includes a league-leading (tied) 15 in Week 2 after Hunter Henry hit the shelf. If you're betting on someone to lead the league in targets this year, the list is not very long and absolutely includes Keenan Allen. With a very appealing WR/CB matchup against Bradley Roby in Week 3, Allen could have another huge game.
Kenny Golladay, Detroit Lions (@ Philadelphia)
Everything I said about Stafford above holds true here. Golladay could draw Sidney Jones in coverage, who has been the most competent Eagles corner so far, but it won't be a shadow situation, meaning he should get plenty of opportunity against the Eagles' less impressive cornerbacks.
On deep (20-plus yards) targets, no team has been worse through two weeks than the Giants, who have allowed a 149.3 passer rating on such passes. Evans, carrying a 17.8-yard average depth of target, has gotten off to a slow start, with 89 scoreless yards through two weeks, but it's far too early to bail.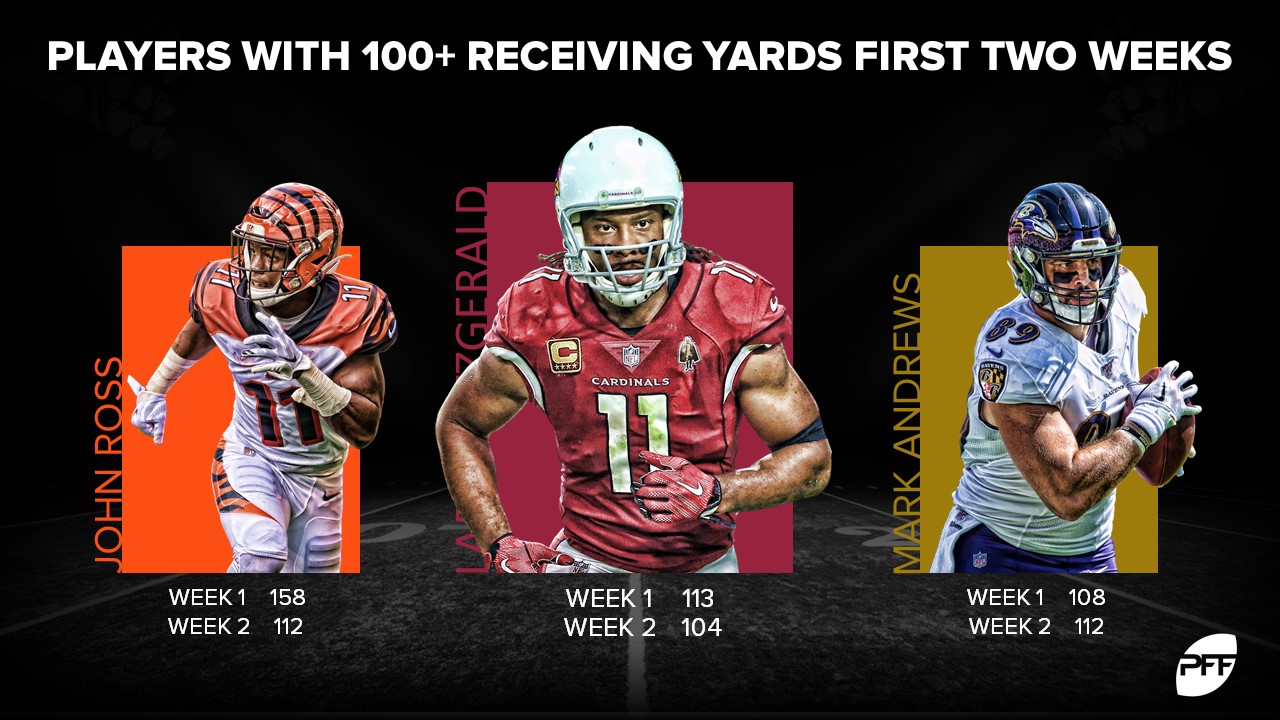 Three players have at least 100 receiving yards in both weeks so far: John Ross, Mark Andrews, and Fitzgerald, who is tied for seventh in the league in targets, is eighth in receiving yards, and is one of only two players (along with Travis Kelce) with three end-zone targets without an end-zone touchdown so far — that won't continue. This game could produce more big numbers for the old man.
With Alshon Jeffery and DeSean Jackson both trending toward out (not to mention Dallas Goedert), the Eagles receiving corps is going to look very different in Week 3. Nelson Agholor is likely to be the target leader in wide receiver, but Arcega-Whiteside won't be far behind him (if he's behind him at all). And the DFS play of the two is the rookie second-rounder, if for no other reason than Agholor projects to have massive ownership (pushing 16%), while Arcega-Whiteside projects for a much more modest ownership at under 3%. Give me the less popular guy.
Devin Smith, Dallas Cowboys (vs. Miami)
Michael Gallup is out. Tavon Austin probably is too, for whatever that's worth. Amari Cooper is likely to be shadowed by Xavien Howard, which should leave Randall Cobb and the out-of-nowhere Smith to see more targets. Smith is only $3,400, making him an especially appealing play if you spend up at running back.
Tight end
If all you look at is fantasy points, you might be a bit disappointed in Kittle's start to the season, as he's only 13th in PPR points among tight ends. Of course, that overlooks that he's lost 17 points to touchdowns called back to penalty, that his usage is still just fine, and that he is actually ahead of where he was at this point last year. Kittle will be fine. Against a Pittsburgh defense that has struggled mightily against the slot so far (pre-Minkah Fitzpatrick, but still), this week could be Kittle's get-right week.
Zach Ertz, Philadelphia Eagles (vs. Detroit)
The absences of Jeffery, Jackson, and Goedert thrust some previously forgotten names into relevance at wide receiver, but it also means Ertz (who tied Keenan Allen for the league lead in targets in Week 2) should have a massive Week 2 workload. He's expensive, but will probably be worth it.
Greg Olsen, Carolina Panthers (@ Arizona)
Remember the Kyle Allen/Christian McCaffrey talk above this? High pace, safety valve for an inexperienced quarterback, etc. All those things are true for Olsen so far, and he has the added benefit of playing a position that the Cardinals appear to have forgotten exists, considering they've allowed 273 yards to tight ends through two weeks, 65 more than the second-worst team and more than 100 yards more than third.