Each week in this space, we're going to take a quick fantasy football trip through that week's DFS slate, offering up initial thoughts and reactions to the pricing and situations of that week. We'll look at some big salary changers of the week, some obvious plays, some guys to avoid, and some of the week's prime situations.
This isn't meant to be a comprehensive, one-stop-shop for all things DFS in Week 7. Rather, it's just an early look at the notable takeaways. Check back later in the week as our team offers up full breakdowns of every approach to the slate. But you can start your DFS week here.
Salary changes
FD price: $6,700 -> $6,500
DK price: $6,100-> $5,800
It was tough sledding in Week 6 for Henry, and it ended up as his worst game since Week 12 of last year as he struggled to find any room running the ball. The Chargers are coming off a game against the Steelers where they let James Conner and Benny Snell combine for 208 total yards. The Steelers had third-string QB Devlin Hodges starting, and the Chargers still couldn't manage to stop the Steelers running backs. That is a red flag and sets Henry up for a bounceback spot here. Titans are two-point favorites, which always sets up for more potential Henry snaps and touches.
FD price: $7,500 -> $7,600
DK price: $5,000 -> $5,900
Hilton came out of the gates blazing this year as the WR5 through the first three weeks despite only playing a half against the Falcons. He saw 9 targets Week 1 and then followed up with 6 and 10 the next two games, with the 10 coming just in that first half against Atlanta. He left with a quad injury in the second game, forcing him to miss Week 4, and then the Colts had an extremely run-heavy approach against a banged-up Chiefs defensive front in Week 5 — Jacoby Brissett only threw the ball 29 times, and it is likely Hilton wasn't quite 100% in that game. Coming off the bye, Hilton should be fully recovered from the quad injury and draws a favorable matchup against the Texans. They have allowed the sixth-most PPR points per game to WRs, and Hilton averaged 133 receiving yards in three games against them last year. He has been the Colts' go-to guy in the red zone with 8 targets in 3.5 games.
FD price: $6,400 -> $6,200
DK price: $5,000 -> $4,700
The Waller hype train has died down a bit recently, but this week seems like a great opportunity for it to get going again. The reason Waller was so enticing for fantasy originally was the prospects of positive gamescript and garbage-time fantasy points. We saw that come to fruition against the Vikings in Week 3 with 13 receptions for 134 yards. This game sets up to be a game where the Raiders have to work from behind on the road in Green Bay with Davante Adams potentially back — the Packers are 6.5-point favorites. Waller has played 90% of the snaps this year and has been very efficient with his targets and routes, ranking third in yards per route run among TEs.
FD price: $7,300 -> $7,500
DK price: $7,000 -> $6,700
The tides have shifted quickly for Allen. He started the year as a target hog and put up monster lines, including a 13/183/2 against the Texans in Week 3. For whatever reason, the Chargers have gone away from him recently. There have been some factors working against him, like a negative gamescript against the Dolphins and a tough matchup versus Chris Harris, but the dud against the Steelers was surprising. This is a get-right game for Allen, who has run the third-most routes among WRs still and has the fourth-most air yards at 652 yards. It is a winnable matchup against Logan Ryan, and with the run game struggling to get anything going, the Chargers should turn back to Allen this week.
FD price: $6,600 -> $6,400
DK price: $5,800 -> $5,400
It was surprising to see Freeman's salary go down this week after his best game this season. He was able to get loose running the ball with 88 yards on the ground and a good workload of 22 touches and 72% of the snaps. Those are both trends in the right direction for Freeman; he is entrenched in one of the most fantasy-productive offenses this season. The game against the Rams sets up as another shootout for the Falcons with the highest over/under of the slate at 53.5. His added usage in the receiving game with 26 catches so far has boded well for his weekly floor and ceiling. He had a very disappointing start to the season but is the PPR RB11 over the past four weeks.
Chalk
Short and sweet: Fournette draws the most favorable matchup to RBs this week and has been a workhorse for the Jaguars all year.
Matt Ryan, QB, Atlanta Falcons
As mentioned above, the Falcons/Rams game has the highest over/under of the slate. The Falcons defense has been so bad it forces the Falcons to be in comeback mode almost every time they get the ball back. Both teams rank top-10 in pace of play, and Ryan is throwing the ball more than any other QB. He currently sits at No. 2 in passing yardage and with Aqib Talib on injured reserve, the Rams secondary will be left very vulnerable. Another 300 yards and three-plus TDs could be in store for Matty Ice this week.
Kupp's extremely productive start to the season came to a screeching halt in Week 6. He was held to just 17 yards on 4 receptions. People will forgive him this week with a juicy matchup against the Falcons, who have allowed the third-most fantasy points per game to WRs.
Hunter Henry, TE, Los Angeles Chargers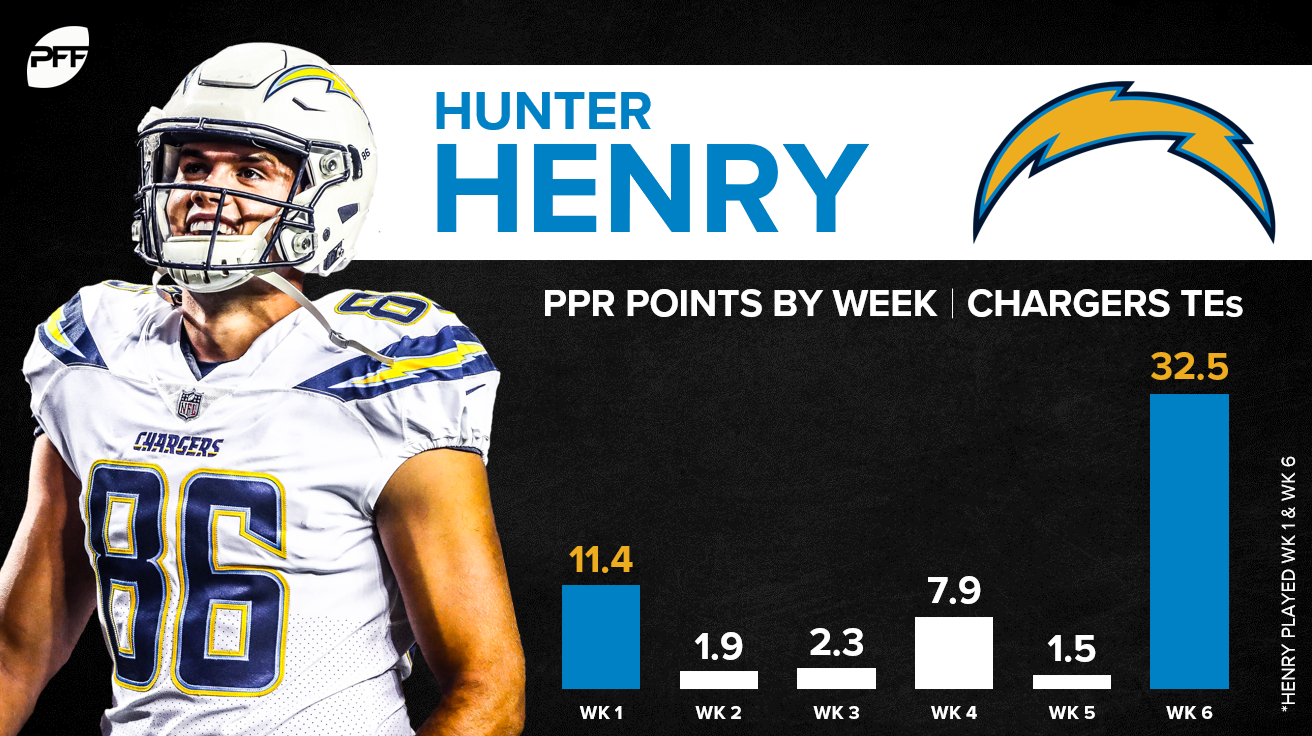 It was tough to envision such a good return from injury for Henry. He was able to rack up 100 yards and 2 touchdowns in comeback mode against the Steelers. He sets up as a very popular value play at TE as he ranks TE7 and TE9 in salary on DraftKings and FanDuel, respectively.
If A.J. Green is in fact out again this week, it is tough to ignore the volume Tate is getting. He saw 12 targets last week and has tied for the 11th-most routes run among WRs over the past two weeks. Based on his opportunity without Green, Tate should garner ownership at his cheap price.
Fades
It has been back-to-back great weeks for Watson. This week does not set up nearly as nicely for him. His salary has risen and draws a matchup against a more zone-style defense, which has caused trouble for Watson in his career. In three games against the Colts last year, he only had 5 total touchdowns and particularly struggled in the playoff game, with just 4.8 yards per pass attempt. We saw in Week 4 what a zone-style defense can do to Watson with just 160 passing yards, and the Colts should have a similar game plan off the bye week.
Coming off a career game against the Cowboys, Week 6 turned south for Aaron Jones. He had a bad drop on what would have been around a 30-yard receiving TD and was outplayed by Jamaal Williams. He saw 48.6% of the snaps to Williams' 52.7% and is a risky play for his salary if he continues to split snaps and work like he did against the Lions.
With Christian Kirk likely to return and a less positive gamescript against the Giants, it is tough to see Fitzgerald's upside this week. The running game and ability of David Johnson and Chase Edmonds has been very encouraging over the past three weeks and the targets might not be there for Fitzgerald this week.
Similar to Jones above, Ekeler's snap share is trending in the wrong direction. He saw 45% of the snaps in Week 6 and 8 touches, both season-lows. At this point, it's tough to trust Ekeler especially, behind an offensive line without Russell Okung and recently without Mike Pouncey as well.
Matchups
Leonard Fournette, RB, Jacksonville Jaguars (@ Cincinnati)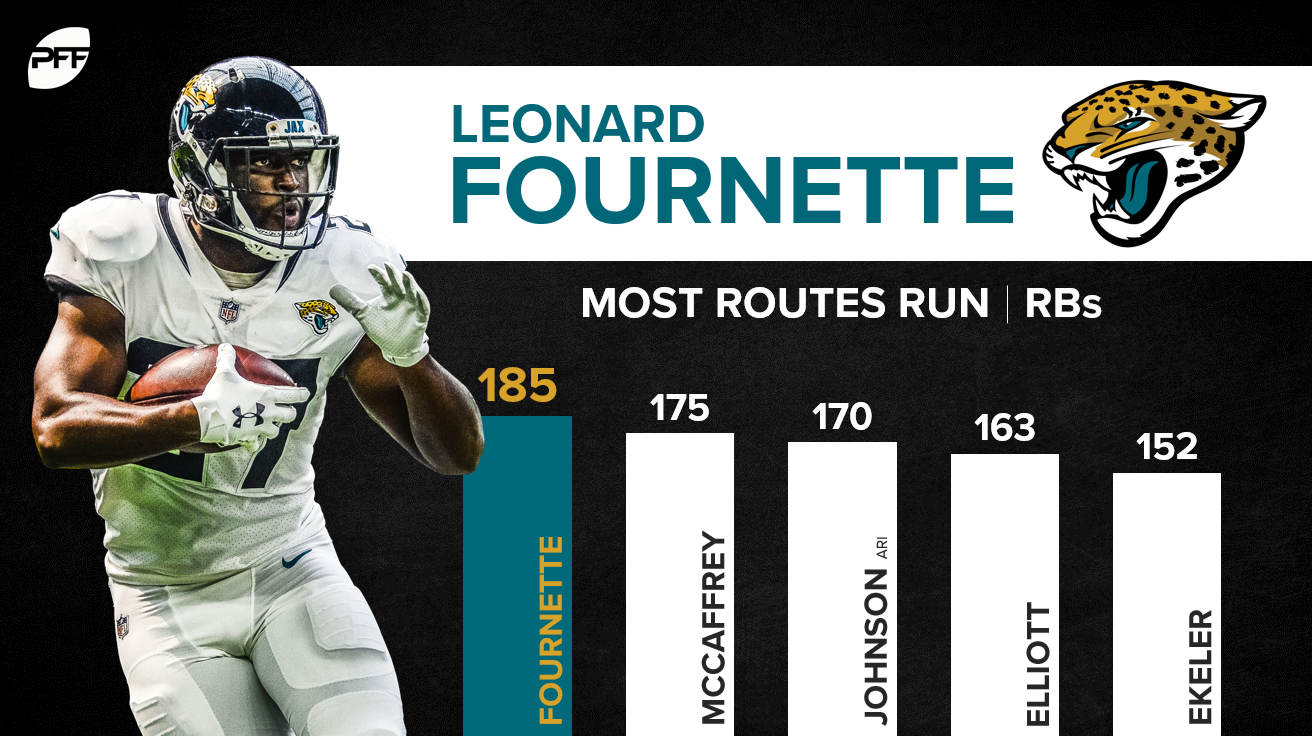 This is a smash spot for Fournette. The Bengals have allowed the most fantasy points per game to backfield this season and 401 receiving yards to the position, second-most. Fournette has the most routes run among RBs this season, so he could chip in 50-plus receiving yards to go along with what he gets on the ground. He has seen 26, 27, and 31 touches the past three games, and a Bengals offense that is struggling to move the ball should allow Fournette plenty of opportunities.
Julio Jones, WR, Atlanta Falcons (vs. LA Rams)
Jones is always a threat for an absolute blow-up game. We saw that most recently last year with a 10 for 169 yards against the Eagles and in two games against the Buccaneers he combined for 282 receiving yards. There is no Aqib Talib for the Rams this week, a big blow to their secondary. That means Jones will be seeing either Marcus Peters or Troy Hill in coverage. Those are two matchups I expect Jones to win a lot and it sets up for one of those signature explosion games. He currently has the third-most air yards and should feast in another shootout.
Coleman is in line for another great gamescript and healthy workload for one of the best running attacks in football. He wasn't as effective last week with 2.5 yards per carry, but still managed 14 fantasy points. He should be more effective against the Redskins this week. The 49ers currently rank first in rushing attempts per game with 39, and as 9.5-point favorites against the Redskins, 40-plus rushing attempts this week isn't out of question. Coleman has the ability to see 20-plus touches against a defense allowing the fifth-most fantasy points per game to RB.