Each week in this space, we're going to take a quick fantasy football trip through that week's DFS slate, offering up initial thoughts and reactions to the pricing and situations of that week. We'll look at some big salary changers of the week, some obvious plays, some guys to avoid, and some of the week's prime situations.
This isn't meant to be a comprehensive, one-stop-shop for all things DFS in Week 4. Rather, it's just an early look at the notable takeaways. Check back later in the week as our team offers up full breakdowns of every approach to the slate. But you can start your DFS week here.
Salary changes
FD salary: $5,500 -> $5,300
DK salary: $4,800-> $4,500
Through three weeks, Thompson is quietly RB18 in PPR scoring. Running backs who are used in the passing game more frequently just get better opportunities for fantasy points, and Thompson is being used at an elite level there. He is tied for the fifth-most routes run with 79. He has the fourth-most receptions and second-most receiving yards. It might not be as obvious of a positive gamescript this week for the Redskins, but Daniel Jones showed enough to lead me to believe the Redskins will get down in this game and Thompson will be heavily involved again.
FD salary: $6,500 -> $6,000
DK salary: $5,300 -> $5,100
Jacobs' usage in the receiving game has been a major red flag so far. He has only been targeted three times and has a single reception for 28 yards. Jon Gruden seems to have come to his senses with how anemic the offense has been the past two games and realized that he needs to get Jacobs more involved. "We've got to get more out of Josh as a receiver," Gruden said after Week 3. The Raiders will likely make this a priority, and with Jacobs' low fantasy stock right now, he makes for a good low-ownership play.
FD salary: $7,600 -> $7,100
DK salary: $6,900 -> $6,000
It was the Mike Evans show in Week 3. He abused Janoris Jenkins in coverage and posted 8/190/3 after playing second fiddle to Godwin the first two games. In this game against the Rams, I expect Evans to have more resistance on the outside against Aqib Talib and Marcus Peters. This makes sense as a good time to get a value price on Godwin with his price down a lot on both sites, and he will likely get a positive gamescript as they are 10-point underdogs and this has a juicy game total of 50.5.
FD salary: $7,000 -> $6,700
DK salary: $6,600 -> $5,900
In similar fashion to Godwin, Golladay fell victim to another receiver stealing the show (in his case Marvin Jones), while Golladay was very quiet with 2 catches for 17 yards. What I was expecting for that Lions game last week was them getting into a more positive gamescript against the Eagles, but they actually held a lead most of the game. Now this week, it seems hard to imagine the Lions being able to win this game especially with Darius Slay likely being out or limited with a hamstring injury. With them in comeback mode, Golladay has some nice upside here. The fast pace of the Chiefs will allow a lot of plays for the Lions, which we saw last week with the Ravens running the most plays of any team with 78.
FD salary: $6,000 -> $7,300
DK salary: $5,000 -> $5,300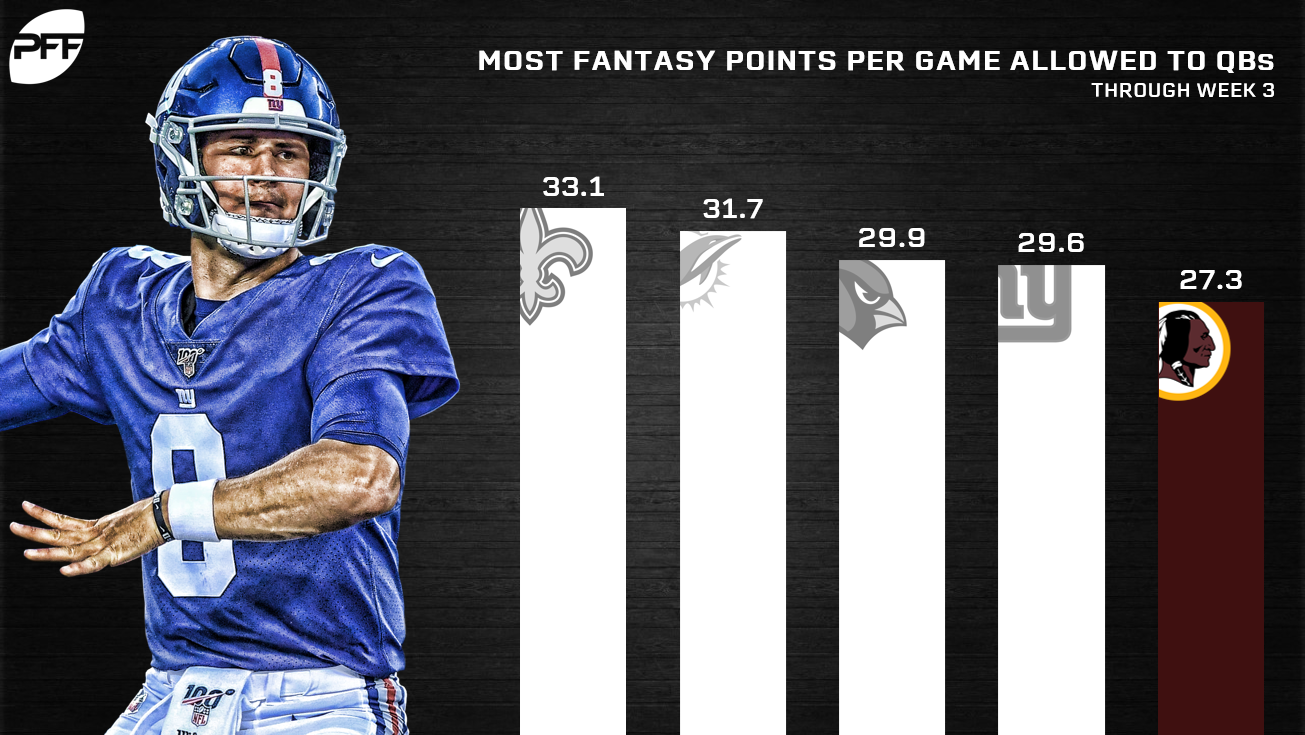 Jones had one of the biggest jumps in salary from last week, but he still isn't priced up to his upside in this matchup. He flashed his rushing ability with four rushes for 28 yards and 2 TDs on the ground last week. This isn't a fluke either as he had 300-plus yards on the ground in all 3 years at Duke. Facing off against the Redskins, who allow the fifth-most fantasy points to game to QBs, Jones has top-10 upside at the position. He is priced as QB16 and QB13 on DraftKings and FanDuel respectively.
Chalk
Gallman should be fairly high-owned this week with him having an unknown floor and upside. He currently has little competition projecting him to have a high snap percentage and high percentage of the teams running back touches making him an intriguing play for many.
The Seahawks and Wilson make for a trendy stack this week in a great game environment against the Cardinals. The Cardinals play at the fastest pace in football and Seahawks are 12th themselves. Helping Wilson has been the run game not being the same beast as last year, with Chris Carson averaging just 3.5 yards per carry and already fumbling three times. Also, Rashaad Penny should be questionable for this week after missing last week's game. Lamar Jackson was able to gash this defense for 120 yards on the ground, which could add to Wilson's potential upside.
A stack of the Seahawks has to include Lockett. He is seeing a 28% target share on the season, 11th among wide receivers. He also has a very favorable matchup against Tramaine Brock, who has allowed the sixth-most yards in coverage.
Allen had one of the most impressive performances at QB in Week 3. He threw for 261 yards and 4 touchdowns on just 26 pass attempts. Still at a fairly low salary on both DraftKings and FanDuel, I expect him to be popular this week. He draws a-below average Texans secondary that is allowing the sixth-most fantasy points to QBs.
Daniel Jones, QB, New York Giants
Jones is getting plenty of hype and the matchup against the Redskins should not scare people away. As mentioned above, in the "salary changes" section, he has all the tools to return a lot of value at his price.
An impressive showing against the Chicago Bears on a primetime Monday game should make McLaurin a trendy pick. He is still cheap — especially on DraftKings at $4,500 — and arguably has his most favorable matchup so far this year against the Giants this week.
Mack is off to a great start this year on the ground. He is getting the consistent touches where he wasn't last year. Since the beginning of last season, in Mack's six games with more than 20 touches, he has averaged 22.2 fantasy points per game. Against the Raiders this week, 20 touches are very much in play.
Fades
Brown has a nightmare matchup against Stephon Gilmore this week. The Patriots have allowed the second-fewest receiving yards to WRs and have yet to allow a single touchdown on defense. Gilmore is also allowing the sixth-lowest NFL passer rating in coverage of 51.6.
Freeman's fantasy stock was brought back to life in Week 3. He saw a healthy snap share of 90% and had his first efficient game after averaging 2.2 yards per carry in his first two games. The promising snap share should make him more popular, but he is a fade in this matchup against the Titans. The loss of Chris Lindstrom at guard will continue to be impactful and the Titans run defense has looked very stingy outside of a big run by Leonard Fournette when the game was looking out of reach for the Titans.
Allen makes perfect sense this week to play in his great matchup against the Dolphins. There is just that risk factor that the Chargers do not need to rely on him, meaning he chould see a negative gamescript. It seems like a good opportunity for Allen to get a bit of a breather after his insane 16 targets last week. He is likely to be very chalky and this offers a good fade opportunity and counter with some ownership on the Chargers running game.
Hooper is typically a player who is consistent, but never has the breakout game. This past week that wasn't the case; Hooper had the best fantasy game of his career, including 2 touchdowns. However, it is tough to rely on that touchdown production from Hooper, who had 4 total touchdowns last year. He should come back to earth with a tougher matchup and is a good fade.
Despite how good Sanders has looked this year, he can not run away from the disaster that has been Joe Flacco. It came to light last week against the Packers, with Sanderrs totaling just 2 catches for 10 yards. Seeing Jalen Ramsey in coverage (if he's active) should not do Sanders any favors this week.
Matchups
Darren Waller, TE, Oakland Raiders (@ Indianapolis)
Believe it or not, Waller owns the fifth-highest target share in the NFL. He is being used at an elite level and is in a good spot to keep his hot start going. The Colts gave up the third-most fantasy points last year to TEs and have not done anything to fix that, allowing the sixth-most so far this year. Positive regression in the touchdown category is coming for Waller as well.
Will Dissly, TE, Seattle Seahawks (@ Arizona)
The narrative on Dissly has been him just not seeing enough snaps and routes to be fantasy viable. On the other hand, among TEs who have seen at least 10 targets, he is seventh in yards per route run. It was the same story last year as he ranked third in YPRR among TEs. He has seen 55% of the snaps and the rest going to Nick Vannett … who was just traded to the Steelers, making Dissly one of the best possible value plays this week.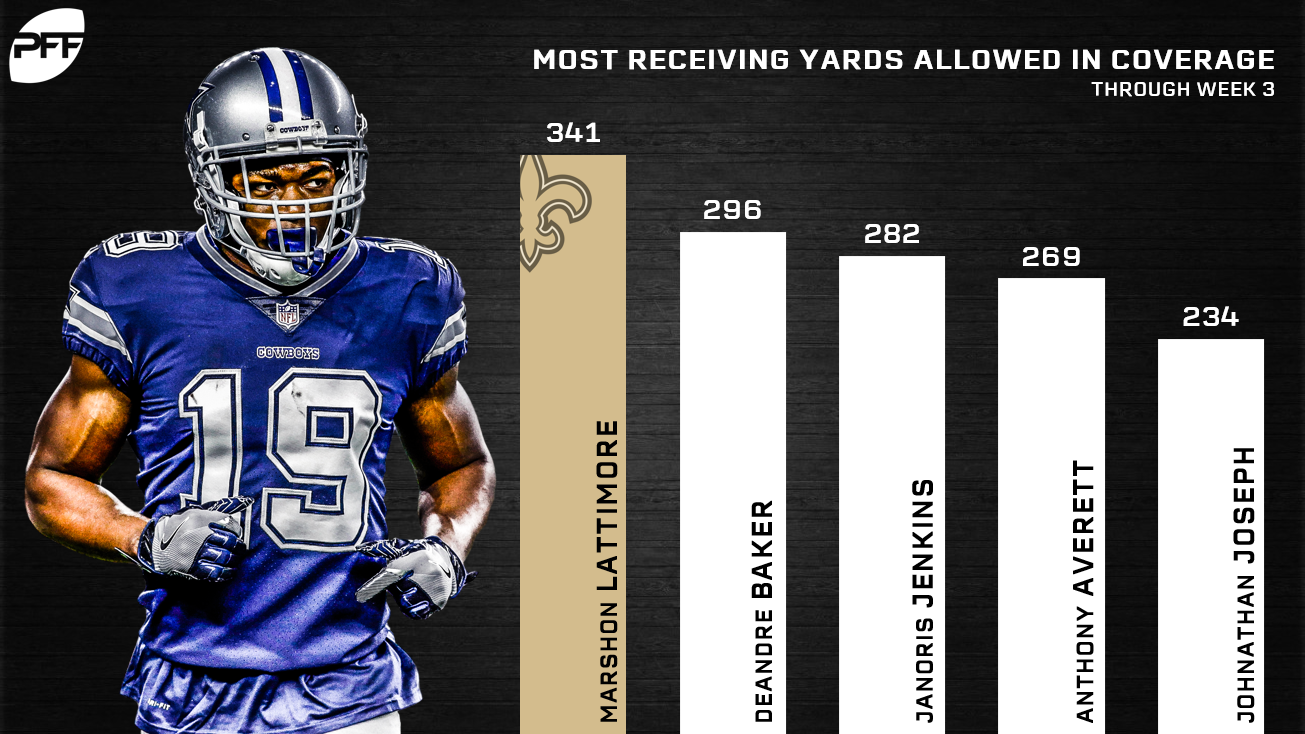 Marshon Lattimore has been a shell of himself in 2019. He has allowed 341 yards in coverage which is most among all cornerbacks. Cooper should see 10-plus targets in this game if it stays close, as he has a clear advantage over both Lattimore and Eli Apple in coverage. We have seen in his career what kind of weekly upside he has, and he could post a monster line in this game. (Cooper's not on this week's main slate, but for those playing slates that include Sunday night he's interesting.)
Justin Jackson, RB, Los Angeles Chargers (@ Miami)
This game just seems like it will turn into a Justin Jackson game. We have seen it from the No. 2 running back twice now against the Dolphins, as Gus Edwards was able to see 17 touches and Tony Pollard 16. Jackson has played well this year in limited work, averaging 7.9 yards per carry, and now with the opportunity to see 10-plus touches, he could make the most of it.