Hello, and welcome to Week 4 of XFP — the Expected Fantasy Points Report. If you're unfamiliar with expected fantasy points, I offered up an in-depth explanation earlier this offseason.
Every week we'll be using a 10-season sample of play-by-play data to calculate expected fantasy points from a player's seasonal or weekly usage. We look at each target (by distance from the end zone and depth of target) and each carry (by distance from the end zone and down and distance) and add this up to determine how valuable a player's role was for fantasy. We can contrast this with fantasy production to measure efficiency.
In layman's terms, expected fantasy points measures the exact worth of a player's volume – "how many points a player should have scored" given his workload, based on what the average player would have scored.
Through three weeks of action, here are the top-25 players in expected fantasy points (XFP) per game:
[Editor's Note: Full-season XFP is now available for download in spreadsheet form. We'll be releasing it each week in our PFF Elite Facebook Group. If you're not already an Elite subscriber I highly recommend joining.]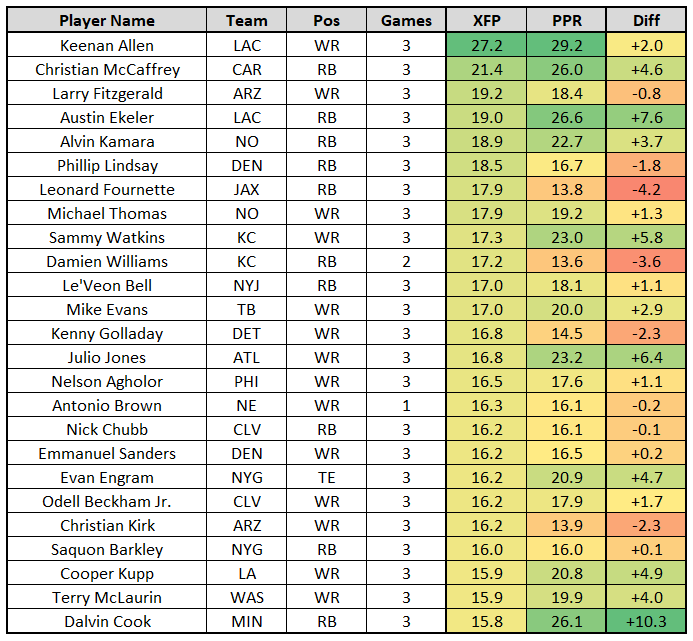 (XFP: 27.2, PPR: 29.2, Diff: +2.0)
Allen came into the week leading all players in XFP per game and pushed himself even farther ahead Sunday. He saw a league-high 16 targets, catching 13 for 183 yards and two scores. Allen totaled 29.5 XFP in Week 2 and 29.2 XFP in Week 3 — the two biggest games by any player this season. Among all players, and on a per-game basis, Allen ranks first in XFP (27.2), first in actual fantasy points (29.2), first in targets (13.7), first in air yards (166.0), second in end zone targets (1.33), and second in deep targets (2.67). Allen also leads all players in team XFP market share (35%), well ahead of the next-closest wide receiver (Michael Thomas, 28%).
(XFP: 19.0, PPR: 26.6, Diff: +7.6)
Ekeler ranks first among all running backs in fantasy points per game (26.6) and second in XFP per game (19.0). He ranks first in receiving XFP per game (11.0) and 16th in rushing XFP per game (8.1). Expect Los Angeles to lean heavy on the ground game this week, as 16.0 favorites against the Dolphins. Although backup Justin Jackson will draw DFS ownership this week, that would not be my recommended approach.
Subscribe to PFF Edge to continue reading
Already have a subscription? Sign In