Each week in this space, we're going to take a quick fantasy football trip through that week's DFS slate, offering up initial thoughts and reactions to the pricing and situations of that week. We'll look at some big salary changers of the week, some obvious plays, some guys to avoid, and some of the week's prime situations.
This isn't meant to be a comprehensive, one-stop-shop for all things DFS in Week 11. Rather, it's just an early look at the notable takeaways. Check back later in the week as our team offers up full breakdowns of every approach to the slate. But you can start your DFS week here.
Salary changes
FD price: $8,600 -> $8,200
DK price: $7,600-> $7,400
The Saints matchup has not been friendly to Evans over the years, but that narrative should change this week with Marshon Lattimore looking doubtful. In the first matchup against the Saints this season, Evans was completely taken out of the game with zero catches on three targets. Without Lattimore, the Saints will shift their slot cornerback P.J. Williams outside, which they did this past game, and it will be a tough ask for him to matchup with Evans in his first game as the starting outside cornerback. Evans remains No. 1 in air yards among all WRs this year and that volume should translate to another big week with the plus matchup. The game currently has the highest over/under on the slate at 51.5 points, so it offers great upside. Working in Evans' favor even more will be the elite run defense of the Saints, as they are allowing the third-fewest rushing yards to RBs. The Bucs should rely on Evans and the passing attack heavily in this game.
FD price: $5,400 -> $5,600
DK price: $3,700 -> $4,000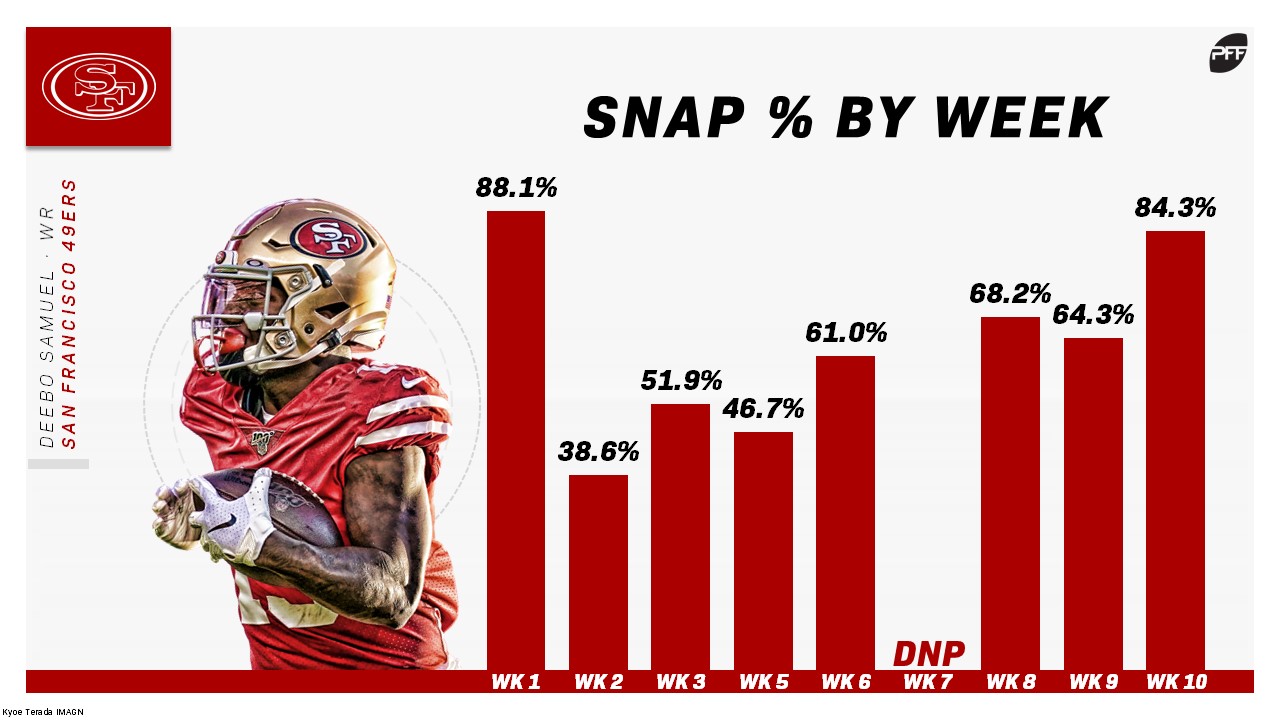 Samuel's soft salary in Week 11 could offer a major value if Emmanuel Sanders is out with the rib injury he suffered Monday night. The salaries for the slate are put out prior to the Monday night game, so Samuel's salary does not take into effect Sanders possibly being out for this game. With Sanders going down in the first half, Samuel saw 70 of a possible 83 snaps. It resulted in a season-high 11 targets and a 24% team target share (keep in mind George Kittle missed that game as well). Samuel should continue to be the go-to guy for Jimmy Garoppolo if in fact Sanders and Kittle miss this game as both are highly questionable. Their injuries should be closely monitored this week, but Samuel could be a top value at WR on the slate. Currently the 49ers have the second-highest implied total of 29 points in the favorable matchup against the Cardinals.
FD price: $5,100 -> $5,800
DK price: $4,500 -> $5,100
It was a tale of two completely different games for Sanu in his first two as a Patriot. In the first game, he was barely involved with two catches on five targets and only 37 snaps out of a possible 69. In Week 9, Sanu played 67 snaps out of a possible 67. His targets rose to 14 and had a 30% team target share. Now against a pass funnel defense in the Eagles, the Patriots should go more pass-heavy and get Sanu even more involved. The Eagles are allowing the eighth-most fantasy points per game to WRs and the second- fewest rushing yards to RBs. Sony Michel and the running attack have already struggled mightily to be effective, so the team likely will not force the issue there. Sanu should be heavily involved again this week against the beatable Eagles secondary.
FD price: $6,300 -> $6,100
DK price: $5,100 -> $4,700
The Patriots defense has been not friendly to opposing offenses this year, but they have shown a crack in their armor in the past two games. It has been the running defense that has started to show weaknesses, with Mark Ingram running for 115 rushing yards on 15 carries last game and Nick Chubb with 131 rushing yards on 20 carries the game prior. Also, the Eagles have relied more on the running attack in recent weeks with them struggling to get the passing game going without DeSean Jackson and that should continue against the Patriots. Howard has 23 and 19 carries in the last two games and should see a similar workload if the game stays close enough throughout. Adding to Howard's upside has been the consistent TD opportunities he has been given. He has 10 carries inside the 5, which is tied for the eighth-most among RBs. He has in turn punched in 6 rushing touchdowns this year. Howard has sneaky upside at a cheap salary this week.
Chalk
Allen seems too cheap this week with his salary being QB20 on DraftKings and QB16 on FanDuel. This should result in some added ownership especially in cash games this week as his ceiling is not huge for GPPs with Christian McCaffrey scoring a good amount of the TDs. It is a plus matchup against the Falcons, who are allowing the fourth-most fantasy points per game to QBs. The game has the second-highest over/under on the slate of 50.5, which should add ownership to Allen as well.
Jacobs has been very impressive in his rookie season and his expectations should be as high as ever this week against the Bengals. Leading into this week, he is coming off two straight good fantasy performances with 19.1 and 27 fantasy points. The game projects to be a great gamescript for Jacobs, as the Raiders are 10.5-point favorites. What has been a concern for him this year has been the lesser snaps and targets when they are in a negative gamescript, but the 0-9 Bengals are unlikely to get up big on the Raiders. He has 20-plus-touch upside in this game and should be a popular play.
Devonta Freeman is more than likely out this week with his two-week timeline for his injury, and now Hill steps into a featured role at a value. Dan Quinn said after Freeman's injury that he would feel confident with Hill in a lead role if needed, and we expect Quinn to stay true to that word. A potential workhorse at his cheap salary should be a popular option to save money at RB this week.
O.J. Howard, TE, Tampa Bay Buccaneers
It was a long time coming, but Howard finally had a performance with some positives in it. He saw a season-high seven targets and played on 82 snaps of a possible 83. Now this week, he is priced as the TE12 on DraftKings and the TE9 on FanDuel. With Austin Hooper and George Kittle both possibly out this week due to injuries, Howard could draw some appeal coming off a promising performance.
Mike Evans, WR, Tampa Bay Buccaneers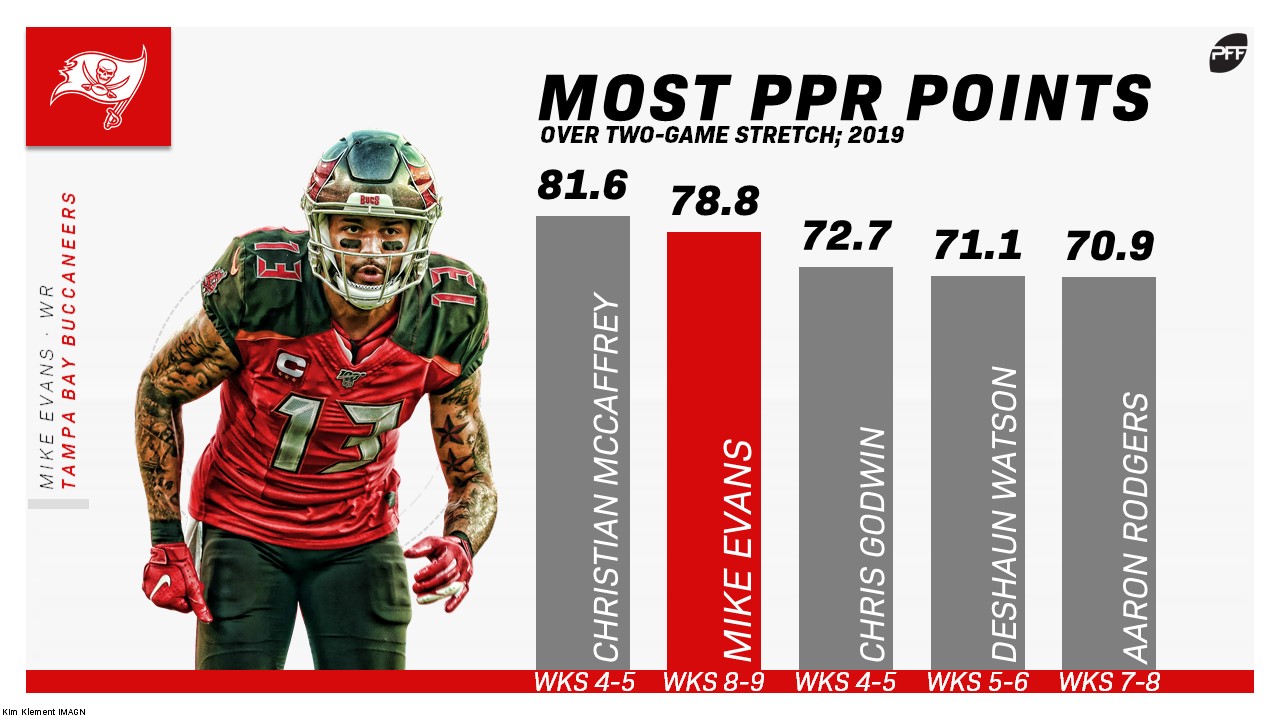 As mentioned in the Salary Changes section above, Evans gets a major boost with Marshon Lattimore out. Adding intrigue to him is the fact that his salary went down a bit and has flashed monster upside with games of 39.0, 45.8, and 48.0 fantasy points this season. The game projects to be high-scoring with a 51.5-point implied total, and the stout run defenses on both sides should lead to a faster pace of play with a lot of passing. Evans should garner a good amount of ownership especially in GPPs where he has paid off before this year.
Fades
Sony Michel, RB, New England Patriots
The offensive line and Michel as a whole in the running game have been ugly this year. He is averaging 3.3 yards per carry and has been easy for defenders to tackle as he ranks 84th among RBs in elusive rating. Don't expect there to be many improvements now with a matchup this week against the Eagles, who allow the second-fewest rushing yards to RBs. James White should get the majority of the snaps in this matchup.
Ingram has been a volatile fantasy player this year with his little involvement in the receiving game, and his limited ceiling in rushing attempts. In his past four games, the most rushing attempts he has seen is 15. In those four games, he has just five catches. This is making him extremely reliant on scoring TDs — which he has been able to do, but that reliance makes him a risky play. He is worth fading this week, as if he doesn't find the end zone, he likely is not returning much value at all.
As mentioned previously in these weekly articles, I am avoiding Chris Harris at all costs. He has been extremely dominant in coverage against the likes of Davante Adams, T.Y. Hilton, and Keenan Allen, and Diggs should continue that trend. It also projects as a negative gamescript for Diggs with the Vikings coming in as 10-point favorites. The Vikings will likely not test Harris that often, especially if Adam Thielen returns from injury.
Gallup is coming off a strong performance against the Vikings with a 4/76/1 line, but the gamescript should be worse for him here. The gamescript could hinge on if Matthew Stafford plays, but he appears to be highly questionable again this week, and if Jeff Driskel starts it is tough to not see the Cowboys having a lead the majority of the game. Even if Stafford does play, he is likely to be operating at less than 100%. Ezekiel Elliott really struggled against the Vikings, but he should be able to have a much better game in this matchup, and Gallup will have fewer opportunities coming off 46 passing attempts from Dak Prescott last week. Between more success running the ball for the Cowboys and a potential negative gamescript for Gallup, he is a fade this week.
Matchups
Brian Hill, RB, Atlanta Falcons (@ CAR)
As mentioned above in the Chalk section, Devonta Freeman is very likely to be out this week. In his place will be Hill, who is expected to be the featured back. With Freeman leaving due to injury, Hill saw 21 touches to Kenjon Barner's one last week, so he clearly is the more trusted option. Hill is even more attractive with the matchup being much softer after a tough one against the Saints last week. The Panthers allow the fourth-most fantasy points per game to RBs. In the featured role, he shouldn't be gamescript-dependent as we saw with Freeman having 38 catches and a majority of them coming when the Falcons were trailing. Hill has great upside in a plus matchup and a potential high-scoring game.
McLaurin has had two really tough matchups in the past three games against the Bills and 49ers but has the ability to feast this week against the weak Jets secondary. He is expected to matchup against the Jets outside cornerbacks Nate Hairston and Arthur Maulet. Hairston has had his struggles, allowing the fifth-most yards per snap among qualifying CBs. Maulet is coming off his first start for the Jets of the season this past game. Both of those matchups will be very winnable for McLaurin. The two top pass-catchers for the Giants against the Jets last week were Darius Slayton and Golden Tate, and they both went off with game lines of 10/121/2 and 4/95/2. McLaurin has been the lone bright spot for the Redskins this year and should shine bright again this week.