We're back yet again with our weekly look at the best strategies and roster-building approaches for FanDuel cash games. We have another jam-packed Sunday ahead of us, but the stars aren't quite as bright as usual, because the Falcons, Saints, Steelers, and Patriots are all not on the main slate, which eliminates a bunch of usual studs from the pickings.
But no matter; we still have plenty of games and players to choose from. When building a cash game lineup this week, the first thing you'll notice is that the quarterback position feels weak this week — but its actually not all that bad. We'll cover that, and more, in this guide.
Here's a look at several FanDuel cash game strategies you can deploy in Week 14.
(For the FanDuel tournament guide, click here)
Week 14 outlook: FanDuel pricing and projections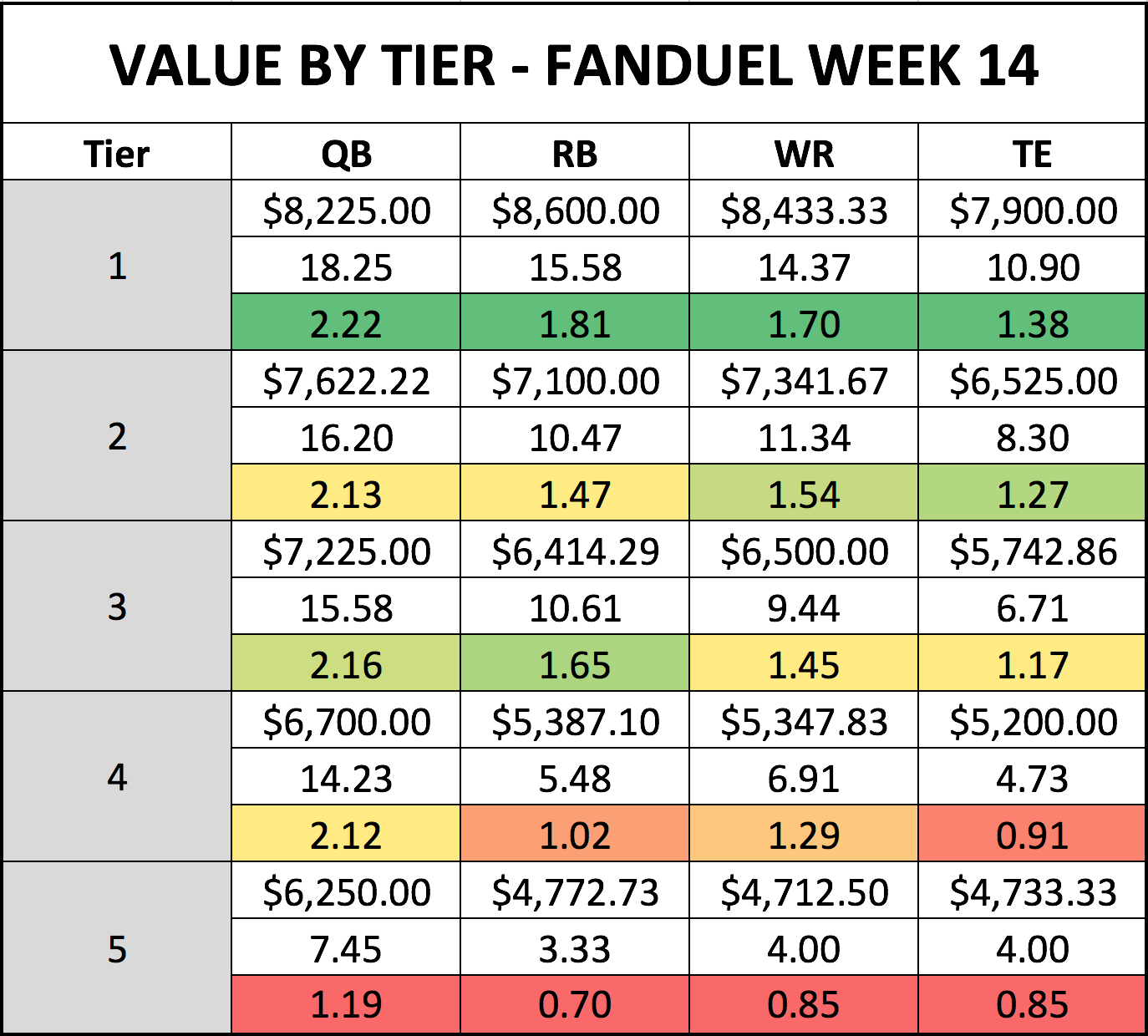 Tier Definitions
1
2
3
4
5
QB
$8000+
$7500-$7900
$7000-$7400
$6500-$6900
$6100-$6400
RB
$8000+
$7000-$7900
$6000-$6900
$5000-$5900
$4600-$4900
WR
$8000+
$7000-$7900
$6000-$6900
$5000-$5900
$4600-$4900
TE
$7000+
$6000-$6900
$5500-$5900
$5000-$5400
$4600-$4900
The Box: The first row within each tier represents the average salary of every player in that tier. The second row represents the average projected fantasy points for every player in that tier. The third row is the average value of each player in that tier (points/salary*1000). The Box is also color coordinated within each position throughout the tiers.
Quarterbacks: Uncomfortable value
Run through the list of quarterbacks and their corresponding matchups this week.
You don't feel great about any of them, do you?
Yet the Box shows us that all tiers (excluding Tier 5) average quarterbacks who should return at least 2x value on their salaries.
Carson Wentz probably feels like the safest quarterback of the week, but he's $8,600 and a bit hard to squeeze into lineups. Philip Rivers isn't a bad alternative, but he is also expensive, at $8,100.
On the other end of the spectrum are players like DeShone Kizer ($6,400) and Jacoby Brissett ($6,700). Both have favorable matchups and are cheap enough that they don't need to do that much to return value.
I actually like Andy Dalton and Blake Bortles in the mid-$7,000 range for cash games this week. Both players are hot and they are running into defenses that have good season-long stats but have not been playing as well over the past month.
Subscribe to PFF Edge to continue reading
Already have a subscription? Sign In