The Tennessee Titans were one of the biggest surprises of the 2019 NFL season. Not only did they make an impressive run in the playoffs, but the team also produced a number of standout fantasy performances. Derrick Henry proved that he can be a borderline elite fantasy running back, Ryan Tannehill reinvented himself for fantasy purposes and A.J. Brown proved to be one of the top rookie fantasy options in the league. Let's take a look whether this trio can continue their productive ways in our 2020 fantasy football projections.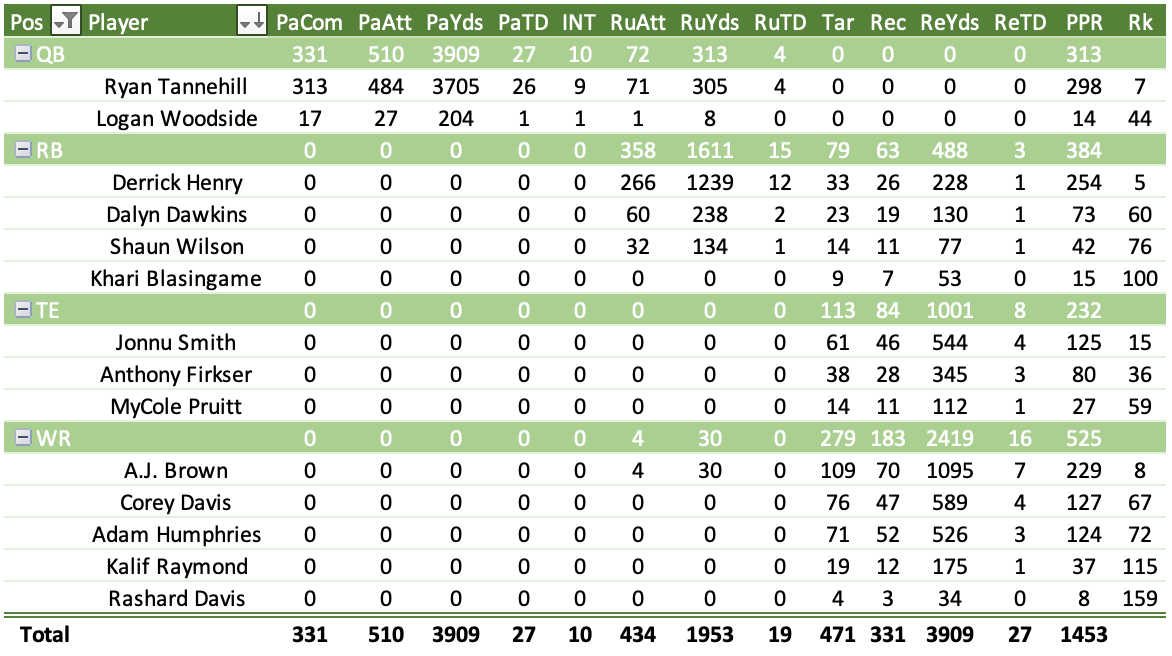 At this time last year, Henry was on a lot of fantasy avoid lists. "He won't continue where he left off in 2018," they said. "He doesn't catch enough passes to be a PPR RB1," they said. Well, they were wrong. Henry did in fact continue his productive ways from December of 2018, and he finished the year as RB5 despite only catching 18 passes on the season. On a per-game basis, only Christian McCaffrey and Dalvin Cook averaged more fantasy points.
Of course, a big reason for Henry's fantasy success was the fact that the Titans finally wised up and started feeding him the rock. His 303 carries led the league and helped propel him to 1,539 rushing yards, which also was tops in the NFL. Our numbers expect more of the same in the run game for Henry, who also projects to see a slight uptick in the passing game with Dion Lewis out of the mix. Henry won't be anywhere near the McCaffreys of the world in the receiving department, but his high-floor rushing production keeps him squarely in the RB1 conversation. He's all but guaranteed to be a first-round pick in 2020 fantasy drafts.
It wasn't just Henry who exceeded expectations last season. Tannehill went from an afterthought backup in the beginning of the season one of the hottest fantasy options down the stretch. With Marcus Mariota out of the way, Tannehill is now in the driver's seat, and wow do our projections love him. This is another instance where projections and our 2020 fantasy football rankings don't see eye to eye. Our projections are bullish on him continuing his touchdown efficiency from last season, and have him fifth among quarterbacks in passing scores. I'm not as ambitious and do think we see some regression in that department. With that said, Tannehill is still a solid late-round option in 2020 drafts with a high fantasy ceiling.
It isn't just Tannehill who our numbers love in Tennessee. Brown comes in as a top-10 option in our initial projections. Brown was a revelation down the stretch in his rookie season, ranking fourth among wideouts in fantasy scoring from Weeks 11-16. But believing in Brown in this range means you'll also have to believe in Tannehill at his projection. Like Tannehill, I'm slightly more bearish on Brown, with him coming in at No. 14 in my rankings. That isn't a sizable gap, but an anticipated dip in efficiency positions Brown as more of a front-end WR2.
With Delanie Walker out of the mix, Jonnu Smith finally has the stage all to himself. Smith is entering his age-25 season, which is a pivotal age for tight ends in the NFL where we typically see players break out. Smith has shown signs of fantasy potential in his career, and our numbers like him to take a big step forward into the front-end of the TE2s. He's an intriguing late-round option with upside.
[Find the full collection of analysis and insights on PFF's 2020 fantasy football projections for all 32 NFL teams. Check back as more articles will be added each day.]