One of the beauties of dynasty fantasy football is that not every team is pursuing the same strategy. There are win-now teams, building-for-the-future teams, rebuilding rosters and aging teams aiming for one last shot, all in ways that redraft leagues don't offer.
Teams that are in win-now mode, either because they are particularly stacked or because they have an aging core and need to go for it before the door slams shut, aren't that complicated. Get the best players you can as soon as you can. Next year, two years from now might stink in some cases, but flags fly forever.
The others, though, the ones building for the future, they have different questions. The easy strategy is to just get the best young players you can, and of course that's what you should do. But it's not exactly going to set you apart. Everybody wants the good young players.
Another strategy is to stockpile assets in a different way. When it comes to tight ends, everybody wants T.J. Hockenson and Noah Fant. But there are other, less obvious players you might want to target. Maybe they have a chance at turning into something that can help. Or maybe they just have a shot at an expanded role and could become something you could flip in trade. Either way, these tight ends are long shots, but might end up helping a dynasty roster that is looking to the future.
I'll start with the most obvious names and work down. (That's a subjective order, obviously.)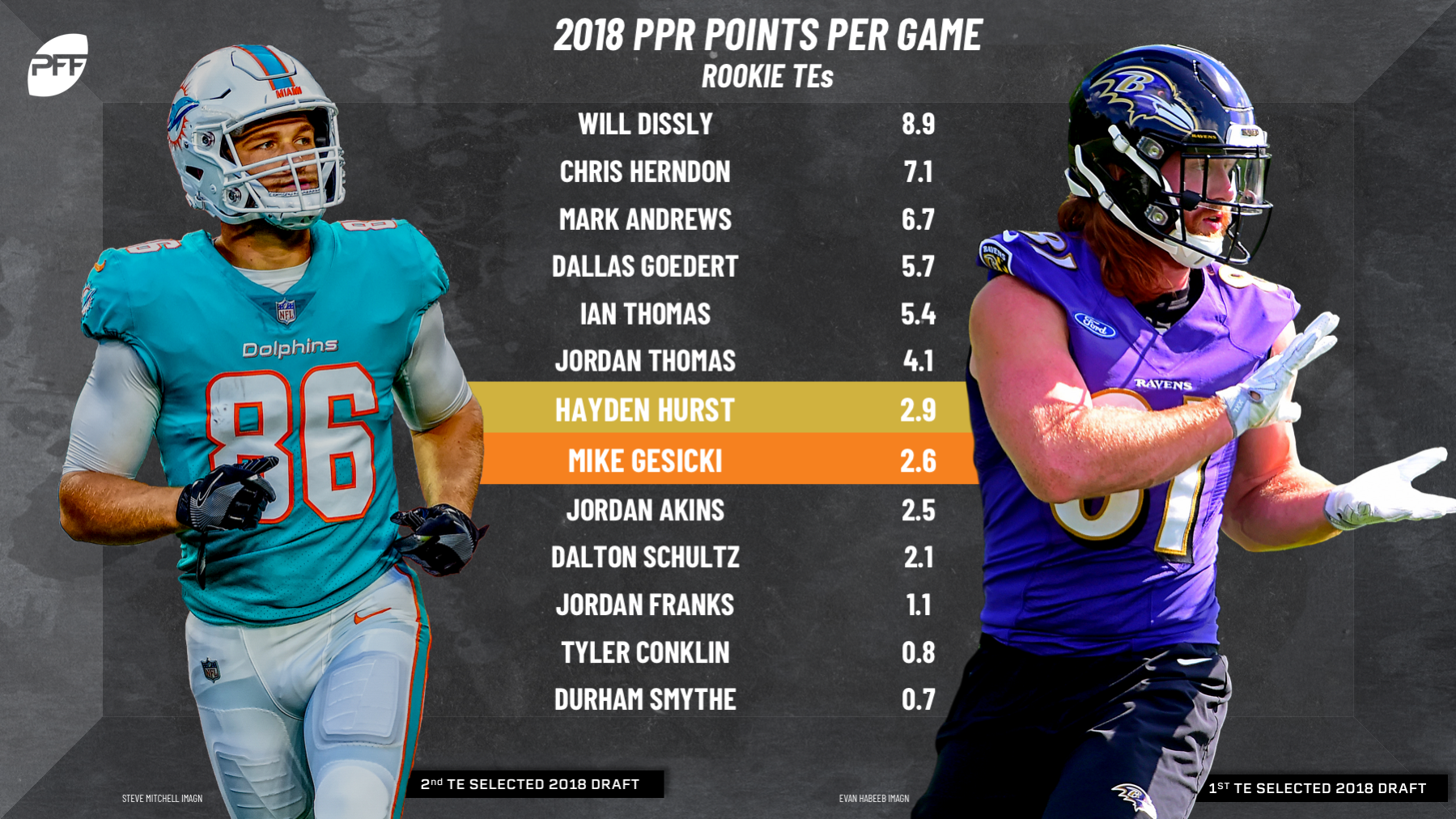 Gesicki was the No. 54 player on the PFF big board entering the 2018 draft, the second tight end after Dallas Goedert. Gesicki didn't do much of anything as a rookie, with only 202 scoreless yards and no games of more than 44 yards, but then that's often what you get out of rookie quarterbacks. With both his disappointing quarterback (Ryan Tannehill) and disappointing head coach (Adam Gase) elsewhere now, Gesicki gets a clean slate and a shot to start over. If he's come available, you're getting a top dynasty add from just a year ago at a budget price.
Hockenson and Fant are the obvious prizes here, but you only have to look up one paragraph to see evidence that prize dynasty rookie tight ends can be slow to develop. It's a hypothesis, and one that I have not yet tested, but if teams want to get a tight end in the best situation possible while at the he same time not yet relying on him, wouldn't it make sense to lean on the position early even if you aren't leaning on the still-learning rookie? Think Cameron Brate in Tampa Bay, Seth DeValve in Cleveland. With that hypothesis in mind, James, Butt, and Heuerman could offer sneaky value at least early in the season while their new teammates Hockenson and Fant get their feet under them.
LaCosse has had a roller coaster of an offseason. He signed with the Patriots March 14 as the theoretical backup to Rob Gronkowski. Ten days later, Gronkowski retired, and LaCosse was suddenly the No. 1. Sixteen days after that, the Patriots signed Austin Seferian-Jenkins. And then 30 days after that, Benjamin Watson's brief retirement ended, and the Patriots signed him as well. Now, LaCosse is grouped with both of those veteran tight ends in a confusing muddle. Something to note, though — Seferian-Jenkins and Watson are both on one-year deals with the Patriots, while LaCosse's deal is for two years, and Seferian-Jenkins was brought in at a smaller price tag than LaCosse. Seferian-Jenkins is going to be the first Patriots tight end drafted in most leagues, but if LaCosse can beat him out for a role, well, we know what being the Patriots tight end can mean in fantasy.
It's easy to forget now that the Ravens actually pounced on Hurst before Mark Andrews in last year's draft. The team took South Carolina's Hurst with the 25th overall pick, making him a first-rounder, and didn't take Andrews until the third, at No. 86 overall. Hurst was then the Ravens' top-graded tight end as a receiver in the preseason before a foot fracture pushed his NFL debut back to Week 5, and his fully healthy debut back to … well, hopefully we see that in 2019. Andrews is the name to prioritize right now, but if a healthy Hurst can leapfrog him (with Maxx Williams gone now and Nick Boyle focusing on blocking), he could steal Andrews' value.