For the most part, the drafting community in fantasy football is close. We've spent much of the preseason identifying players whose draft values are out of line with what they perhaps should be, but for the most part we're tinkering on the edges. Generally speaking, a first-rounder isn't going to return 10th-round value (absent injury), and an undrafted player isn't going to finish in the top-10.
But that's general. For however much the fantasy community tries to insist the sleeper is dead, there are players every year — think Phillip Lindsay last year, Alvin Kamara in 2017, or Jordan Howard in 2016 — who rise from undrafted or barely drafted to fantasy stardom (Lindsay finished as RB13 last year, Kamara was RB3 in 2017, Howard RB10 in 2016, and all were essentially free on draft day).
So today, we're dumpster diving. These players might have little to no fantasy value in 2019, but if things break just right, they could be fantasy stars. It's high-wire walking in this one, because there's every chance these players end up pointless. But with risk comes reward.
Quarterback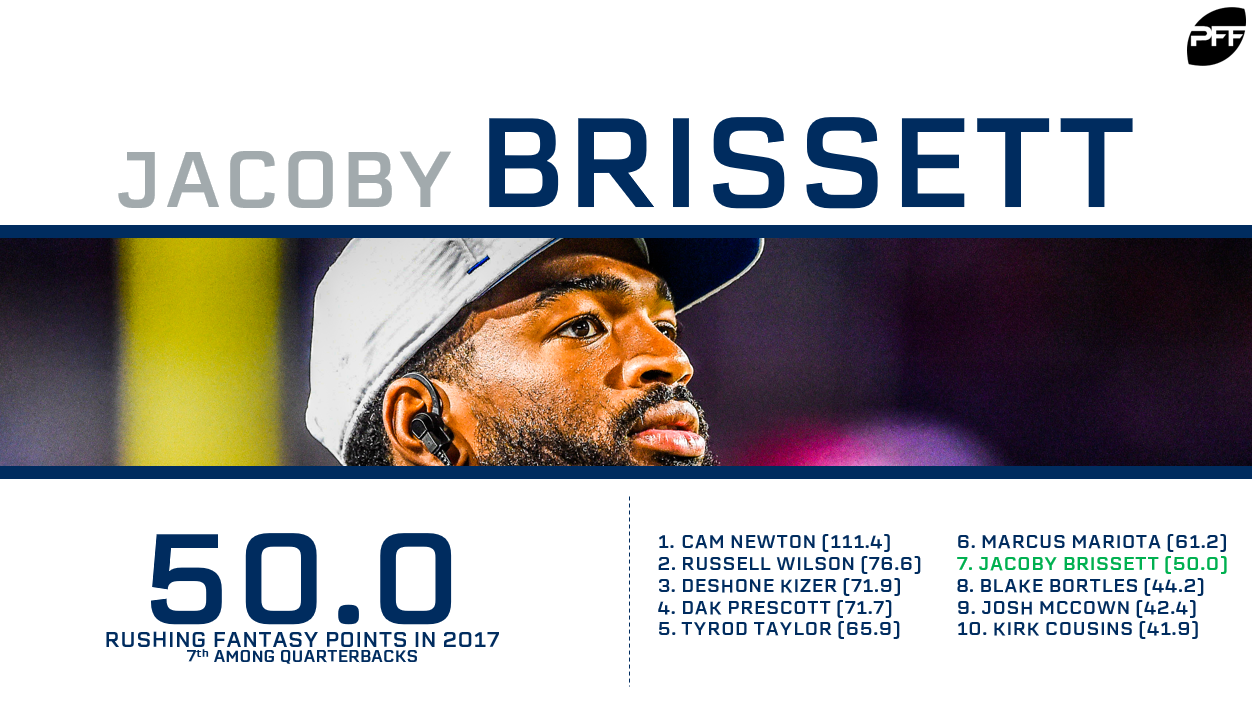 Okay, so I originally wrote this before *the news* came out Saturday. Andrew Luck's retirement clearly takes Brissett out of "the deepest of sleepers" territory. Nonetheless, he's worth noting, and it's not like people are about to draft him in the top 10. Brissett was the Colts' starter for almost all of 2017, when he finished as fantasy's QB22. That was despite not joining the team until only a few days before the season started, learning a new offense, and having little in terms of weaponry outside of T.Y. Hilton and Jack Doyle. He also finished seventh among quarterbacks in rushing fantasy points. Now, Brissett's two years into learning the offense, entering his contract year, and has a much-bolstered offense to work with. A fantasy stud? Probably not. But a contributor? Sure.
There have been surprising reports out of Titans camp that incumbent starter Marcus Mariota's leash on the No. 1 job might be so short that Tannehill could take over the job as early as … now, basically. Tannehill has looked strong through two games (84.4 PFF passing grade, 130.8 passer rating), while Mariota has looked less so (57.5, 92.0). With the best set of weapons the Titans have had in a football generation and not much depth at running back, there could be some under-the-radar fantasy appeal to this offense.
Running back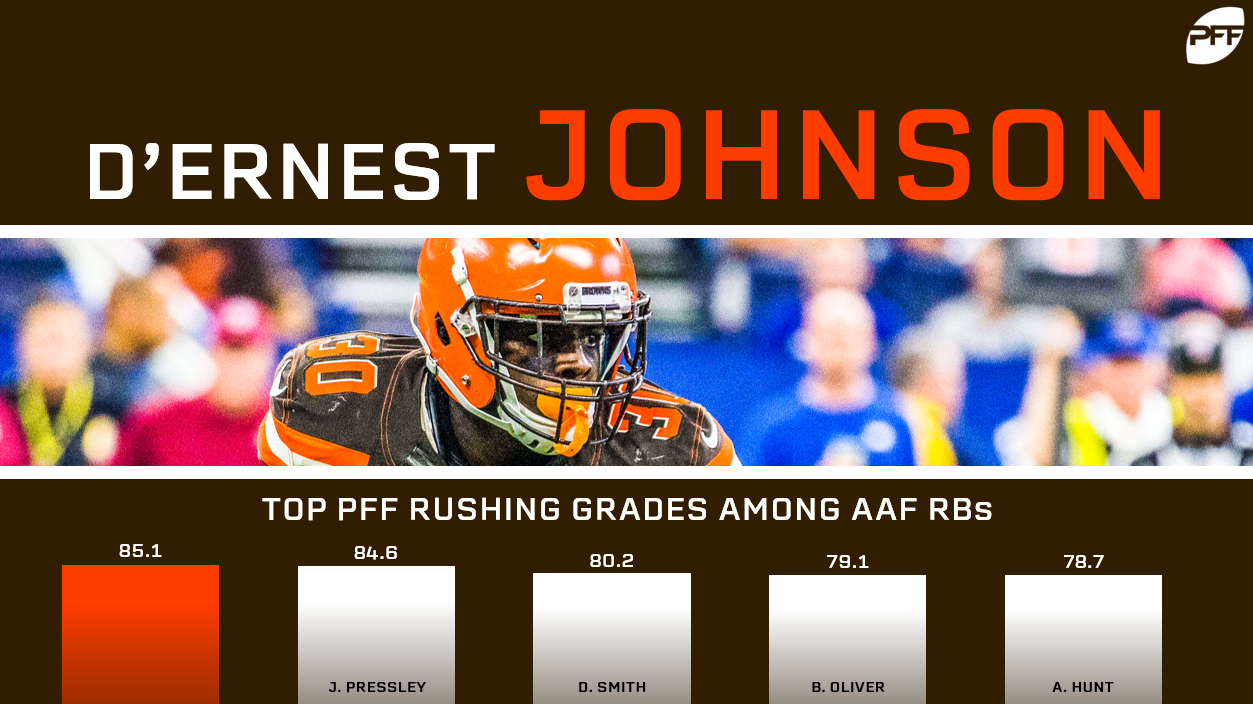 With Duke Johnson gone to Houston and Kareem Hunt out until Week 10, the Browns backfield depth chart is Nick Chubb and shrug emoji. Dontrell Hilliard has distinguished himself as a pass-catching option, but if somewhere were to happen to Chubb, Johnson — who was the top-graded running back in the AAF this spring, for what that's worth — might be best-equipped to soak up the lion's share of carries.
The Dolphins' backfield is almost comically shallow. Kenyan Drake is the presumed No. 1, but he's now had two coaching staffs refuse to use him heavily and is hurt. Kalen Ballage is the No. 2, but was the fourth-worst-graded running back out of 85 backs with at least 30 carries as a rookie. After that, who knows. Walton, late of the Bengals, didn't lose his job in Cincinnati for performance reasons, but rather because of arrests. If Drake can't get healthy and/or Ballage proves to not be capable enough, Walton is the odds-on favorite for the carries, without a huge next threat behind him.
The value of a player and coach who have history together is somewhat nebulous, but it is nonetheless true that Ellington's limited productive time in the NFL came when paired with Bruce Arians in Arizona, and now, after a 2018 spent out of the game, he's paired with him again in Tampa. Ellington isn't a strong candidate to seize a three-down load, but it wouldn't be too big a surprise if he were the third-down/pass-catching back in a pass-heavy offense, and that could be very valuable in a Duke Johnson/James White sense.
Between Devonta Freeman and Ollison in Atlanta, there is Ito Smith, who just had an awful rookie year, and Brian Hill, who has looked good in the preseason but has 31 total carries across two seasons in the league. Ollison, who just put up an 84.9 PFF rushing grade in his final year at Pitt, is already contending for the role as the team's goal-line back, but if Freeman were to go down with injury again, the line between Ollison and fantasy relevance is razor-thin.
Wide receiver
DeVante Parker is the annual tease. Albert Wilson is a health risk. Kenny Stills is … let's say less popular with his coaches than you might have expected. Grant? He has only 34 receptions in his three seasons, but he's clearly a guy the Dolphins care about after they just gave him a four-year extension. He's an excellent return man, which cements him on the roster, and he's shown a penchant for big plays, with a 52-yard score in 2018 and a 65-yarded in 2017. If Stills is shipped out, Wilson is banged up, and/or Parker continues to disappoint, maybe Grant is the one who develops next and not Preston Williams.
Jamison Crowder has drawn positive comments in his debut offseason with the Jets, and he's an excellent slot weapon. Quincy Enunwa, too, has spent plenty of time in the slot in his career. But Dortch, an undrafted rookie who just turned 21 in May, was literally college football's highest-graded slot receiver across the last two seasons, already has the line on the team's returning job, and if he can overtake Crowder for the slot role he has a high, Welker-esque ceiling in the role.
Inman was a key piece for the Colts down the stretch in 2018, with four touchdowns between Week 11 and the end of the season (counting the playoffs) after no targets before Week 8. After a brief stop with the Patriots this offseason, he's back with his old team, the Chargers. The top weapons in Los Angeles are excellent, but if anything happens to Keenan Allen (who is already hurt) or Mike Williams, it dries up really fast. Inman is new to the team, but he really isn't, after pairing with Philip Rivers in 2014-2017, including an 810-yard 2016.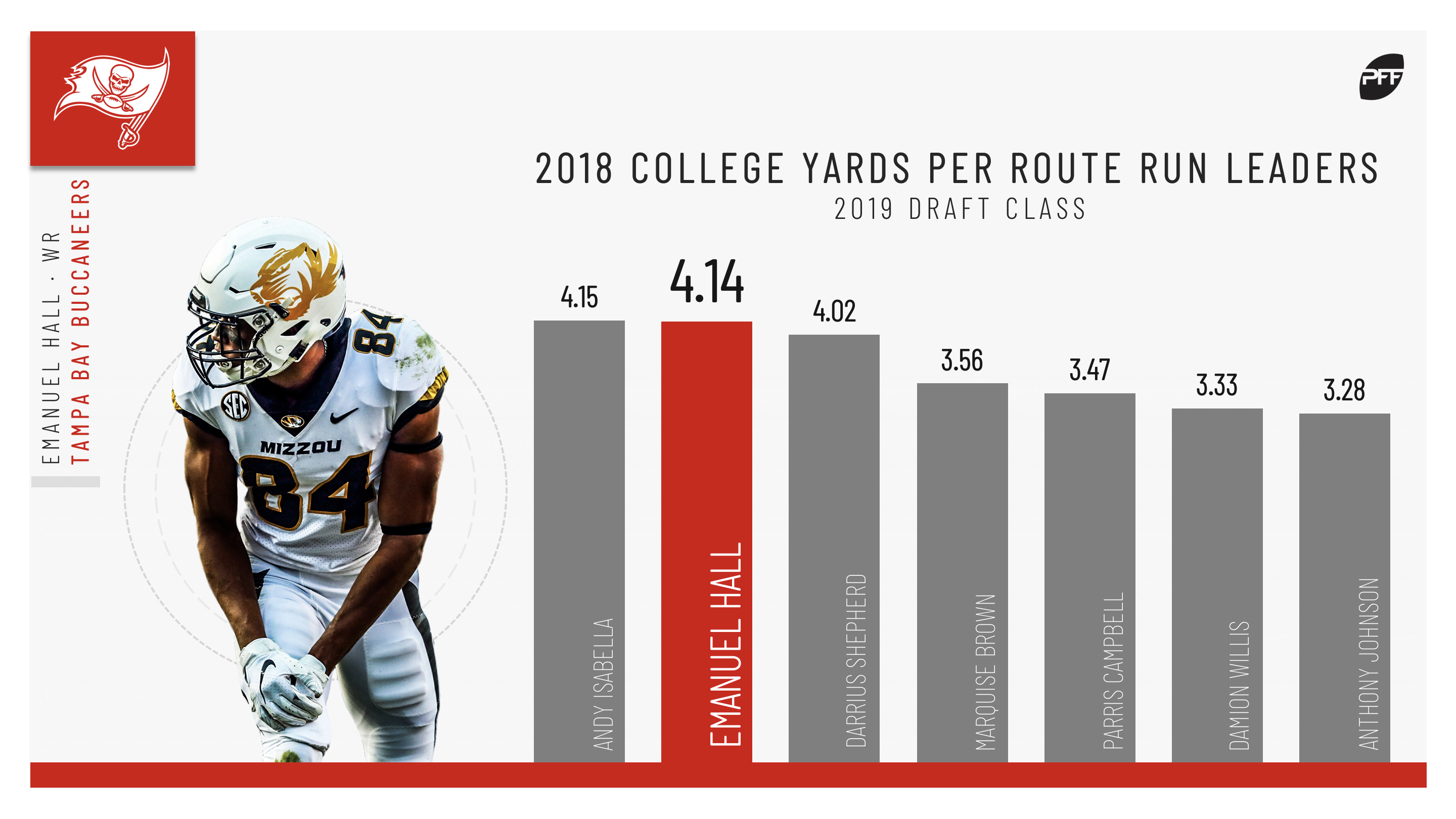 Hall was all the way up at 89th in the PFF Big Board entering this year's draft, only to go undrafted altogether. He landed with the Bears, but that only lasted about three months before he was waived. He's with Tampa now, and while the league doesn't seem to believe in him, if Hall can develop on the deep-threat ability he showed in college at Missouri, he is on absolutely the best possible offense to make the most of it, with DeSean Jackson and Adam Humphries gone from the Buccaneers and Hall potentially sliding into the Jackson role straight away.
Tight end
T.J. Hockenson is the marquee name among this year's rookie tight ends, and for good reason — he had the second-highest PFF receiving grade among all college tight ends last year at 90.8. And that was second because Sternberger led the way with 91.1. The Texas A&M product also led college tight ends in touchdowns with 10 and was behind only UCLA's Caleb Wilson with 965 yards. He fell to the Packers in the third round, where he'll start the year behind Jimmy Graham in the pecking order, but after Graham put up career-lows virtually across the board in 2018 in his first year in Green Bay, the almost-33-year-old might not have much football life left. If Sternberger overtakes Graham, at a shallow position, he's got big upside.