(Playing AAF DFS this week? Win a one-year subscription to PFF Elite by playing this DFS contest on Fanball!)
Are you an absolute fantasy football fanatic, a DFS junkie, or just someone intrigued by the new Alliance of American Football League? Well, if so, I've got good news for you. FanBall has a DFS platform for the AAF and we've got content for it.
See below for how I'll be attacking the Week 4 AAF slate over on FanBall.
Make sure you're also checking out our rankings and projections and Jeff Ratcliffe's WR/CB matchup chart for Week 4 of the AAF inaugural season.
Quarterbacks
Garrett Gilbert, QB, Orlando Apollos ($7,100) (@ Salt Lake)
John Wolford, QB, Salt Lake Stallions ($6,200) (vs. Orlando)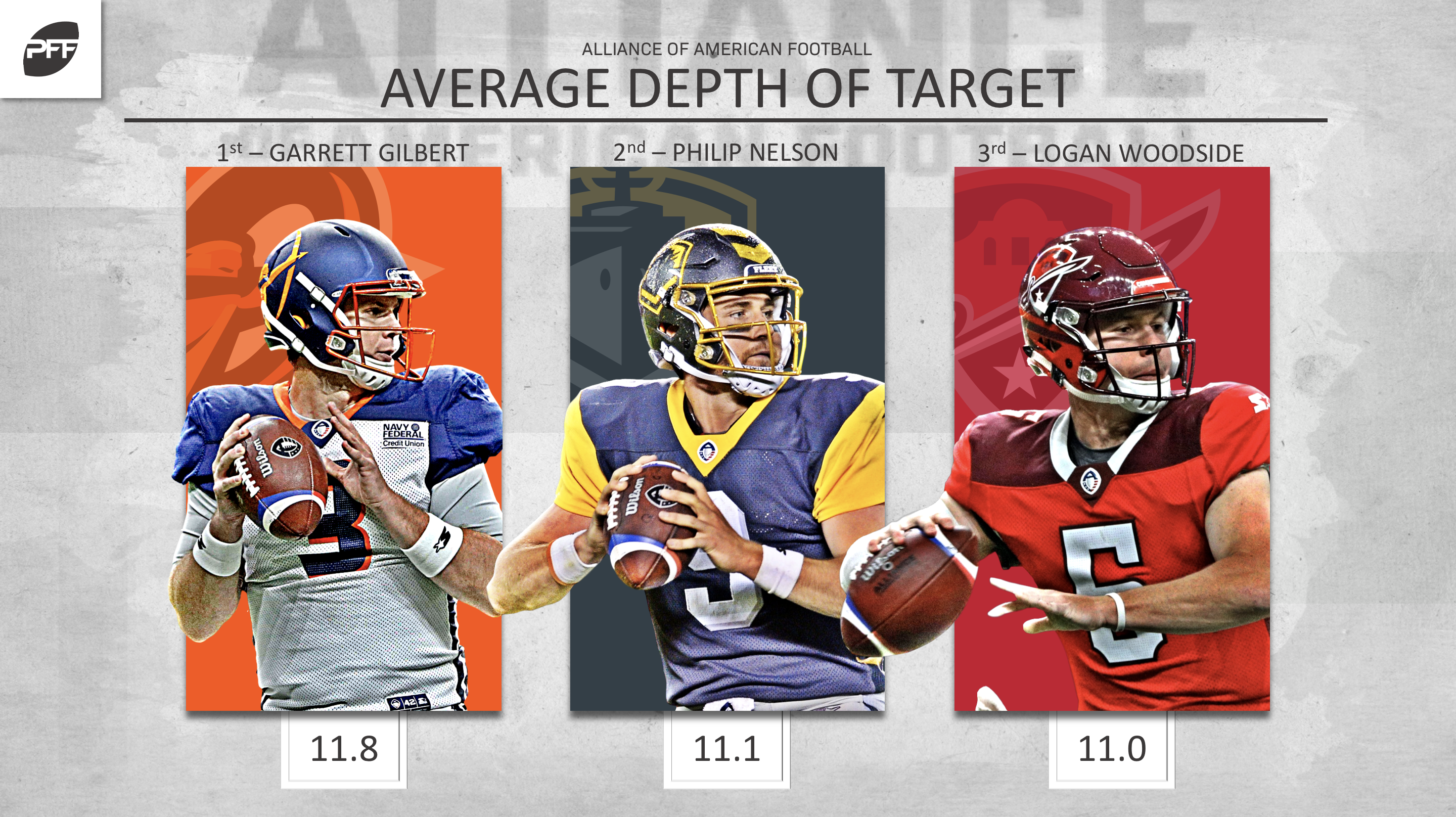 Last week, the only two quarterbacks in play were Gilbert and (then) Wolford. These two quarterbacks are dominating, and by a wide margin, all others (min. 13 attempts) in fantasy points per game, PFF grade, and passer rating. They're appropriately priced as the two highest-priced quarterbacks, and with Gilbert $900 more than Woodrum. They're playing each other this week, which gives the matchup edge to Gilbert. Gilbert has also been the (slightly) more effective and productive of the two. How much is that worth over Woodrum? Probably just a little more than $900 worth.
Matchups note: Salt Lake is giving up the third-most fantasy points per game to opposing quarterbacks, while Orlando is giving up the fifth-most (of eight teams).
Zach Mettenberger, QB, Memphis Express ($5,500) (vs. San Diego)
Despite the safety of the two aforementioned high-priced quarterbacks, I think Mettenberger is deserving of chalk-status this week. Mettenberger has legitimate NFL experience (10 starts across two NFL seasons) and was fantastic in relief of Christian Hackenberg last week. He played on only 46% of the team's snaps, scoring 12.8 fantasy points on 12 attempts. He compiled a 75% completion percentage along with 120 yards, two touchdowns, and zero interceptions. If we reduced our minimum attempt threshold from the previous section, he'd lead all quarterbacks in PFF grade, passer rating, and fantasy points per quarter. He'll draw the start this week, but in a tough matchup. Still, at his price tag, he's the clear best value.
Matchups note: Salt Diego is giving up the second-fewest fantasy points per game to opposing quarterbacks.
Running backs
Matchups note: Atlanta and Memphis, easily, have the best running back matchups of the week. Their opponents are surrendering, respectively, 32.0 and 30.5 fantasy points per game to opposing running backs. Birmingham has the toughest, up against San Antonio (17.8 fantasy points per game). In the middle, we have (in order) Arizona, San Antonio, Salt Lake, Orlando, and San Diego, whose opponents are surrendering between 23.0 and 19.5 fantasy points per game to opposing running backs. 
Trent Richardson, RB, Birmingham ($7,600) (vs. San Antonio)
Richardson every week? Richardson every week. Everything we wrote of Richardson last week is even more true this week. Though the matchup is tough, his usage (and team) is too good for me to move off him as chalk.
Other high-priced running backs
(Number in parentheses indicates salary rank)
In order, I'm looking at Zac Stacy (RB3), Branden Oliver (RB6), D'Ernest Johnson (RB4), Ja'Quan Gardner (RB2), and Jhurrell Pressley (RB8).
Stacy ranks second-best in weighted opportunity per game, fifth-best in fantasy points per game, and, in Week 3, ranked second-best in total opportunities (carries plus targets) with 18. He also has, arguably, the best matchup of the week.
We're still looking for a big game from Oliver, but volume has been good and climbing in recent weeks. He averaged 25.0 snaps per game across the first two weeks of the season, then saw 40 (of 73 possible) snaps in Week 3. He also earned 16 carries and two targets.
Johnson averaged 16.5 snaps per game before earning 33 (of 63 possible) snaps in Week 3. He saw 13 carries and three targets, and now ranks second-best (to Richardson) in fantasy points per touch.
Gardner has been insanely efficient, totaling 88 more yards than the next-closest player, despite ranking eighth in carries (8.0 yards per carry). I feel he's certainly earned more volume, but it's not a lock the San Diego coaches feel the same way. He played on just 40% of the snaps in Week 3 while being out-snapped and out-carried by Terrell Watson (RB9). Watson might be a fine pivot in his own right (he had the second-best snap share of Week 3 at 60%), but unlike in the NFL (where there's more parity), I'm fine sometimes chasing hyper-efficiency over volume in AAF DFS.
Pressley ranks second in snaps per game (34.7), which is typically the best stat for predicting running back fantasy production, but he's graded poorly and hasn't been very productive.
Trey Williams, RB, San Antonio Commanders ($4,100) (@ Birmingham)
Williams might be the of the cheaper running backs this week, though still not an especially strong one. He played his first game of the year in Week 3, with Aaron Green a healthy scratch, and played on 29 of 64 snaps. He should be in line for more work than his seven carries and three targets this week, after good efficiency (totaling 93 yards).
Receivers
Matchups Note: Based on fantasy points per game allowed, Birmingham (Quinton Patton) has the best matchup, up against the San Antonio Commanders, who are giving up 42.6 fantasy points per game. After them, Salt Lake, Orlando, San Diego, and Atlanta have the second through fifth-best matchups. Salt Lake's opponent, however, is giving up 8.3 fewer fantasy points per game than San Antonio (Birmingham's opponent) and there's little (4.0 fantasy points) separating Salt Lake's matchup from Atlanta's. San Antonio (Mekale McKay) has the toughest matchup, followed closely behind by Arizona and Memphis.
High-priced receivers
(Number in parentheses indicates salary rank)
Of the high-priced receivers, my favorites are (in order, and with pricing factored in) Rashad Ross (WR2), Mekale McKay (WR4), Charles Johnson (WR1), De'Mornay Pierson-El (WR5), Nelson Spruce (WR7), and Quinton Patton (WR3).
Ross ranks first in PFF grade, first in fantasy points per game (20.4, 3.5 over next-closest), and top-three in air yardage and target market share. He's rightfully the chalk.
McKay ranks first in air yards per game (149.0), first in target market share (24%), and third in fantasy points per game (13.4).
Johnson ranks second in PFF grade, fantasy points per game (16.8), and targets per game (7.3). He's expensive but has slate-busting upside. Still, his high price-tag puts him slightly behind McKay, and I'd only prioritize him over Ross on Gilbert lineups.
Pierson-El has seen target totals of five, six, and nine over the last three weeks. In Week 3, he drew a 24% market share (third-best on the week) while posting an 8-90-1 receiving line.
Spruce averaged just 22 snaps per game over the first two weeks of the season before seeing that rise to 46 in Week 3, when he posted a 4-50-2 line on seven targets.
Patton has graded atrociously and has not performed well but leads all wide receivers (by a massive margin) in air yardage market share (45%) and ranks top-five in all other volume-based stats I find meaningful. A possible slate-busting regression-game seems inevitable, but he still feels a bit too expensive this week.
Value plays
(Number in parentheses indicates salary rank)
Richard Mullaney (WR41) ranked third in target market share (25%) heading into last week but failed to suit up due to injury. If he's active, he might be the best value play on the board at a stone-minimum price-tag ($3,000). If he's out, look to Marquis Bundy (WR18), who played the third-most snaps in Week 3, and drew eight targets. One might also consider Josh Huff (WR9), who led all Week 3 receivers in targets (10). Though he was unproductive in spite of the good volume, he'd be a decent but not great value.
Kenny Bell (WR21) is still a strong value, though is mostly just a faith-based play, based on college pedigree rather than AAF production.
Keith Towbridge (WR40) is technically a tight end but played on a team-high 58 (of 68 possible) snaps in Week 3, which was almost double his total over the first two weeks of the season (38). He posted a 3-21-0 line on six targets in Week 3. Similarly, Wes Saxton Jr. (WR36), is another tight end in play as a decent value this week. In Week 3 he drew five targets (3-27-0) and a team-high 56 snaps (of 66 possible) after sitting out in each of the first two weeks. Both should be starting again in Week 4.
Punt plays
James Quick (WR36) played on just eight total snaps through the first two weeks of the season. He played on 30 of the team's snaps in Week 3, drawing a week-high 29% target market share (eight targets total). Still he ranked just fourth of the Atlanta wide receivers in snaps in Week 3.
Similarly, Kaelin Clay (WR25) was technically Salt Lake's WR5 (by snaps), after being ruled inactive in each of the first two weeks but drew a team-high seven targets in Week 3, while posting a 5-27-0 line.