(Playing AAF DFS this week? Win a one-year subscription to PFF Elite by playing this DFS contest on Fanball!)
Are you an absolute fantasy football fanatic, a DFS junkie, or just someone intrigued by the new Alliance of American Football League? Well, if so, I've got good news for you. FanBall has a DFS platform for the AAF and, now, we've got content for it.
See below for how I'll be attacking the Week 2 AAF slate over on FanBall.
Make sure you're also checking out our rankings and projections and Jeff Ratcliffe's WR/CB matchup chart for Week 2 of the AAF inaugural season.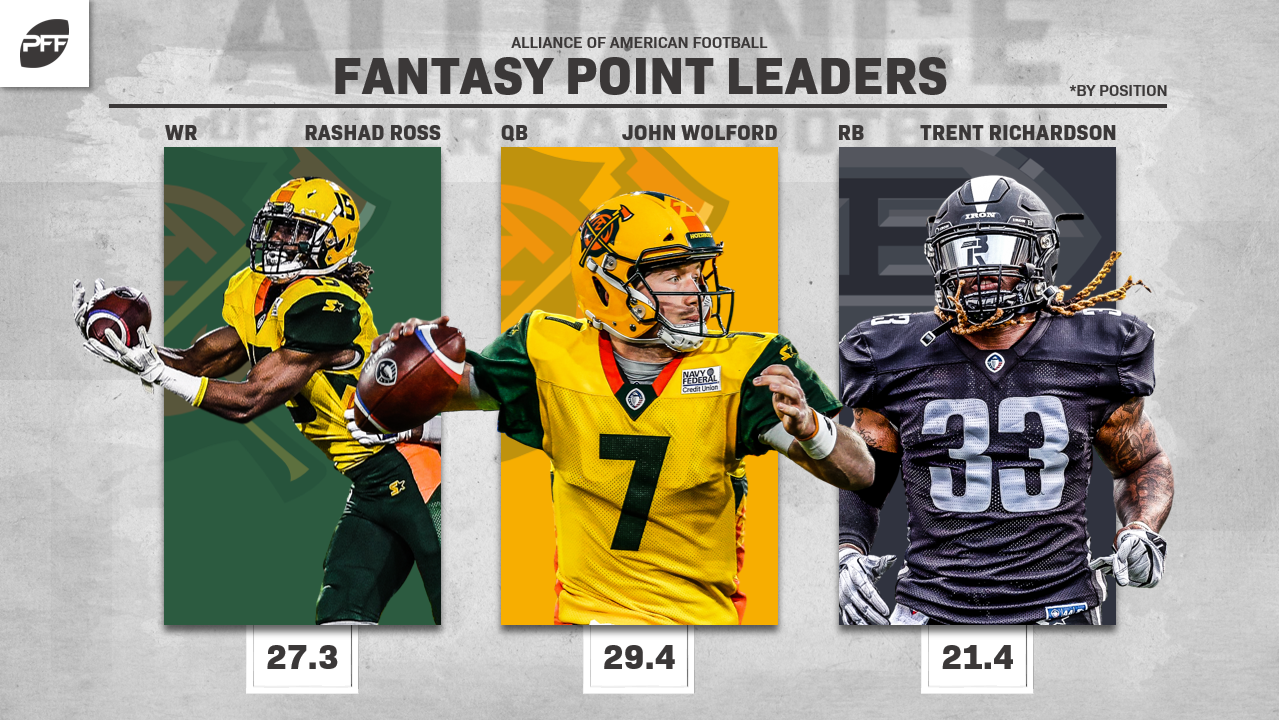 Quarterbacks
John Wolford, QB, Arizona Hotshots (@ Memphis) ($6,600)
Wolford is the highest-priced quarterback (though not by much) and is well worth paying up for. Last week, Wolford led all quarterbacks in fantasy points with 29.4, or 10.5 more than the next closest quarterback. He also led the position in passing yards, passing touchdowns, passer rating, PFF grade, and rushing yards. The Hotshots were the heavy favorites to win it all this year and it's easy to see why – out of the gates they seem to have the best offense, be the best all-around team, and have the league's best coaching staff.
Other: The only reason to fade Wolford would be due to ownership concerns (he'll be massively owned) or for diversification purposes. The other quarterbacks to consider are:
Garrett Gilbert ($6,300) is the easy No. 2 in my rankings after finishing with 18.9 fantasy points and the only other quarterback with more than 11.5 last week. He beat up on Atlanta – easily the team with the worst pass-coverage unit in the league, but now gets a San Antonio defense that gave up only six points last week.
Philip Nelson ($5,200) is intriguing as a cheaper option (10th in salary). He'll be starting in place of Mike Bercovici for San Diego. As we just alluded to, Atlanta's defense looks like the worst in the league. He'd be my favorite option for larger-field tournaments when fading Wolford.
After these names I'd consider Luis Perez ($6,000) and Logan Woodside ($6,100). Woodside had the best volume of all quarterbacks last week (44 attempts) — just ahead of Perez (40 attempts) — but Woodside draws Orlando, who also surrendered only six points last week. Perez, who I like more, has the better matchup against Salt Lake, who gave up 38 points to Arizona in Week 1.
Running backs
Trent Richardson, RB, Birmingham Iron (vs. Salt Lake) ($7,000)
Richardson is the highest-priced player on the slate but for good reason. He led all running backs in fantasy points with 21.4 (4.8 more than next closest) while also drawing the best volume, with a 16.5 weighted opportunity score (2.5 more than next closest). He benefited from terrific volume (25 carries, three targets, and goal-line work) in a blowout victory (a 26-0 rout), but he should see both again. His opponent (Salt Lake) lost by 16 points in Week 1. Unfortunately, Richardson still looked like the Richardson we all remember from his NFL days, averaging 2.32 yards per carry, but he's a big-name draw in an up-and-coming league and should continue to get good volume to help fill the stadium.
Ladarius Perkins, RB, Birmingham Iron (vs. Salt Lake) ($4,800)
Though Richardson saw terrific volume, he was more of a workhorse than a bell cow for Birmingham, as Perkins ranked second among all running backs in weighted opportunity (14.0), drawing five carries and a whopping seven targets. He caught six of those targets and scored 13.0 fantasy points (fourth-most at the position). Those seven targets were enough to push him up to fifth among all players in target market share (22%). Remember, this was despite gamescript that didn't necessarily lend itself well towards a pass-catching running back. Based on this volume and his Week 2 price tag, he's a very intriguing option this week.
Tarean Folston, RB, Atlanta Legends (@ San Diego) ($5,600)
After Perkins, I like Folston as another cheaper, potentially low-owned running back. He ranked third in weighted opportunity (13.3), on the back of 12 carries and four targets. All other Atlanta running backs combined for eight carries and one target last week, which gives Folston the second-best weighted opportunity market share of the week. Atlanta lost by 34 points last week and gamescript should be better for Folston against San Diego who lost their matchup by nine points.
Other:
Among the more expensive options, I like Jhurrell Pressley ($6,900) the most, behind only Richardson. Pressley ranked second at the position in fantasy points (16.6) and saw good volume, totaling 19 carries and drawing one target (catching that target for a 30-yard score). Pressley should see terrific gamescript again this week against a Memphis team that lost their matchup by 26 points.
Both Joel Bouagnon ($6,600) and Branden Oliver ($3,900) are somewhat intriguing for Salt Lake. Bouagnon is expensive but did draw 16 of the team's 28 carries, though he failed to record a target. This was despite bad gamescript (a 16-point loss) but gamescript might be even worst this week against Birmingham, who won their matchup 26-0. That would make Oliver somewhat more intriguing. He totaled five more rushing yards on six fewer carries, drew three targets, and finished the week with our second-highest overall grade at the position. I think Oliver is the much better play at a far lower salary, though the matchup might be bad enough that we should be overlooking both names.
Rajion Neal ($4,100) is also vaguely in play as a cheaper option. He saw three carries and all five of his team's backfield targets for Memphis last week (in a 26-0 blowout loss). He should draw heavy target volume again this week, against Arizona who won their matchup by 16. Though, like Bouagnon and Oliver, Neal is nowhere near as intriguing as the first four options we've discussed.
Receivers
By my data, the receivers with the best volume were (in descending order): Mekale McKay (11 targets, three deep), Quinton Patton (nine targets, three deep), Rashad Ross (seven targets, four deep), Seantavius Jones (seven targets, three deep), and Francis Owusu (seven targets, two deep). FanBall did a good job of pricing these players – all five rank among the seven highest-priced receivers. However, despite the high salary rank, I still don't see them being very expensive. I expect to roster at least one of the first three names on a number of lineups.
Ross ($6,100) was our highest-graded wide receiver of the week and led all receivers in fantasy points (27.3) by 12.6. He'll be heavily owned but he's also the clear top wide receiver in my rankings this week, just ahead of Patton ($6,300) and then McKay ($6,800). All three also ranked top-three in air yardage and air yardage market share.
After those names, Anthony Denham (seven targets, one deep) and Greg Ward Jr. (seven targets, one deep) stand out. Denham, a tight end, ranks 23rd among all receivers in pricing, while Ward ranks 12th.
Alonzo Moore ($5,100) only saw five targets but did rank fourth in air yards (127) last week and ranked as our third-highest-graded wide receiver. He's just the 19th-highest-priced receiver this week. I'm also intrigued by Charles Johnson ($6,000) and Jalin Marshall ($5,200), who stand out due to talent, NFL experience, decent volume, and high-end Week 1 grades. Marshall actually ranked third among all receivers in fantasy points in Week 1 but ranks 18th in salary.
It's still early to read too deeply into matchups, but Atlanta and then San Diego stand out as having the league's worst secondaries. They play each other this week, which means boosting Owusu (seven targets, two catches) and Brian Brown (six targets, five catches) for San Diego and Seantavius Jones (seven targets, three catches) and Malachi Jones (six targets, zero catches) for Atlanta. Of these names, Brian Brown is clearly the best play of the bunch, at a site minimum salary of only $3,000.
tl;dr: Rashad Ross, Quinton Patton, and Mekale McKay (in order) are worth paying up for. Brian Brown and Anthony Denham (in order) are the two clear top value plays. After that, there are a number of names worthy of consideration but who don't stand out nearly as much.