The Panthers' passing attack has not followed the script this season. Kelvin Benjamin struggled and then was traded to Buffalo. Rookie speedster Curtis Samuel looked like the natural replacement for Ted Ginn, who left for division-rival New Orleans, but Samuel played sparingly and then landed on injured reserve with an ankle injury just as his role expanded. Greg Olsen has spent most of this season on IR as well, but he finally looked healthy in the team's win over the Packers on Sunday. His performance reminded us that, when he's right, he is Cam Newton's security blanket against blitzes. On Sunday, 57 of his 116 yards and his touchdown came against blitzes, and since the start of 2016, he leads the Panthers with a 42.4 percent blitz target rate.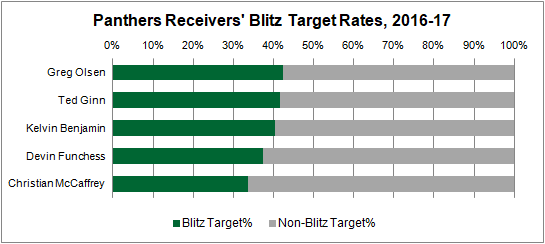 Interestingly, Olsen, Ginn, and Benjamin have been the team's top blitz targets over that time. With all of them gone or hurt for much of this season, one has to wonder whether Devin Funchess and Christian McCaffrey were targeted to replace that blitz production or if they've been forced to do so in Olsen's absence and will fade back to more conservative roles. That's an important question for this week's game against the Buccaneers, who have the fourth-lowest blitz rate in football at 21.5 percent. I just don't have any confidence I can make the right prediction there. Newton is playing well and should continue to benefit from a finally healthy set of receivers, so put him in your lineups. But Olsen and Funchess seem like a toss of the dice. Maybe look elsewhere unless you need the upside.
The Panthers are a bit of a mystery at this point, but research I did over the offseason shows that many players provide security blankets for their quarterbacks against blitz-heavy teams while others consistently see fewer targets. Here are the players I recommend to use and avoid because of their blitz matchups this week.
Players to target
Mike Evans, WR, Tampa Bay Buccaneers
In that aforementioned Panthers-Bucs game this weekend, there is a lot more clarity of roles on Tampa's sideline. And even though Mike Evans has had a dreadful year next to the lofty heights many of us expected from him, his pattern of usage this season should make him an excellent fantasy play on Sunday. Nearly half of Evans' targets this year have come against blitzes. Among receivers with at least 50 total targets, only Marqise Lee of the Jaguars has a higher blitz target rate.
Highest Blitz Target%, 2017, Min. 50 Targets
Blitz
Non-Blitz
Player
Tgts
Yards
Tgts
Yards
Blitz Tgt%
Marqise Lee
45
325
46
377
49.5%
Mike Evans
54
364
57
478
48.6%
Golden Tate
48
478
56
407
46.2%
Randall Cobb
33
183
41
403
44.6%
Marquise Goodwin
40
411
50
486
44.4%
Kenny Stills
38
263
50
500
43.2%
Subscribe to PFF Edge to continue reading
Already have a subscription? Sign In