In fantasy football, every point you score counts the same, more or less. Yes, a point in the playoffs is more important to your team than a point in Week 3, but if you don't get that Week 3 point, you might not make the playoffs at all.
That said, treating every point as equivalent can give us a false impression of the kind of season a player had. Fantasy is a season-long game, yes, but in regular leagues you still need that production to be reasonably spread out so a player isn't lumping all his points into a single week and acting as a drain on the roster the rest of the time.
The best example of that in 2018: Blake Jarwin. Jarwin finished the season as TE26 — obviously not good, but a finish that at least looks respectable. Of course, that was with a 36.9-point Week 17. Jarwin entered the final week of the season as TE54 before almost doubling his season total in the finale. Jarwin's big game counts, but if you look at his season total you might be fooled.
Jarwin wasn't a relevant fantasy name, but he was especially not relevant if you take out his one big game. And while the relevant names don't have ridiculous outliers to that extent, there were some notable names who lumped a big percentage of their season-long scoring into a single week. Call them the "one-game wonders" of the 2018 season.
Below, we're looking at the relevant players (defined here as a season-long top-20 quarterback or tight end, top-30 running back or wide receiver) who were the most notable one-game wonders of 2018.
Quarterback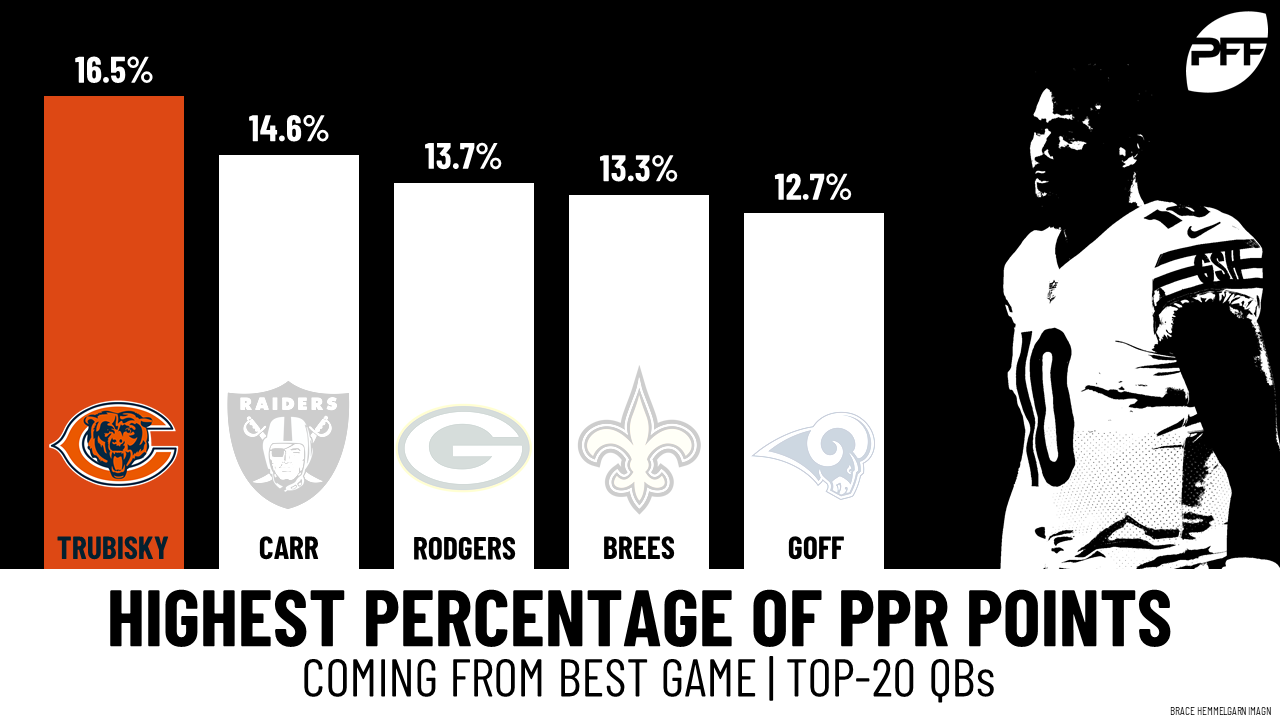 Biggest game: Week 4, 43.46 fantasy points (16.5% of season total)
Trubisky had a six-touchdown in Week 4, more than he had in any two consecutive games at any point the rest of the year. In fact, after Week 10 (which, granted, includes two games missed to injury), he totaled five passing touchdowns the rest of the season. That Buccaneers game also included Trubisky's second-most passing yards (354; he threw for 355 in Week 10) and second-most rushing yards (53; he ran for 81 in Week 7) on the season. He was QB10 in points per game on the season, but he fell to QB12 without that one game.
Biggest game: Week 4, 31.58 (14.6%)
This is the third year I've done this one-game-wonder research. In 2016, Carr had the biggest single-game QB number. In 2017, he did again. So in 2018, his drop to second is actually notable for not being even larger. The fact that Carr puts up big games like this every year might look like he's an interesting best ball option, but the fact that he only does it once a year works against that.
Running back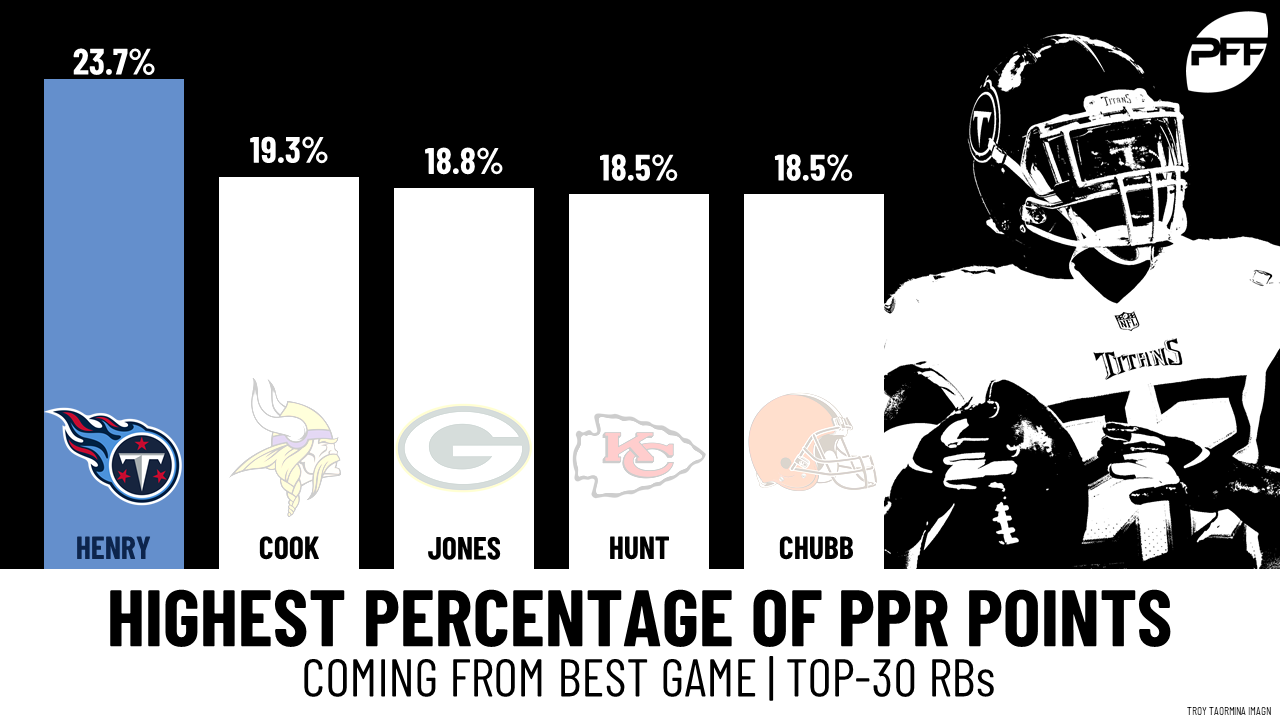 Biggest game: Week 13, 47.8 (23.7%)
This one probably isn't much of a surprise. Henry was 20th in running back PPR points per game for the full season but fell to 27th without that 238-yard, 4-touchdown game on his resume. Henry didn't top 60 yards in a game before Week 13, then averaged more than 150 over the last month, with at least 90 every game. All indications for 2019 are that that was a changing of the guard, and maybe Henry dominates workload in the coming season, but he's certainly not a sure thing.
Biggest game: Week 15, 29.3 (19.3%)
Cook's rookie 2017 was cut short partway through Week 4 with an ACL tear, but when he went down, he was averaging more than 90 yards a game and had scored twice. Recovery from that appeared to take some time into 2018, and further injury complicated matters. As a result, he only topped 40 rushing yards in 2018 once before December. In Week 15 against Miami, though, Cook had 136 rushing yards, 27 receiving yards, and scored two of his four season touchdowns (including his only two rushing scores). He had four of his top five single-game totals in rushing attempts in the season's final month. If that is indicative of healthy Cook and he can stay healthy in 2019, he's in store for a big year.
Biggest game: Week 10, 32.2 (18.8%)
It took the Packers a frustratingly long time to commit to Jones in 2018, but he turned it on down the stretch. It started with his big Week 10 (172 scrimmage yards and 2 touchdowns against Miami — note how often running backs' biggest games came against the Dolphins) and from then under Week 14, he had seven touchdowns in five games before getting hurt in Week 15. We'll see how the new coaching staff utilizes Jones in 2019, but he has sky-high upside.
Wide receiver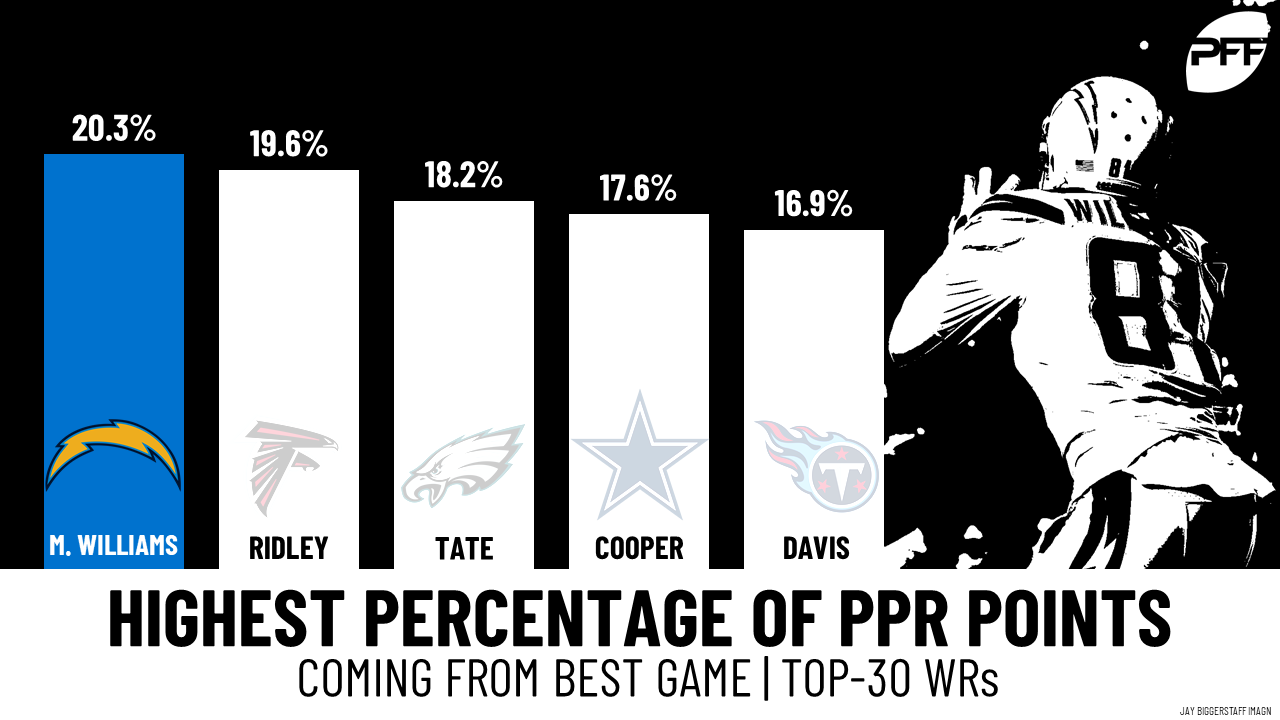 Biggest game: Week 15, 36.5 (20.3%)
Williams scored 11 total touchdowns in 2018, but take out his big Week 15 (95 scrimmage yards and 3 touchdowns) and he didn't even average 10 PPR points per game. You would expect the departure of Tyrell Williams to lead to an increase in targets and workload for Mike Williams, but Hunter Henry's return from injury could offset that. Williams' profile for 2019 is as more of a best ball option (he had three different multi-score games in 2018).
Biggest game: Week 3, 40.6 (19.6%)
After a catchless Week 1, Ridley scored six touchdowns in Weeks 2-4 and entered Week 5 as the No. 10 WR in fantasy. He then went three weeks without a touchdown and had only one in Weeks 5-11. Ridley has massive potential, and should definitively rise above Mohamed Sanu on the depth chart in 2019, but as long as Julio Jones is the No. 1 in Atlanta, Ridley's likely to be a hit-or-miss best ball type than a true weekly contributor.
Biggest game: Week 4, 33.2 (18.2%)
Speaking of players who got off to a big start in 2018, Tate was the No. 4 PPR receiver through Week 4, behind only Michael Thomas, Adam Thielen, and Mike Evans. The rest of the year — including his ill-fated Eagles tenure — Tate was only WR54, behind guys like Danny Amendola, Tre'Quan Smith, and Josh Reynolds. Giants fans have to hope their new receiver is more Lions Tate than Eagles Tate — though pairing him with Sterling Shepard certainly seems like an odd strategy.
Biggest game: Week 14: 49.7 (17.6%)
I list four at wide receiver only to make sure to note Cooper, who was the biggest one-game wonder of 2017, popped up on the list again. Cooper has elite talent, but he's also rapidly working on supplanting DeSean Jackson as the biggest boom/bust receiver in the league. He had four games of 20-plus PPR points in 2018 and seven games under eight points.
Tight end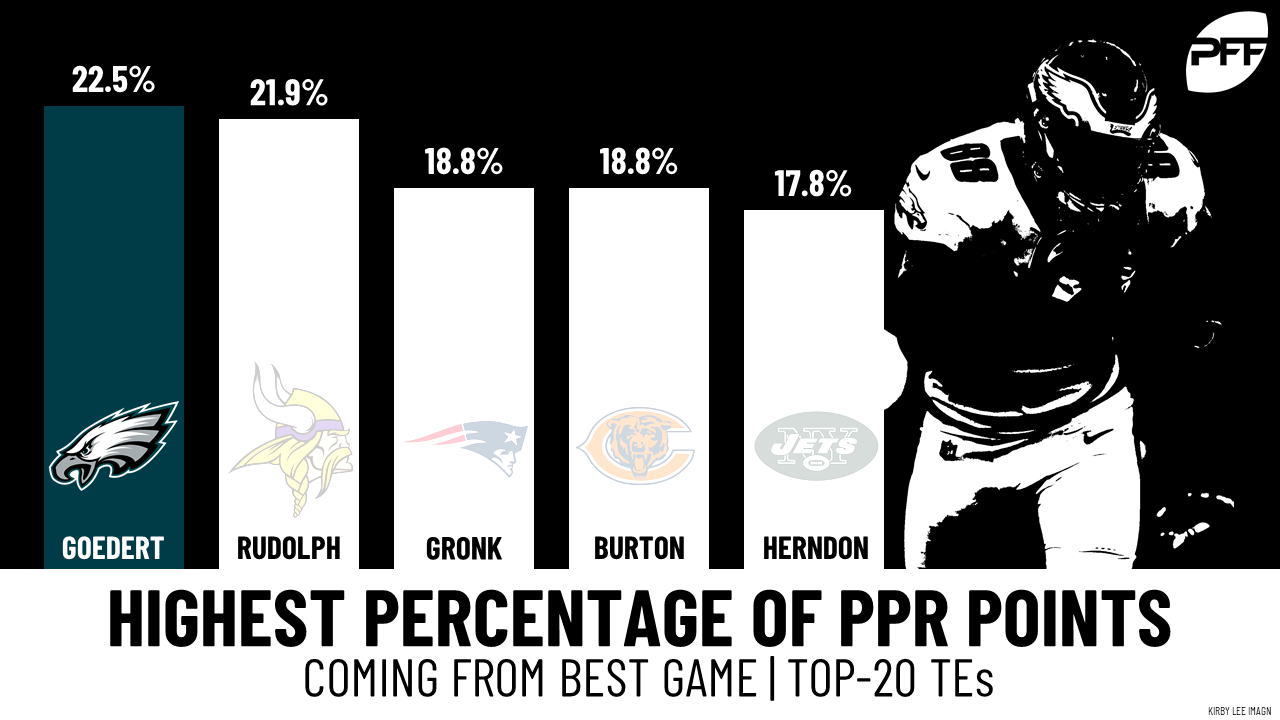 Biggest game: Week 2, 20.3 (22.5%)
Goedert didn't have a massive rookie season — only 334 yards and 4 touchdowns — but with tight end as a position struggling overall, he still sneaked into the top 20. He set season-highs in receptions, targets, and yards in Week 2 and scored one of his four touchdowns. If he can steal some of Zach Ertz' massive target share in his second season, the two could form a bona fide two-headed monster at the position.
Biggest game: Week 16, 33.2 (21.9%)
As I noted in the piece on potential busts at tight end, Rudolph was TE7, but if you subtract his Week 16 game he falls all the way to TE14. By points per game, he goes from TE10 to (also) TE14. More damningly, a full 7.5% of his full-season scoring came on his catch of a Hail Mary in that game, the least repeatable type of play in the world. Rudolph had a massively disappointing 2018 that was held afloat by one freak game.