Fantasy football strength of schedule is one of the most misused pieces of information during fantasy football draft season. Strength of schedule charts are almost always based on last year's data, so they don't give you much insight at the present. That's exactly why we changed things up at PFF and took a new approach to strength of schedule. Instead of basing this information off of last year's stats, we put our strength of schedule together based on the current defensive rosters. Using PFF grades, we can establish the overall strength of matchup outlook for each position based on a team's schedule.
[Editor's note: Subscribe to PFF ELITE today to gain access to PFF's Premium Stats and new Player Grades experience in addition to the 2020 NFL Draft Guide, 2020 Fantasy Rookie Scouting Report, PFF Greenline, all of PFF's premium article content and more.]
Keep in mind that fantasy strength of schedule data is a small piece of the overall puzzle and should not be considered the be-all, end-all in your fantasy decision making process. While the difference between the best and worst schedules may look significant, it isn't. There isn't anywhere near as wide of a gap between the best and worst defenses in the NFL as there is at the college level. In fact, the best schedule at tight end this year is only 7.5% better than the worst schedule at tight end. So resist the temptation to move players up or down significantly based on their schedules. Instead, use this information to tweak your rankings and break ties between players who are very close on your draft board.
Below, you'll find the 2020 fantasy football tight end strength of matchup sorted in order from the best to worst schedules. We also included the strength of matchups for the fantasy football playoffs in Weeks 14-16. The chart is color-coded with a heat map to give you a better sense of the good and bad schedules at a glance. The greener the box, the better the matchup. Likewise, a red box indicates a bad matchup. 
Matchups are also ranked for each week with No. 1 being the best matchup. Keep in mind that the bye weeks will mean that the worst matchup for the week isn't always 32. For example, in Week 9, there are four teams on bye, so the worst matchup is ranked 28 for that week. You'll also notice that Cincinnati is the best matchup for quarterbacks based on PFF Grades. However, the Bengals are on their bye in Week 9, so the Cardinals get the No. 1 matchup for the week against the Dolphins.
One other very important note is that this strength of matchup schedule is subject to change as defensive personnel changes on each roster. Injuries, cuts, suspensions and depth chart movement will all impact the strength of schedule. Most of these changes will be minor, but an injury to a standout player could have a bigger impact.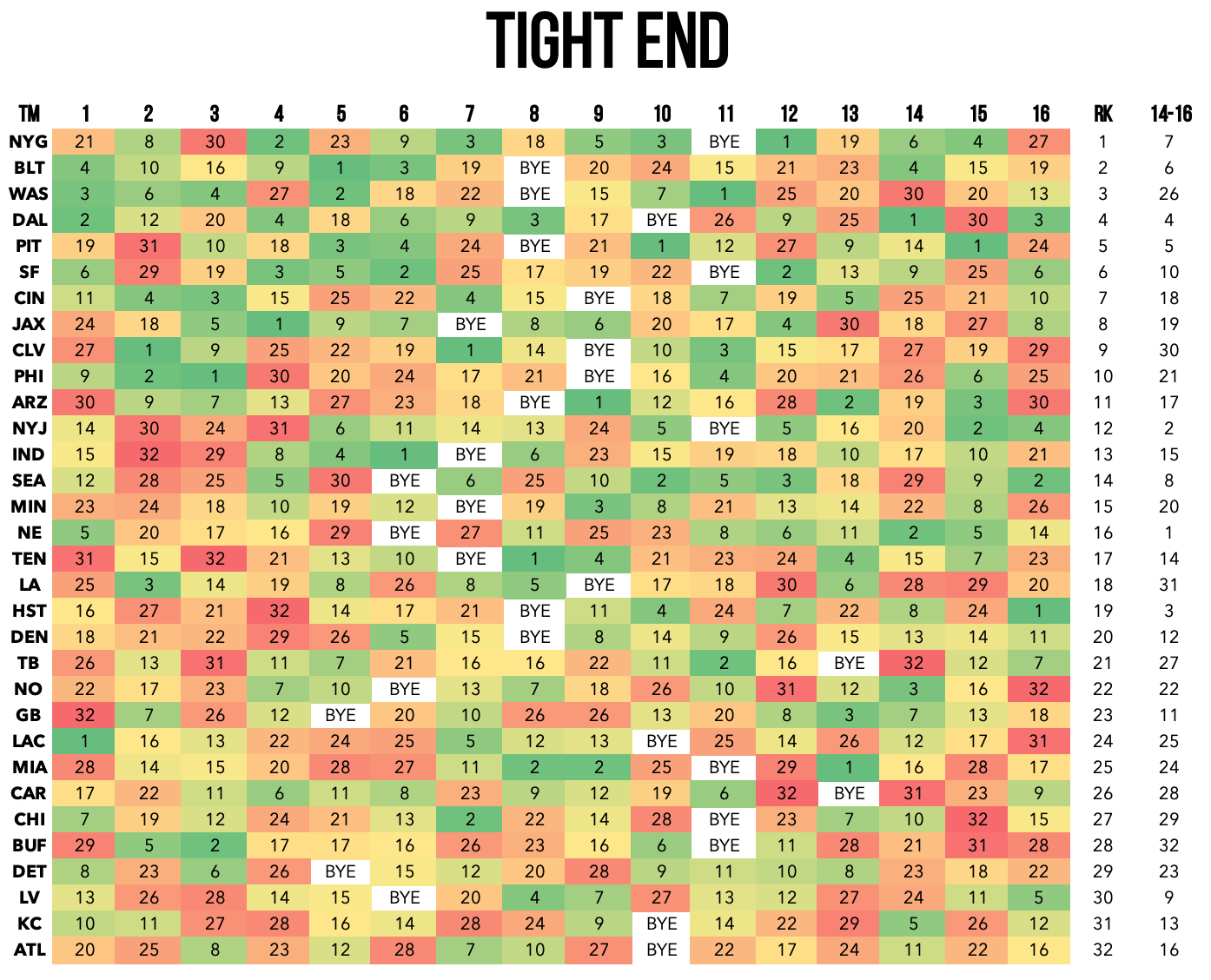 BEST SCHEDULES
The oft-injured tight end has missed a combined 13 games over the last two seasons, but Engram's schedule makes him an intriguing tight end to target in the middle rounds of 2020 drafts. The Giants get nine top-10 matchups for the position thanks in part to a favorable divisional schedule. Engram will also see plus draws against the Rams (Week 4), Bengals (Week 12), Cardinals (Week 14) and Browns (Week 15). Of course, it should also be noted that New York faces the Ravens in Week 16.
One of last year's biggest fantasy breakouts, Andrews looks like he should continue to roll in 2020. The Ravens have a beautiful schedule to open the season with top-10 matchups in five of their first six contests. The stretch run is bit tougher for Andrews, but he will get the Browns in Week 14. Unfortunately, Baltimore's second contest against the Bengals falls in Week 17.
There's some momentum for Jarwin as a sleeper option, and his schedule certainly does hurt that cause. Like Engram, he'll benefit from six games against the NFC East along with matchups against the Rams, Bengals and Browns. While the slate is certainly appeal, it's best to exercise caution with Jarwin. He's certainly on the streamer radar, but there's too much uncertainty with the young tight end to consider him as a late-round target in fantasy drafts. And let's not forget that there are a lot of mouths to feed in Dallas and only one football.
Ebron is set up for some solid fantasy weeks with the NFC East on the calendar along with two matchups against the Bengals and one against the Browns (Pittsburgh's second contest against Cleveland comes in Week 17). We've seen big-time fantasy upside out of Ebron in 2018, but generally speaking he's been an inconsistent disappointment. Add to that the fact that Vance McDonald will also be in the mix, and we have enough reason to avoid Ebron in fantasy drafts. That being said, he should be on your short-list of tight end streamers.
WORST SCHEDULES
His fantasy value is significantly higher than it was last season thanks to being trading to the tight-end needy Falcons, but Hurst's schedule will not do him any favors. The NFC South sets up as arguably the worst division for tight end matchups, and he'll also have to face the likes of Minnesota and Denver, both of whom are bottom-10 matchups. Hurst may end up being drafted as a late-round option in 12-team leagues, but his schedule suggests he's better viewed as a streamer.
Like I said with Patrick Mahomes in the quarterback strength of schedule article, don't overthink this one. Sure, the schedule isn't optimal, but Kelce is one of the best fantasy tight ends of all time. He remains locked in as the No. 1 fantasy tight end for 2020.
Along with Mark Andrews, Waller went from preseason hype candidate to official fantasy breakout in 2019. The Raiders do have some more mouths to feed in the passing game this year, but Waller is still the odds-on favorite to lead the team in targets. That being said, he does get a tough draw from the schedule makers with the matchups against the NFC South and Denver on the docket. Still, Waller does have five top-12 matchups including a tasty contest against the Dolphins in Week 16. Waller remains a rock-solid TE1 option despite the suboptimal schedule.
The former first-rounder is very much poised to take a step forward in Year 2, but Hockenson's schedule could create a bumpy ride for fantasy owners. He faces the Packers twice, the Vikings, Saints, Titans and Bucs during the course of the fantasy season. That being said, he'll also get seven top-12 matchups. Right now, Hockenson is being drafted as a front-end TE2, and that sounds about right. If you do end up drafting him, just be prepared for a fantasy roller coaster ride.