For a better part of the last decade, the Pittsburgh Steelers were one of the top offenses in the league for fantasy production. That all changed last year, as an early-season injury to Ben Roethlisberger and the departure of Antonio Brown and Le'Veon Bell dramatically changed the look of this offense. Roethlisberger is back, but the team still lacks the elite fantasy talent at wideout and running back that it once had. Let's see what our initial 2020 fantasy football projections have to say about the Steelers.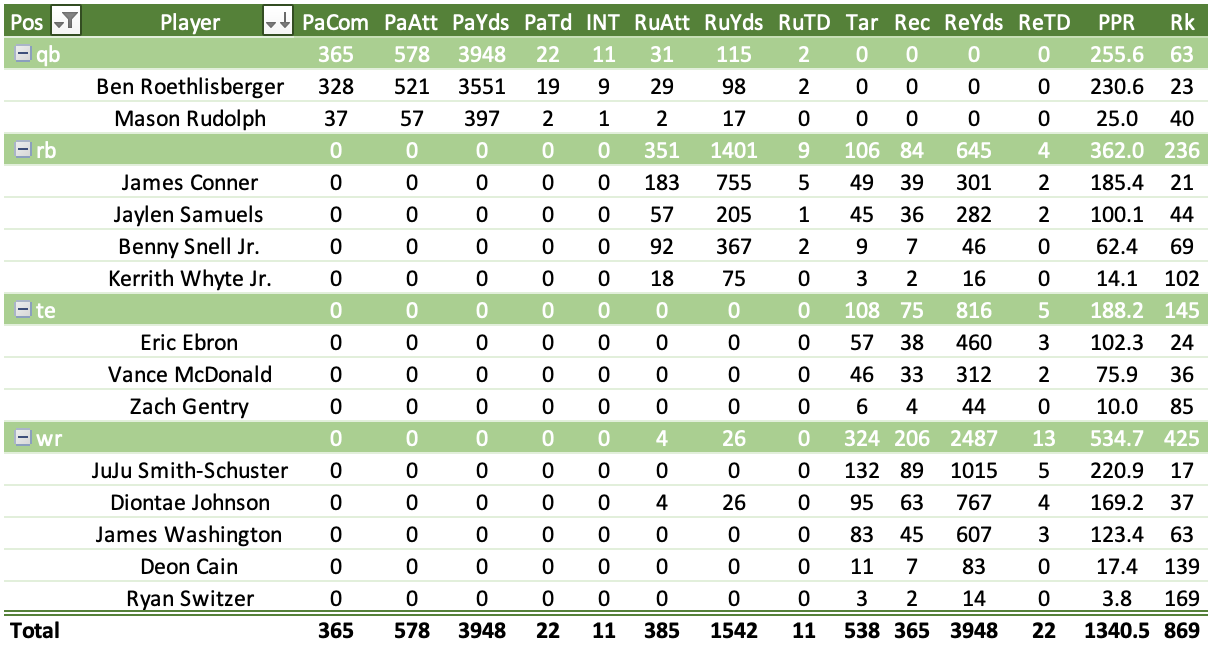 In many ways, last season was a lost year for the Steelers offense, and that's largely due to Ben Roethlisberger's season-ending injury in Week 2. Mason Rudolph and Devlin Hodges were both major downgrades, so getting Roethlisberger back will help the cause. However, our numbers don't paint the most ambitious picture for this offense. Roethlisberger ranks a disappointing 23rd in our initial projections. 
That's a sizable drop off from what Roethlisberger did in 2018 when he topped 5,000 passing yards and threw for 36 scores. However, the numbers are factoring in a much better defense in 2020 than the 2018 Steelers, along with the fact that he's no longer throwing to Antonio Brown. With all of that said, these numbers are ultra conservative, and it's fair to position Roethlisberger more toward his ceiling than what we have in projections. We did just that in our 2020 fantasy football rankings where he comes in at QB17. While that is an upgrade on projections, we still don't view Roethlisberger as anything more than a late-round option. 
Of course, lackluster numbers for Roethlisberger invariably will lead to disappointing projections for the rest of the Steelers' passing game. JuJu Smith-Schuster comes in just 17th among wideouts in our initial numbers. However, the projections do bode well for Diontae Johnson to take a step forward in 2020. His numbers rank 37th among wideouts, which is actually 16 spots ahead of his current ADP. Johnson is shaping up to be an intriguing value this year.
That isn't how we'd characterize James Conner, who comes in at the tail end of RB2 territory. That's the exact same range he's positioned in our rankings. While there are certainly many fantasy players with fond memories of Conner's breakout 2018 season, the Steelers back hasn't been able to stay healthy and was largely a disappointment last year. With a current ADP of 18th at the position, there's a good chance Conner is overdrafted this year.
We should also note that the Steelers signed Eric Ebron in free agency. In 2018, Ebron surprised the fantasy world with a fourth-place finish among tight ends in PPR scoring. While his red zone presence is appealing, the presence of Vance McDonald puts a damper on his overall outlook. The projections suggest Ebron is shaping up to be more of a streamer option this season.
[Find the full collection of analysis and insights on PFF's 2020 fantasy football projections for all 32 NFL teams. Check back as more articles will be added each day.]