Timing is everything in life. In fantasy football it is often the difference between winning and losing. Finding great value is the objective all owners pursue, but avoiding investing poorly is equally as important.
There are often indicators that provide a glimpse into the future that could offer a preview that a decline is ahead. Here's a look at six players that are trending downward heading into 2018 after offering some recent fantasy success. Some of these guys might still be productive in 2018, but the end is nearer than you'd like.
Current ADP: 3.05 (RB15)
McCoy turns 30 next month and has 1,587 touches (317.4) over the past five years alone. Fantasy players often avoid running backs over the age of 30. The wisdom of that has been debated plenty here on PFF and elsewhere, but with McCoy the heavy workload must be considered.
The veteran has offered reliable production and proven to be a durable player. Since 2010 he's finished no worse than 19th among running backs in PPR fantasy points every season while finishing as a top-five running back four times and boasting five top-10 finishes. During that eight-year span McCoy only missed 11 games.
His ability to produce as a pass-catcher should help him age gracefully. The bigger concern may be the dreadful situation at quarterback in Buffalo where AJ McCarron, Josh Allen, and Nathan Peterman will battle it out for the starting job. Whichever guy emerges won't have many weapons to throw to either. Add in the departures of guard Richie Incognito and center Eric Wood and the red flag should be going up on McCoy.
Current ADP: 6.07 (RB26)
The Texans have yet to get the return on investment they were hoping for when they added Miller via free agency two years ago. Even with that, it appears he will be atop the depth chart again to start the 2018 season.
In 30 games since signing with Houston, Miller has carried the ball 506 times and averaged 3.9 yards per carry while forcing only 44 missed tackles. Over those two seasons he ranked 49th and 47th, respectively, in PFF's elusive rating.
At one point this offseason it wasn't clear if Miller would be a cap casualty or not, but second-year back D'Onta Foreman's recovery from an Achilles tear is going slowly and the team didn't add any significant depth at the position this offseason. The volume has been there, but it will need to continue for him to maintain any value. That's not an advisable long-term bet to make.
Current ADP: 7.06 (WR32)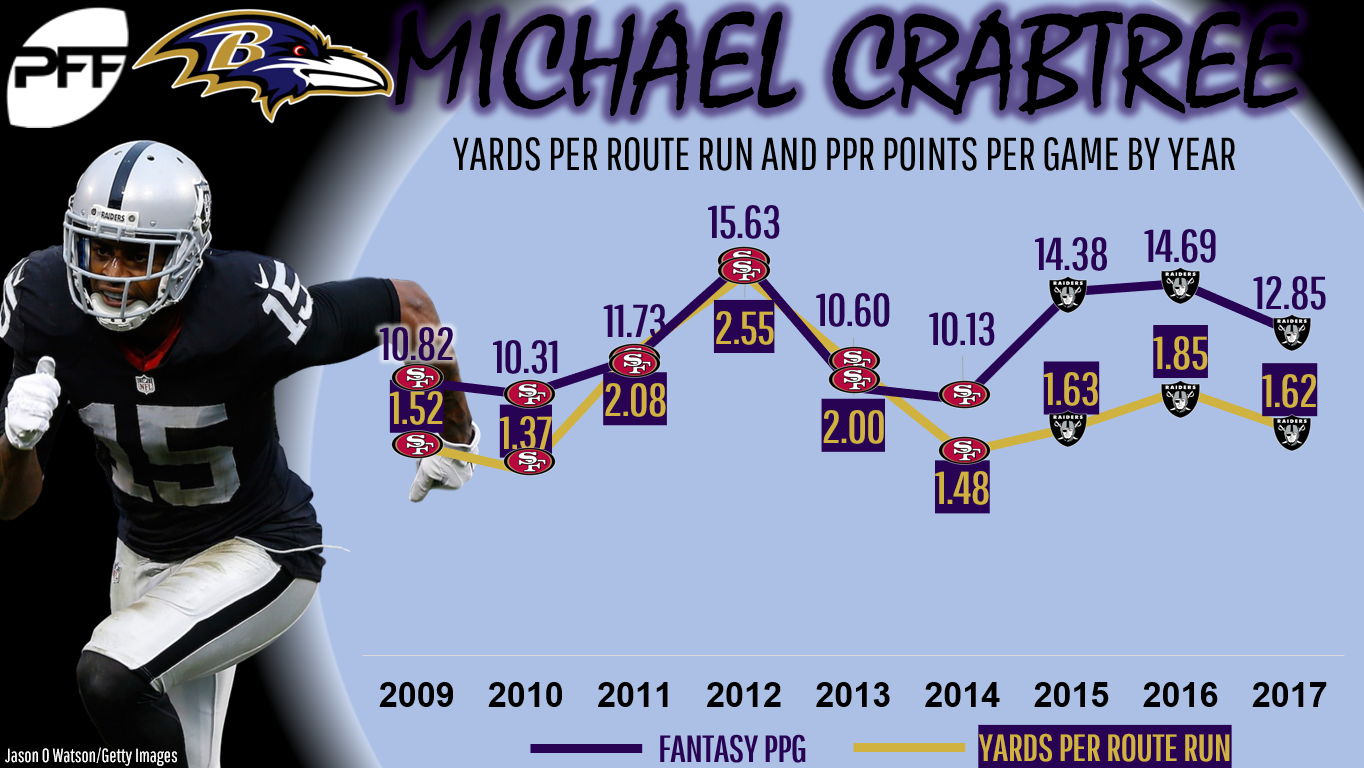 The Ravens added a much-needed commodity at wide receiver by signing the 30-year-old Crabtree to a three-year, $21 million deal this offseason following his release by the Raiders.
The veteran will be the clear-cut No. 1 option for Joe Flacco in 2018 and should expect to see an uptick in the 99 targets (lowest mark since 2013) he saw a year ago. He led all Raiders wide receivers with 200-plus targets from 2015-17, in catch percentage (57.2), and passer rating when targeted (89.5). He did start to show signs of a decline last season though.
Crabtree is a stellar route-runner and a producer in the red zone, but the Ravens' are a run-first team and Flacco doesn't inspire confidence. Baltimore has tried aging Pro Bowlers at wide receiver before and seen it not turn out and this latest attempt is far from a lock.
Current ADP: 7.12 (WR34)
Nelson was cut by Green Bay, but quickly landed in Oakland. The former Packer posted a dismal 53/482/6 stat line a year ago, playing half of his 14 games without Aaron Rodgers.
Even before Rodgers went down, signs of Nelson's decline were evident. He stayed productive early by scoring six times in his first four games, but the veteran failed to find his way into the end zone in his final 10 games of 2018 and didn't break 80 yards once all season on his way to WR46 PPR finish.
Now the 33-year-old will need to develop chemistry with Derek Carr, who is a far cry from Rodgers, and compete for targets with Amari Cooper. His name recognition combined with the hype of Jon Gruden's arrival going on will lead to Nelson being over drafted this summer.
Jordy Nelson is now with the Raiders. His current ADP is 7.12 (WR34). Which of these best describe how you view his PPR fantasy value in 2018?

— Dan Clasgens (@DanClasgens) June 9, 2018
Current ADP: 10.02 (WR43)
Another aging wide receiver to add to this list is Sanders, who is coming off his worst campaign in four seasons with the Broncos. A lingering ankle issue cost him four games and limited him in many others. He finished with just 47 receptions for 555 yards and two touchdowns.
Sanders was targeted 87 times in 2018, but only pulled in 54 percent of those passes. The wideout has seen his yardage totals decline in each of the past four seasons. He went from a 12.9-yard average depth of target and 10.1 yards per target in 2014 to just an 11.4-yard aDOT and 6.4 YPT mark a year ago.
Now the veteran will have to adjust to yet another quarterback as Case Keenum takes over under center in Denver. The Broncos drafted a couple of wide receivers but if healthy Sanders should remain the WR2 this season. However, he comes with injury risk and his ceiling is dropping.
Current ADP: 9.05 (QB16)
While most of this list is made of aging stars, that is not the case with Prescott. The concerns with the Cowboys' signal-caller are mostly based on environmental changes.
Ezekiel Elliott has his suspension behind him and will return as the focal point of the offense, especially at the goal line, which should lead to fewer rushing touchdowns for Prescott and less passing by the team as a whole. The release of Dez Bryant and the retirement of Jason Witten have left the cupboard bare at wide receiver and tight end.
Prescott started hot a year ago. Through Week 7 of the season he was fourth in fantasy points at quarterback. However, playing at times without Elliott, he was QB17 from Week 8 and on, reaching 20 fantasy points in just two of his 10 contests. With so much depth at the position, Prescott is a fringe top-20 player in our PFF consensus rankings.