The Los Angeles Chargers are going to look a bit different this season. For the first time since 2005, Philip Rivers won't be the full-time starter, and the team also moved on from Melvin Gordon in the offseason. But even with these changes in place, there's a lot of fantasy potential on this roster. Let's take a look at what our initial 2020 fantasy football projections have to say about the Chargers.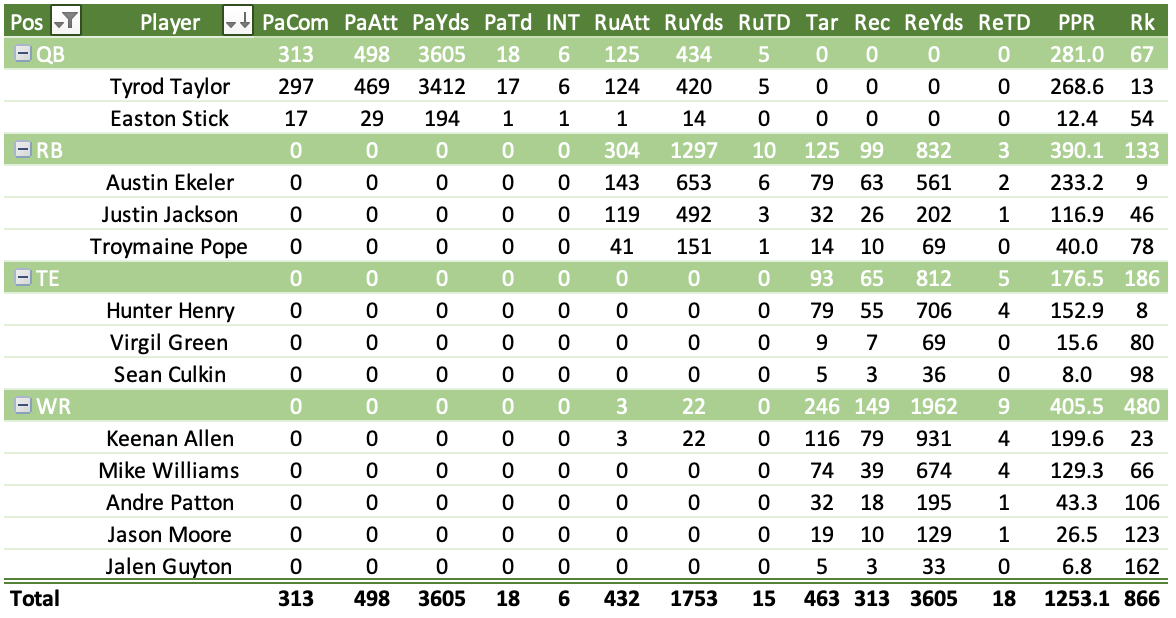 We weren't quite sure what we were going to get out of Austin Ekeler during Gordon's holdout, but he exceeded even the loftiest of expectations. Over the first month of the season, only Christian McCaffrey scored more PPR points among running backs. And Ekeler was rock-solid even after Gordon's return to the team in Week 5. He actually out-scored Gordon over the last 12 games of the season, ranking fifth among running backs in fantasy scoring over that stretch (Gordon was 10th).
So with Gordon completely out of the way, our numbers love Ekeler and anticipate him to repeat as a top-10 fantasy back, which is just a few spots higher than where he lands in our 2020 fantasy football rankings. To be clear, we're not positioning him as a true bell cow. He only just cracks the 200-touch mark, with Justin Jackson projected to see 151 touches. But it's Ekeler's involvement in the passing game that is especially appealing. He projects out fifth among backs in catches and third in receiving yards. Obviously, his limited volume in the run game does hurt his value in non-PPR, but even there Ekeler comes in at RB12.
As of now, we have Tyrod Taylor slotted in as the starting quarterback, but that could change following the NFL Draft. The Chargers are in the No. 6 spot, so there's a good chance they use that pick on a quarterback. If that doesn't happen, the numbers bode favorably for Taylor's fantasy stock. We know he isn't going to set the league on fire as a passer, but Taylor is among the league's most mobile quarterbacks. His projected rushing yards ranks sixth at the position, and only three quarterbacks are projected to score more touchdowns. Taylor will be a sneaky late-round option if the Chargers pass on quarterback in the draft.
Of course, the team going this route isn't the best news for Keenan Allen and Mike Williams. Allen is a perennial fringe WR1 with Rivers under center. Taylor's presence bumps Allen all the way down to back-end WR2 territory. Likewise, talk of a Williams breakout has cooled off dramatically in the wake of Rivers' departure. He's know just a late-round flier. Both need an upgrade in the passing game to revive their fantasy outlooks. 
The good news is that Taylor doesn't tank Hunter Henry's value. The young tight end has flashed impressive ability on the field over his first four years in the league, but he's also proven to be injury-prone. He missed 23 games over that span, including all of 2018. But a healthy Henry projects favorably as the No. 8 tight end. He's an upside middle-round option.
[Find the full collection of analysis and insights on PFF's 2020 fantasy football projections for all 32 NFL teams. Check back as more articles will be added each day.]