Have you ever said to yourself, "If only I had more time to prep for DFS, I'd for sure win!" DraftKings has you fantasy football players covered for Week 1.
The season is still more than a month away, but DraftKings has released Week 1 salaries, giving you plenty of time to crunch the numbers and create the perfect lineup.
Truth be told, nobody needs this much runtime, but if you're itching for some DFS action, then seeing actual salaries for an actual slate has to get you excited. Any serious analysis done this early could be made moot over the next month because of injuries, preseason performances, training camp breakouts, and the like.
That's not to say there's nothing to gain by looking at the salaries a bit early — and that's exactly what we're going to do here. This isn't a "here's who I'm going to play in Week 1" piece (that won't be decided until the week of), but it is a primer on the first official DFS salaries of the 2018 season.
Quarterbacks
My first thought: Quarterbacks do not seem to be too expensive in Week 1. Tom Brady ($7,200) is the only player over the $7k barrier.
Russell Wilson sticks out down at $6,200 as the QB9 on the slate. Yes, he's on the road against Denver, but the Broncos "No Fly Zone" doesn't exist anymore (Aqib Talib is a huge loss) and our super-early Week 1 projections have Wilson as the No. 3 quarterback on the week. He may end up being a good contrarian play if people think Denver's pass defense will be as good as it was in years past, but there's no real way to get a read on the industry at this point.
The New Orleans-Tampa game has the second-highest over/under on the slate right now, at 49.5. Drew Brees is at home and $6,800 (QB3) and Mark Ingram is suspended to start the year. Ryan Fitzpatrick is only $5,000, which is something I'll at least consider for cash games given how cheap he is and the fact this game should be a high-scoring affair.
Andrew Luck could also be a good option down at $6,100. The matchup against the Bengals isn't ideal, but Luck seems to be priced as though his shoulder is still a question mark.
DraftKings appears to have done a good job pricing quarterbacks for Week 1, which should keep people from flocking to the same handful of players. Brady and Deshaun Watson will be popular in GPP game stacks, but overall, there are a number of good quarterbacks at viable price points.
Running backs
Up at the top, Le'Veon Bell is really pricey ($9,400). If he holds out through all of training camp, Bell might not see his usual 25-plus touches. Last year in Week 1 against the Browns, Bell had 13 touches for 47 total yards. In this scenario, Bell becomes a nice contrarian option, but it's something that makes me a little nervous (or as nervous as you can be about someone like Bell) at first blush.
Saquon Barkley is priced at $6,700 for his first-ever game. He's cheap because of the matchup against the Jaguars, but for a player we can confidently project for 20-25 touches, I think he's priced a bit too low.
LeSean McCoy is really interesting down at $6,000. The matchup against the Ravens is mediocre — nothing awful, nothing good — but McCoy is usually in the upper $7,000 range, so this is extremely cheap for a player with his upside.
I'm not much of a Lamar Miller guy, but at $5,200 in what projects as the highest-scoring game of Week 1, he gives you cheap access to a game with major upside. On the other side of the field in that game is Rex Burkhead, who is priced at $4,200. If Sony Michel misses Week 1, Burkhead might be the highest-owned player on the slate.
DraftKings did something unique when pricing players in camp competitions. The Seahawks-Broncos game, for example, has Chris Carson ($4,500), Rashaad Penny ($4,800), Royce Freeman ($4,500) and Devontae Booker ($4,600) all priced within $300 of each other. In other words, DraftKings didn't try to guess who was going to win competitions; they just priced everyone in the same range. This will have the effect of limiting the number of glaring values that arise in Week 1. That's not to say values won't pop up (see Burkhead above), but DraftKings appears to be taking steps to limit this for the first slate.
Wide receivers
All of the Giants players are cheap in Week 1 because of their matchup against the Jaguars. Odell Beckham Jr. is only $7,000, and there's a good chance that is the lowest he'll be all season. It's a brutal matchup, obviously, but DraftKings priced him low enough that you have to consider it for GPPs.
Chris Hogan ($6,100) figures to be a popular pick in Week 1. Brandin Cooks and Danny Amendola are gone, while Julian Edelman is suspended to begin the year, so Hogan is the only major returning outside piece in Week 1. Given the week-leading 51-point over/under, Hogan is definitely in a good spot.
Jarvis Landry ($5,500) will be interesting in Week 1, especially if Josh Gordon doesn't return to begin the year. The Browns are 6-point home underdogs, so they figure to be passing all game long. It's a new spot for Landry, which may make people nervous, but he averaged 16.4 DraftKings PPG last year, which is basically exactly 3x returned value on his Week 1 salary.
Jamison Crowder also seems like a good slot receiver value at $5,000. New quarterback Alex Smith is the perfect fit for someone like Crowder. Last year's anomaly aside, Smith excels on short passes and should mesh well with Crowder. Crowder will also operate out of the slot against the Cardinals, which should be open more often given Patrick Peterson's presence on the outside.
In the $4,000 range, Allen Hurns is interesting given that he should open the season at the No. 1 option in Dallas. Marquise Goodwin was clicking with Jimmy Garoppolo down the stretch last year as well, and he's only $4,600 — although the matchup against the Vikings is tough. And this one may sound strange, but Amendola ($4,200) is of early interest to me, assuming he wins the slot role in Miami.
I don't see a ton of wideouts jump out below $4,000 for Week 1. If Albert Wilson wins the slot battle in Miami, he's worth a look at $3,700. Paul Richardson ($3,900) could also return value, assuming he doesn't draw Peterson in coverage against the Cardinals. Taywan Taylor ($3,600) has also been turning heads in camp, although the Dolphins gave up the fourth-fewest fantasy points to opposing receivers last year.
Tight ends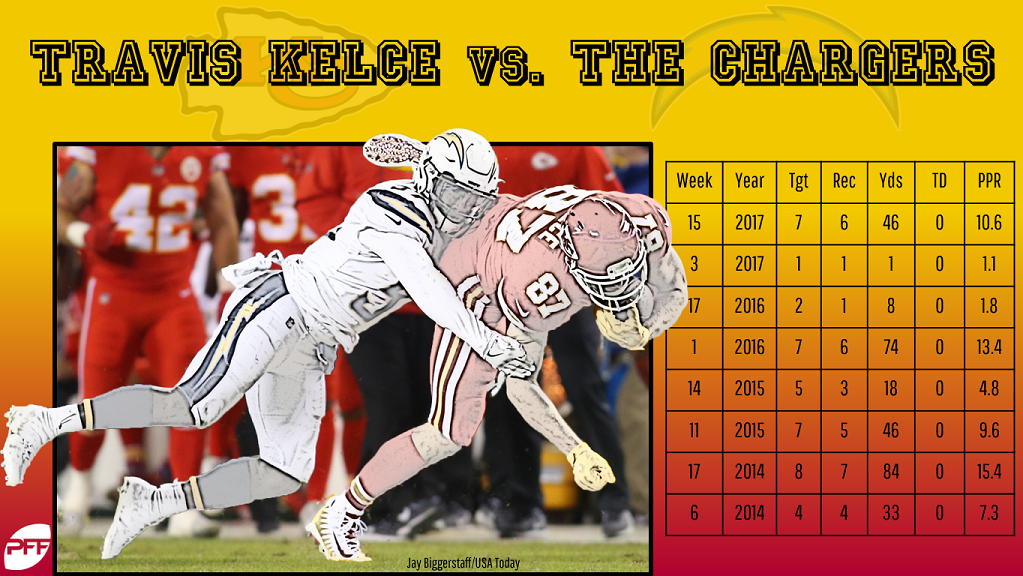 Rob Gronkowski ($6,900) will be a popular option given his immense upside and the fact he's in that attractive Patriots-Texans game. Travis Kelce ($6,400) is the only other tight end above $5,500 in price, although he didn't do anything noteworthy against the Chargers last year, posting lines of 6-46-0 in Week 15 and 1-1-0 in Week 3.
The Dolphins gave up the most fantasy points to opposing tight ends last year, and Delanie Walker ($4,900) gets the first crack at them in 2018. He could return 3x value on yards and receptions alone.
Jordan Reed seems way too low at $4,000. Reed could realistically return 6-8x value on that salary.
The tight end position is a mess this year, and it's going to be a while to figure it out. With that said, these first few weeks will give you an opportunity to get high-upside players on the cheap — potentially before their prices rise.
Examples include George Kittle ($3,300), Austin Seferian-Jenkins ($3,200) O.J. Howard ($3,100), Mike Gesicki ($2,900), and Hayden Hurst ($2,800).
Vance McDonald ($3,200) is a cheap Week 1 option given the matchup against the Browns, who have given up a ton of points to tight ends for the last several years (last year, they gave up the third-most fantasy points to the position).