There's an argument to be made for the New Orleans Saints as the most complete roster top to bottom in the NFL, and that certainly translates well for fantasy purposes. While they may not have the skill position depth as some of the other teams in the league, the Saints have elite talent at key positions — and having a future Hall of Famer under center doesn't hurt the cause. Let's take a look at what our initial 2020 fantasy football projections have to say about the Saints.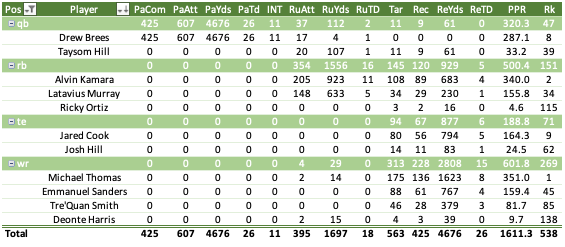 At this point, we all know that Michael Thomas is an absolute rock star. The only question is how early he'll go in fantasy drafts. While no one will likely take him with the first overall pick, there's an argument to be made for taking Thomas at No. 2. No player comes with a higher fantasy floor this season. The Saints also added Emmanuel Sanders in free agency, but the rest of the numbers in this wide receiver corps could change if the team addresses wideout in the draft.
Of course, you might be a bit surprised to see his teammate, Alvin Kamara, slot in as the No. 2 running back, but our projections love him. Kamara certainly disappointed for fantasy purposes last year, finishing as the No. 9 running back in PPR, but volume certainly wasn't an issue. He ended up with 252 touches in 14 games played, which is an average of 18 touches per game. Our numbers are only slightly more ambitious at 18.4 touches per game. 
The key is that we have a favorable uptick in his touchdown rate. After scoring just five times last year, our numbers like Kamara to crack double-digits. Of course, that may seem overly optimistic, but the Saints offense figures to put a lot of points on the board. Given this information, we may be slightly low on Kamara in our 2020 fantasy football rankings where he comes in at RB5. It's also worth noting that Latavius Murray will again be one of the most valuable handcuffs in the league.
Drew Brees will be back for another season with the Saints and really has shown no signs of decline. While New Orleans is a more run-heavy offense than it was earlier in his tenure with the organization, Brees still projects out very well as the No. 8 fantasy quarterback. Let's not forget that Brees was fifth among quarterbacks in fantasy points scored from Week 8 on after returning from injury last year.
While Jared Cook may not be an elite fantasy tight end, he showed last season that he's certainly capable of putting up top-10 numbers, with a seventh-place finish at the position. To be fair, we don't expect another nine touchdowns out of him this season, but Cook will still be in the mix as a quality late-round option in 2020 fantasy football drafts.
[Find the full collection of analysis and insights on PFF's 2020 fantasy football projections for all 32 NFL teams.]