The Minnesota Vikings have officially won the Kirk Cousins sweepstakes, as the veteran quarterback will ink a three-year deal that is reportedly fully guaranteed and in the range of $86 million dollars. That number makes Cousins the highest-paid quarterback both in terms of annual money and guaranteed money.
Sometimes the stars just align for fantasy purposes. That seems to be the case for much of Cousins' career. He was drafted in the fourth round of the 2012 draft and was widely regarded as an afterthought with the Redskins mortgaging their future to trade up for Robert Griffin III. Six seasons later and Cousins has three 4,000-yard passing seasons under his belt while Griffin never once reached that mark and hasn't thrown a pass in the NFL since the 2016 season.
Cousins' run of production began in the 2015 season when he assumed the starting duties and proceeded to rack up 4,166 yards and 29 scores through the air. He finished 10th among quarterbacks in fantasy scoring, which is an impressive feat considering he went undrafted in fantasy drafts that year. Cousins followed up this campaign by nearly topping 5,000 yards and finishing fifth in fantasy scoring. He then repeated as the No. 5 quarterback this past season with 4,093 yards and 27 scores despite having to work with the Redskins' lackluster receiver corps.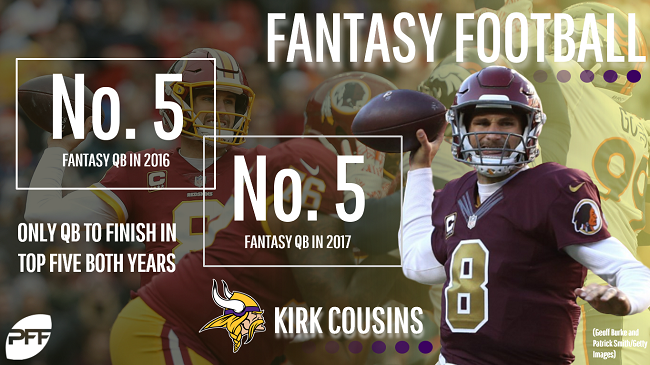 Of course, he'll have no shortage of receiving talent in Minnesota with the Vikings possessing one of the league's most impressive wideout duos in Stefon Diggs and Adam Thielen. He'll also have a talented pass catcher at tight end in Kyle Rudolph. Unlike Jordan Reed, Rudolph has proved to be very durable, playing all 16 games in each of the last three seasons. Cousins will also have a versatile receiving weapon out of the backfield in Dalvin Cook.
To say this is an ideal landing spot for Cousins' fantasy value is a bit of an understatement. Cousins has ample firepower at the skill positions and will also get to work with up-and-coming offensive coordinator, John DeFilippo.
There's no reason to expect Cousins to not at least equal his previous production, especially given the success Case Keenum had with the Vikings last season. That means Cousins is locked in as a QB1. At this point, it's going to be tough to consider him worse than a top 8 option at the position, which means he's likely to come off the board in or around the sixth round when fantasy redraft league drafts roll around in August and September.