Hello, and welcome to the Week 6 Actual Opportunity report. This is our weekly look at the players with the most fantasy potential based on volume, and what they are doing with it. If you're unfamiliar with Actual Opportunity, you can read the in-depth explanation here.
Essentially, we're using an 11-season sample of play-by-play data to calculate expected fantasy points from a player's seasonal or weekly usage. We look at each target (by distance from the end zone and depth of target) and each carry (by distance from the end zone and down and distance) and add this up to determine how valuable a player's role was for fantasy purposes. We can contrast this with fantasy production to measure efficiency.
In layman's terms, Actual Opportunity is "how many points a player should have scored" given his workload, based on what the average player would have scored. "Expected fantasy points" will be used interchangeably with "Actual Opportunity" throughout this article.
After five weeks of action, here are the top-30 players in expected fantasy points per game: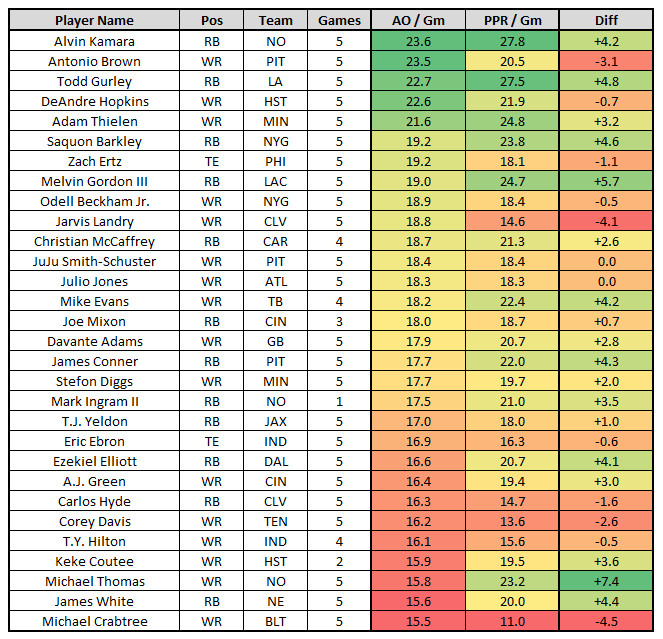 (AO: 15.5, PPR: 11.0)
Crabtree is our top positive regression candidate this week, ranking 16th in expected fantasy points per game but only 50th in actual fantasy points per game. For reference, our No. 1 positive regression candidate in Week 4 was Corey Davis, who scored 31.1 fantasy points. Our No. 2 positive regression candidate in Week 5 (just behind Jarvis Landry) was Zach Ertz, who scored 27.0 fantasy points. If this trend continues, perhaps Crabtree surprises this week for a big game against the Titans. The matchup works in his favor as well – he runs over 50% of his routes from Joe Flacco's left, which is where Malcolm Butler has lined up 82% of the time. Butler currently leads all cornerbacks in yards (405) and fantasy points allowed (87.5).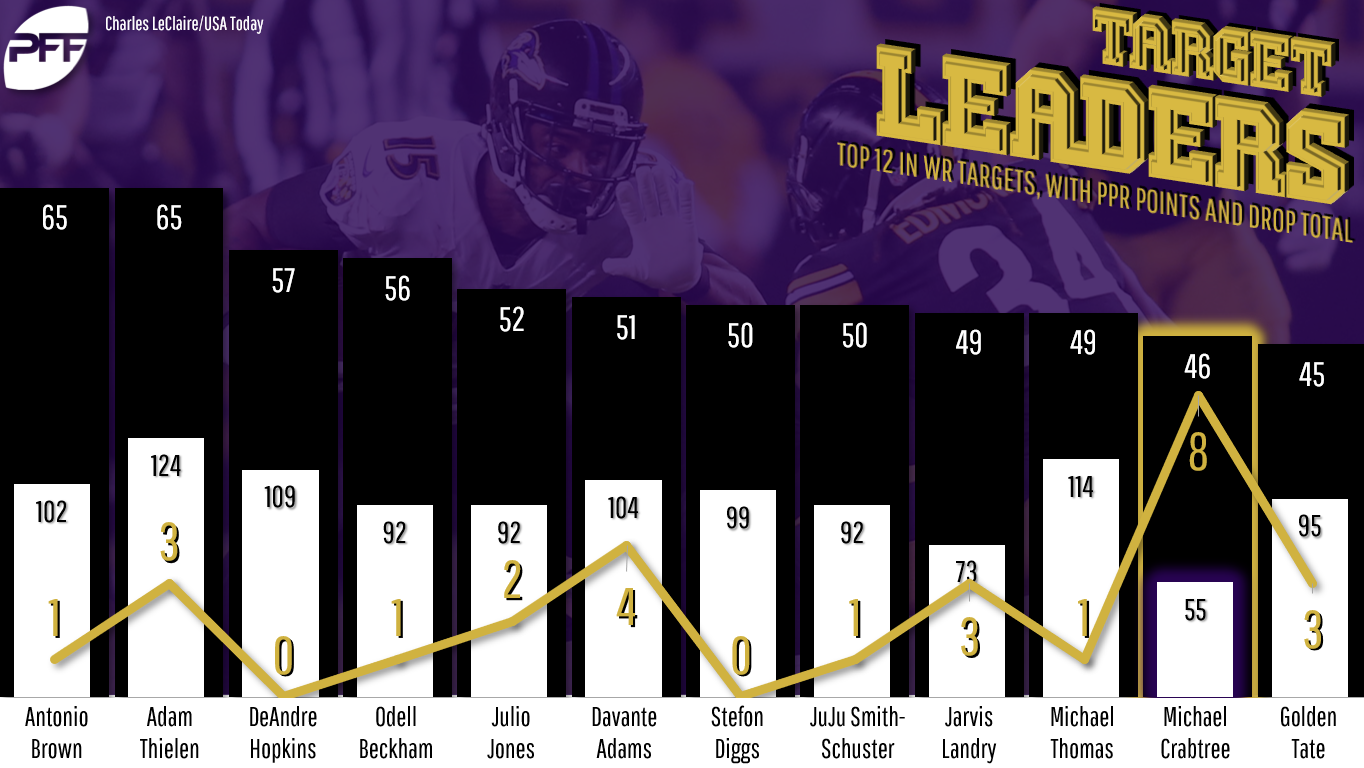 What's most interesting about Crabtree's poor efficiency numbers is they can be explained entirely by one stat: drops. So far, he's scored 22.7 fantasy points per game below his expectation (most among all players). He's also dropped eight passes this year, which is the most in the league by three. Those eight dropped passes total 62 yards in air, and one came in the end zone. So, at a minimum (assuming zero yards after the catch), those drops have cost him 20.2 fantasy points. Unfortunately drops are just something you'll have to live with when owning Crabtree. Since 2014, he's posted a drop rate of 12.2 percent, which ranks third-worst of 57 qualifying wide receivers. This year his drop rate is double that, at a league high 25.0 percent. Though, while that number isn't good, it does confirm Crabtree is due for some positive regression.
Subscribe to PFF Edge to continue reading
Already have a subscription? Sign In