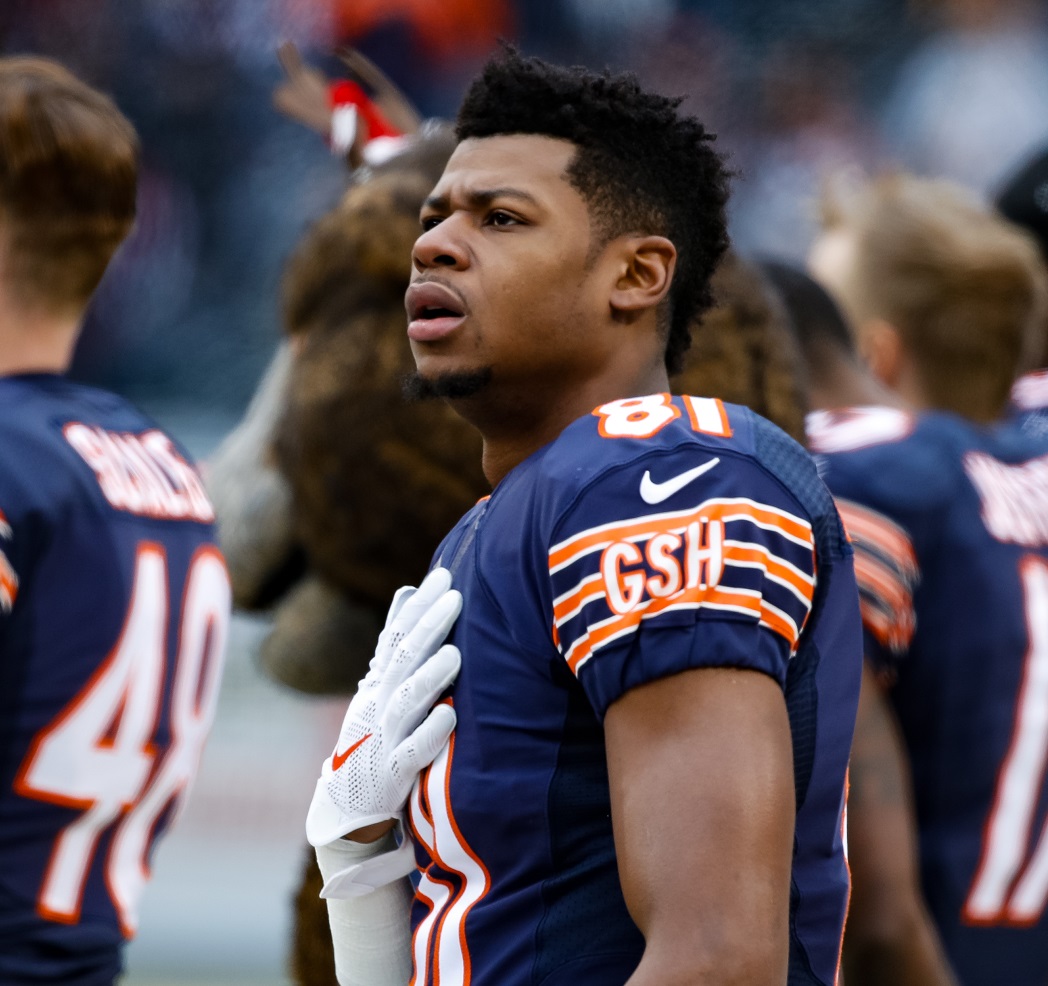 CHICAGO, IL - DECEMBER 24: Cameron Meredith #81 of the Chicago Bears stands for the national anthem prior to the start of the game against the Washington Redskins at Soldier Field on December 24, 2016 in Chicago, Illinois. (Photo by Joe Robbins/Getty Images)
(The Fantasy 5 is a quick-hit wrap-up of some of the biggest news topics of the day for fantasy football players, giving you advice you need to improve your team.)
Here are five things fantasy players need to know heading into the first weekend in June:
1. Cameron Meredith out with thumb injury
The third-year receiver who is coming off a breakout 2016 season suffered a thumb injury during Bears OTAs on Thursday and is expected to miss the remainder of the offseason. Meredith has ligament damage, which could require surgery. His six- to eight-week timetable puts him right up against the start of training camp, though the injury is not expected to have a major impact on Meredith's preseason.
Meredith currently sits as the de facto choice as the Bears' top fantasy option by the drafting public, though he currently can be had at a modest price as a ninth-round pick. Though he was very much an up-and-down option last year, Meredith flashed a high fantasy ceiling with four 100-yard performances. The Bears are far from set at quarterback, but Meredith's upside is still worth consideration as a WR4 option.
Join PFF Elite for access to PFF Signature Stats across all positions.
2. Corey Coleman dinged up
Meredith isn't the only young wide receiver dealing with injury in OTAs. Coleman is reportedly dealing with a middle body injury he sustained from landing on the football during OTAs in addition to a sore hamstring. Browns head coach Hue Jackson said Coleman will be sidelined "for a little while."
Coleman missed six games in his rookie season due to a broken hand that he suffered following his massive Week 2 performance where the former first-rounder put up 104 yards and two scores against the Ravens. While the hamstring issue is cause for concern, Coleman does not have a history of soft-tissue injuries. With training camp still roughly two months away, he has plenty of time to heal. Coleman is currently a boom-or-bust fantasy pick who coming off the board five picks ahead of Meredith in the ninth round.
3. Colts sign Christine Michael
There are some guys who the fantasy public just can't seem to quit. About a decade ago, Lee Evans was the poster child for perennial fantasy hype followed by inevitable disappointment. Michael is one of the more recent torch bearers for this distinction, but there isn't any reason to get excited about Michael's signing.
Sure, the Colts are super thin at running back with aging Frank Gore atop the depth chart followed by Robert Turbin and rookie Marlon Mack, but we've been down this road with Michael before. Last year, he was in an optimal spot to produce with not one, but two teams. He flamed out in both instances. Despite his raw talent, Michael has consistently shown that he isn't long for a starting gig in the NFL.
4. Ted Ginn draws praise from Drew Brees
It's the offseason, which means tropes-a-plenty from around the league, and this story certainly fits that mold. However, Brees' glowing comments about Ginn are still worthy of our attention for fantasy purposes. With Brandon Cooks now in New England, Ginn projects as the Saints' No. 3 receiver and he's the team's best deep-threat option. While Ginn has been far from consistent throughout his career, his upside is appealing for those in best-ball formats. He's also someone to keep in mind for DFS, especially when New Orleans is at home. He'll likely be a cheap weekly option who offers big upside but also comes with significant volatility.
5. A slimmed-down Rob Kelley?
The second-year man has reportedly reduced his body fat from 18 to 13 percent after cutting out processed foods, sugars, and snacks this offseason. Kelley is coming off a surprise 2016 campaign where he went from relative unknown free agent signee to the Redskins lead back. After assuming the lead duties in Week 8, Kelley ranked 13th among running backs in fantasy scoring, and his 601 rushing yards were ninth-most over that span ahead of bigger names like LeGarrette Blount (595), Devonta Freeman (571), and David Johnson (562).
Despite the productivity, Kelley will face competition for the starting job from fourth-round pick, Samaje Perine. The Oklahoma product enters the NFL on the heels of a productive college career despite splitting time with Joe Mixon. Built like a Mack Truck, Perine has the size to hold up to an NFL workload. He's already impressed Redskins head coach Jay Gruden and the Washington beat has labeled him the favorite for the starting job. Despite Kelley's weight loss, Perine remains the more intriguing fantasy prospect in the Washington backfield.