I expect most fantasy football rankers work top-down. They combine recent player performances with their own instincts to build a foundation of rankings and then dig deeper into the numbers to make more subtle adjustments to them. My new ranking system works from the bottom-up. The bulk of my rankings decisions are made by a projection algorithm, and since the only real decisions I'm making for them are with carry and target allocation adjustments, the end-result rankings can sometimes really surprise me.
So far, those surprises have all stood up to scrutiny. As much as even I pay attention to football, I don't have an accurate mental picture of the quality and likely workload of every player on every team. A comprehensive ranking system can quickly identify my biggest blind spots. Five of those in particular stood out to me in my Week 1 "true-talent" rankings.
Alex Smith is the No. 6 fantasy quarterback
The Kansas City-Washington-Minnesota triangle is the center of my attention in fantasy at the start of this season. All three teams replaced their successful incumbent quarterback, and so the question is which incumbents succeeded because of the skill talent on their former teams, which would in turn help that team's new quarterback produce even better fantasy numbers. The research I did for Yards Added seemed to suggest that the Redskins' offensive talent was among the best in football, which runs counter to the perception of most fans of the sport and team. My projection system, however, agrees. That knocks the departed Kirk Cousins down in my Week 1 "true talent" rankings, but it looks to help last year's surprising top-five fantasy quarterback Smith stay pretty much there.
Jameis Winston is the No. 8 fantasy quarterback
Scott Barrett was all over this in his sleeper list, but I had previously overlooked Winston as a fantasy factor because of the time he missed last year. A three-year run of 4,042, 4,090, and 3,504 yards to start a career as a passer is, at its face, uninspiring. But that third total came in just 13 games and obscured a junior-year spike of nearly 15 passing yards per game. My rankings are smarter than me, so they correctly identified Winston as a big-volume passer up there with established guys like Matthew Stafford and Drew Brees.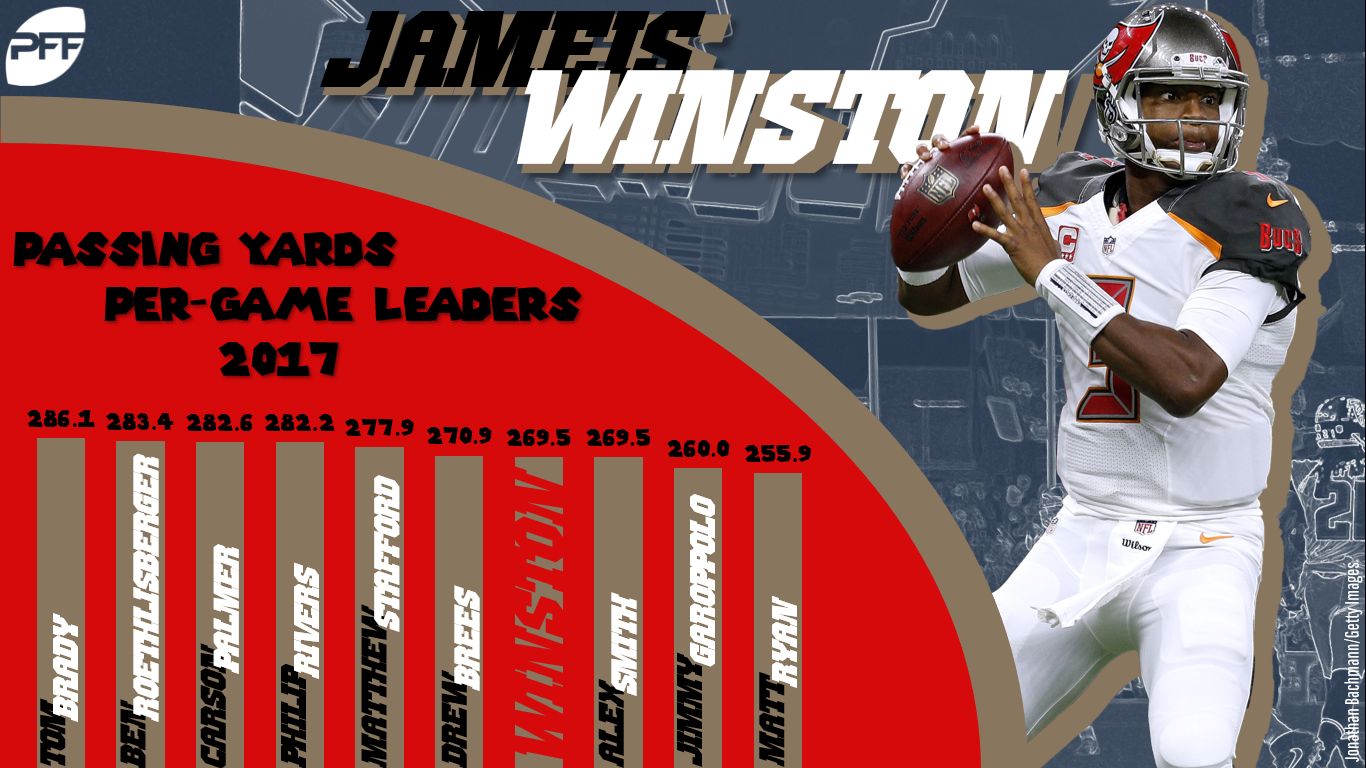 Winston's fantasy value is still somewhat-reasonably muted by his three-game suspension that will knock him out of the bulk of September. He also projects to throw a lot more interceptions than everyone but Ben Roethlisberger near the top of the passing yardage list, and that makes him a greater long-term risk to keep his job. Still, how much risk can there be for a player outside the top-20 at the position in ADP? Especially in deeper and two-quarterback formats, take the gamble that he can cut down on the mistakes and become one of the league's preeminent pocket passers.
The 13 every-down running backs on my depth charts are all in the top-15 rankings at the position
I wouldn't have thought it would be so critical to correctly identify which backs are No. 1 on their teams' depth charts for early-down, third-down, and goal-line work, especially since I can manually adjust the percentage of carries I allocate to every back in each of those three situations. But it turns out that all 13 of the backs I settled on as every-down backs landed in the top-15 of my Week 1 "true-talent" PPR rankings, even the ones who I question their abilities to maintain those three top spots for the duration of the season.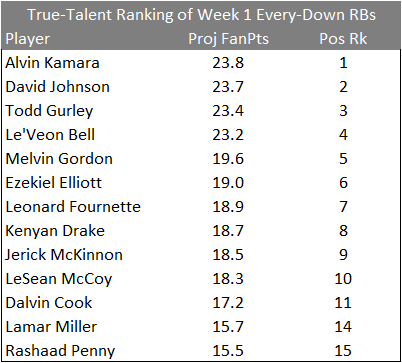 This really crystallizes what I think is the biggest difference in the approach you should take to weekly versus seasonal rankings. For the former, opportunity is what matters. If you believe you can correctly identify a back as an every-down player for this week, definitely get him into your lineup. However, over the long term, talent eventually seizes those opportunities.
Some Dolphins wide receiver is going to be an insane draft value
There isn't a Dolphins wide receiver going in the overall top 100 in fantasy leagues, but someone is going to have to replace the 161 targets Jarvis Landry took with him to Cleveland. The real problem is there are too many viable candidates, but I'd still put my draft dollars on either or both of Danny Amendola and Albert Wilson. With projected reception rates around 80 percent of their catchable targets, they better look the part of the sure-handed (83.7 percent catch percent) but non-explosive (8.3 yards/catchable target) Landry where Kenny Stills, DeVante Parker, and even Jakeem Grant may be fighting over the team's fewer medium and deep targets.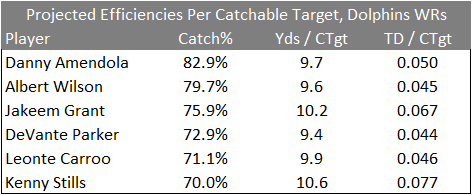 Hayden Hurst has a chance to become the rare impact-rookie tight end for the Ravens
The fantasy community was salivating over Hurst's fantasy potential for the near 24 hours between when the Ravens drafted him with the 25th pick in the first round and when they drafted another receiving-capable tight end, Mark Andrews, with the 22nd pick of the third round. The talent of those two players makes it difficult to have conviction in one of them for a season-long or dynasty fantasy ranking, but things are much easier one week at a time. And right now, Andrews has missed seven straight practices because of an underreported muscle tissue injury. With blocking specialists Nick Boyle and Maxx Williams as the only healthy tight ends between Hurst and the TE1 job, look for Hurst to quickly emerge as Joe Flacco's preferred PA Waggle target. Benjamin Watson finished 11th at the position with 77 targets in that role last year, and his 13-years-younger replacement Hurst can be much more explosive if he's afforded similar opportunities.