The further into the fantasy football draft season you get, the more informative average draft position can be. Now, nearing the end of draft season, there are still injuries and contract disputes that can shake ADPs up, but for the most part we have a pretty good idea of where guys are going on average at this point.
And with that information comes risk. The five guys below are certainly worth drafting, but we're looking at the reasons that we may want to wait on them and see if they fall a few spots to us.
(All ADP information comes from Fantasy Pros.)

(ADP: 6th overall)
History says if you draft Johnson, you are getting an RB1 — he has finished as one in three of four years in his career, with the lone exception coming in 2017, a lost season due to a Week 1 wrist injury that sent Johnson to IR.
That said, Johnson's ceiling has to be a concern. While he finished ninth overall at the RB position in 2018, he only finished top 10 in two of 16 weeks. His top-10 season-long finish was largely due to one big week and a consistent floor.
The fantasy community at large is optimistic about the new Kliff Kingsbury and Kyler Murray tandem in Arizona and what it could do for this offense. While I get it, I don't like uncertainty when it comes to my first-round picks. With a new QB, new coach, a new offensive coordinator, and an offensive line that we have ranked 30th, there's a lot of question marks and potential of a limited ceiling for the sixth overall pick.
(ADP: 17th overall)
Beckham has played five seasons now. To this point in his career, he has outperformed an ADP of 17th just twice. Additionally, he has finished outside of the top 40 each of the last two seasons.
You can attribute the last two finishes to season-ending injuries that obviously affected his fantasy performance. But missing games is not a new thing for Beckham; he's played all 16 games only once (in 2016), playing 12, 15, 16, 4, and 12 games in each season (starting with his rookie 2014).
In other words, in a five-year career, Beckham has played 12 games or fewer 60% of the time. Over the past two seasons, he has played a total of 16 games.
The Browns have a lot of mouths to feed and Beckham is the new arrival with a first-year head coach and a new offensive coordinator. Given his games-played history and all the change surrounding him, targeting him at 17 or higher is concerning to me.
(Note: Beckham's ADP was 12th just a few days ago. If he continues to slide even lower, he becomes worth taking. Anything 16th or higher though should have you evaluating all options.)
(ADP: 38th overall)
Last season, in Weeks 1-13, Henry was the No. 39 PPR running back. In that time, he never amassed more than 60 yards or more than two receptions in a game.
In Weeks 14-17, Henry was the No. 1 PPR back and totaled 585 yards on 87 carries (6.7 YPC) and seven touchdowns.
We have to be careful to not let a four-game sample cloud our judgement and look at the full body of work. Henry has rushed for 100-plus yards four times in his career and has 39 career receptions. Three of the four defenses he faced in that four-game stretch last season were in the bottom half of the league in rush defense. All of this is to say, we just haven't seen it enough from Henry to justify this draft capital.
Henry may be the guy we saw last December, but if water finds its level, fantasy owners grabbing Henry in the fourth round will be none too pleased.
(ADP: 55th overall)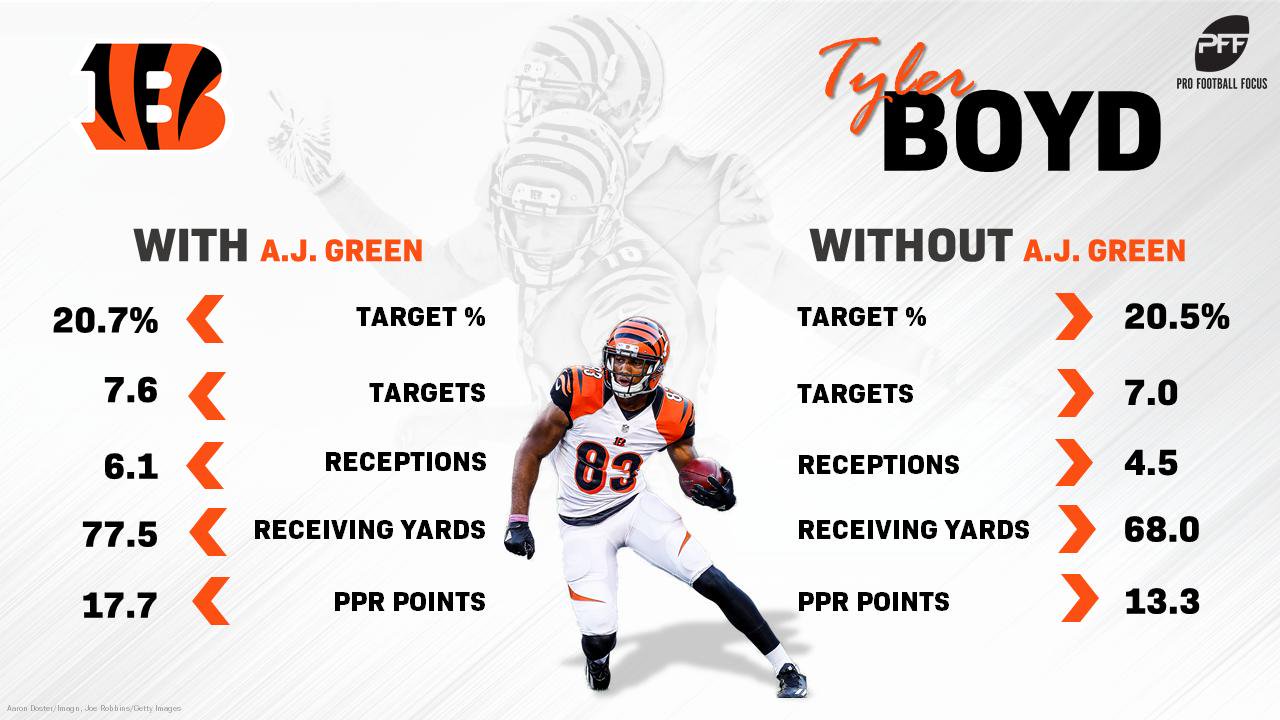 Boyd was the No. 12 PPR wide receiver in the first eight weeks of fantasy last season but was the No. 39 receiver the rest of the way, which worked out to a WR15 finish for the whole year.
Boyd was a better and more productive receiver in games A.J. Green also played. In the nine games Boyd lined up with Green in 2018, he had 55 receptions for 717 yards, which averaged out to 6.1 receptions per game on 8.2 targets for 79.7 yards. In the five games he played without Green, he had 21 receptions for 311 yards — 4.2 receptions per games on 6.8 targets for 62.2 yards. He also scored five of his seven touchdowns in the nine games with Green.
It's a small sample size, but in his most productive year to date, he was a better player when Green was on the field. With Green hurt for the third time in a 12-month stretch and on the wrong side of 30, it's hard to fully know what to expect here.
(ADP: 79th overall)
We should see Ebron's ADP start to fall with the announcement of Andrew Luck's retirement Saturday. Even before this update, there were already major question marks around this ADP and now this only furthers the case.
Ebron caught 13 touchdowns last season. That's two more than he caught in his first four seasons combined. We can start right here as this alone screams regression.
Ebron also had a 17.4% target share in 2018. With the return of Jack Doyle (who played just six games) and the additions of Devin Funchess and rookie Parris Campbell, it's reasonable to expect to see a reduction here as well. There are too many question marks around Ebron now to spend this type of draft capital on.