• Opportunity is king for a number of second-year linebackers: Nakobe Dean leads a young group ready to benefit from prime opportunity in Year 2.
• Moving on from sack-dependant vets: Jerome Baker's and Demario Davis' pass-rush upside rarely makes their weekly floor worth the risk.
• A promising year cut short by injury creates a target window: Divine Deablo is one of the more interesting young linebackers to target despite coming off an injury.
Estimated Reading Time: 10 mins
---
With dynasty fantasy football season in full swing, there are sure to be plenty of trades to be made and market values to take advantage of at this point in the offseason. Getting in on players before their values get too high and moving on from players while there is still some value to secure in return is what this series is all about. Check out the defensive line and defensive back options, as well.
Finishing this series off with the linebackers, here are 10 IDPs whose value and play on the field point to them being prospective players to target or avoid in dynasty leagues. There will be an emphasis on "production versus expected" to better frame exactly how each player performed relative to their peers this past season. Be sure to check out the IDP dynasty rankings to get a clearer picture of where each player stands relative to their peers.

---
Target
The first half of the 2022 season saw Deablo making a name for himself in IDP circles as he took over a full-time starting role while producing at a high level. Unfortunately, just two snaps into Week 9, Deablo's season was cut short due to a significant forearm injury. Season-ending injuries often create decent windows for prospective "buyers" to take a shot for a lower price than that for a player who stayed healthy. 
Deablo earned the trust of the Raiders' coaching staff to lead the linebacker corps in 2022, and as long as he's healthy this coming season, he should have a very good shot to do so again. The Raiders, dealing with plenty of other areas of need, aren't expected to make a big splash in free agency at the linebacker position, helping Deablo's case. While Las Vegas' defense isn't the most linebacker-friendly in terms of the scheme, Deablo still found a way to be an efficient tackler and overcome his circumstances, which provides optimism that he can continue to do so in 2023 under the same coaching staff.
Divine Deablo's 2022 Production vs. Expected profile:
---
Dean is sure to be a popular name in IDP this offseason with both T.J. Edwards and Kyzir White pending free agents. There is more than likely a starting spot awaiting the former Georgia Bulldog in 2023. After not even cracking 50 defensive snaps as a rookie, Dean has significant potential for production in Year 2, considering there is no better indicator for production than opportunity when it comes to the linebacker position.
Dean is particularly intriguing, especially in dynasty leagues, after being a projected first-round pick who fell to the third round amid injury concerns. And after barely being used as a rookie, he'll get a chance to prove there are no concerns and he was worthy of an earlier pick. Dean did everything well in his final season with Georgia — the best defense in the country — earning 90.0-plus grades overall, as a pass rusher and in coverage. He'll be a difficult linebacker to acquire in fantasy trades but should be somewhere near a top-15 linebacker pick once drafts get underway.
Nakobe Dean's 2022 Production vs. Expected profile: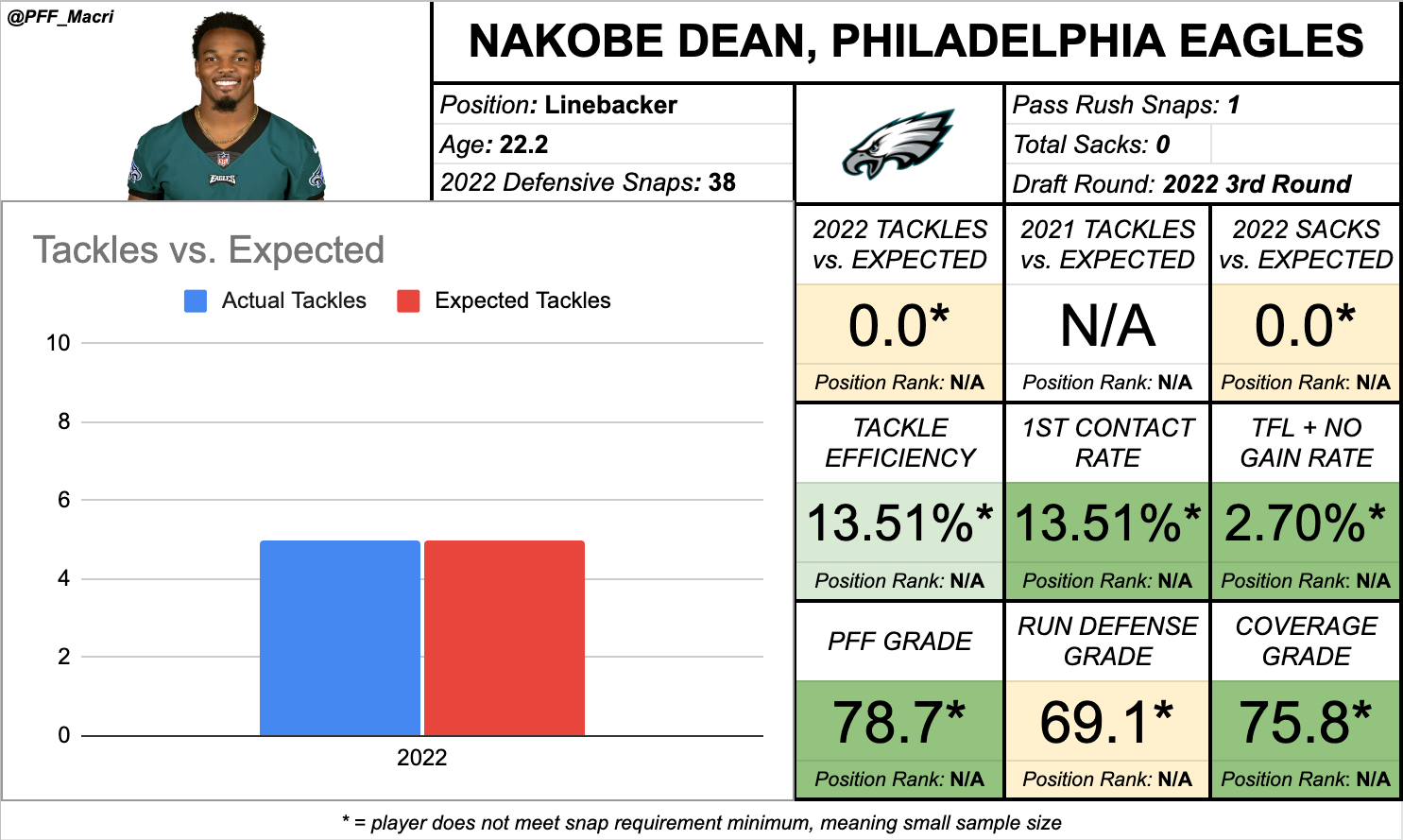 ---
The ultra-athletic Andersen started to get more work in the second half of the season, and while the overall grades weren't ideal — a common theme among rookie IDPs — Atlanta seems prepared to deploy him in a bigger role in 2023. Rashaan Evans led the Falcons linebackers in snaps (1,104) in 2022 but is scheduled to be a free agent, while Mykal Walker is under contract for next season but was the player to get phased out as Andersen got more work in 2022.
Andersen is the safest bet to play significant snaps among the Falcons linebackers in 2023 and should be able to improve upon his rookie season enough that he's a reliable weekly starter for IDP purposes. Acquiring the former Montana State product will vary in difficulty depending on the league, but by having his role held in check as a rookie, there should be enough of a window for those looking to get their guy.
Troy Andersen's 2022 Production vs. Expected profile: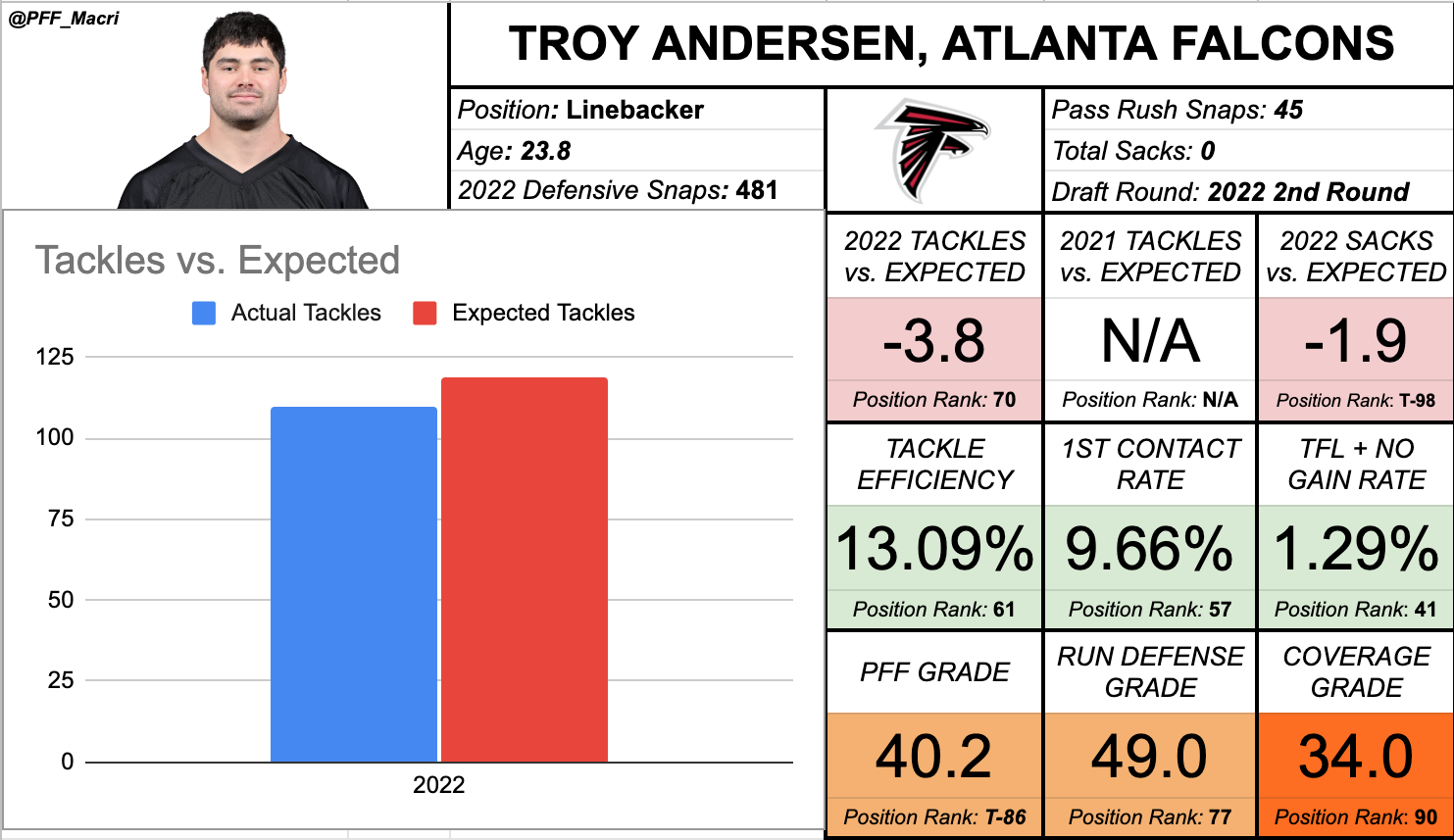 ---
The window to get in on Asamoah at a low cost is rapidly closing after the Vikings released Eric Kendricks, but the good thing about moves like this happening in early March is there are fewer fantasy players plugged into happenings around the league. With both starters ahead of him (Kendricks and Jordan Hicks) playing all 17 games, there was limited opportunity for Asamoah to see the field, but the team did get him more consistent work starting in Week 14. He averaged 31% of defensive snaps from that point until the end of the regular season.
Considering the small sample size, Asamoah performed well enough to not create any real red flags for his game, making him just slightly more attractive to prospective fantasy managers. The Vikings' defense was one of the most zone-heavy units in the league in 2022, but Brian Flores coming in as the defensive coordinator could shake things up a bit. He was known for his man- and blitz-heavy scheme while with the Dolphins. If IDP managers are unable to get Asamoah at a reasonable cost, it's OK to move on to another option with a similar opportunity, like the next name on the list.
Brian Asamoah's 2022 Production vs. Expected profile: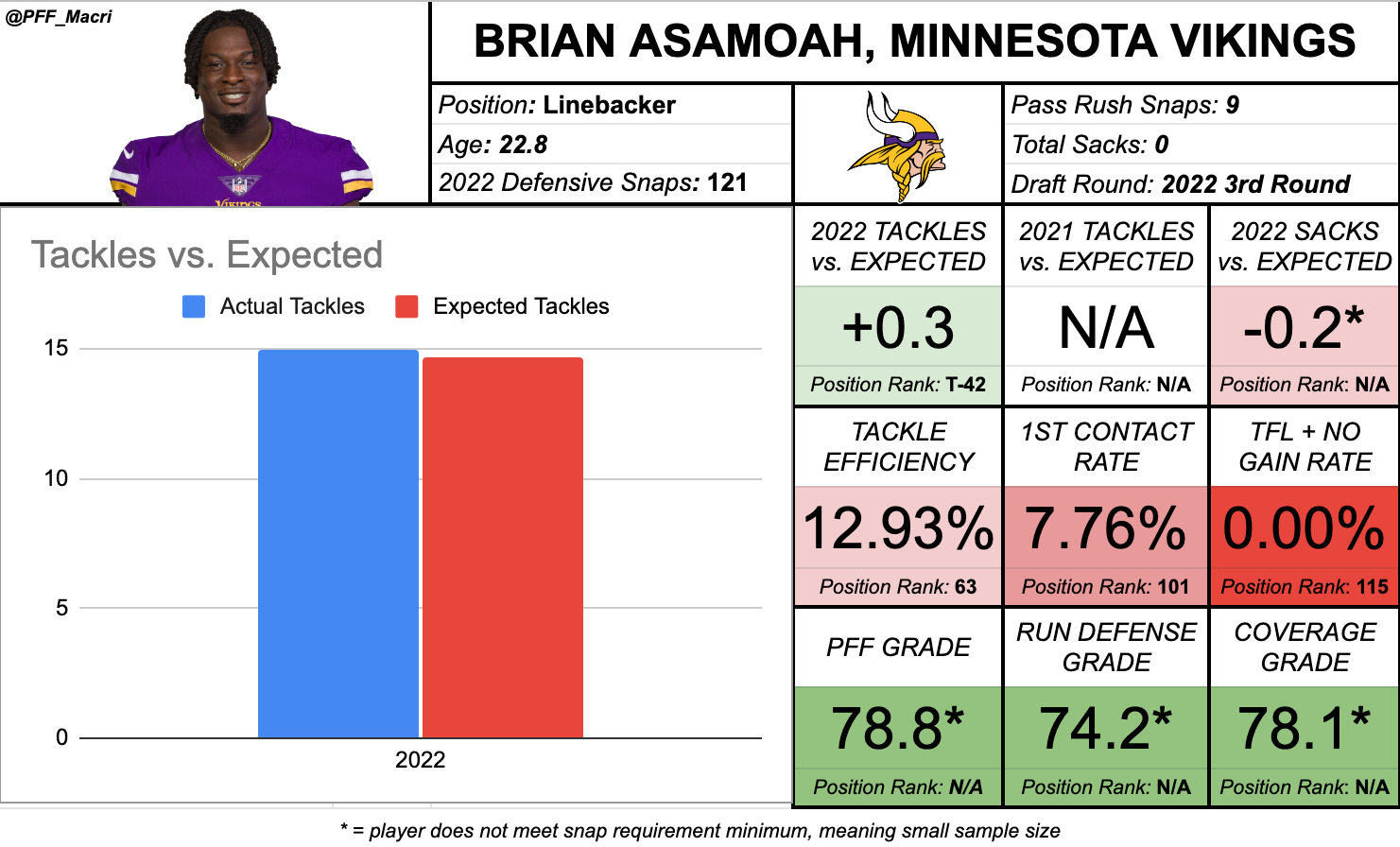 ---
The Bills are not expected to retain starter Tremaine Edmunds, who is coming off his best year in terms of PFF grades, which opens up a key role for their 2022 third-round pick to step in and play significant snaps in Year 2. Bernard started just one game as a rookie, earning his best single-game grade (73.0) of the year while totaling eight tackles.
Bernard showed off elite speed at last year's combine and could be viewed as more of a modern linebacker considering his smaller size, very similar to his teammate Matt Milano. Two undersized linebackers could create their fair share of complications for NFL purposes, but it's not something IDP fantasy managers should be overly concerned about for 2023, as the Bills might not have much of a choice considering the current state of their linebacker room.
Terrel Bernard's 2022 Production vs. Expected profile: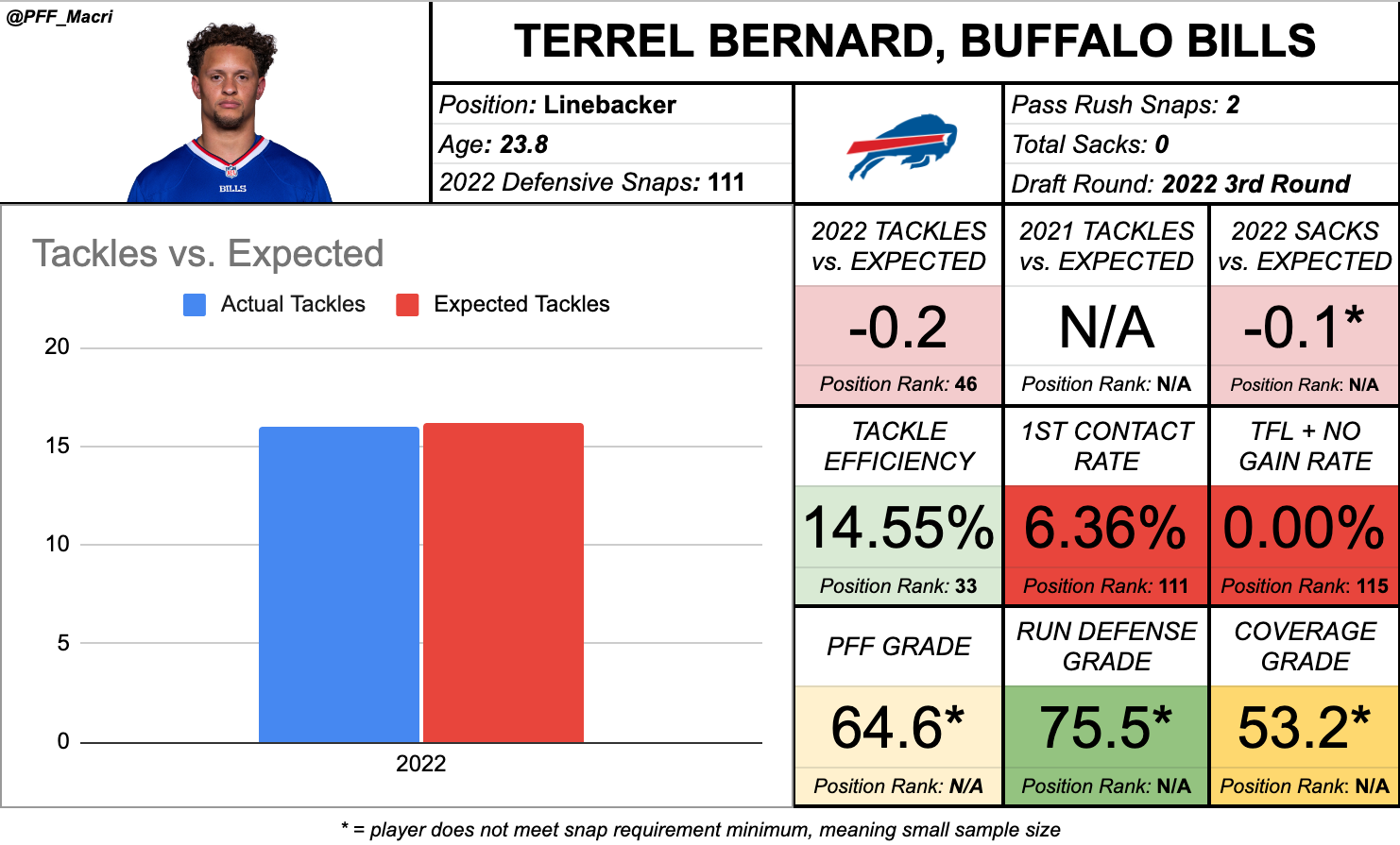 ---
Avoid
Jack has been a frustrating IDP since entering the league as a promising second-round pick out of UCLA in 2016, never quite securing the top-end tackle totals of other players at his position. His first season with the Steelers finally started to show the production that IDP managers had long hoped for, but as his struggles on the field became apparent, the team began to rely on him less and less.
When Pittsburgh was making a real push for a wild-card spot down the stretch, they started former undrafted free agent Robert Spillane over Jack, trusting him more as a player familiar with the defense. Jack seeing the field for a total of just 44 defensive snaps over the last three games of the season is enough of a red flag for IDP managers to try and move on, especially after he posted some of the best efficiency totals of his career.
He should yield enough of a return to make trading him worth it, thanks to his 2022 production, but holding out hope for another season in Pittsburgh, a team known to utilize a more situation-specific deployment for its linebackers, could leave IDP managers empty-handed.
Myles Jack's 2022 Production vs. Expected profile: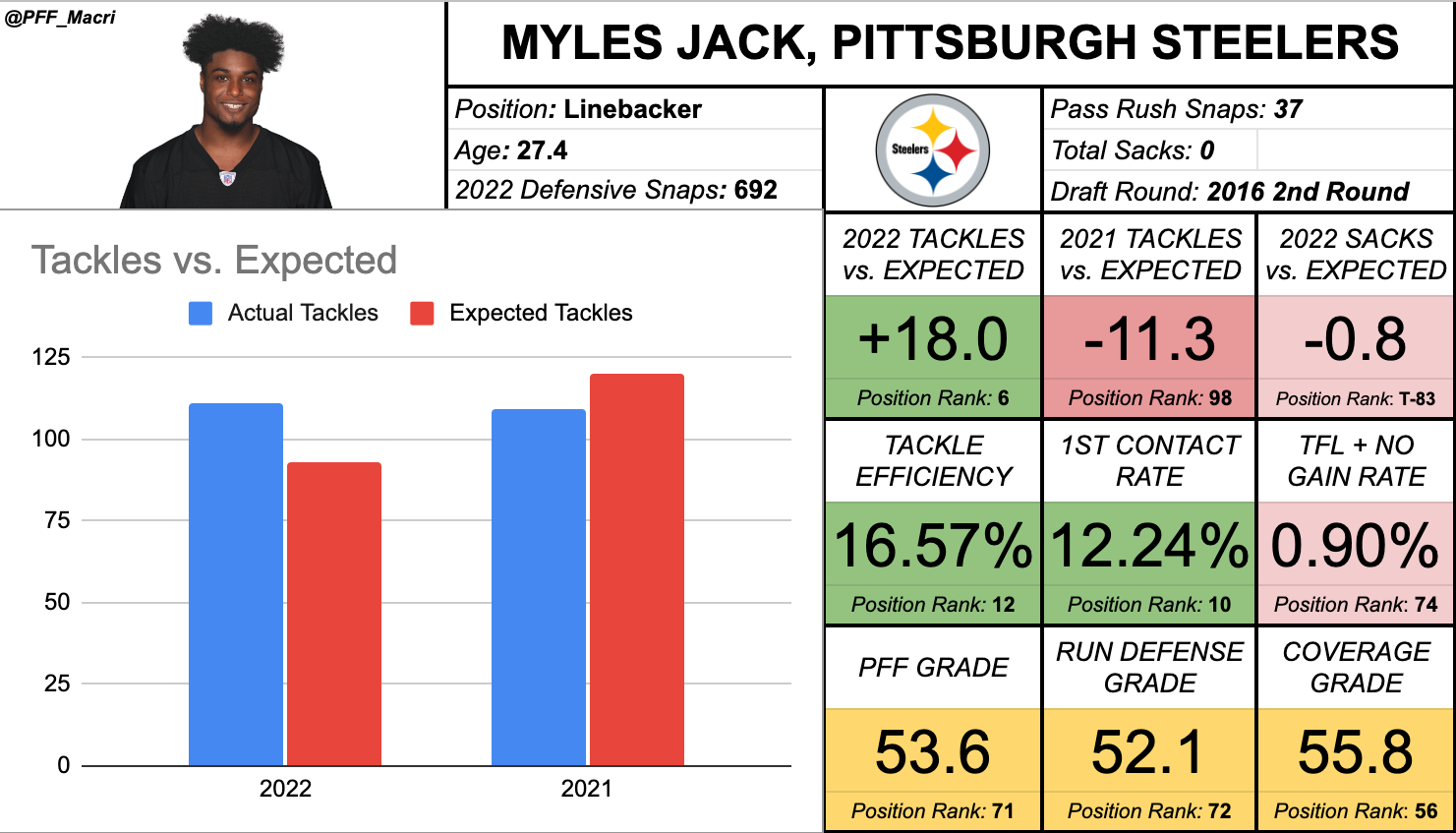 ---
Baker's strongest asset as an IDP has been his pass-rush upside, posting 16.5 sacks over the past three seasons, which is the second most at his position. The Dolphins' defense is expected to look much different in 2023 under new defensive coordinator Vic Fangio, with his past two coaching experiences in Denver and Chicago yielding below-average blitz rates. This is likely to result in fewer pass-rush opportunities for Baker, which is often a good thing for IDP linebackers, as it results in more tackle opportunities. But Baker has been among the most inefficient tacklers at his position over the past few seasons, and that's taking into account his time rushing the passer.
If there are other IDP managers excited about Baker's potential for more tackle opportunities who believe he can be more than the LB3-type player that he has been in Miami, then it's an opportunity to move him. His tackle production should continue to be replaceable at best, so cashing in at this point is likely the correct move.
Jerome Baker's 2022 Production vs. Expected profile: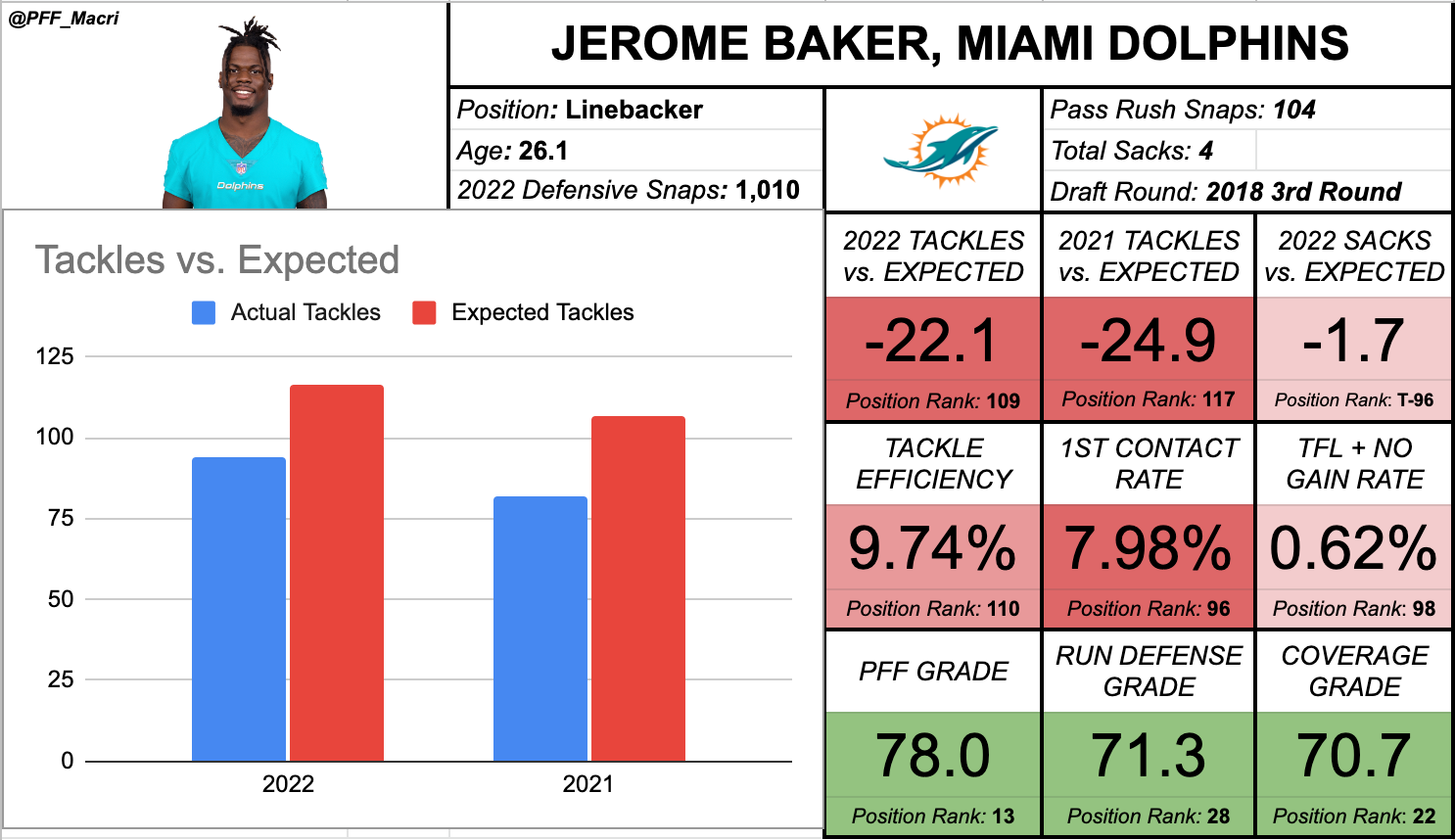 ---
When Bobby Wagner left Seattle last offseason, there was a lot of excitement from IDP gamers about Barton, but he ultimately came up a bit short of matching those expectations. Barton was demoted to more of a part-time player early in the season, which had a lot to do with him being a liability defending the run and pass. He started to get a bit more work as a full-time player again in the second half of the year, which helped his production totals and hopefully was enough for him to fetch a decent return for IDP managers looking to trade him.
Barton is a player to avoid at this point in the offseason as he enters free agency. He profiles more as a one-year fill-in IDP who won't hold much more value than that of a potential waiver-wire pick-up down the road. There are players like this every season, and finding the next one really isn't that difficult, so IDP managers should be quick to cash out when they can.
Cody Barton's 2022 Production vs. Expected profile: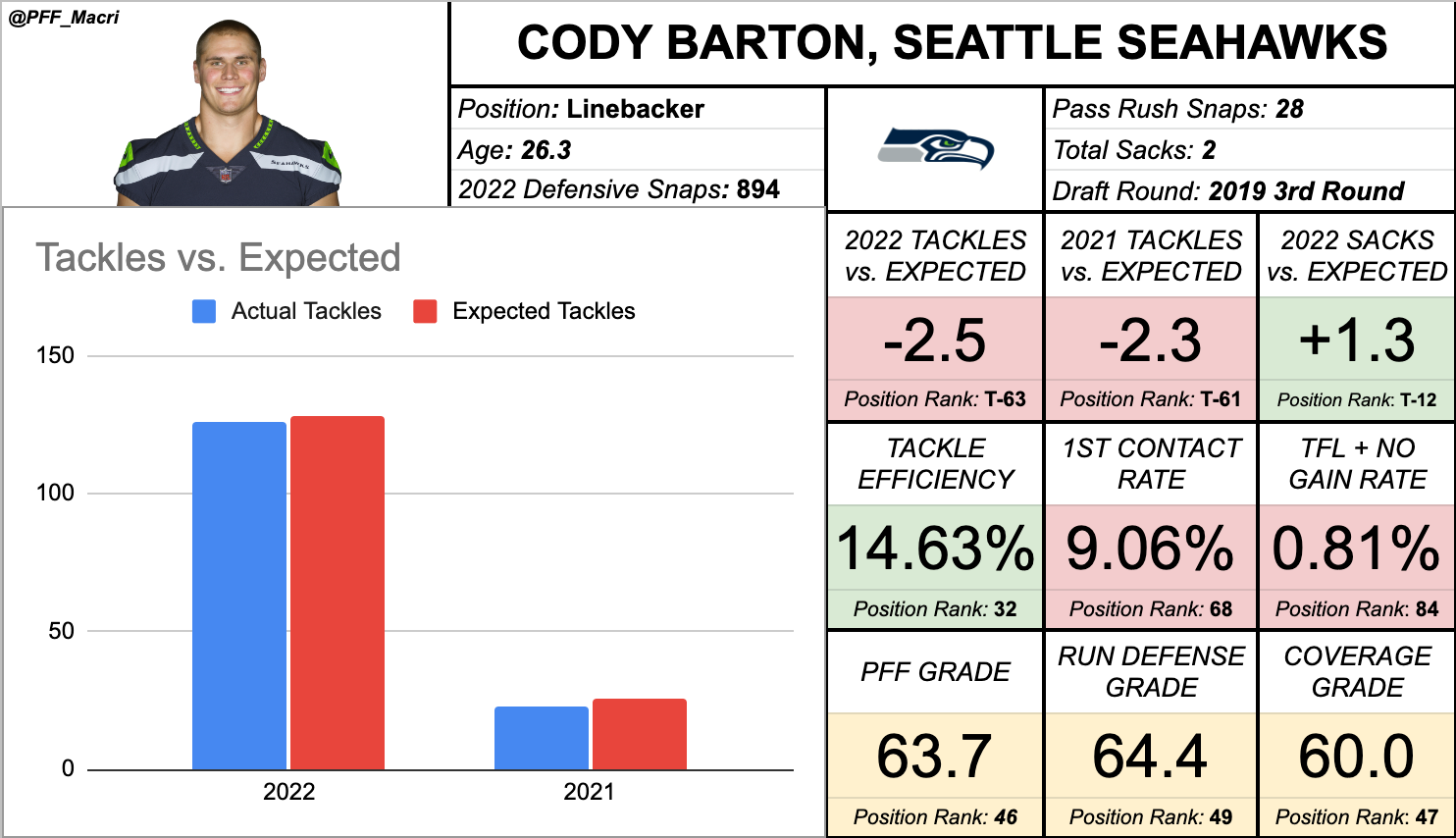 ---
Queen recorded 117 tackles and five sacks in 2022 — exactly what dynasty managers needed in order to move him for a reasonable price. He also posted, by far, his best PFF grade (70.0), which can be used to lean into the optimism for prospective trade partners to consider. However, much like Jerome Baker (mentioned above), Queen's inefficiencies as a tackler make him easily replaceable at a position that IDP managers will often get excited about.
Queen's first-round draft capital combined with his career year is often enough to make him a tantalizing trade piece. Knowing that the Ravens just made Roquan Smith the highest-paid linebacker in the league and are unlikely to spend much more at the position to keep Queen past the 2023 season is what makes this offseason potentially the best time to get a good value for the LSU product.
Patrick Queen's 2022 Production vs. Expected profile: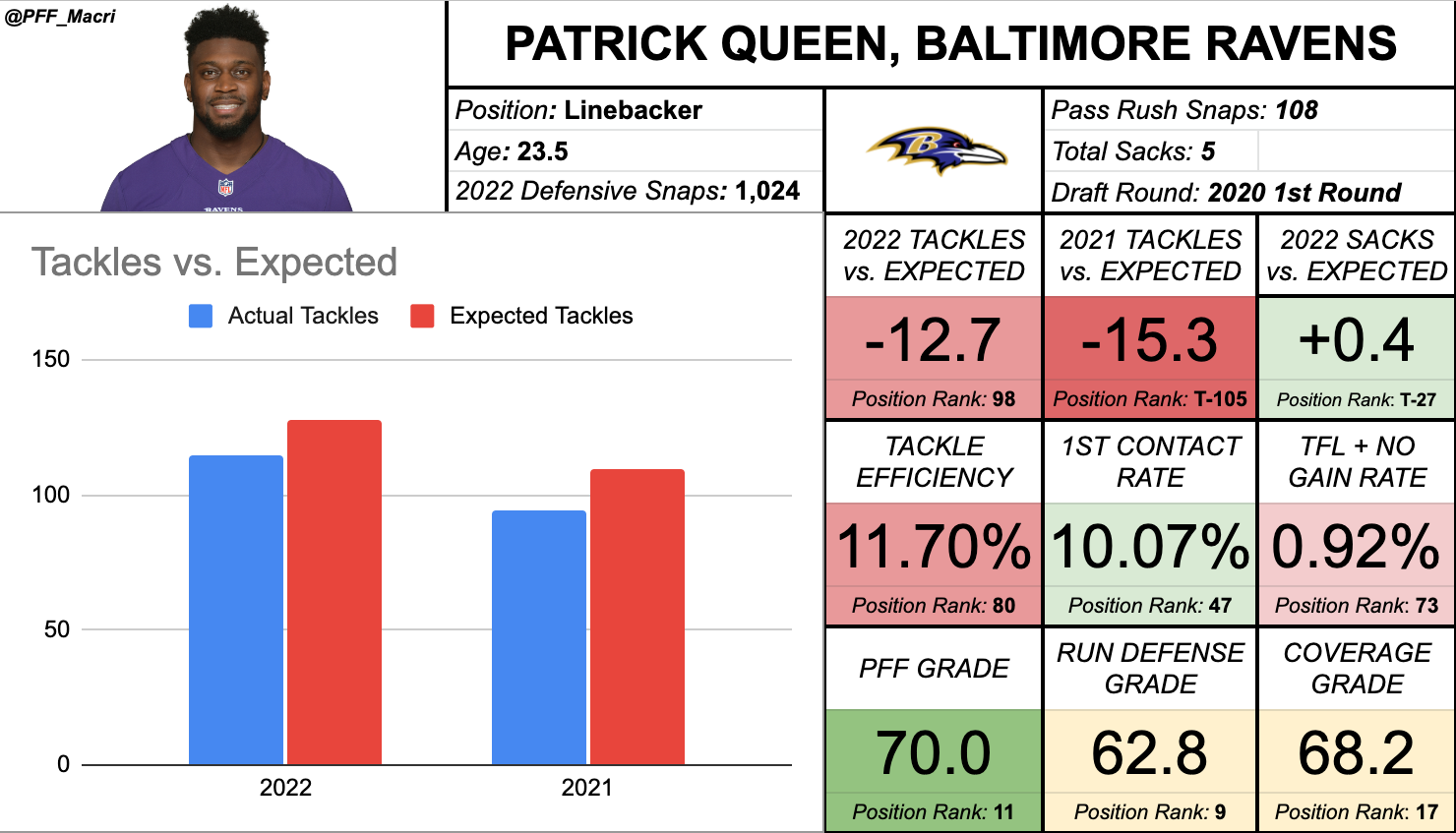 ---
Age is certainly one factor to consider when it comes to Davis in dynasty leagues, entering his 12th NFL season, but that's not the only thing holding back his fantasy value over the past few seasons. Davis' production has taken a significant dip that may go unnoticed by those looking strictly at end-of-season finishes. Davis has remained healthy, playing more than 1,000 snaps in each of the past three seasons and earning top-end grades at the position. He is a prime IDP to move to a contending fantasy team that isn't looking for a long-term answer at the position.
Davis is also coming off a career-high 6.5 sacks (third among linebackers), which can be used as a great upside selling point. However, looking at Davis' expected totals, he has been one of the most, if not the most, inefficient tacklers at his position the past two seasons, which puts his weekly value at a very low floor. He is not someone that should be considered a locked-in starter for IDP purposes. If Davis can be traded based on reputation, then this may be the last real offseason window to do so.
Demario Davis' 2022 Production vs. Expected profile: