The 2021 fantasy football season is in the books, but that doesn't mean the grind comes to end. There are valuable lessons to be learned in order to better project 2022 fantasy football rankings.
---
Click here for more PFF tools:
Rankings & Projections | WR/CB Matchup Chart | NFL & NCAA Betting Dashboards | NFL Player Props Tool | NFL & NCAA Power Rankings
Best Bets Tool
---
I have some hits and misses to reflect on heading into 2022, especially at the quarterback position. Last year, Jalen Hurts and Tom Brady were the perfect late-round quarterbacks to select, and I drafted them in plenty of fantasy leagues. But other strategies didn't work out as well, like having too much exposure to rookie QBs.
Let's take a look at my at 2022 fantasy football quarterback rankings and dig a little deeper into what went right and wrong in 2021. Reflecting on the hits and misses at the quarterback position will hopefully uncover the right metrics and trends to leverage going forward. 
2022 QUARTERBACK RANKINGS
| | | | |
| --- | --- | --- | --- |
| Rank | Player | Team | Tier |
| 1 | Josh Allen | BUF | 1 |
| 2 | Patrick Mahomes II | KC | 1 |
| 3 | Kyler Murray | ARI | 1 |
| 4 | Justin Herbert | LAC | 1 |
| 5 | Lamar Jackson | BAL | 2 |
| 6 | Joe Burrow | CIN | 2 |
| 7 | Tom Brady | TB | 2 |
| 8 | Jalen Hurts | PHI | 2 |
| 9 | Aaron Rodgers | GB | 3 |
| 10 | Dak Prescott | DAL | 3 |
| 11 | Trey Lance | SF | 3 |
| 12 | Russell Wilson | SEA | 3 |
| 13 | Matthew Stafford | LAR | 3 |
| 14 | Deshaun Watson | HOU | 3 |
| 15 | Justin Fields | CHI | 4 |
| 16 | Ryan Tannehill | TEN | 4 |
| 17 | Kirk Cousins | MIN | 4 |
| 18 | Mac Jones | NE | 4 |
| 19 | Derek Carr | LV | 4 |
| 20 | Trevor Lawrence | JAC | 5 |
| 21 | Zach Wilson | NYJ | 5 |
| 22 | Tua Tagovailoa | MIA | 5 |
| 23 | Jameis Winston | NO | 5 |
| 24 | Taysom Hill | NO | 5 |
| 25 | Matt Ryan | ATL | 5 |
| 26 | Carson Wentz | IND | 5 |
| 27 | Daniel Jones | NYG | 5 |
| 28 | Jared Goff | DET | 5 |
| 29 | Baker Mayfield | CLE | 5 |
| 30 | Ryan Fitzpatrick | WAS | 5 |
| 31 | Jimmy Garoppolo | SF | 5 |
| 32 | Teddy Bridgewater | DEN | 5 |
| 33 | Ben Roethlisberger | PIT | 5 |
2021 QUARTERBACK DRAFT STRATEGY AND 2022 APPLICATION
From a strategic perspective, going late-round quarterback once again proved favorable if you landed on either Hurts, Brady, Joe Burrow or Kirk Cousins. Hurts' upside as a rusher — 53 rushing yards per game, second among QBs — helped him deliver for fantasy gamers even as a lackluster passer. 
The more traditional pocket passers were able to find success due to their high-powered offenses. Brady played in an offense stacked top to bottom with receivers, so it was not shocking to see him post video-game numbers. 
After what they showed in 2020, the Tampa Bay Buccaneers clearly wanted to be a pass-heavy team in 2021, as Brady finished second in the NFL in pass attempts. 
Other quarterbacks who played on teams that showed a willingness to pass aggressively on early downs in 2021 included Patrick Mahomes, Justin Herbert, Josh Allen, Lamar Jackson, Zach Wilson and Trevor Lawrence. No surprises that the non-rookies all finished top-six in fantasy points per game. 
Aaron Rodgers, Joe Burrow, Matthew Stafford and Kirk Cousins all played on offenses that threw the ball at a top-eight rate when the game score was neutral last season, and they rounded out QBs 9-12 in fantasy points per game.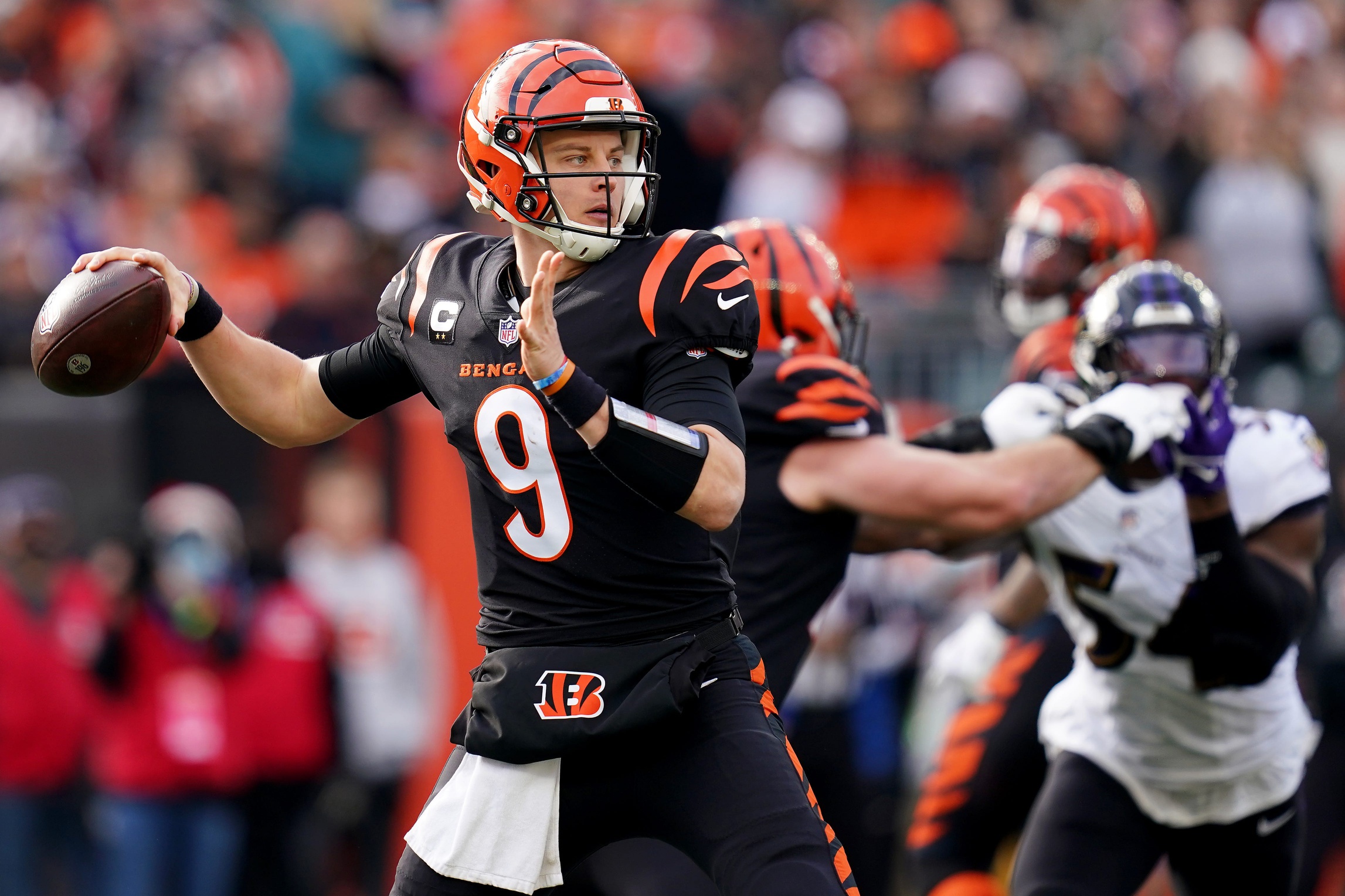 Rushing clearly should be taken into consideration when drafting a fantasy QB — six of the top eight quarterbacks in fantasy points per game rushed for at least 300 yards in 2021. But don't overlook the league's premier pocket passers in pass-happy offenses when their ADP drops due to a "lack of upside."
Traditional pocket passers who should reach or exceed expectations according to 2022 ADP include Burrow, Stafford, Dak Prescott, Ryan Tannehill, Russell Wilson and Mac Jones.
Justin Fields and Trey Lance are the type of mobile quarterbacks who could easily fit the mold as late-round QBs to target in 2022. Both rookie quarterbacks flashed their fantasy ceilings in limited opportunities in 2021.
Fields finished as a top-12 fantasy quarterback in his last four full games, averaging 21.7 fantasy points per game. He also averaged 56 rushing yards per game over his last six.
Lance only started two games but showed off the rushing that excited fantasy managers during draft season. The 49ers' first-year signal-caller averaged 22.4 expected fantasy points and 60 rushing yards per game. 
Related content for you:
2022 NFL Dynasty Fantasy Football Rankings via Andrew Erickson
2021 QUARTERBACK HITS
Burrow was one of my hits at the quarterback position, having ranked him at No. 10 overall versus his QB13 ADP. Burrow's expected fantasy points and his PFF passing efficiency metrics as a rookie were reasons to bet on him heading into Year 2. 
Burrow ranked third in expected fantasy points per game in his first season while finishing with the most points scored under expectation. Per PFF's Seth Galina, the LSU product's PFF passing grade from a clean pocket, grades on first/second down and percentage of negatively graded throws all ranked first among rookie quarterbacks since 2006. 
The place where Burrow was "bad" was throwing deep. Ja'Marr Chase helped clean up that inefficiency real quick. 
Joe Burrow PFF grade on throws 20-plus air yards

2020: 61.5 (31st)
2021: 96.1 (5th)

The Ja'Marr Chase effect ✈✈✈

— Andrew Erickson™ (@AndrewErickson_) January 17, 2022
Burrow's massive second-year jump is encouraging for this year's rookie QBs like Lawrence and Jones. The Jags quarterback finished with the same expected fantasy points per game average as Burrow in 2021 (17.3) but underwhelmed tremendously in a poor situation. His -72.3 fantasy points versus expectation were the most of any QB in 2021.  
Lawrence posted a season-high 85.1 PFF passing grade in the season-finale, offering some hope that he can turn things around in 2022 with a new coaching staff in place. 
The same sentiment can be offered for the Pats rookie quarterback based on his inspiring efficiency numbers. Jones finished 18th in passing grade at the intermediate level (75.3) and 13th from a clean pocket (84.8). The former 'Bama quarterback was PFF's 10th-highest-graded QB (76.1) on first and second downs.
None of his accolades surpassed Burrow's rookie season, but they still offer optimism that Jones can become a fantasy asset if New England adds more weapons to his arsenal.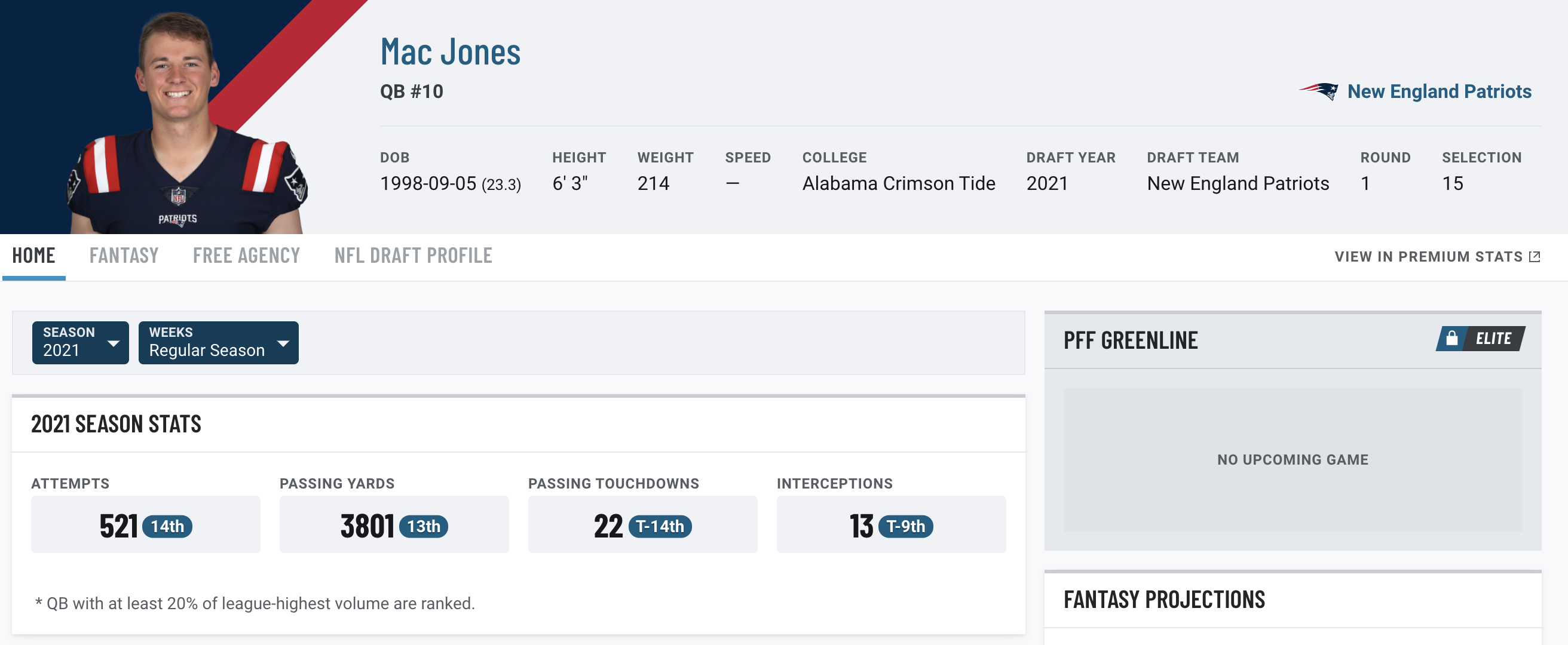 Weapons are the name of the game with Stafford, who finished the season 11th in fantasy points per game (20.4) on the back of 41 passing touchdowns. Forty-plus TDs is no easy feat and should not be overlooked by fantasy drafters in 2022, especially because it was Stafford's first season in Sean McVay's offense. 
Ranking Tannehill as a top-12 fantasy QB looked like a no-brainer ahead of 2021 based on his uber-efficient play since being named the Titans' starter back in 2019. However, he ended the year as QB15 in points per game due to the sheer lack of weapons around him: Julio Jones, A.J. Brown and Derrick Henry combined to miss 21 games. 
So although Tannehill didn't necessarily "hit" for me, the circumstances were out of his control for fantasy purposes. He still finished the regular season ranked highly in PFF passing grade on early downs (seventh), throwing 10-19 yards downfield (12th) and operating from a clean pocket (eighth). He should bounce back from a fantasy perspective in the 2021 NFL postseason and the 2022 fantasy football season. 
Matt Ryan was a fade for me last year but could be a major upgrade for a team with weapons in place that just needs somebody to take charge under center. He was above average across the board in many of PFF's sticky efficiency metrics in 2021: 12th in PFF passing grade from a clean pocket, second throwing at the intermediate level and ninth throwing on early downs.
2021 QUARTERBACK MISSES 
My biggest red flag with Justin Herbert entering the 2021 season was his unsustainable play under pressure: His 2020 passer rating was better under pressure than from a clean pocket. Those numbers did regress in 2021, but I weighed that too heavily in Herbert's 2021 fantasy ranking.
Justin Hebert passer rating from a clean pocket and under pressure (2020-2021)
| | | |
| --- | --- | --- |
| | Under Pressure | Clean Pocket |
| 2020 | 99.4 | 97.7 |
| 2021 | 77.9 | 103.4 |
I should have considered that Herbert's mind-boggling TD ratio under pressure was reflective of his insane talent and off-script playmaking ability. If his clean pocket numbers improved (which they did), they would counterbalance any regression to his numbers under pressure.
That's exactly what played out, as Herbert finished third in touchdowns and fifth in PFF passing grade (91.8) from a clean pocket. 
The Los Angeles Chargers quarterback is a stud — a top-five, elite-tier fantasy quarterback in 2022. The lesson here is to chase elite players before writing them off for regression.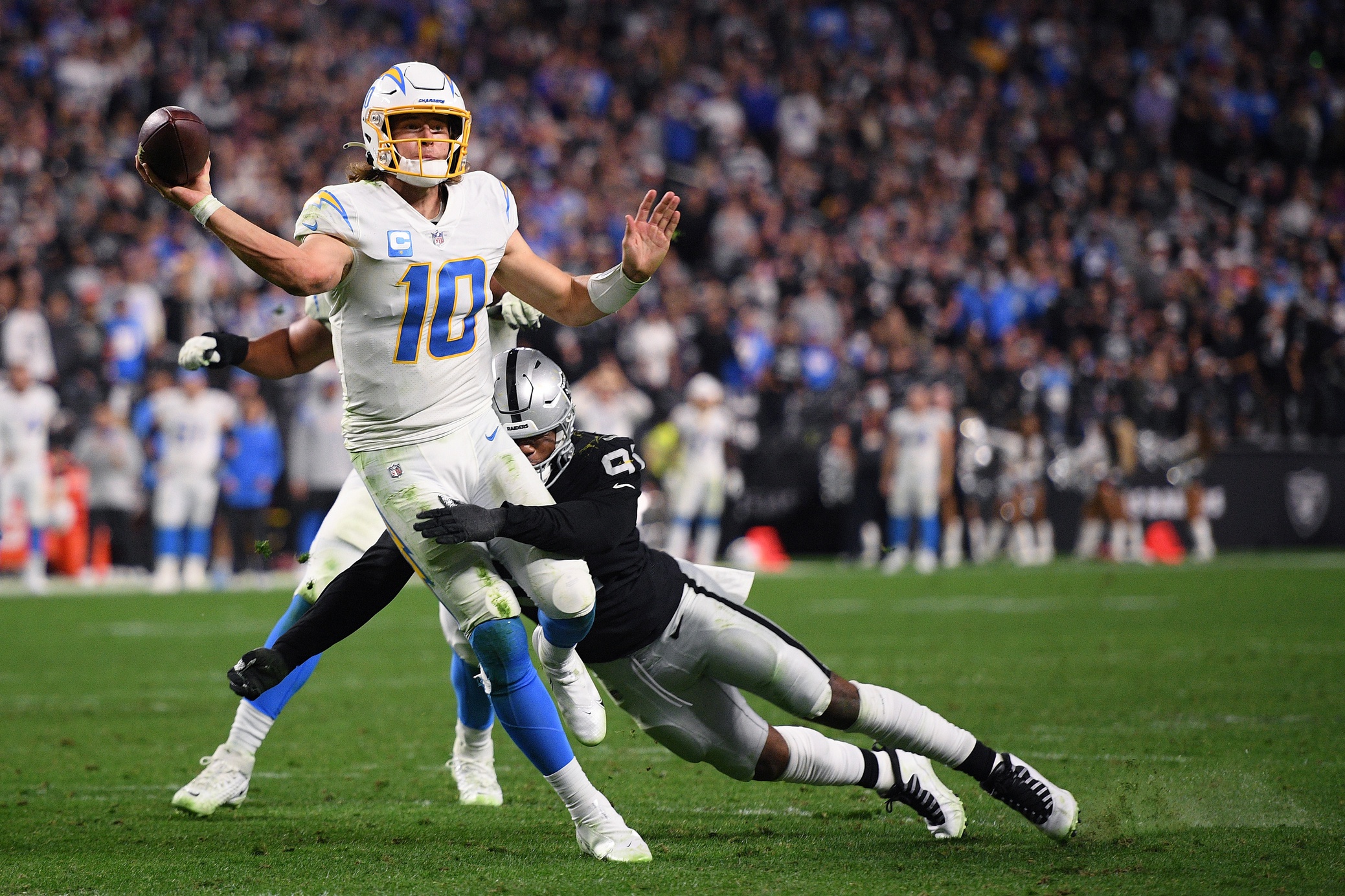 I also whiffed big on Kirk Cousins in 2021, ranking him outside my top-20 fantasy quarterbacks. The Minnesota Vikings passer finished as the QB11 in total fantasy points and QB12 in points per game. 
My rationale: Cousins lacked rushing upside, and improvement on the defensive side of the ball would limit Minnesota's passing offense. I also assumed Cousins' passing touchdown rate would regress. 
I was ultimately correct on 1.5 fronts, as Cousins added little value as a rusher and his passing TD rate fell slightly from 6.8% to 5.9%. However, his TD rate was still above his career average (5.3%). 
The biggest miss was projecting the Minnesota defense to get better and prevent fewer shootout games for the Vikings. That's a major blindspot that many fantasy players miss every year — predicting that "X" defense will have a "Y" impact on the offense. The truth is that season-long defensive performances tend to be extremely fluky year over year compared to offenses.
Case in point: Dallas' defense was viewed as one of the league's worst, which was part of the reason Dak Prescott's ADP skyrocketed to QB6. His four-week stretch of 31.8 fantasy points per game during the start of the 2020 season tempted analysts to imagine this type of production over a full season in 2021, even though the Cowboys' defense was not likely to be anywhere near as bad. 
The Cowboys' defense ended up finishing as PFF's 12-graded unit in 2021 and likely played a role in Prescott's QB11 finish in points per game.
Simply put: Don't make your fantasy QB decision solely based on the argument that he will be forced to throw because of a bad defense. Honing in on QBs with bad defenses would have led to drafting guys like Lawrence and Ryan. Both had ADPs among the top-16 quarterbacks because of the "garbage-time passing" narrative. 
Chase efficiency at the quarterback position during the draft season, not projected volume. More often than not, QB passing volume will change weekly based on game circumstances. 
There's probably no better poster boy for following that strategy than buying Russell Wilson on the cheap in 2022 regardless of where he ends up playing. Wilson's long track record of efficient fantasy play is undeniable — he has finished among the top-six fantasy QBs five times since 2014.
Wilson fell off this season largely due to injury. He led the NFL in yards per attempt (10.4), passer rating (133.6) and passer rating from a clean pocket (130.9) before going down with a finger injury in Week 5. Wilson also finished the season on a high note, averaging over 24 fantasy points per game in his last three contests.
All in all, 2021 was a typical season for Wilson: peaks and valleys. He averaged 23 fantasy points per game from Weeks 1-4 and Weeks 16-18. In his six games post-injury, Wilson averaged an abysmal 13 fantasy points per game. Buy the inevitable 2022 dip on the future Hall of Fame quarterback.