The NFL draft is objectively a fun time. College football's top talent finally finds out where they'll be playing professionally, and fans get to assume the best with no meaningful football to be played for another four months.
However, this latter point often leads to unfair expectations for these 20-something-year-old rookies. Plenty of first-year players make big impacts immediately upon reaching the NFL, but it's fairly rare to see them put together a full season's worth of elite production.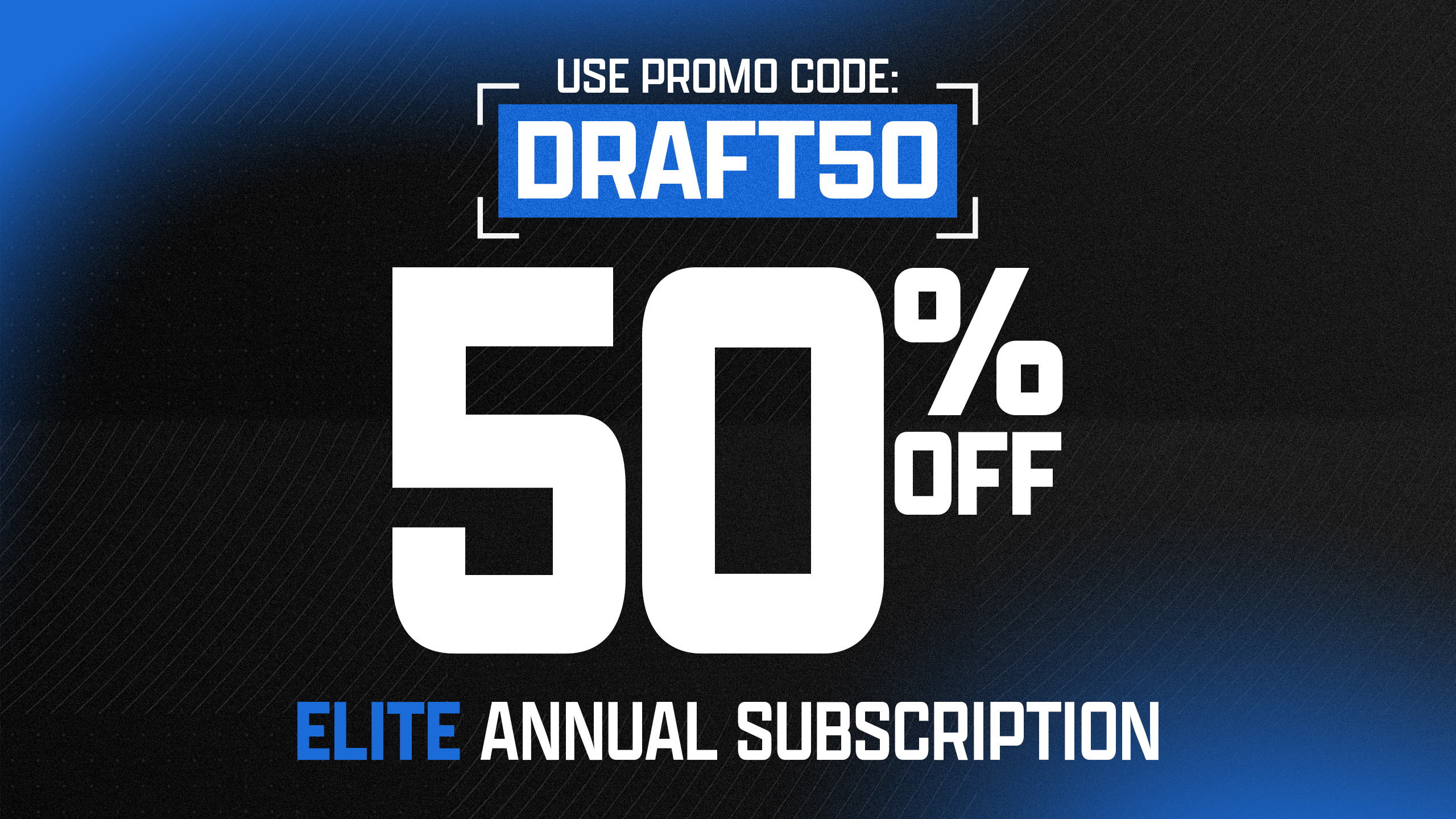 The idea that rookie skill-position players don't usually function as high-end producers has been abundantly clear in fantasy football over the past 10 years. Yes, an average of 3.1 rookie running backs per season have finished as top-24 PPR scorers over the past decade. Also yes, things have been far less frequent for wide receivers (1.6), while cases of a top-12 quarterback (0.6) or tight end (0.2) have been even rarer.
The majority of top-performing fantasy performers are usually multi-year veterans — and it's not really up for debate.
% of top-12 fantasy producers (PPR) by years of experience over the last 10 years pic.twitter.com/Lc1czZi7cP

— Ian Hartitz (@Ihartitz) February 3, 2022
Thus, more veterans than rookies won the 2022 NFL Draft in terms of who will be making up this season's top-fantasy performers. What follows is a breakdown of 27 veterans who truly won the draft in style, meaning their team refrained from adding any serious competition at their position — particularly inside of the draft's first three rounds. I won't simply be listing every position group whose team didn't add another player to the room. Rather, the goal is to highlight players who will likely see a nice bump in average draft position (ADP) because of newfound clarity surrounding their previously murky 2022 role.
Quarterbacks
Not only did the Eagles refrain from adding any serious competition to their quarterback room, but they also went ahead and casually traded for A.J. Brown. Hurts has largely been a fantasy cheat code, thanks to his rushing upside, ever since he replaced Carson Wentz at the end of 2021. Now, he'll lead a truly formidable passing attack with Brown, DeVonta Smith and Dallas Goedert at his disposal. The Eagles did indeed rank 32nd in situation neutral pass-play rate (46.8%) in Weeks 8-18 last season, but they were actually quite pass-happy in Weeks 1-7 (67.1%, 5th). Expect something in the middle for 2022 — and a lot of fantasy points out of Hurts.
It's been a bit of a roller-coaster offseason for Murray. No, that's not a joke about how Murray's height has probably limited him from riding a handful of roller coasters over the years. Anyway, trade talks and social media bio changes have died down, once again setting up the rising fourth-year quarterback to work as one of the position's most fantasy-friendly assets. However, the Cardinals' decision to trade for Marquise Brown and draft consensus No. 1 tight end Trey McBride gives Murray weapons all over the place. Figuring out the pecking order between these newcomers and incumbent pass-catchers DeAndre Hopkins, Zach Ertz, Rondale Moore and A.J. Green might be annoying for their respective fantasy aspirations, but this is nothing other than good news for Murray.
Mills managed to put together four top-12 weekly finishes as a rookie. That was more than any first-year quarterback other than Mac Jones (5), who was the only rookie at the position definitively better than Mills in 2022. Of course, it would have made sense if the tanking Texans moved on from their 2021 third-round pick in pursuit of a truly special talent under center, but that wasn't the case. Mills remains the clear-cut QB1 in an offense that added two potentially solid contributors in wide receiver John Metchie III and running back Dameon Pierce. Obviously, Mills won't be drafted in standard one-QB re-draft leagues, but he's on the QB2 borderline and projected to start 17 games. That's not too shabby for the 2021 NFL Draft's No. 67 overall pick.
Similar to Mills, Lock is on this list because he's now a quarterback competition win over Geno Smith away from being the projected Week 1 starter just a few months after it seemed plenty plausible that he'd be a clear-cut backup. The Broncos weren't exactly lacking firepower for Lock to throw the football to, but getting to feed the likes of D.K. Metcalf and Tyler Lockett is probably a slight upgrade. The Seahawks were regularly linked to each of the draft's top-five signal-callers yet decided not to address the position. Lock isn't expected to supply much fantasy goodness within Seattle's run-first offense, but he's the projected Week 1 starter and makes sense as a late-round best-ball stacking buddy on rosters that land one of Seattle's top two receivers.
Just like Mills and Lock, Goff isn't shooting up the ranks in fantasy land, but he's also suddenly projected to start 17 games after the Lions refrained from adding a single quarterback in the 2022 NFL Draft. He'll also have two new weapons at his disposal in electric field-stretching wide receiver Jameson Williams and underrated pass-catching tight end James Mitchell. Goff wasn't anything overly special last season as a fantasy asset but did at least turn in four separate top-12 performances. He's a fine QB3 to finish off a best-ball roster with, particularly if you already took Williams or Amon-Ra St. Brown.
Running Backs
The Dolphins gave Edmonds a two-year, $12.1 million deal this offseason. That per-year salary is within a million dollars of what Leonard Fournette, James Conner and Austin Ekeler are making. Edmonds isn't really built to handle an every-week three-down role, but he projects to lead Miami's backfield and soak up most of the fantasy-friendly pass-down work. Raheem Mostert and potentially Myles Gaskin will push for touches, although it's tough to see either providing more competition than what a Day 1 or Day 2 back would have brought to the table.
The Ravens met with then-free agent Melvin Gordon III earlier in the offseason, seemingly indicating they were willing to grow their expected two-back committee to three. That's not completely off the table, and the team devoting sixth-round draft capital to Tyler Badie indicates that he's probably more so competition for Justice Hill as opposed to Dobbins or Edwards. The Ravens sure look like they're about to get back to running the ball as much as possible after trading away Marquise Brown. Both Dobbins and Edwards could be looking at 15-plus combined carries and targets more weeks than not with better injury luck in 2022.
CEH has caused many headaches for fantasy managers during his short NFL career, mostly due to the Chiefs never really involving him in the passing game. Fast forward to 2022, and only the Ravens have more available running back targets after the Chiefs (to this point) refrained from bringing back Darrel Williams and Jerick McKinnon. Seventh-rounder Isaih Pacheco isn't even a lock to make the team, let alone crack the running back rotation. Thus, CEH profiles as the lead back of a two-player committee alongside RoJo, who could steal away enough fantasy-friendly goal-line work to potentially become 2022's version of 2021 James Conner. Neither Edwards-Helaire nor Jones figure to boast anything close to top-24 ADP at the position. They're prime zero-RB targets in the mid-to-late rounds thanks to high projected usage inside of a Patrick Mahomes-led offense.
Barkley isn't guaranteed to be with the Giants past this season, but New York picked up his fifth-year option and refrained from adding a single back in the draft. Matt Breida now profiles as Barkley's backup. While Breida does have familiarity with new head coach Brian Daboll from their time with the Bills, he doesn't possess the same sort of three-down ability as 2021 backup Devontae Booker. This means Barkley is more set up than ever to play the sort of every-down role Daboll utilized Devin Singletary in down the stretch in 2022. Fantasy managers have grown frustrated with Barkley after back-to-back disappointing seasons, but the 25-year-old talent is once again set up to handle one of the league's biggest workloads should he manage to stay healthy.
C-Patt's best outcome in free agency was always returning to the Falcons, but even then it seemed likely that he'd face more competition than what was on the table in 2021. This is partially true: The Falcons signed Damien Williams and used a fifth-round pick on BYU running back Tyler Allgeier, but neither deal consisted of the sort of money or draft capital to cause any real level of concern. Patterson's disappointing end to 2021 can't be discussed without noting that he was playing through a painful ankle injury suffered in Week 10. At the moment, Patterson joins Chase Edmonds as two of the cheapest starting running backs in all of fantasy football.
Conner's offseason started great after the Cardinals handed him the position's 11th-most valuable contract and parted ways with backfield mate Chase Edmonds. The draft only reinforced the idea that Conner will be heavily leaned on next season, as Arizona waited until Round 6 to scoop up USC running back Keaontay Ingram. That low draft capital indicates Ingram will be far more of a concern to Eno Benjamin than Conner, who posted PPR RB1, RB17, RB7, RB12, RB2 and RB1 finishes in six games without Edmonds last season. Conner could push for 300-plus touches with good health in 2022.
Wide Receivers
The Bills began their offseason by not re-signing Emmanuel Sanders and releasing Cole Beasley. They did make three moves at the position: Re-signing gadget/slot man Isaiah McKenzie, bringing on career slot maven Jamison Crowder drafting Boise State wide receiver Khalil Shakir in the fifth round. PFF draft tracker notes on Shakir: "He likely profiles best from the slot after putting up over 1,000 yards there in 2021." Suddenly Davis is locked in as the Bills' No. 2 wide receiver opposite Stefon Diggs. The rising third-year talent has scored 18 touchdowns in his first two seasons and just turned 23 years old. So, don't be surprised if Davis proves more than worthy of his upside WR3 ADP.
Bateman has a good case as the single-biggest veteran winner of the draft. The Ravens' 2021 first-round pick struggled to get going as a rookie after suffering a groin injury in training camp. It was always going to be tough to expect a true breakout in an offense that also features Mark Andrews and Marquise Brown, but Baltimore's decision to trade the latter asset leaves a whopping 146 targets up in the air ahead of 2022. The team's decision to not re-sign Sammy Watkins further helps matters for Bateman. While Andrews figures to work as the offense's No. 1 pass-game option, Bateman is firmly alongside the likes of Darnell Mooney and Brandin Cooks as affordable No. 1 wide receivers with legit chances to reach 150 targets.
Thielen turns 32 in September and has dealt with injuries over the past two seasons. And yet, he's played in 28 of 33 potential games, scoring an absurd 24 touchdowns along the way. Only Davante Adams (29) and Mike Evans (27) have more over the past two seasons. Obviously, Justin Jefferson is the Vikings' No. 1 receiver these days, but Thielen projects as the undisputed No. 2 pass-game option in an offense that could feasibly take a step forward in its pass-play rate under new head coach Kevin O'Connell. Priced as a borderline WR3 in early ADP, Thielen should be ranked far higher when Week 1 comes along once the public accepts that he's still alive.
Mooney posted a season-long 81-1,055-4 receiving line on 140 targets last season. Since then, the Bears failed to re-sign Allen Robinson II and only added career complementary pieces Byron Pringle, Equanimeous St. Brown and David Moore in free agency. They did spend a third-round pick on soon-to-be 25-year-old wide receiver Velus Jones Jr., but that's hardly a major concern considering all the possibilities that were on the table when the offseason started. The Bears' lack of urgency to add resources to this passing game is terrible news for Justin Fields, although it does cement Mooney as one of the league's more fairly undisputed No. 1 pass-game options.
Gage remains set up to start as the Buccaneers' undisputed No. 3 wide receiver. However, things could potentially be even more luxurious if Chris Godwin's ACL recovery isn't especially speedy and/or Rob Gronkowski actually retires. Ultimately, the Buccaneers didn't add any further competition; Tampa Bay didn't sign Gage to a three-year, $30 million deal to play behind the likes of Tyler Johnson or Scotty Miller. Gage's pre-draft ADP was in the WR5 territory, which looks more like his floor as Tom Brady's No. 3 wide receiver. His ceiling is far higher.
There were some rumors that Robby Anderson could be traded, but he remains with Carolina for now. He's once again projected to work as the Panthers' No. 2 wide receiver, a role that has yielded 246 targets over the past two seasons. Obviously, 2020 (95-1,096-3) was far more productive than 2021 (53-519-5), but Anderson is basically free in fantasy land at the moment and once again could be looking at triple-digit targets. There are worse darts to throw at the end of fantasy drafts than one at a No. 2 wide receiver just one year removed from a top-20 PPR finish.
It's not a given that the Rams have moved on from Odell Beckham Jr., but he remains unsigned, meaning Allen Robinson II is shaping up to work as Matthew Stafford's rather undisputed No. 2 pass-game option. It wouldn't be a shock if Cooper Kupp's 2022 target total starts with a two, as he's the offense's cemented No. 1 option. Still, there was a scenario where A-Rob would have to battle it out with OBJ, Robert Woods and a rookie wide receiver. At the moment, none of those are on the table.
Tight End
The Bengals signed Hurst to just a one-year, $3.5 million contract to replace C.J. Uzomah. It's no guarantee that the ex-Ravens/Falcons tight end fully supplants Drew Sample, although Hurst seems to present some added upside as a receiver. And the Bengals didn't ultimately add any other competition in the draft. Hurst deserves to be in the early conversation for the 2022 version of Dawson Knox, an underpriced starter in a great passing game who emerges as a legit fantasy asset thanks to a high touchdown rate on limited targets.
The Browns have finally fully committed to Njoku as their starting tight end. The only hurdles that remain:
1.) Deshaun Watson's potential suspension
2.) Harrison Bryant's involvement.
Still, the Browns' decision not to add any real resources to replace Austin Hooper means that this tight end committee should at least be down to just two players. The organization has nearly $11 million reasons why Njoku should lead the way. The ceiling is the roof for the Browns' talented 25-year-old tight end with a full season alongside Watson.
Meanwhile, Hooper checks in as the Titans' new starting tight end. The team re-signed Geoff Swaim, but Anthony Firkser took his talents to Atlanta. Fourth-round TE Chigoziem Okonkwo could certainly play a role, but his draft pedigree doesn't guarantee it. Hooper's disappointing tenure in Cleveland was more so due to the Browns consistently rotating three tight ends as opposed to the ex-Falcons' talent forgetting how to play football. He's tentatively set up as Ryan Tannehill's No. 3 passing-game option, which is more than most tight ends being priced outside of the position's top-20 options can attest to having.
Everett joins Hurst, Irv Smith and Tyler Higbee as my favorite candidates to emerge as the 2022 version of Dawson Knox. A full-time role isn't certain, as Donald Parham will likely continue to steal away plenty of routes and targets, while Tre' McKitty could take the departed Stephen Anderson's mini-TE3 role. Still, Everett's two-year, $12 million deal includes $8 million in fully guaranteed money, nearly twice as much as Jared Cook's one-year, $4.5 million deal that led to him seeing 83 targets in 2021. Justin Herbert (understandably) figures to flow the passing game through Keenan Allen, Mike Williams and Austin Ekeler, but an MVP-level season out of Herbert could help his starting tight end flirt with double-digit touchdowns even without the luxury of a massive target share.
RSJ is a converted wide receiver who was afforded the chance to play an every-down role for Washington when Logan Thomas missed time over the past two seasons. It's unclear whether the Giants are willing to give him this same role, but at least one NFL team has signed up to do this before. Giants fourth-round rookie Daniel Bellinger is a threat to split things up early, although the lack of a Day 2 pick is at least good news for RSJ's fantasy aspirations. The ceiling of a Daniel Jones-led passing game might not be the same as some of the other tight ends mentioned, but RSJ profiles as a potential receiving-friendly starter who is dirt cheap in fantasy land.
Smith was my favorite late-round tight end before the draft, and that hasn't changed after 262 selections. The only added competition from this offseason: career blocker Johnny Mundt and seventh-round block-first Nick Muse. Smith flashed all over the place during his first two seasons in the league but wasn't a consistent fantasy asset while splitting time with Kyle Rudolph. Now, he enters 2022 as the undisputed starting tight end in a potentially more pass-heavy offense under head coach Kevin O'Connell, who rarely asked Tyler Higbee to leave the field in 2021.
Kmet and Darnell Mooney sure look like worthwhile fantasy values thanks to their status as top-two pass game options. The former 43rd overall pick of the 2020 NFL Draft has shown the ability to play an every-down role but regularly lost out on red-zone targets thanks to the presence of Jimmy Graham. Fast forward to 2022, and his only competition is James O'Shaughnessy and Ryan Griffin. A new coaching staff makes it far from a given that Kmet plays the same sort of every-down role next season, but the lack of real resources the front office has put toward the position in both free agency as well as the draft can't be seen as anything other than a positive for Kmet's 2022 fantasy aspirations.