Rookie wide receivers can make an immediate impact in fantasy football. Justin Jefferson (sixth), Chase Claypool (22nd) and CeeDee Lamb (24th) each ranked in the PPR top-24 at the position last year. Tee Higgins (28th) and Brandon Aiyuk (35th) both qualified as WR3s that flashed WR2 production after emerging midway through the season.
Subscribe to
The 2021 rookie wide receiver class is extremely top-heavy, with five elite prospects capable of being instant fantasy studs. Additionally, there are several sleepers from the middle rounds who could emerge as key contributors this season.
Here's how I have the rookie wide receivers ranked for the 2021 season.
Chase joins Tee Higgins and Tyler Boyd to form arguably the best receiving trio in the entire league. The former LSU Tiger is one of the best wide receiver prospects of the last several years and possesses the skill set to be an immediate fantasy football stud.
Re-establishing the deep ball connection with Joe Burrow is the key to unlocking Chase's fantasy upside. The duo was so dominant in 2019 that their 14 deep receiving touchdowns are more than anyone in the last two seasons combined. Of course, Chase and Burrow did not even play last season.
Burrow led the NFL in total dropbacks prior to his injury, and the Bengals should be passing plenty once again in 2021. View the Bengals as a slightly lesser version of the 2020 Cowboys offense with a healthy Dak Prescott.
Among all the rookie wide receivers, Smith is the most likely to step in as his team's top receiving option from Day 1. The reigning Heisman Trophy winner had a season for the ages last year: 94.9 PFF grade (first), 1,856 receiving yards (first) and 23 receiving touchdowns (first).
Flash back to 2019 when Alabama had a receiving corps of four first-round wide receivers in Smith, Jerry Jeudy, Jaylen Waddle and Henry Ruggs. The Eagles' new playmaker played the lead "X" role in the Alabama offense and led the Crimson Tide in receiving with 1,259 yards and 14 touchdowns.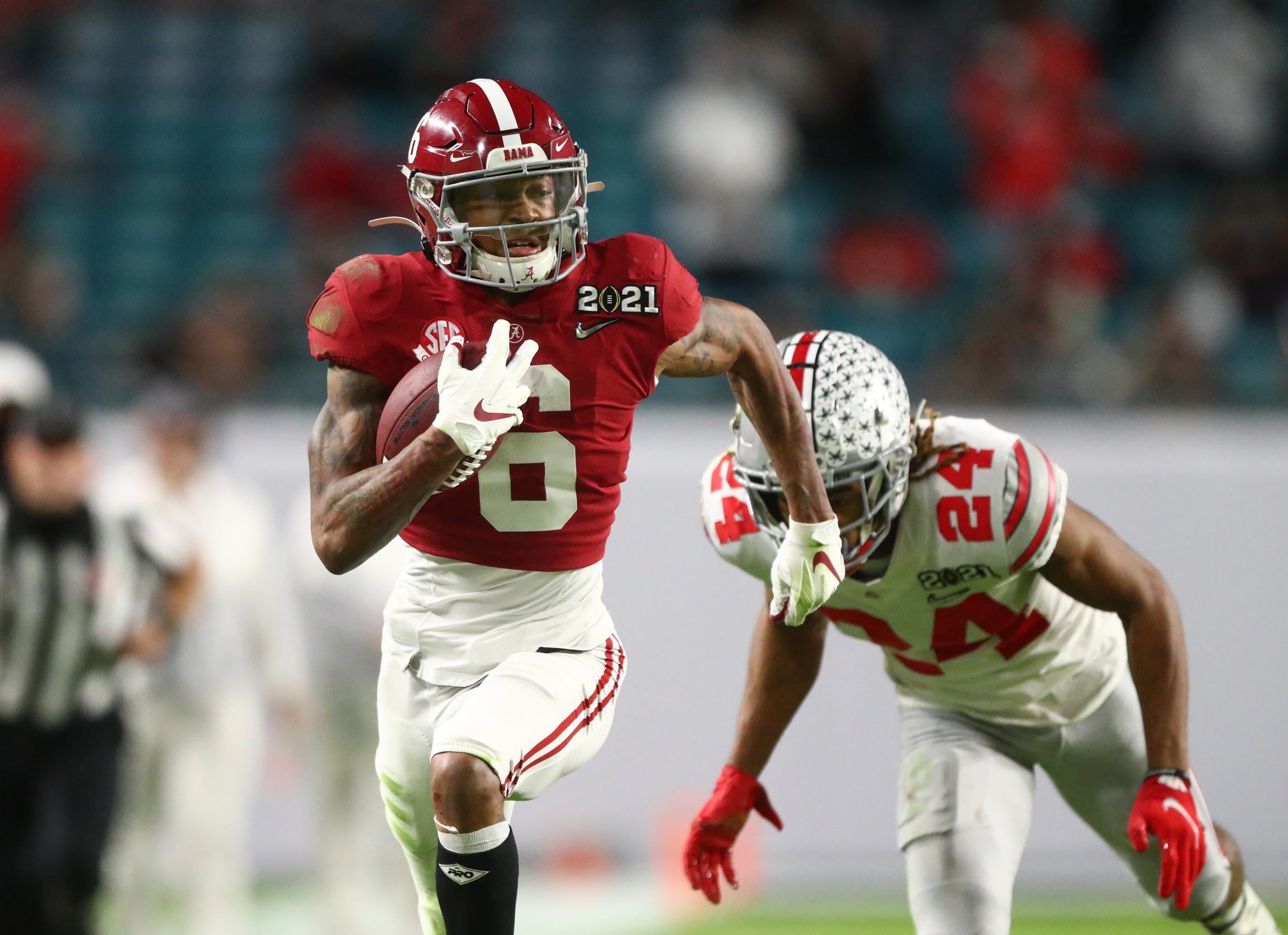 Jalen Hurts had the deepest average depth of target in the NFL last season (10.1 yards) and can make the downfield throws that churn out fantasy points. Go get DeVonta Smith in fantasy football drafts of all shapes and sizes.
Bateman is a physical receiver and a gifted route-runner who can win both outside and from the slot. Back in 2019, the former Minnesota standout led college football in yards per route run from an outside alignment. He shifted to the slot on 67% of snaps in 2020 and averaged a healthy 15.5 yards per catch. Bateman's release package is exceptional, allowing him to blast off the line of scrimmage against anyone. There is a lot of Stefon Diggs in Bateman's game.
The chief concern with Bateman centers around the Ravens' run-heavy offense, but there is a real possibility that Baltimore shifts to a more balanced attack that presses defenses with downfield passing on early downs. Offensive coordinator Greg Roman has spoken a lot this offseason about that exact plan, and there is a definite possibility that the fantasy industry is underestimating the Ravens' willingness to pass the football.
Like Smith, Bateman can function as his team's No. 1 wide receiver from Day 1. Increased passing volume for Baltimore's lead pass catcher is enough to boost Bateman's ranking ahead of the other Round 1 wide receivers from this draft class.
The Dolphins have a crowded receiving corps, but Waddle should be the starting slot receiver from the jump. The former Alabama speedster pops off the line of scrimmage and is arguably the most explosive all-around athlete at the receiver position in this class. He earned a perfect 158.3 passer rating on his slot targets since 2019. Waddle is the closest thing to Tyreek Hill we have seen since the Kansas City superstar entered the league.
The dynamic playmaker will be competing for targets with Will Fuller, DeVante Parker, Mike Gesicki and Preston Williams. Expect Waddle to function as a boom or bust WR3 through the early part of the season. Eventually, he should earn enough consistent target volume to be a fantasy WR2.
The rise of the NFL slot receiver has transformed the likes of CeeDee Lamb, Keenan Allen, Cooper Kupp and Chris Godwin into fantasy studs. Moore will be the next superstar slot receiver with his killer combination of savvy route-running, hands and blazing speed.
The former Ole Miss standout is currently blocked by Jamison Crowder, who is entering the final year of his contract. The Jets would save $10.4 million against the salary cap if they cut Crowder this offseason. Perhaps they decide to do just that and move forward with Moore as the starting slot, which would push him ahead of Waddle up to fourth in these rankings.
Though Marshall was a surprising faller in the NFL Draft after slipping all the way to pick No. 59, his fantasy stock should be on the rise considering the phenomenal landing spot. Offensive coordinator Joe Brady is a wizard and future head coach; in his first NFL season, he devised an offense that supported three fantasy-relevant wide receivers in D.J. Moore, Robby Anderson and Curtis Samuel with the ultra-conservative Teddy Bridgewater at quarterback.
The 6-foot-3 and 205-pound receiver is likely to start on the outside with Moore shifting into the slot. His enormous size combined with 4.38-second 40-yard dash wheels and outlandish 39-inch vertical demonstrate the physical traits to be a dominant outside receiver. Marshall caught 82% of his contested targets last season, the highest rate in college football.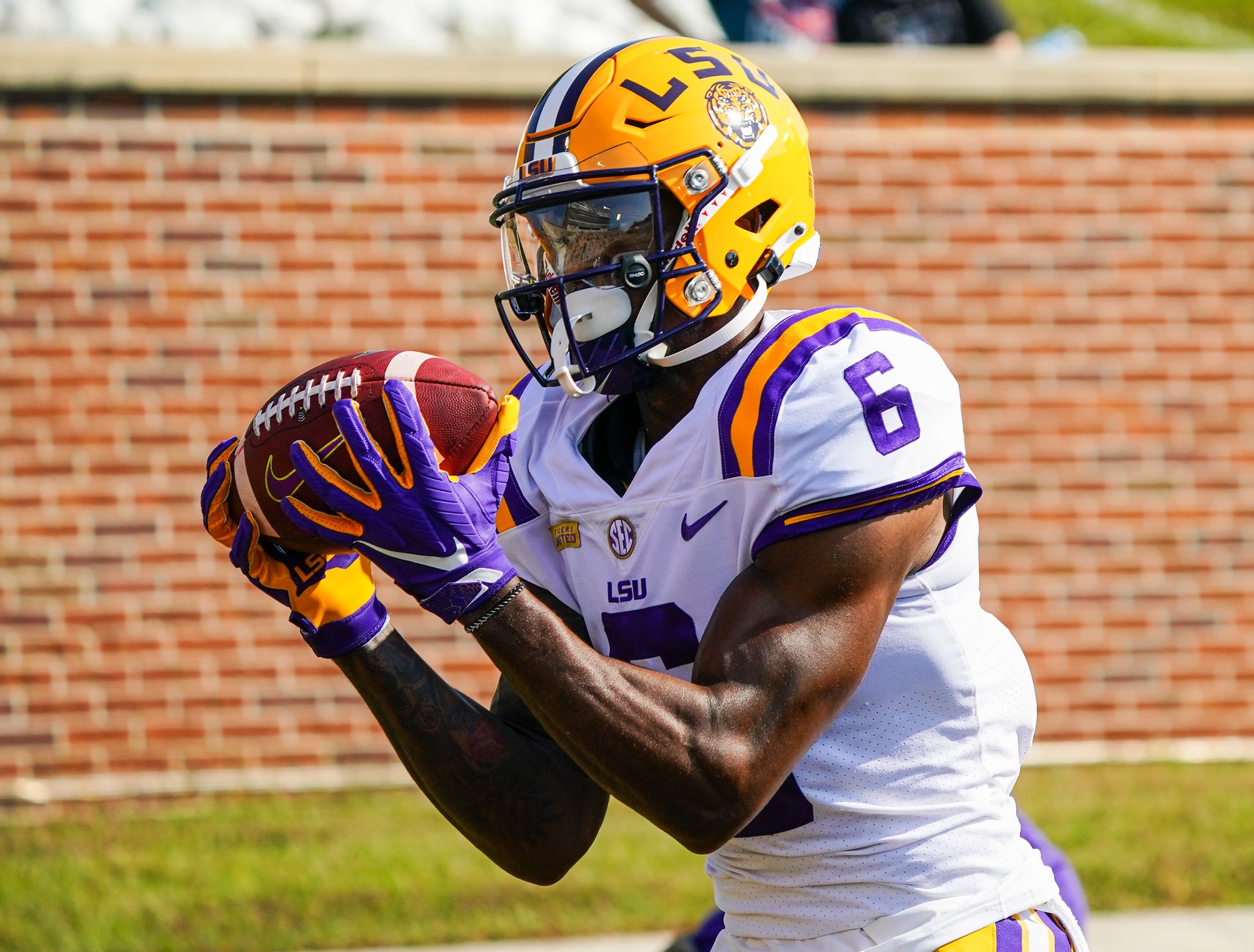 Fantasy managers who draft Marshall are placing a sound bet on Joe Brady more than anything. The Panthers should put up points in bunches this season, and new quarterback Sam Darnold cannot possibly be any worse than Bridgewater. Buy the dip on Marshall in the middle rounds of fantasy drafts.
Collins is a physical specimen at 6-foot-4 and 215 pounds with speedy 4.42-second wheels, an explosive 37.5-inch vertical and 34-inch arms. The former Michigan Wolverine's biggest strength is stacking cornerbacks and out-muscling them for the football in contested-catch situations. He averaged a whopping 19.7 yards per catch while registering a 91.2 PFF grade on contested targets in 2019 (minimum 20 contested targets), ranking 13th among all wide receivers in college football.
The burly wideout enters a completely barren receiving corps with the No. 2 role wide open after Brandin Cooks. The Texans have serious questions at quarterback, but Collins is a serious contender for 100-plus targets from whoever is under center in Houston this season.
The electric receiver is likely to make an early impact on a Cardinals offense starved for playmakers after DeAndre Hopkins. Moore broke out as a freshman in 2018 when he tallied a ridiculous 37 forced missed tackles (first). He should see the field early, operating as Arizona's primary slot receiver and short-area playmaker. Volume should be there for the 5-foot-7 wideout, as Kyler Murray ranked in the top 10 on throws with a depth of target at 9.0 yards or less last season.
Rodgers is a dynamic slot weapon who led college football last season with 68 slot catches, 25 of which gained 15-plus yards (first). He posted 613 yards after catch last season, second among all wide receivers behind DeVonta Smith.
The former Clemson playmaker is the early favorite to be the Packers starting slot receiver. Assuming Aaron Rodgers is the Packers' quarterback, Amari Rodgers will make an early impact in his rookie season catching passes from the reigning MVP.
Toney is an explosive jitterbug who posted a massive 30% missed tackle forced rate (second) last season. He enters a crowded Giants offense and is no guarantee to see the field early in his career. The former Florida receiver is an extremely raw route runner and could stand to learn the nuances of the position before jumping into an every-down role.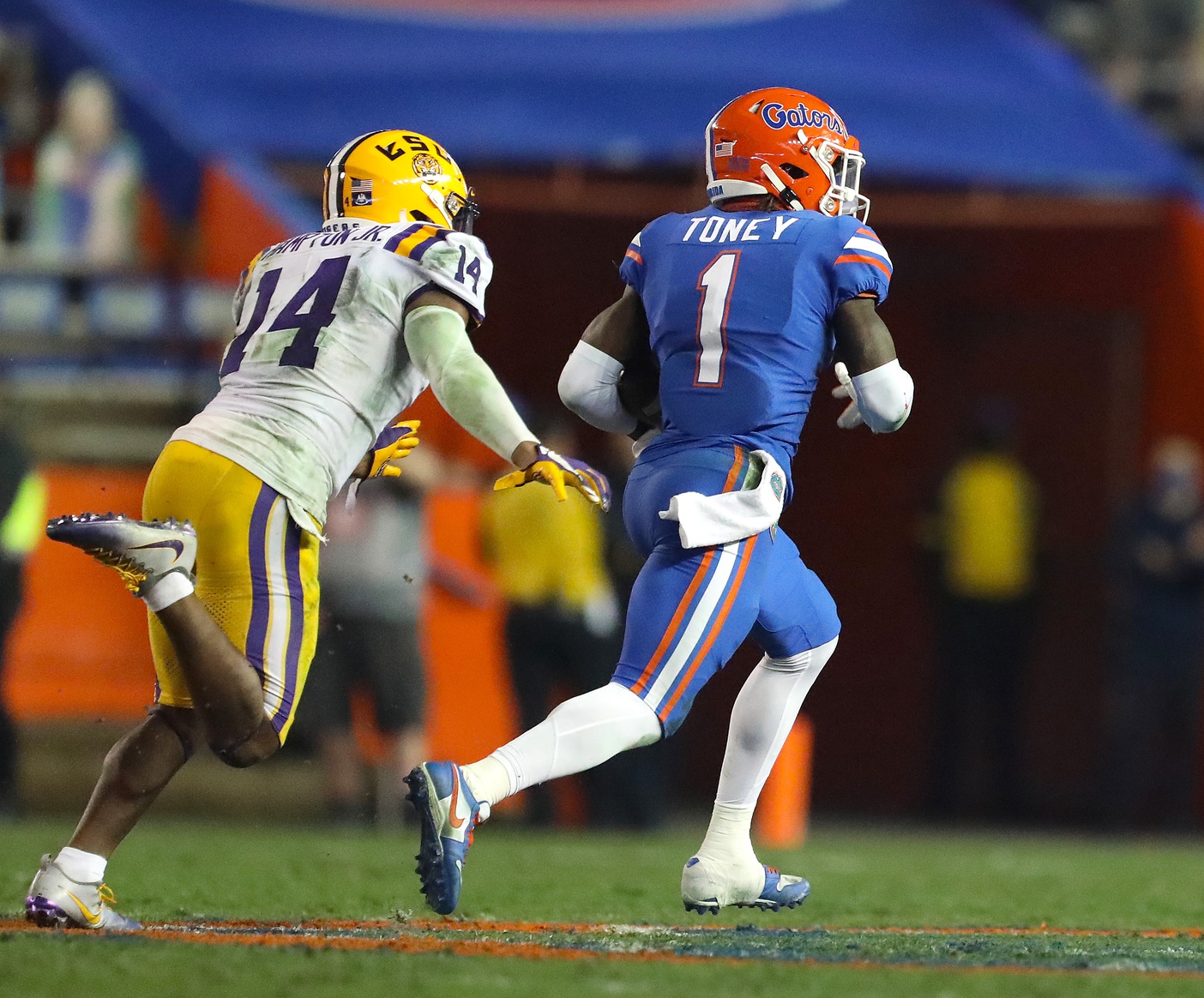 The 6-foot and 193-pound dynamo with 4.41-second wheels is a menace with the football in his hands — his NFL future is bright. However, temper expectations for 2021, as Toney is unlikely to be a consistent fantasy contributor despite his draft capital as the No. 20 overall pick.
Playing with Russell Wilson has its perks, and Eskridge finds himself in a fantastic situation as the Seahawks No. 3 wide receiver. Though he will see the field early, the former Western Michigan receiver should be viewed in fantasy as a handcuff to D.K. Metcalf and Tyler Lockett this season — it will be difficult for Eskridge to carve out fantasy value in this run-first offense otherwise.
Eskridge will be a dangerous deep threat with his 4.38-second 40-yard dash speed. Expect Russ to cook up a few touchdown bombs to him this season.
Palmer possesses the size, suddenness, ball skills and play strength to be a starter in the NFL. At 6-foot-1 and 210 pounds with 4.51-second 40-yard dash speed, the former Tennessee Volunteer is physically ready to play wide receiver against NFL defensive backs.
Arguably the most exciting aspect to Palmer's prospect profile is the fact that he will be catching passes from Justin Herbert. If Palmer can carve out a 50-plus percent snap rate on the Chargers, he will be a player to watch for fantasy purposes.
Brown joins Terry McLaurin and Curtis Samuel to create a formidable receiving corps in Washington. The former North Carolina receiver should fill the deep threat role that yields true boom or bust production. He is perfectly suited for this responsibility — Brown has tallied 10 catches of 50-plus yards since 2019 (first).
Ryan Fitzpatrick is a true gunslinger and unafraid to sling it deep, but he will not have enough volume to consistently support reliable production for three pass-catchers. Logan Thomas will also command his fair share of targets.
The Lions have a wide-open depth chart at wide receiver, which bodes well for St. Brown to make an impact as a rookie. The former USC Trojan has experience playing both inside and out, though he profiles best in the slot — St. Brown has a career 75% catch rate from the slot (seventh). As Cooper Kupp can attest, Jared Goff enjoys throwing the football to his slot receiver.
The 5-foot-11 wide receiver's fantasy stock is soaring right now, but temper expectations for 2021. Breshad Perriman and Tyrell Williams may not be household names in fantasy football, but they are actual NFL receivers that will probably not be passed on the depth chart by a fourth-round rookie. Further, the Lions boast arguably the worst offense in the NFL.
Andrew Berry can do no wrong as GM of the Browns. Schwartz has blazing speed (check that 4.26-second 40-yard dash) and will be one of the fastest players in the NFL from the moment he steps onto a football field. Cleveland does not have any established wide receivers after Odell Beckham Jr. and Jarvis Landry — Schwartz can feasibly climb this depth chart and get onto the field as a rookie with lightning quicks.
Schwartz is extremely raw as a receiver with little feel for route-running or ball skills. However, those traits can be learned. The Browns spent a Day 2 pick on Schwartz, and that draft capital ensures that he will be given a fair shake to grow into the position.