(With training camps starting soon around the league, we're looking ahead at the 2019 fantasy football season and attempting to answer the burning questions around the league. For each team, we'll ask, and hopefully answer, 3-4 questions about their season to come in fantasy. This is 100 Questions.)
Not much was expected out of the San Francisco 49ers a year ago. Even less was expected after the team lost its starting running back in the preseason. Even less was expected after the team lost its starting quarterback after Week 3. The team got 681 combined yards out of the players who were supposed to be their top two receivers entering the season.
In other words, the 49ers went 4-12 last season, and it's very easy to understand why. For fantasy, the team had one bright spot — George Kittle at tight end, who was a major bright spot. The team might not be ready to compete in 2019, but at least the fantasy upside is much higher, with players coming back healthy, a big-name free agent signing at running back, and two receivers coming in the draft.
#94: What sort of fantasy value does Jimmy Garoppolo have?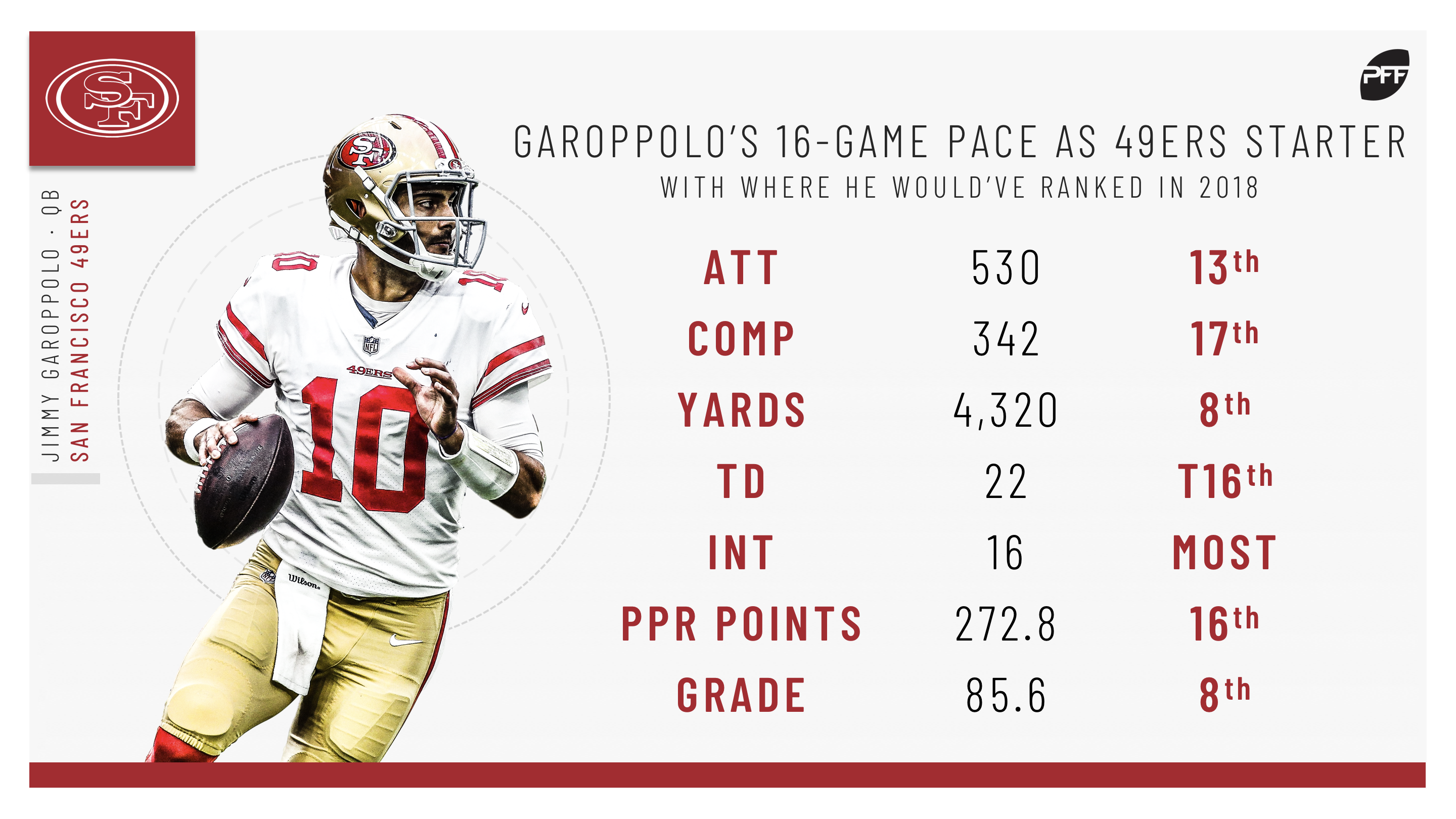 The fantasy drafting community was all in on Garoppolo entering last year. He was the No. 10 quarterback off the board (according to Fantasy Football Calculator ADP) in his first year as the starter under Kyle Shanahan. He only made it three weeks before tearing his ACL, but even in that time, you'd have to call his performance a marginal disappointment. Garoppolo was QB20 in Weeks 1-3, averaging 16.3 fantasy points per game. He now has eight games (half a regular season) as the 49ers starter over the last wo years, which makes pro-rating his numbers easy — an 85.6 overall PFF grade (which would have been the No. 8 QB in 2018) and 4,320 passing yards (also No. 8), but only the 16th-most touchdowns (22) and PPR points (272.8) and the most interceptions (16). It's definitely not bad, but it's hardly top-tier QB territory.
Best guess: I noted this in my breakdown of some of the biggest fantasy ADP droppers from 2017 to 2018, but with Garoppolo going 18th among quarterbacks so far this year, fantasy managers more or less have to accept that something was wrong — either they have to admit he was being overdrafted last year, or he's being underdrafted this year. There's no real reason to think his stock should have changed that much from last year to this, especially considering we now know he has an elite tight end and several more weapons around him. Garoppolo is the No. 22 quarterback in our PFF Fantasy staff rankings, which should be an indication that our staff thinks the problem was more last year than this year. Tread lightly.
#95: Can George Kittle do that again?
Kittle was a popular sleeper candidate a year ago. He was drafted as a TE2, but he was penciled in as many people's breakout candidate. It might not have been such a popular pick if people had known he'd only have three games of Garoppolo and would eventually be catching passes from the team's No. 3 quarterback, but that's neither here nor there — especially since Kittle only got better as the season went on (10.4 PPR with Garoppolo as the starter, 15.3 with C.J. Beathard, 18.7 with Nick Mullens). He broke the all-time single-season tight end yardage record (1,377) and demolished the PFF-era record in TE yards after the catch (873; previous record was 656). It all added up to a No. 3 PPR finish among tight ends — even in a down year for the position, the top tier was plenty strong, with Kittle's point total the third-best among all tight ends in the last decade.
Best guess: You'll never go broke betting on regression. That alone might be reason to expect Kittle to slide a little in 2019. That said, the tight end position is still in relative shambles, meaning it's hard to make an argument to knock Kittle outside of the top three no matter what regression you apply. And it's really hard to argue anything about Kittle's performance was a fluke, as he finished the year as the top-graded tight end and, if anything, got slightly unlucky on touchdowns, scoring only five despite 128 targets. Kittle's the No. 3 tight end in our staff rankings, but he's No. 2 in mine, in part because I'm very slightly worried about the Eagles' tight end situation. He's a stud.
#96: What are we doing with this backfield?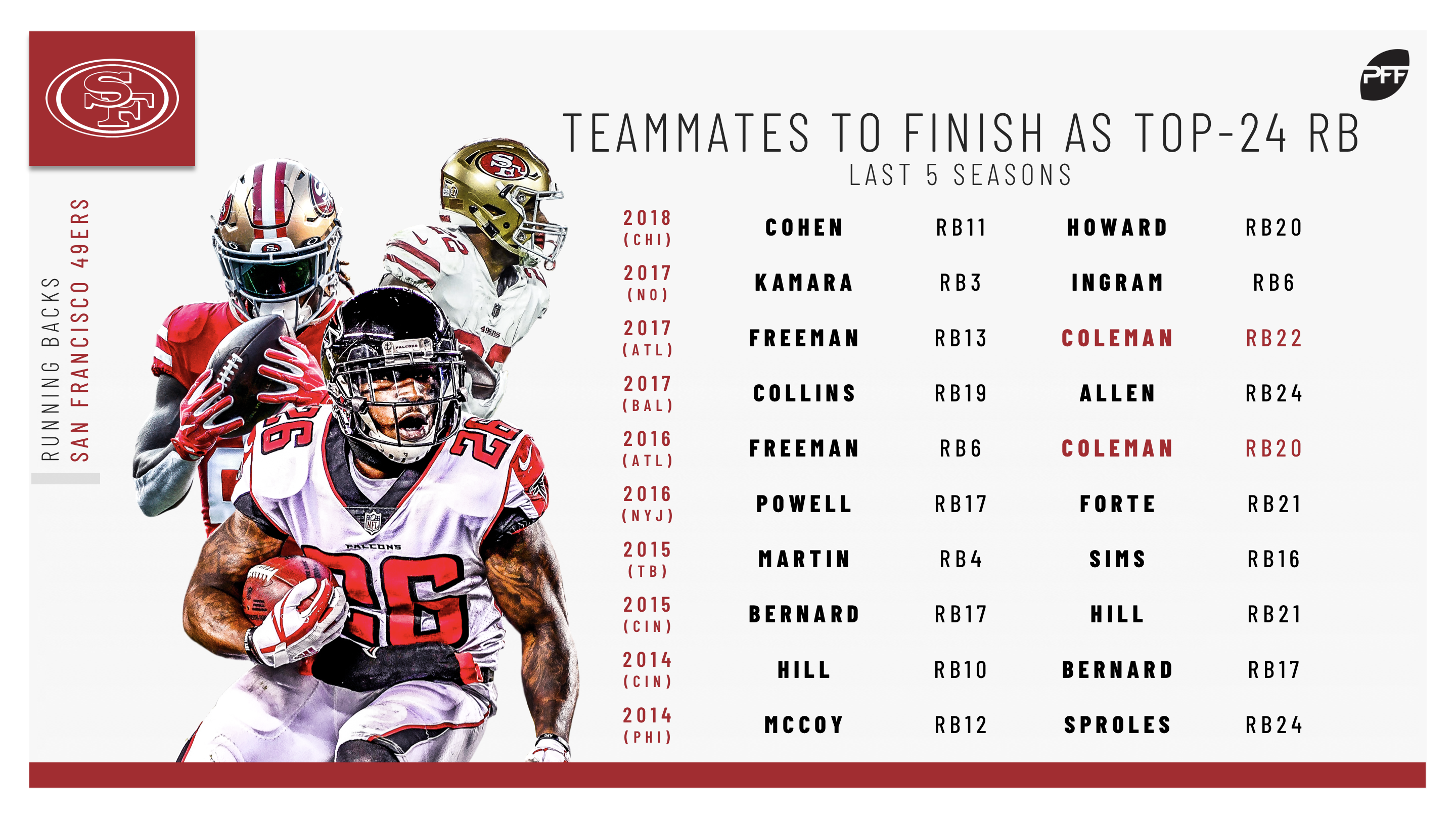 The 49ers signed Jerick McKinnon before the 2018 season, and he was supposed to be the team's No. 1 back. Instead, he tore his ACL in the preseason and missed the year. That led to Matt Breida doing most of the ball-carrying last year, and he did fine, finishing as the RB26 despite missing a pair of games and splitting some time with Alfred Morris. And then the team signed 2018's RB18, Tevin Coleman, in free agency. Now, McKinnon is back healthy, Breida is still around, and Coleman is there … to say nothing of the fact that Kyle Juszczyk is still around as the fullback and will get his share of targets and Raheem Mostert should return healthy and maintain a special teams role. Too many mouths to feed?
Best guess: It's tempting to point to upside and say Coleman and McKinnon could jointly finish as RB2s in 2019. After all, Coleman did that alongside Devonta Freeman with Shanahan as his offensive coordinator in 2016, then did it again in 2017. On the other hand, that's been done only 10 times by any pair of teammates in the last five years, and the ones accomplishing it have tended to come from offenses without much in the receiving game (see last year's Bears, 2017's Ravens, etc.). The fantasy community gets that, with Coleman going off the board 29th in drafts and McKinnon 46th. (Breida, who reports say could be a healthy scratch in games to start the season, is going 57th.) That's basically where our staff has the top two — Coleman 30th, McKinnon 44th. Combined, the backfield might be a big producer. Individually? There's not huge upside here.