Most of the time, when a fantasy football asset's value goes through wild swings, there's a reason why. He has a big year, his value takes a leap. If he struggles, it falls. Most of this is predictable.
But that doesn't always mean it's rational. Sometimes value rises or falls for no good reason, or it rises or falls at a level not commensurate with what would be warranted.
Today, we're looking at players whose ADPs have fallen the most from 2018 to 2019, looking for ones whose rises might not make as much sense. Saturday, we looked at the most notable ADP fallers.
(All ADP information comes from Fantasy Football Calculator.)
Quarterback
(2018 ADP: QB10; 2019 ADP: QB25)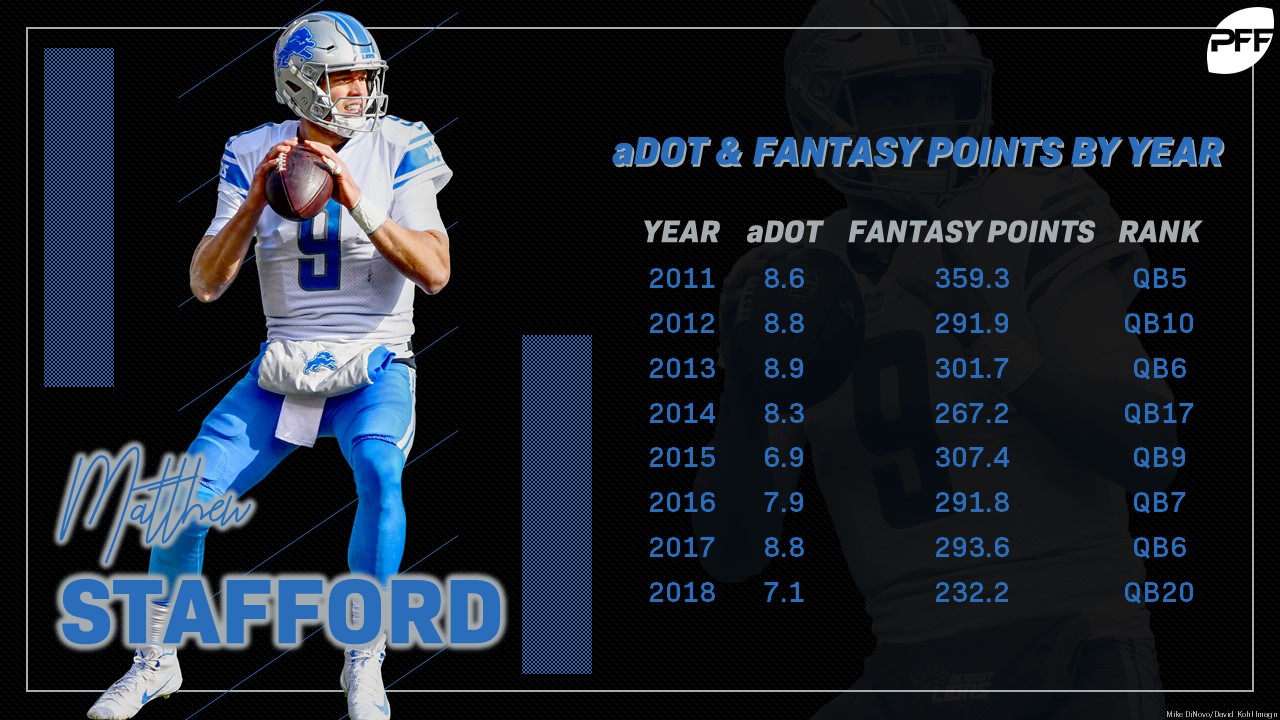 As a passer, Stafford wasn't really off of his career performance last year. His overall PFF grade was his fourth-best of the last eight years, his passing grade third, his passer rating fifth. But two things were way down: His volume and his risk. Stafford attempted 555 passes in 2018, a respectable 11th in the league but still his lowest total since playing only three games in 2010. And he was attempting to do less with those passes, as his average depth of target of 7.1 yards was his second-lowest, and 1.7 yards lower than his 8.8 yard mark of 2017. Stafford's aDOT was the lowest of all qualified quarterbacks. And with the Lions appearing to commit to the run-heavy and risk-averse approach, Stafford's 2018 appears to be his new reality. Yeah, his ADP makes sense.
(2018 ADP: QB3; 2019 ADP: QB16)
Brady was overdrafted in 2018, and that was true even before he had a relative underperformance (I'm not pretending I was aware of it, as I drafted him in some leagues, but looking back, come on, it's true). With Julian Edelman out for four games, Rob Gronkowski banged up, and reduced receiving depth otherwise, the Patriots went run-heavy, sapping Brady's fantasy value. Still, though, he was QB12, better than his QB16 ADP. The problem is that Brady suddenly lacks upside, if for no other reason than he doesn't run. And while there's every chance Brady will finish higher than QB16 in 2019, his ceiling isn't close to QB1 anymore. Some of the quarterbacks going around him have much lower floors, but higher ceilings as well.
(2018 ADP: QB7; 2109 ADP: QB20)
This one surprised me. Cousins finished as fantasy's QB11 in 2018, breaking a three-year streak of top-10 finishes (and a two-year streak in the top-five), with more or less the same fantasy totals he's had in the past. He's going 20th? Cousins might not have QB1 upside, but his ADP has fallen too far.
(2018 ADP: QB10; 2019 ADP: QB18)
One of these has to be wrong. If Garoppolo was worth the 10th pick a year ago, he should be worth close to that this year — he's had ample time to recover from his torn ACL for a quarterback with little rushing value, his supporting cast is better than it was, and his head coach is still in place. If he's worth the 18th pick now, it's a tacit admission the drafting community was over the top a year ago. I tend to side with the argument that he was overdrafted in 2018, but one of them must be true.
Running back
(2018 ADP: RB26; 2019 ADP: RB54)
The interesting part of Lewis' ADP slide is that it doesn't coincide with any sort of huge climb for Derrick Henry. Lewis' backfield mate was drafted as RB21 a year ago, and he's up to RB20 this year. Obviously, there's more room for Lewis to fall than Henry to rise, but these actions are disproportionate. To me, that says there's value in grabbing Lewis late this year.
(2018 ADP: RB19; 2019 ADP: RB44)
McKinnon's situation is similar to Garoppolo's in that his personal value shouldn't have changed that much from year to year. It's different, though, in that the team signed Tevin Coleman and saw Matt Breida come into his own in McKinnon's absence. So where he was projected to be the bell cow or close to it in 2018, McKinnon is now looking like the pass-catching option in the San Francisco offense. Because of that, his fall makes sense.
(2018 ADP: RB31; 2019 ADP: RB51)
Barber wasn't supposed to be any great shakes a year ago, as the placeholder until Ronald Jones was ready to be a star (or at least a starter). Except Jones never did that. Barber still wasn't any great shakes, but he played all 16 games and had 963 scrimmage yards. Are we sure Jones is ready to be that starter this year? He's going 14 backs earlier than Barber in drafts. But until we see it, Barber has a shot at some low-end production.
Wide receiver
(2018 ADP: WR14; 2019 ADP: WR38)
Fitzgerald had a down 2018 by his standards, but then so did all the Cardinals. The fantasy community, though, has decided to forgive Christian Kirk's relatively light performance (to the tune of a WR32 ADP) but not Fitzgerald's. And I don't really understand. Maybe Fitzgerald isn't a high-end WR2 anymore, but the drop has been too much.
(2018 ADP: WR27; 2019 ADP: WR42)
Someone's going to have to explain this to me. Davis had an awful rookie season but had enough buzz to be drafted as a high-end WR3 in 2018. Then he had a fine second year (not great, but fine) that featured 946 scrimmage yards while going up against one of the toughest cornerback schedules in the league, and now he's barely a WR4? This ADP drop is silly.
Tight end
(2018 ADP: TE6; 2019 ADP: TE18)
Burton didn't have the real breakout in his first year in Chicago some were projecting for him, but he was still TE8. As the position craters, somehow he's now barely in the top 20? I've been snapping up Burton in late rounds all offseason.
(2018 ADP: TE4; 2019 ADP: TE16)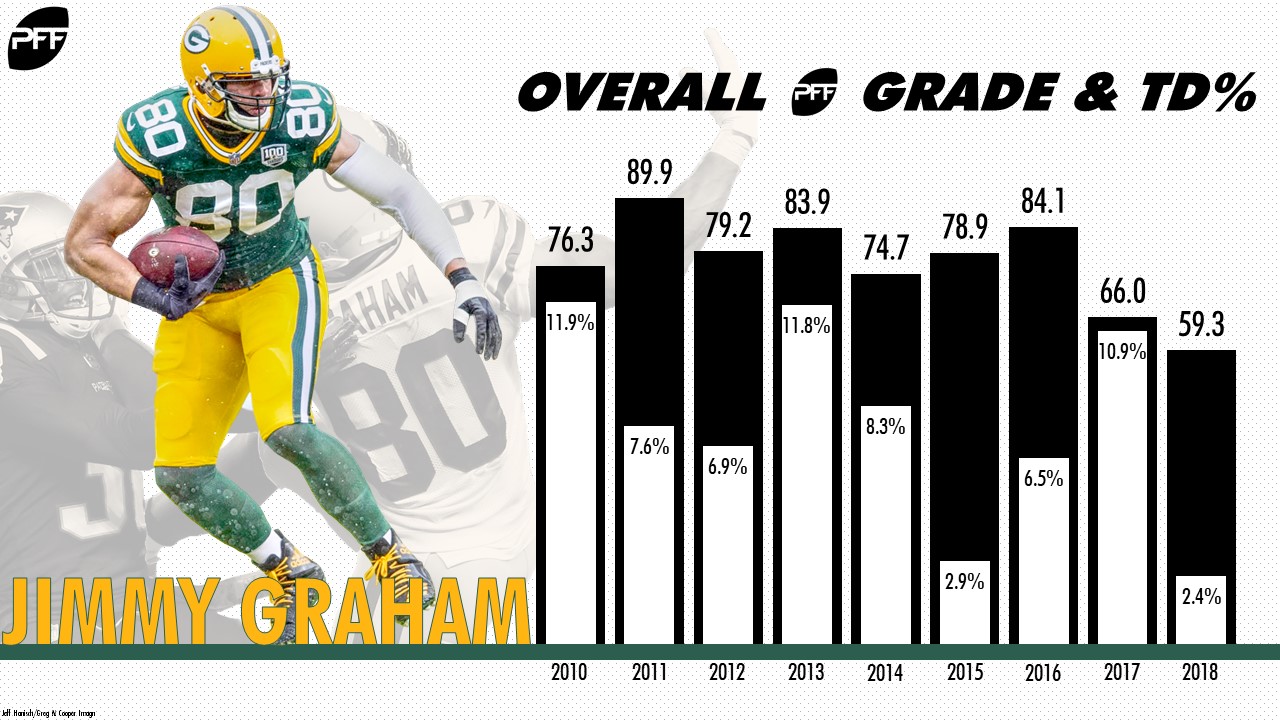 Graham's value in 2017, his last year in Seattle, was buoyed by his ridiculous scoring rate (he scored 10 times on 92 targets), because his PFF grade cratered to a career-low 66.0 (65.3 receiving). Well, in 2018 in Green Bay, his grade went even lower (59.3, 59.8 receiving), and his scoring rate plummeted along with it (2 scores on 83 targets). Now he's 32 and the team drafted Jace Sternberger to compete for targets? Yeah, if anything, I'd say Graham's ADP should drop even lower.