(With training camps starting soon around the league, we're looking ahead at the 2019 fantasy football season and attempting to answer the burning questions around the league. For each team, we'll ask, and hopefully answer, 3-4 questions about their season to come in fantasy. This is 100 Questions.)
By fantasy results from 2018, the Philadelphia Eagles were actually a fairly boring team. They had the No. 2 tight end but for a variety of reasons didn't have a top-20 finisher at any other position (they didn't even have a top-40 finisher at running back). Considering this was a team that made the playoffs and then won a game once it got there, the lack of big-time fantasy contributions might come as a bit of a surprise.
To that end, the team made some changes this offseason. The Eagles traded for one running back and drafted another. They traded for one wide receiver and drafted another (déjà vu). Nick Foles is gone — there wasn't going to be a position battle at quarterback or anything, but now there definitely won't be. The Eagles should have a very competitive team in 2019, and could put up more relevant fantasy performances as well.
#57: Will Dallas Goedert steal targets from Zach Ertz, or from the receivers?
It seems like a fait accompli that Goedert will see a rise in usage in his second season. He had the third-most PPR points among rookie tight ends despite backing up the guy who set the all-time tight end target record, though at barely 90 PPR points he wasn't exactly a fantasy monster. Entering his second year, we'd expect him to at least crack 50 targets on the season (and likely much more). As mentioned, Ertz set the new all-time record in tight end targets, and put up lower per-target and per-reception yardage numbers than fellow elite tight ends Travis Kelce and George Kittle (and others), so if Goedert cuts into Ertz' quantity, he could knock his positionmate down a peg.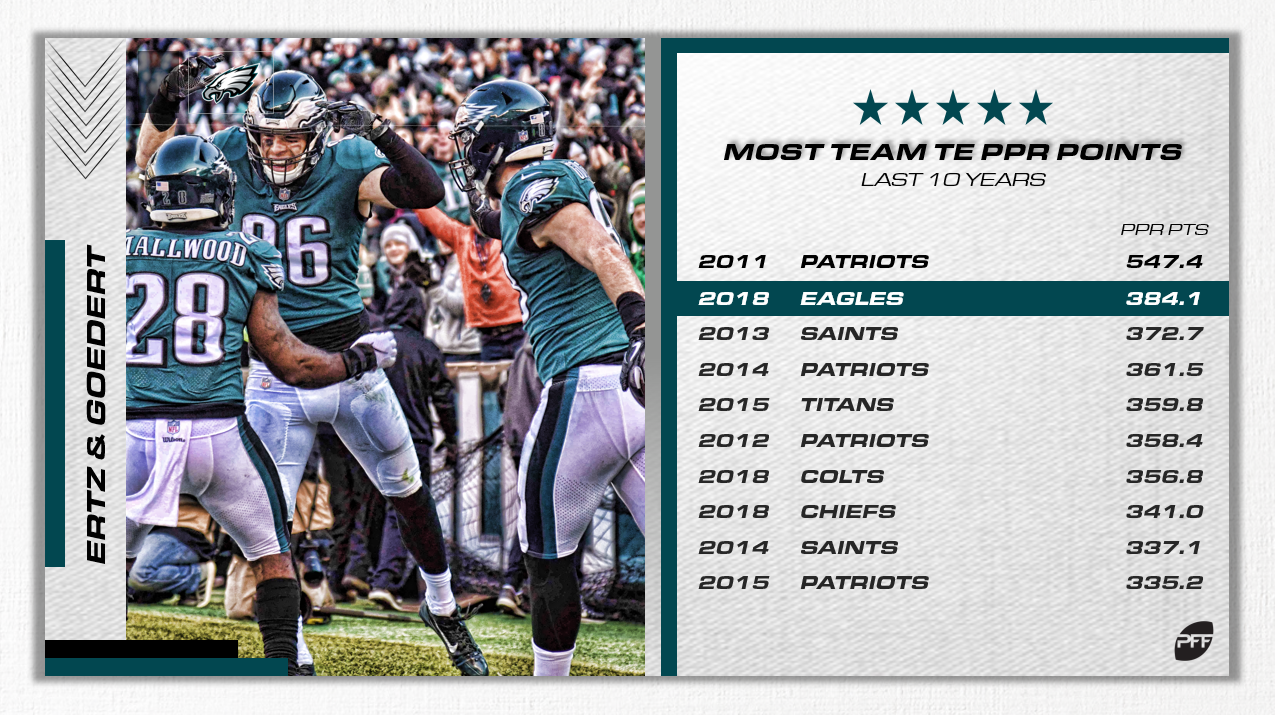 Best guess: All the reports out of Philadelphia about Goedert are very positive, but at the same time, head coach Doug Pederson has been indicating he could use more two-TE sets, which would indicate that nay rise from Goedert would come at the expense of the other positions, not Ertz. That said, the Eagles flirted with the upward bound of what is possible out of a TE unit in 2018, so if Goedert does develop, it has to ding Ertz a little, two-TE sets be damned. Ertz is going off the board second among tight ends in ADP (per Fantasy Football Calculator), but for those reasons, he's No. 3 on my own board.
#58: If two-TE sets are going to be more common, do we care who is the No. 2 receiver?
Alshon Jeffery will be the Eagles' No. 1 receiver. Nelson Agholor is still in Philadelphia, and he has been joined by trade acquisition DeSean Jackson and 2019 second-rounder JJ Arcega-Whiteside. Each of the receivers should be able to contribute, but with the two tight ends and a metric ton of running backs to deal with in the offense, the question is whether one guy will set himself apart enough to be worth a real fantasy investment.
Best guess: First off, Jeffery is shaping up to be a huge draft-day bargain in fantasy. He's going 29th among wide receivers according to current ADP, but is the No. 20 receiver in the PFF Fantasy staff rankings. That's one of the biggest gaps between ADP and rankings at any position. After that … Arcega-Whiteside is a building block for the future — early reports have him as the No. 4 receiver, but with a definite role in the offense. That said, Agholor has been rumored to be on the trading block because of the new arrivals. Either way, the signs appear pretty clear that Jackson, the 32-year-old trade acquisition, will be the No. 2 entering the season and, while he's still a better option for best ball formats, his draft stock (he's going off the board 50th but ranked 42nd) makes him an interesting late-round flyer.
#59: How the heck should you handle the Philadelphia backfield?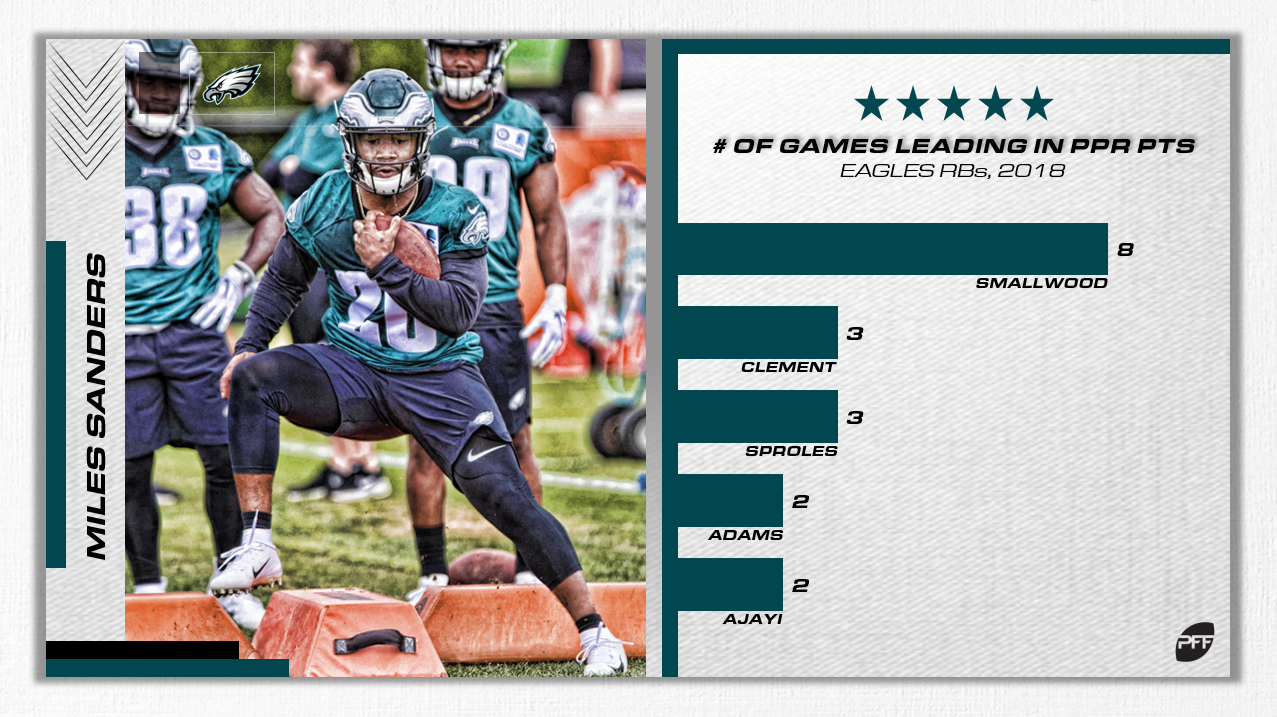 Counting the playoffs, the Eagles played 18 games in 2018. Five different backs led the team in PPR scoring in at least one game (at least two, in fact), while only Wendell Smallwood led the way more than three times. Three of those backs — Smallwood, Corey Clement, and Josh Adams — are still on the roster (for now at least), and they're joined by 2018 rookie Boston Scott, 2019 rookie Miles Sanders, and big-name trade acquisition Jordan Howard. What the Eagles' backfield lacks in star power it more than makes up for in sheer bulk, which might work out for an NFL offense but can be torturous for fantasy.
Best guess: Reports are that Snaders needs to work on his pass-blocking. Howard isn't a pass-catcher. Scott has gotten talks as the next Darren Sproles. Smallwood was the lead man last year almost solely due to attrition. Sanders is going off the board 35th at the position, and at that level, you could argue he's worth a flyer on the off chance he seizes a big role in the offense. But for my teams, the complications aren't worth it. If I end up with an Eagles running back on a fantasy roster in 2019 drafts, it'll be an upset.