(With training camps starting soon around the league, we're looking ahead at the 2019 fantasy football season and attempting to answer the burning questions around the league. For each team, we'll ask, and hopefully answer, 3-4 questions about their season to come in fantasy. This is 100 Questions.)
The New York Jets are an endlessly interesting NFL franchise, with as much drama as any team and more dysfunction than most. But for fantasy, it's actually pretty boring. Other than an outlier 2015 season, Chris Herndon's 16th-place finish among tight ends was the best fantasy finish by any Jets player at any position in the last six years.
In 2019, though, the Jets have the biggest-name running back they've had in a long time, an ascending young quarterback, some upside at wide receiver, and … well, Herndon had a good rookie year and he's still around. We don't know if the Jets will be good, but they're as interesting for fantasy as they've been in a while.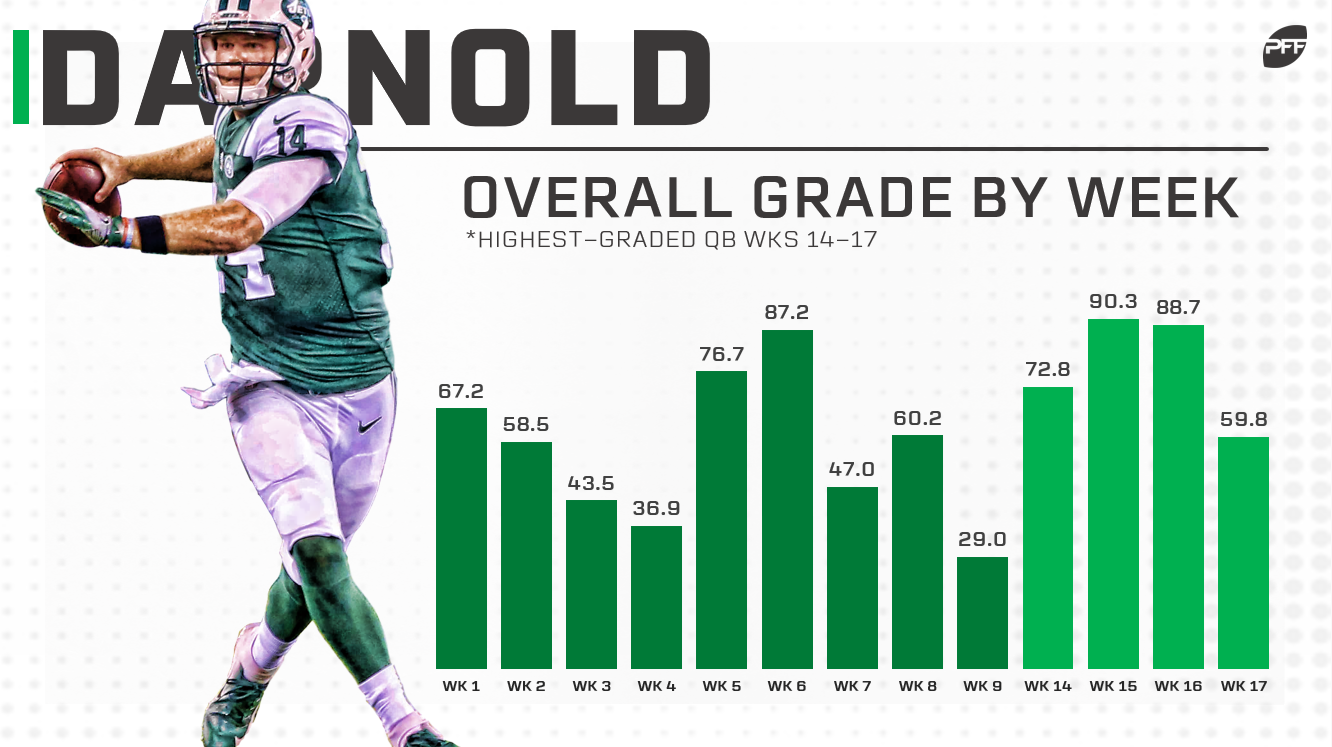 As a rookie in 2018, Darnold had the second-worst overall PFF grade through Week 13, putting up a 50.9 in nine games that was better only than Ryan Tannehill's 50.6. Even allowing for growing pains and a poor supporting cast, things were not going well. And then he returned from injury in Week 14, and from then until the end of the season he had the best QB grade, with an 87.7 that was slightly ahead of Patrick Mahomes' 87.5.
Best guess: Depends on the level of yay, but it's a tentative yay. Of course, that "tentative" is doing a lot of work. Darnold showed enough promise down the stretch of 2018 that Jets fans should at least be hopeful of what he can do in his career, and the team gave him weapons this offseason that should make the offense overall more potent. That said, Darnold doesn't carry much fantasy upside, with only 138 total rushing yards and just over 1 passing touchdown per game last season. Even a big leap can only carry him so far; he's the unanimous No. 23 quarterback in our PFF Fantasy staff rankings.
#12: Le'Veon Bell just took a year off — rest or rust?
There's not enough track record of running backs off a year's absence to draw any real conclusions on how Bell will fare off of a year's absence based on existing data. What is true, though, is that Bell entered the league in 2013 and has only played all 16 games in a year once. He missed all of 2018, played only six games in 2015, and missed a total of eight games across three other seasons. Despite all that missed time, Bell still sits at third among running backs in total touches since he entered the league, behind only LeSean McCoy and Frank Gore.
Best guess: The takeaway from the above information is that Bell might not have as much recent tread on the tires as most running backs his age (he just turned 27), but his total work is right up there with anyone's at the same age. So I'm looking past the rest/rust debate and settling here: Adam Gase. Bell's new head coach has steadfastly refused to use running backs in a bell-cow capacity, which is how Bell was utilized throughout his Pittsburgh tenure. With Elijah McGuire, Bilal Powell, and Ty Montgomery battling for touches behind Bell, his workload will likely slack off in New York. He's still likely among the RB1s, but far closer to the back-end than he was with the Steelers.
#13: Do the Jets *gasp* actually have a tight end?
It will always be funny to me that the Jets went two years, 2015-2016, without reaching 60 points from the tight end position in total. Only three other teams in the last decade — the 2010 Cardinals, Bills, and Broncos — have failed to reach 60 points from the position in a single season, and the Jets couldn't get there in two years combined. But in 2018, things finally improved, as Chris Herndon put up 113.2 PPR points — not exactly Gronkowski-esque, only TE16, but the only Jets tight end not named Dustin Keller to top 102 points in a year since the mid-'90s.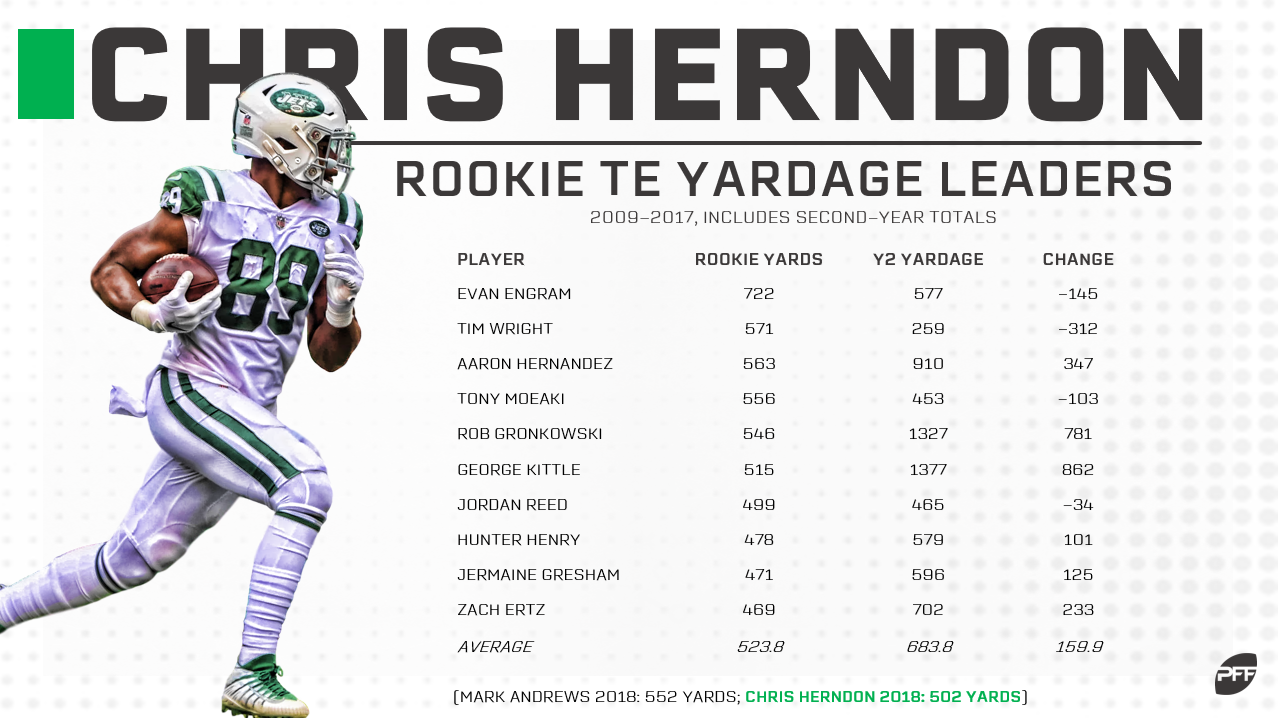 Best guess: The frustrating thing for Herndon is that there is speculation he'll face a short suspension to start the year. Once that is over, Herndon profiles as a high-end TE2, not much in the way of ceiling but a high floor. He had 500 yards as a rookie; among 12 tight ends in the last decade who have put up at least that total as a rookie, the average yardage has actually climbed by 160 yards the next year, including increases by seven of the 12 and only one (Tim Wright in 2013-14) who fell off by more than 150 yards).