(With training camps starting soon around the league, we're looking ahead at the 2019 fantasy football season and attempting to answer the burning questions around the league. For each team, we'll ask, and hopefully answer, 3-4 questions about their season to come in fantasy. This is 100 Questions.)
You could argue that the New Orleans Saints were the best team in the NFL regular season a year ago. They tied for the best record at 13-3, finished third in the league in points scored and had the biggest point differential. They only lost once between Week 1 and a meaningless-for-them Week 17, a 13-10 loss to a playoff Cowboys team in Week 13. They were inches away from a Super Bowl appearance.
For fantasy, the Saints offense was top-heavier than it has been in some time. The team featured a star running back and a star receiver, but behind them there wasn't a lot for flex appeal, a far cry from the team's other recent seasons with several fantasy contributors. Still, there is plenty to ponder for fantasy in New Orleans in 2019.
#69: It all starts with Drew Brees; should we worry about him?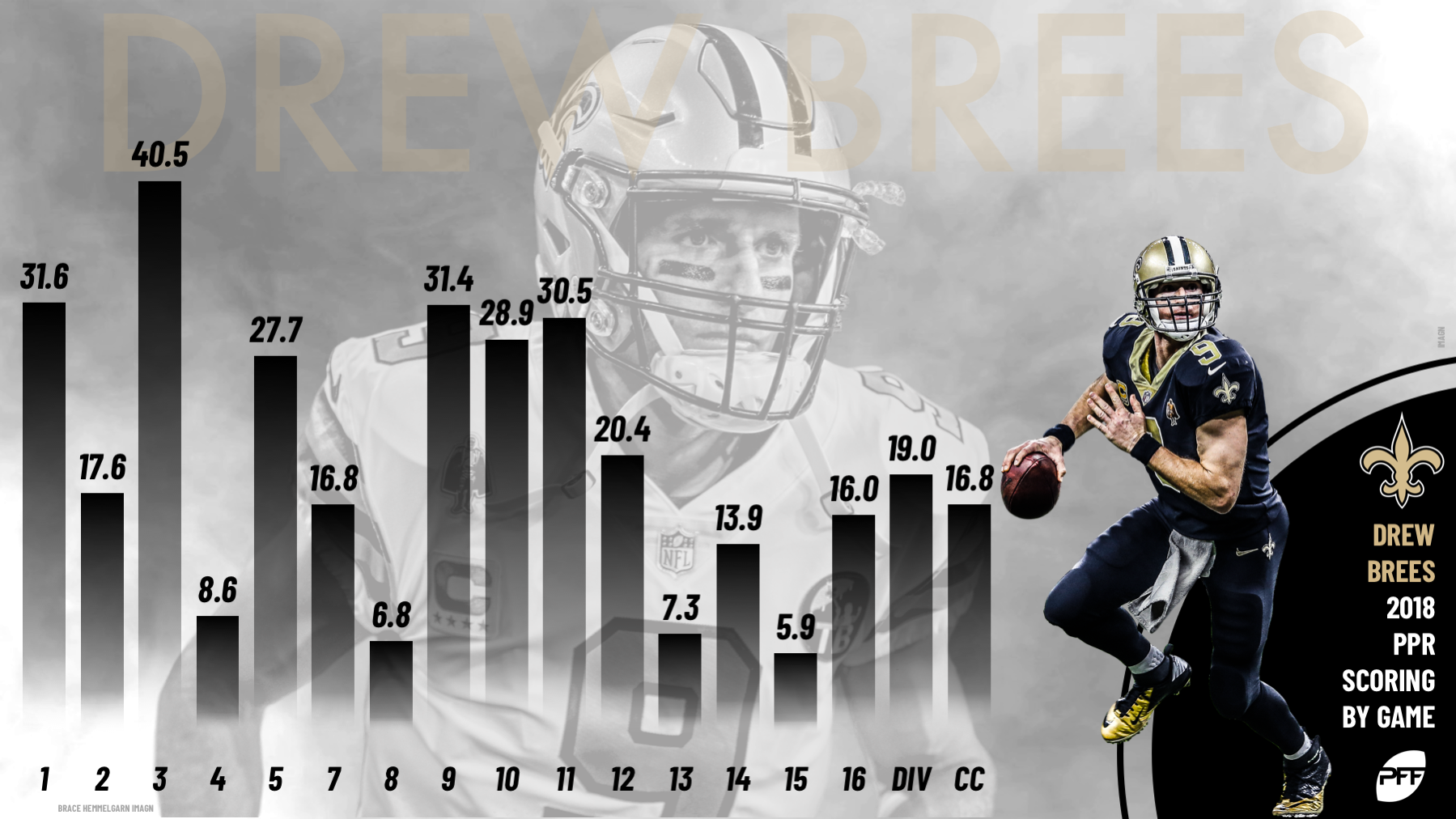 For a big chunk of the season, Brees could scarcely have been better. Through Week 12, he was fantasy's No. 3 quarterback, averaging 23.6 fantasy points per game, with six games of 25-plus points out of 11 total. After that, though, his numbers fell off in a big way. He was the No. 27 fantasy quarterback after Week 12 with a per-game average of 12.3. Yes, those are arbitrary endpoints, but for a quarterback who is now 40 years old, tailing off late in the year is concerning. It was Brees' first season under 4,000 passing yards since (seriously) 2006, his fewest pass attempts since 2009. On the other hand, he ended the year as the top-graded quarterback in PFF grades (94.7), tie for sixth in the league in passing touchdowns, and only had five interceptions all year. You can paint whatever picture you want here.
Best guess: I'd be lying if I said I wasn't at least a little concerned about Brees these days. His floor is lower than it's been in a long time, with four games under 10 fantasy points out of 15 outings. Add that to his late-season dropoff and his ever-present home/road splits, and you almost have to have some concern. Still, this is Drew Brees. He's the No. 7 quarterback in current ADP (per Fantasy Football Calculator) and No. 8 in our PFF Fantasy staff rankings. Odds are, barring serious draft value, when Brees' range comes up, I'll just wait and draft someone lower, but he more or less has to be ranked there.
After Graham left New Orleans, Benjamin Watson was briefly a competent replacement. He put up 825 yards and six touchdowns en route to a TE6 finish in 2015. But after Watson left as a free agent, the Saints gave it a shot with Coby Fleener and then Watson again over the last three years, but hasn't had a tight end finish better than 15th at the position in that time. Enter Cook, who had a 2018 breakout after a decade of middling production. He had 896 yards and six touchdowns for the Raiders, finishing as the No. 5 tight end. Him joining the Saints in free agency was the move everyone wanted to see this offseason, as he becomes the best at the position the team has had since Graham.
Best guess: Obviously, asking Cook to be what Graham was in his New Orleans day would be a massive overbid. But even if the new arrival isn't as good as he was in Oakland (he had the No. 3 PFF receiving grade at tight ends, min. 50 targets), the leap in quarterbacking from Derek Carr to Brees should offset that. He's the No. 8 tight end in current ADP, but the unanimous No. 7 in the staff rankings, making him firmly a starting possibility.
#71: So we know about Michael Thomas, and there is also Cook — is there a No. 2 receiver worth drafting?
Thomas had 319.5 PPR points in 2018, good for sixth at the position. Is was also 16.7 points more than all the other receivers on the Saints put up combined. Tre'Quan Smith, at 100.7 points, was the No. 2 receiver on the roster and the only other receiver who topped even 52.5 points. In other words, there wasn't much there. The only noteworthy addition to the receiver corps this offseason was Rishard Matthews, but he joins Smith, Ted Ginn, Keith Kirkwood, and Cameron Meredith as players who are at least worth monitoring.
Best guess: Talent isn't the issue; the Saints might not have the most talented receiver corps in the league, but they have plenty. But between Thomas, Cook, and Alvin Kamara hogging targets, and the Saints in general passing less often than they have in the past, it's just impossible to get excited about anyone here. Smith is the only other Saints receiver currently getting drafted, as the No. 61 receiver off the board. In our staff rankings, Ginn (WR63) comes in higher than Smith (WR75), but obviously, given those numbers, you aren't pouncing on anyone here as anything more than a total lottery ticket.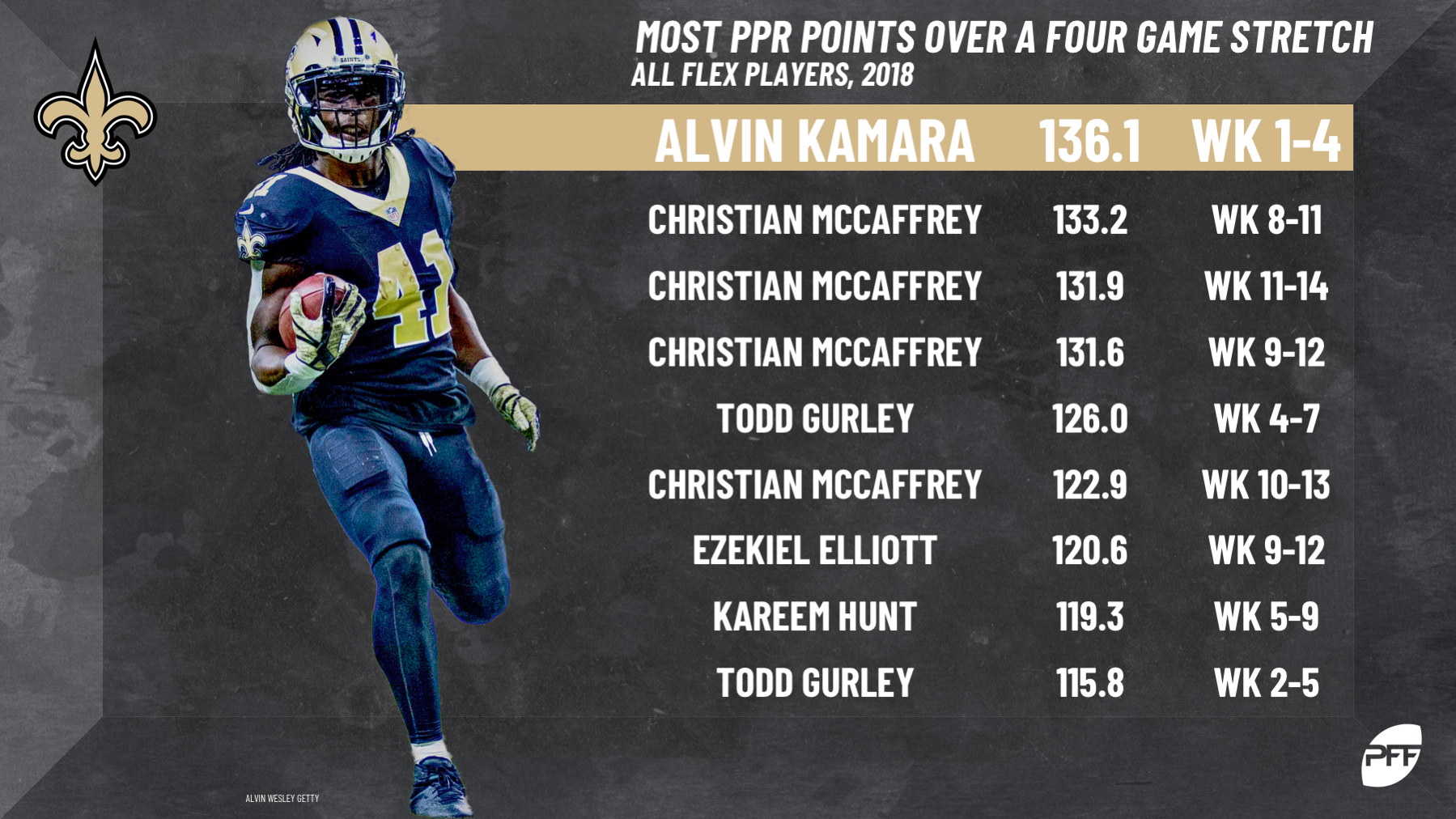 In two years largely paired with Ingram, Kamara has finished as fantasy's No. 3 and No. 4 running back. He isn't the leading fantasy back over those two years because Todd Gurley has just been that crazy, but still, for a guy in his first two NFL seasons who entered as an unheralded third-rounder who was third on his own team's depth chart, Kamara's first two years have been incredible. More incredible? When Ingram was suspended Weeks 1-4 last year, Kamara took his game to an entirely new level. He put up 611 yards and 6 touchdowns in that span, totaling 136.1 PPR points that was the best four-game total for any flex player all season.
Best guess: The clear answer is yes. We saw what Kamara could do from a ceiling perspective during Ingram's absence. That said, the Saints brought in Latavius Murray and Javorius Allen in free agency this offseason and, while neither guy carries Ingram's ceiling, their respective skills — Murray has excelled near the goal line, while Allen is a strong pass-catcher — could combine to cap Kamara's potential. He's the No. 4 back in ADP and our staff rankings, which makes him the last player in the top tier of drafts in 2019.