(With training camps starting soon around the league, we're looking ahead at the 2019 fantasy football season and attempting to answer the burning questions around the league. For each team, we'll ask, and hopefully answer, 3-4 questions about their season to come in fantasy. This is 100 Questions.)
The last time the New England Patriots finished outside of first in the AFC East was 2008. The last time they did so in a season Tom Brady played more than part of one game was 2002. That's not going to last forever (though don't quote me on that), but it's one of those trends that says you can't bet against it until it fails to happen. Some guy was probably betting on the next game being the one Cal Ripken Jr. missed, but that was dumb too.
Still, there's a real chance 2019 is a big season of turnover for New England. Rob Gronkowski retired. Tom Brady (sort of) (kind of) (maybe) started showing signs of age. There has been massive change at the receiver position. Yes, you're picking the Patriots to win the division. But beyond that? We have questions.
It's so tempting. We've seen the Patriots put up massive fantasy numbers out of the tight end position for so long that it feels like it's just what they do. But how much of that was schematic and how much of it was Gronk-atic? Watson and LaCosse are both going late in drafts this year (and Watson has a four-game suspension to deal with), but if they can even approximate a percentage of Gronk's performances, they're worth it.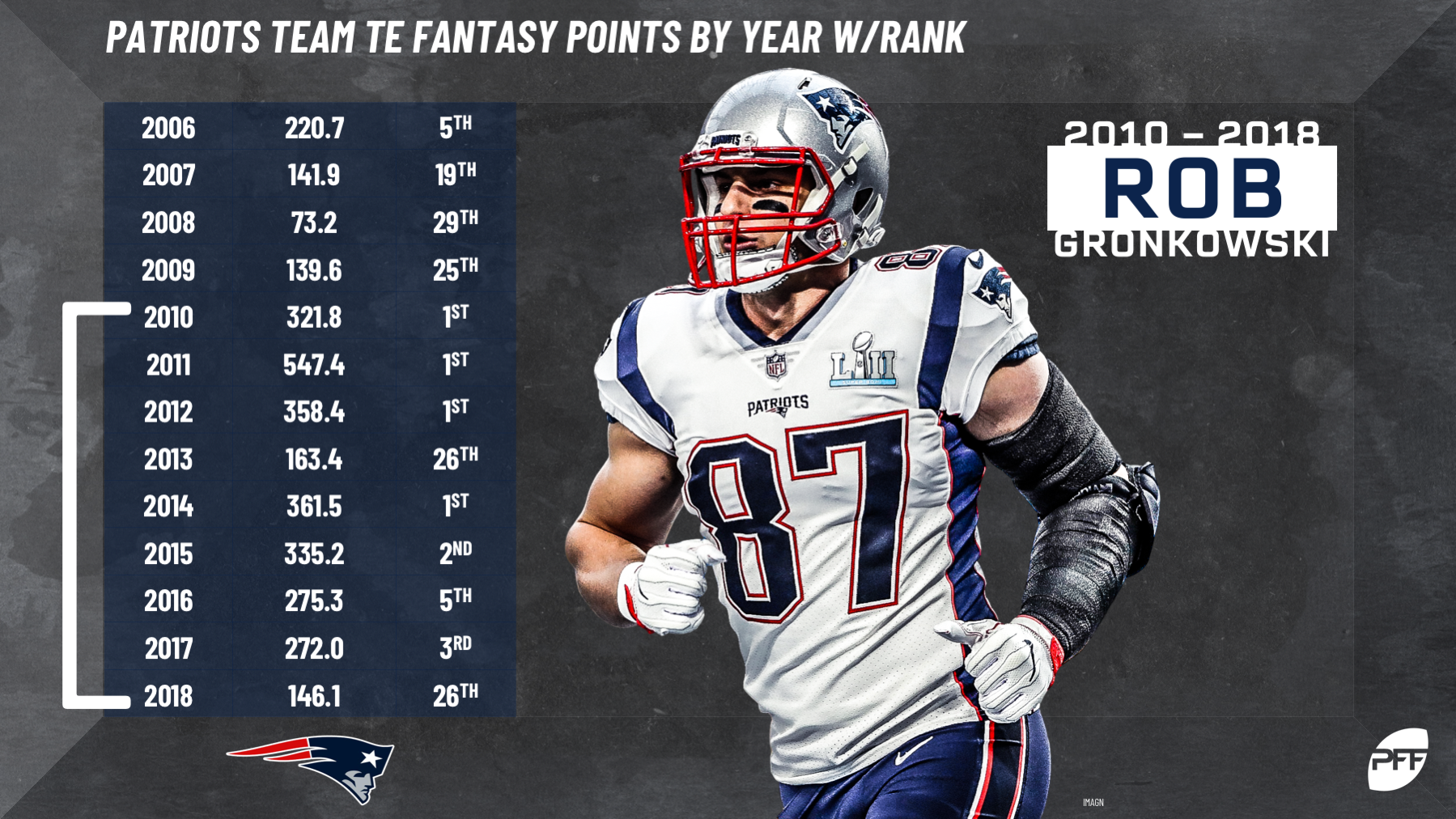 Best guess: Well, call me Mr. Cold Water, but … it was Gronk. In the three years before he debuted, the Patriots averaged 118 PPR points a year out of the tight end position, averaging a team finish in the mid 20s. In 2013, when Gronk played only seven games, they finished 26th in TE scoring. In 2018, as Gronk struggled, the team finished 26th again. Martellus Bennett and Aaron Hernandez had their moments with the team, but, well, LaCosse and 38-year-old Watson are not Bennett and Hernandez. Both new Patriots (and briefly Austin Seferian-Jenkins) are fun to watch, but feel free to ignore them on draft day.
#8: Is Tom Brady old now?
Brady had a 2018 season that most 41-year-olds would kill for. (For that matter, most 25-year-olds would kill for it as well, but that's a different point.) He topped 4,000 yards passing, threw for 29 touchdowns, and put up 294.7 fantasy points. But by Brady's standards, it was … not up to them? He put up 17.6 fantasy points per game, his lowest number since 2014 and only eighth-best of his career. He finished as fantasy's QB12, his worst full-season finish since 2013. And he turns 42 in August.
Best guess: He's not old. Well, he is old, but he's not bad because he's old. Even if his fantasy numbers were down, Brady just put up his fourth straight season with a PFF grade over 90. His yards per attempt and passer rating were both at recent-era lows, but just barely, and they were as good as or better than most of his career before his hot 2016-2017.
Instead, much of Brady's drop in production was schematic. He attempted 35.6 passes per game in 2018, his lowest number since 2010. If Brady had attempted 624 passes, his number from 2015 and less than 3.5 a game more than he actually did, and put up fantasy numbers at the same rate, he'd have had 322.5 points in 2018 and finished as QB7. With the Patriots leaning increasingly on the running game and supplementing that with Damien Harris this year, Brady might not be old, but his fantasy stock is down nonetheless.
#9: So that means you can dive on Patriots running backs, right?
If Brady's stock is down because the team is running more, logic would dictate that the running backs are that much more valuable. Except … this is still Bill Belichick's roster. With James White as the pass-catching back and Sony Michel, Harris, and Rex Burkhead all there to battle for carries (not to mention whatever bit of vulturing James Develin does), it's tough to decide who to rely on. The Patriots haven't had the same running back lead the team in rushing yards since Corey Dillon in 2004-2006 and have only had a single back (LeGarrette Blount in 2015-2016) even do it in two straight years in the last five.
Best guess: There will be value in the Patriots backfield in 2019, in DFS leagues at a bare minimum. White finished 2018 as the No. 7 back while Michel got almost to 1,000 yards from scrimmage despite missing three games and splitting time. What does this mean for you in fantasy? Well, it means you need to find value. Michel should be the No. 1 (with White as 1A) to start the year, but concerns about Michel's knee are real. But he's going as the No. 25 back off the board (per Fantasy Football Calculator ADP), and if he loses time (to injury, Harris, or both), he's going to struggle to reach it. In other words, if I'm drafting a Patriots back in 2019, it's Harris (the 51st back off the board) and not Michel.
Edelman finished as the No. 22 receiver in 2018 despite missing the first four games of the year to suspension and having missed all of 2017. He was ninth in PPR scoring and sixth in targets from Week 5 on. And that was with Gronkowski and Josh Gordon on the roster. One is retired, and the other … well, who knows what we will or won't get out of Gordon in 2019.
Edelman? He was a top-20 receiver in 2013, 2014, and 2016, in seasons with plenty of competition for targets, starting with Gronkowski and on down. In 2019, there are plenty of mouths to feed in New England, but Edelman should be the unquestioned No. 1 target for the first time in his career.
Best guess: If we're just talking ceiling, Edelman could easily finish the year as a top-seven (or so) receiver, especially if the tight ends flounder and/or N'Keal Harry doesn't develop. That's too high to take him, but among the receivers going in the mid-teens at the position (other than Tyreek Hill, who is a different question for these purposes), Edelman probably has the highest ceiling.