The saying "A rising tide lifts all boats" is persistent — both in fantasy football and otherwise — for good reason. It tends to be true. But just because something tends to be true does not mean that it is always true.
For example: 56 quarterbacks have passed for 4,000-plus yards in a season in the last five years. Of those, 47 quarterbacks have produced at least one thousand-yard receiver in that season. That's a lot! The rising tides lifted a lot of boats! But that does leave nine quarterbacks who topped 4,000 yards but couldn't produce one thousand-yard guy. It isn't always the quarterback's fault, of course — Andy Dalton's top receiver in 2016 was A.J. Green, who put up 964 yards but only played 10 games. But it nonetheless true that the rising tide (quarterback yards) didn't necessarily lift all boats (receiving yards).
In 2018, Tom Brady passed for 4,355 yards. Despite that, his leading pass-catcher (Julian Edelman) was his only receiver to top 751 yards. His 850 yards represented 19.5% of Brady's total, the fourth-lowest percentage for a team's leader in those five years (2015 Philip Rivers, 2014 Drew Brees, 2017 Kirk Cousins). It's easy to explain why Brady's pass-catchers failed to reach massive yardage totals:
Edelman missed the first four weeks to suspension
James White (751 yards) is a running back
Josh Gordon (720 with New England) played only 11 games for the Patriots
Rob Gronkowski (682) played only 13 and wasn't healthy for all of those
Nonetheless, the Patriots became the sixth team in the last decade to have three pass-catchers all top 700 yards and none top 900 (the 2014 Chargers actually had four). It's a hard needle to thread, and while it lends itself to reasonably productive pass-catchers — Edelman was WR9 from Week 5 on, White was RB7 on the season, even Gronkowski was a respectable TE11 despite his down season — it also lends itself to a lack of stars.
The question, then, is what we can expect out of the Patriots' slate of pass-catchers in 2019, especially for fantasy.
The names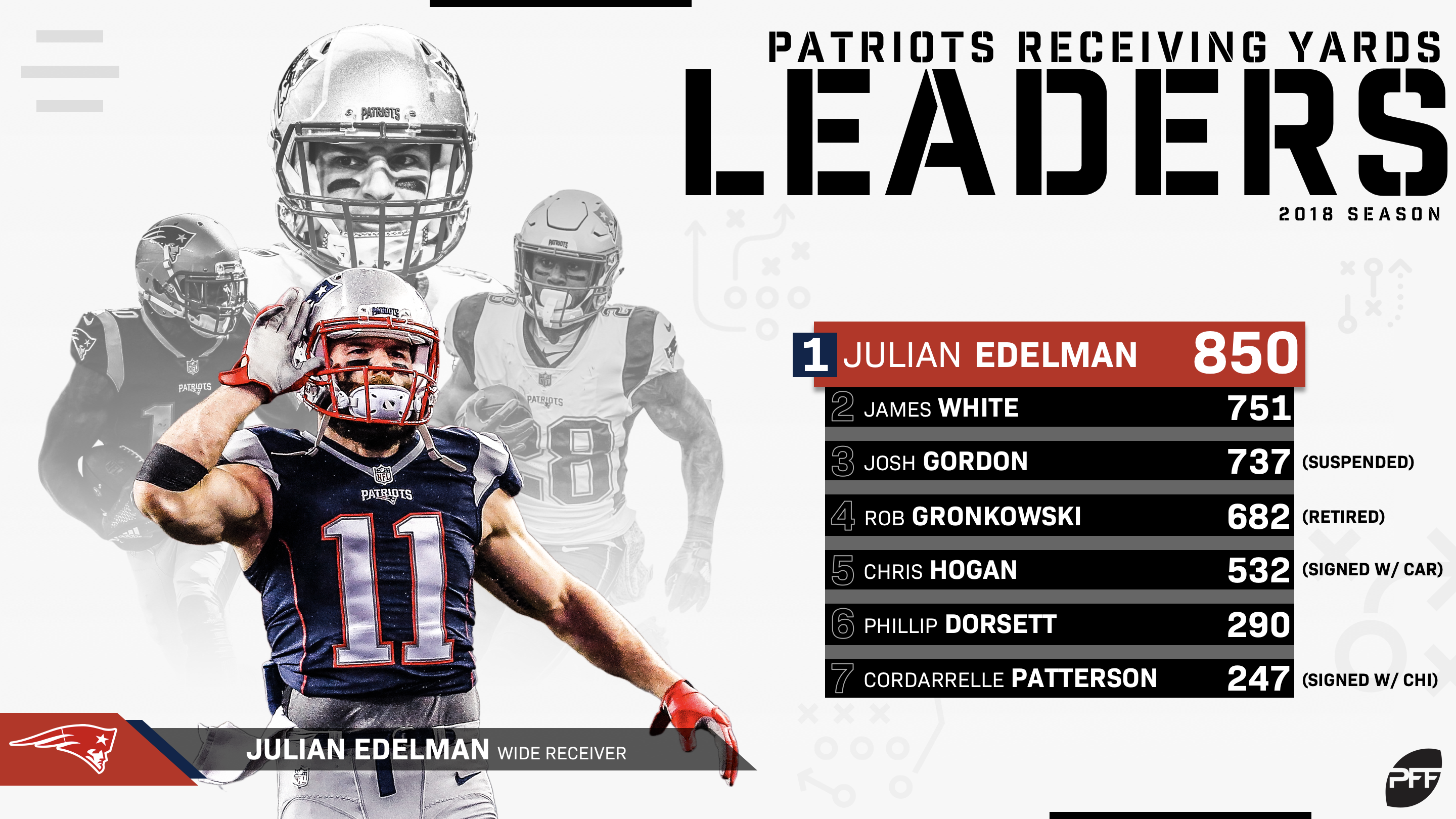 Edelman and White are still around. Technically, Gordon is as well, though his status is very up in the air. Phillip Dorsett is still on the roster, for whatever that's worth. The rest? It's almost complete turnover. The team drafted N'Keal Harry, signed wide receivers Demaryius Thomas, Dontrelle Inman, and Maurice Harris, and signed tight ends Benjamin Watson and Matt LaCosse. That's … a lot of names.
Remember the note earlier, about teams with three guys at 700-900 yards? We have two years of data from five such teams in the last decade. Of those five, four saw their high-water mark in yardage climb the next year. All five saw the third-highest yardage total fall. In other words, it's incredibly hard to thread the needle of yardage. The names aren't the important part, but the numbers are:
Receiving yardage
Baltimore Ravens
#1
#2
#3
2011
887
841
704
2012
921
855
669
Pittsburgh Steelers
#1
#2
#3
2012
838
816
787
2013
1499
743
602
San Diego Chargers
#1
#2
#3
2014
856
821
783
2015
755
725
630
Philadelphia Eagles
#1
#2
#3
2017
824
789
768
2018
1163
843
736
Los Angeles Rams
#1
#2
#3
2017
869
788
781
2018
1219
1204
580
New England Patriots
#1
#2
#3
2018
850
751
737
Whether Edelman leads the Patriots in yardage in 2019, or White does, or Harry or Thomas or anyone else, there is an excellent chance whoever it is will top 850 yards. And whoever finishes third on the team in yardage, there is an excellent chance it will be under 700 yards.
What does that mean for fantasy? Well, it's easy to look at the Patriots roster now and be excited. Edelman performed at WR1 level when he was on the field. White was the best pass-catching running back other than Christian McCaffrey. Harry has first-round pedigree. Thomas is still a tantalizing name. We know the Patriots know how to use tight ends. Harris and Inman have shown flashes. There are so many names we could envision fantasy caring about in 2019.
But the truth is that it's going to be very difficult for many names to offer that much fantasy value. Unless and until we see something out of a tight end (or two) and Thomas or Inman or Harris, they need to be afterthoughts and/or lottery tickets in fantasy. Focus the attention on Edelman, Harry, and White. And even then, don't be surprised if one of them disappoints you when it comes to yardage. The Patriots should be good in 2019 and should have a good offense. But the depth of the pass-catchers might let you down.