(With training camps starting soon around the league, we're looking ahead at the 2019 fantasy football season and attempting to answer the burning questions around the league. For each team, we'll ask, and hopefully answer, 3-4 questions about their season to come in fantasy. This is 100 Questions.)
Put your hand over February on the calendar, and no team had a better season last year than the Los Angeles Rams. They went 13-3, tied for the best record in the league, and won their way into the Super Bowl. They had the best fantasy flex player in the league (on a per-game basis), the hottest young coach, and the best defensive player. Just ignore February and you're golden.
Heading into 2019, the Rams are … basically the same team. Especially when we're talking fantasy, there was only one change this offseason that really matters for our purposes. Otherwise, the plan in Los Angeles appears to be "don't fix what ain't broke." The question, then, is whether the team can do what it did in 2018 again in 2019.
#91: Maybe the biggest fantasy question anywhere this offseason: What up with Todd Gurley?
According to Fantasy Football Calculator's tracking, Gurley was the No. 1 running back off the board in 2019 drafts in January. That stands to reason, as he is the reigning back-to-back champion in fantasy points per game among the flex positions, with 80 more total PPR points than any other player across those two seasons. But between his Super Bowl performance (11 touches for 34 yards) and the concerns about how C.J. Anderson did with Gurley out in the regular season, his stock fell to the middle of the first round — still higher tier, but not the undisputed No. 1. And then the Rams spent a third-round pick on Darrell Henderson, adding a clear threat to at least some of Gurley's playing time, and his draft stock fell to the back of the first round. And as news hasn't been very reassuring, it's kept falling; per their tracking, you can currently get Gurley in the middle of the second round, the 11th running back off the board.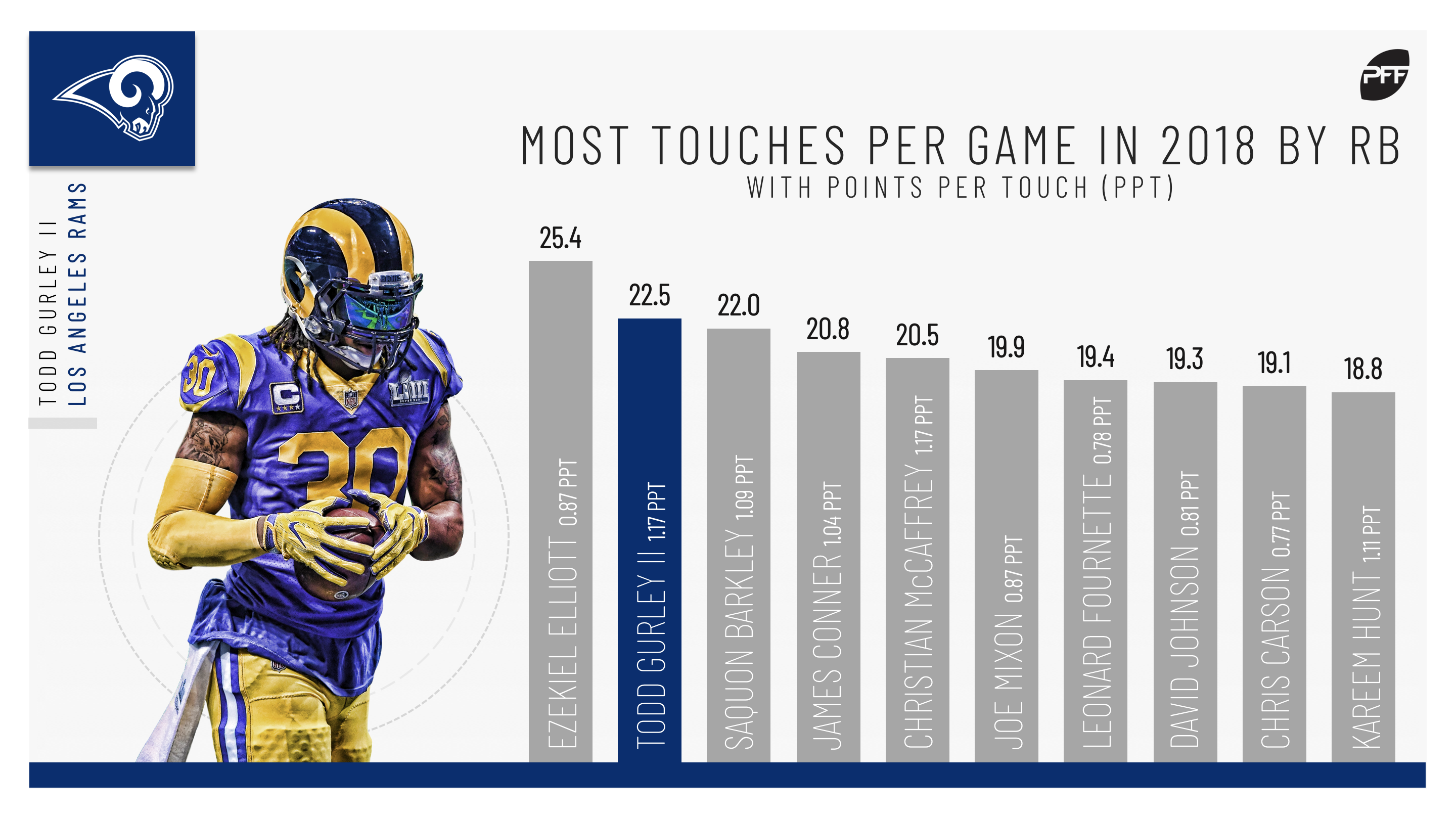 Best guess: We have to understand what we're talking about with Henderson's threat to Gurley. If you think he's going to unseat Gurley as the starter, then obviously the incumbent is going way too high in drafts. But I doubt anybody thinks that. Assuming Gurley's knee is good to go for the start of the season (and that is admittedly not a sure thing), then Henderson's presumed role is more to keep Gurley's touches at a reasonable level; he was second in the league in touches per game in 2018. The thing is, though, that Gurley combined his high level of touches with an even higher level of PPR points per touch; his 1.17 points per touch tied with Christian McCaffrey for the most among the top-10 backs in touches per game.
Say Henderson soaks up five of Gurley's touches per game (just to pick out a number), absorbing the rest of his touches from other Rams. If Gurley falls from 22.5 touches per game to 17.5 but keeps the same fantasy points per game, he's still at 20.5 PPR points per game, 327.6 for the season … or RB6 from last year. Simply put, unless you think either Gurley's injuries will keep him off the field or that Gurley and Henderson will enter into a full-fledged committee, it's really hard to make the math work that would have Gurley fall out of the top-10 backs. He's the No. 10 back in our current PFF Fantasy staff rankings, No. 9 in my own ranks. Gurley's stock is lower than it was a few months ago. But the worry has gone too far.
The drafting community is trusting Kupp so far this offseason; he's the No. 22 receiver off the board, firmly in starting territory. This despite the fact that he suffered a torn ACL last season, and did it late, hitting the shelf in Week 10. To be fair, through that point Kupp was having a great season — he finished the year as WR51 despite playing only eight games; by PPR points per game, he was 14th, between T.Y. Hilton and A.J. Green. If he can return healthy from Week 1 forward, taking him as the No. 22 receiver isn't unreasonable.
Best guess: Good lord no, he is not safe. For starters, as Rich Hribar noted on Twitter, in the last five years, only three notable ACL returnees have improved their fantasy points per game from one year to the next — Jeremy Maclin, Julian Edelman, and Carson Palmer. Palmer was a quarterback, and Maclin and Edelman suffered their injuries in the preseason. If you're looking for a track record of a player tearing his ACL in the back half of the season and then returning nearly as strong the next year, almost literally your only data point is 2013-14 Rob Gronkowski, who tore his ACL in Week 14 of 2013 and still put up 17.8 points per game the next year (still 0.2 points worse than the year before). Our other examples are worse than that. Kupp is very good, but even at his relative ceiling last year he was a mid-range WR2; if nothing else, there are a lot of mouths to feed among the Rams receivers. He's the No. 22 receiver in our staff rankings, just like ADP, but he's 28th in my personal ranks, and I'm more likely to lower him than raise him.
#93: Is there any value to the tight ends?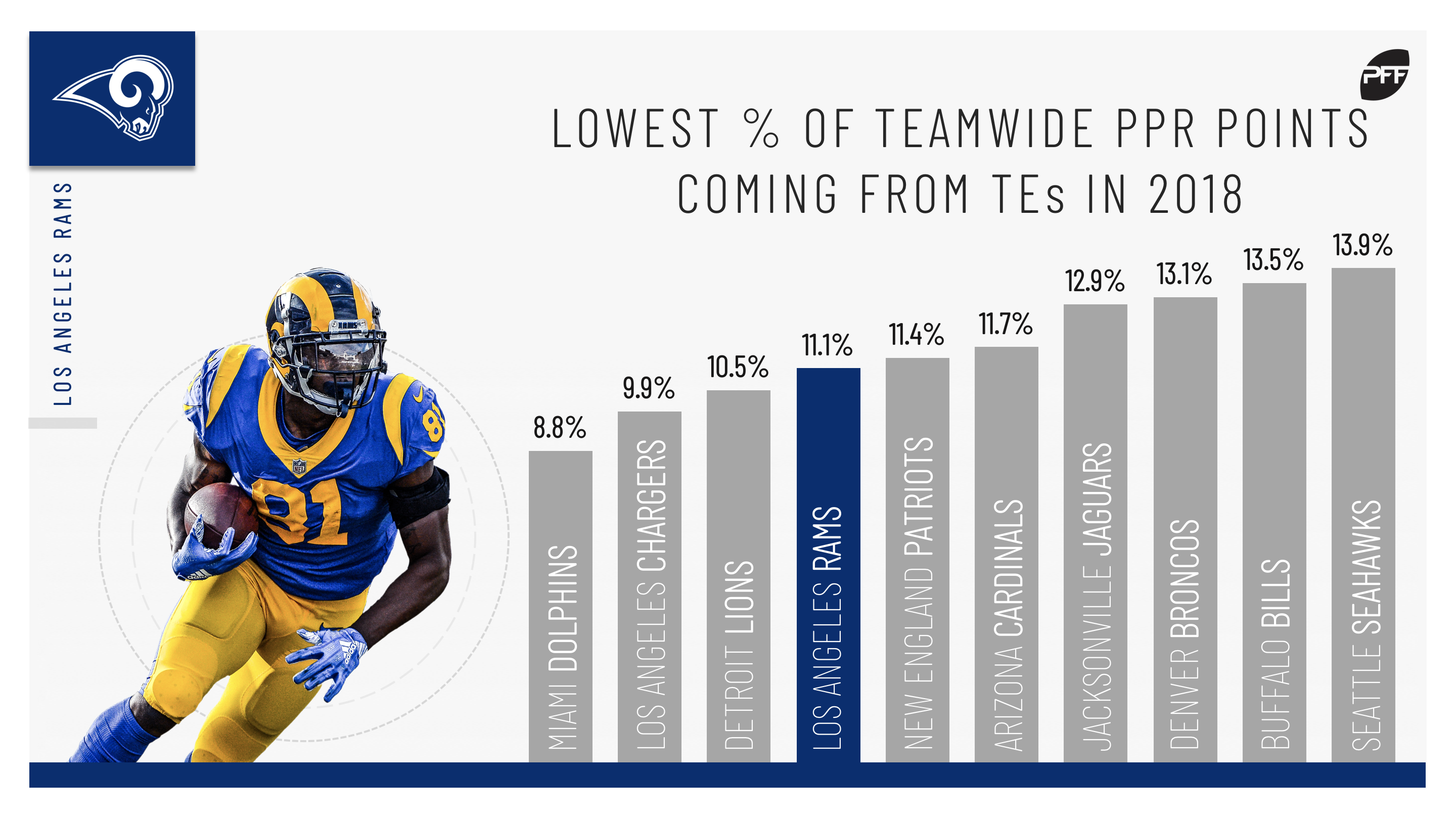 The Rams really put "a rising tide lifts all boats" to the test last year. The team had a dominant offense. Gurley was the No. 3 running back despite missing time. Robert Woods finished the year as WR10, Brandin Cooks as WR13. As mentioned above, Kupp was WR14 on a PPG basis. Jared Goff was the No. 6 quarterback. And yet, this rising tide generated basically no production from the tight end position. Gerald Everett was the team's leading scorer at tight end, with 84.6 PPR points (TE22). The team was 24th in total PPR points from tight ends, and only the Dolphins, Chargers, and Lions got a lower percentage of their teamwide flex PPR points from tight ends. None of those teams had anything like a competent tight end.
Best guess: Obviously, you aren't drafting either of Everett or Tyler Higbee unless you're in a crazy-deep league. But Everett has shown well so far in his career; he had the fourth-highest PFF grade among tight ends last year, at 82.5 (ahead of Zach Ertz, Evan Engram, and others) and has drawn big praise during offseason workouts. As long as it's a timeshare with Higbee there isn't much here, but if Everett can separate himself from his positionmate (and especially if Kupp isn't ready to start the season), there could be sneaky lottery-ticket value from Everett.