(With training camps starting soon around the league, we're looking ahead at the 2019 fantasy football season and attempting to answer the burning questions around the league. For each team, we'll ask, and hopefully answer, 3-4 questions about their season to come in fantasy. This is 100 Questions.)
The Denver Broncos are turning the page. The Peyton Manning/Demaryius Thomas/Emmanuel Sanders era has more or less ended now — Sanders is still around, but he's the only one, and his health is in question that he might start the year on PUP as he returns from an Achilles injury.
In their place, the team has a new veteran quarterback and a new rookie and three 2018 rookie receivers. Add them to the backfield headed up by two other 2018 rookies and this is as far from the Denver offense we saw win a Super Bowl only four years ago. That doesn't necessarily mean it's worse, but … well, it certainly isn't better.
#38: Phillip Lindsay jumped over Royce Freeman quickly in 2018; can Freeman rise back?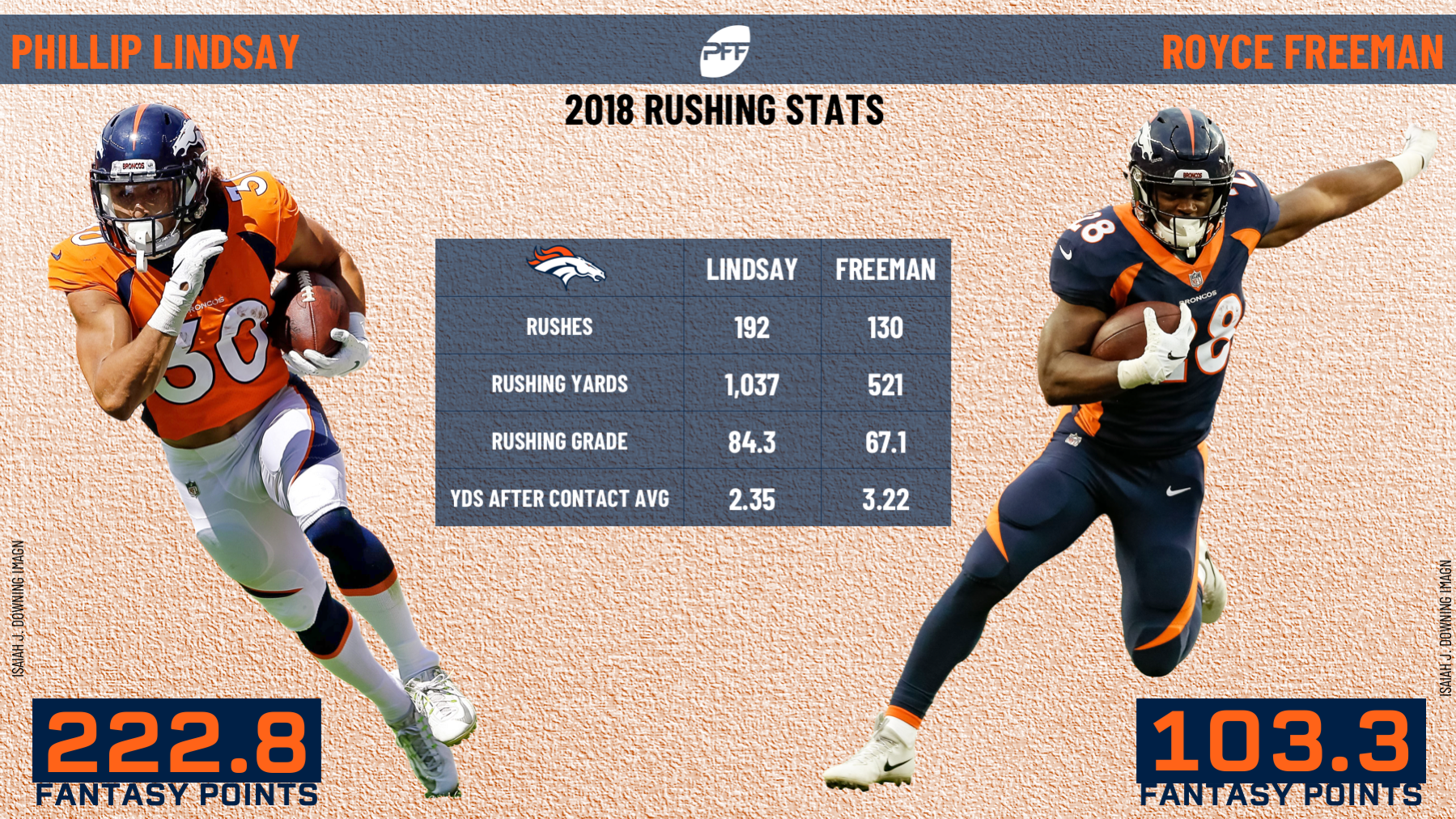 The Broncos drafted Freeman in the third round of the 2018 draft; Lindsay was an undrafted free agent. Draft capital extended for a player is often connected to how that player is used, especially as a rookie. But Lindsay equaled Freeman in carries in Week 1 and eclipsed him in Week 2. That happened on the way to Lindsay totaling 1,037 rushing yards (ninth in the league) and 222.8 PPR points (13th), while Freeman had only 521 and 103.3, respectively.
Best guess: The No. 1 job is Lindsay's, but it's likely to be more of a balanced attack in 2019 than it was a year ago. Lindsay totaled only 100 rushing yards on 38 carries over his last three games combined, perhaps a sign the rookie was slowing down as the season went on. Add to that Freeman's better numbers after contact (he averaged 3.2 yards after contact per carry compared to Lindsay's 2.4) and there's room for both of these backs. Lindsay's fantasy stock (he's being drafted 22nd among running backs according to Fantasy Football Calculator ADP and ranked 23rd in the PFF Fantasy staff rankings) should be pretty set, but there might be some upside yet to Freeman (drafted 40th, ranked 36th).
#39: Joe Flacco is the starter now, but for how long?
After a failed experiment with Case Keenum in 2018, the Broncos signed Flacco this offseason, but then doubled down by drafting Missouri's Drew Luck in the second round. Flacco is a longtime veteran with a Super Bowl ring, but if we're talking about 2019, he has no business being an impediment to anyone worthwhile. He hasn't topped 20 passing touchdowns or 7.0 yards per attempt since 2014, and has finished as fantasy's No. 20 quarterback or worse each of those years. Lock might benefit from a Mahomes-esque year of seasoning — accuracy wasn't his strong suit in college — but behind the fading Flacco, he might not have that luxury.
Best guess: Obviously, you aren't drafting Flacco, even in a two-QB league — he lacks upside in his own right, and it appears he's unlikely to hold the job all 16 games. As for Lock, if and when he gets the job, he'll have more intriguing upside than Flacco. You aren't drafting him either outside of crazy-deep leagues, but whenever it starts to look interesting in Denver, he's worth a waiver flyer.
#40: What should we expect out of Emmanuel Sanders?
Through 12 weeks of 2018, Sanders was a WR1, impressive considering he was a 31-year-old in a floundering offense who came into the year as arguably his team's No. 2 receiver. And then he tore his Achilles in Week 13, he missed the rest of the year, and his immediate and long-term future were both called into question. All reports are he's targeting a Week 1 return, which would be great, but is a big ask considering his injury.
Best guess: Sanders is currently going off the board as the No. 52 receiver. That's appropriately cautious (he's fallen nearly five rounds over the course of 2019), but even then I'm not biting. Achilles injury, aging player, deteriorating offense, and the risk of PUP to start the year — Sanders could be a player you release in Week 4, and even if he comes back, his upside has been hamstrung.
#41: So if Sanders isn't a top option, what to make of the other receivers?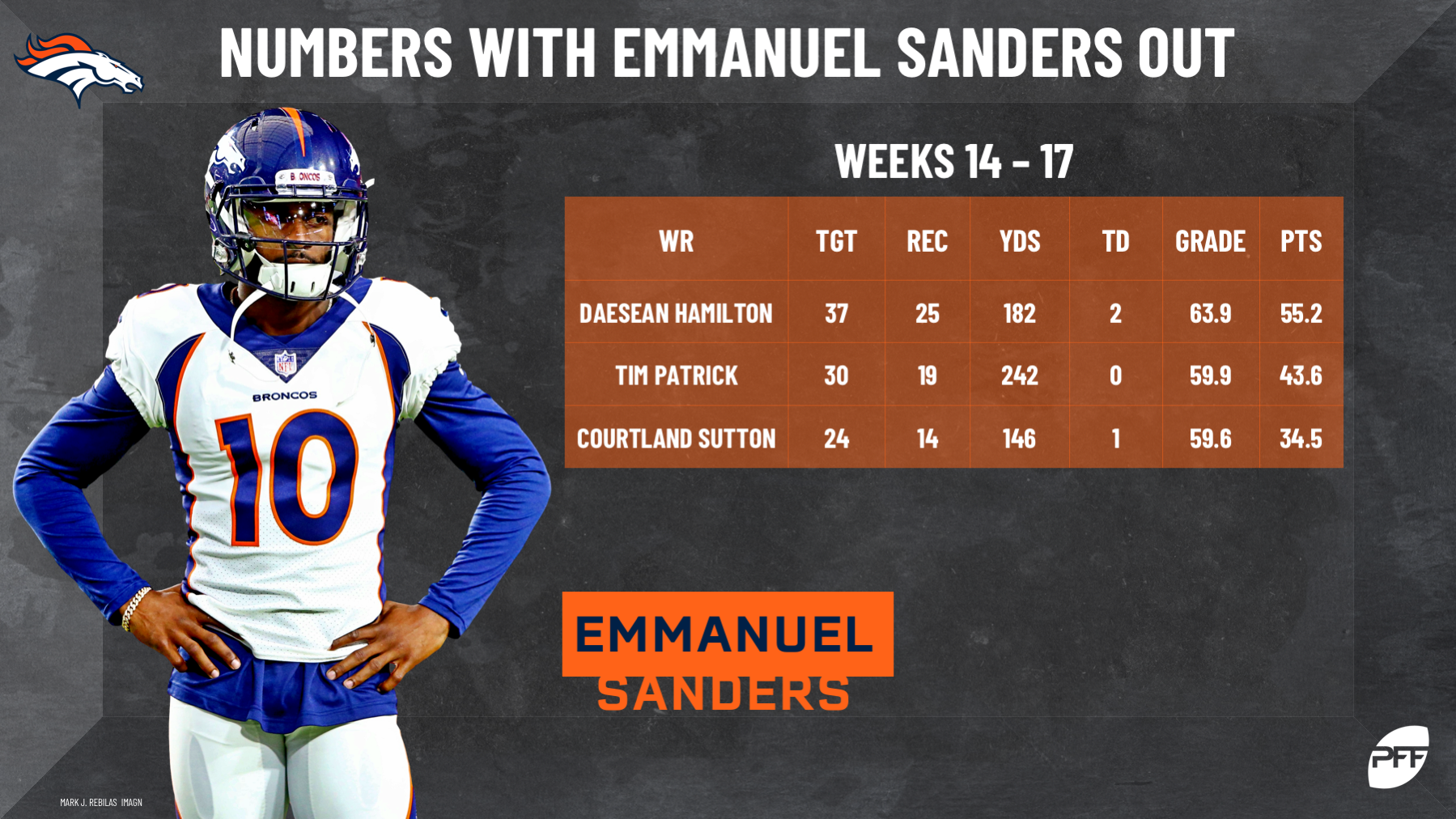 The Broncos featured three rookie receivers in 2018 in Courtland Sutton, DaeSean Hamilton, and Tim Patrick. Sutton was the only one with a real role for most of the year, but after Thomas was traded and Sanders got hurt, all three saw real playing time. And results were … middling. Hamilton was WR21 over that stretch, Patrick WR33, Sutton WR48, so they all had relevance. On the other hand, the three combined for three touchdowns over that stretch, and Patrick (the one of the three who went scoreless) was the only one to top 200 yards.
Best guess: I wrote back in March that Sutton is a sleeper option in best ball, as for all his failings, Flacco can still connect on some deep touchdowns, and that's Sutton's area more than his positionmates'. To a lesser extent, that's about the situation in redraft as well; Hamilton in particular might out-target Sutton, but it's Sutton who is far more likely to find the end zone.