(With training camps starting soon around the league, we're looking ahead at the 2019 fantasy football season and attempting to answer the burning questions around the league. For each team, we'll ask, and hopefully answer, 3-4 questions about their season to come in fantasy. This is 100 Questions.)
Conventional wisdom entering last season, even after the Khalil Mack trade, was that the Chicago Bears would be an improved team in 2018, but still behind the Vikings and maybe Packers in the NFC North. Trust me, you would be shocked at how many of my friends are randomly Bears fans, and every one of them was like "Eh, we'll be decent."
Instead, the Bears started 3-1 and, after a two-game losing streak, made it all the way to 8-3 and then 12-4 and won the North. It wasn't all sunshine and roses — the team lose in the Wild Card Round of the playoffs in heartbreaking fashion, and the team wasn't exactly flush with fantasy dynamos — but the defense was otherworldly. Those friends of mine definitely had a Merry Christmas. Now, it's 2019. Can the defense stay strong? And can the offense make strides to offer more for fantasy?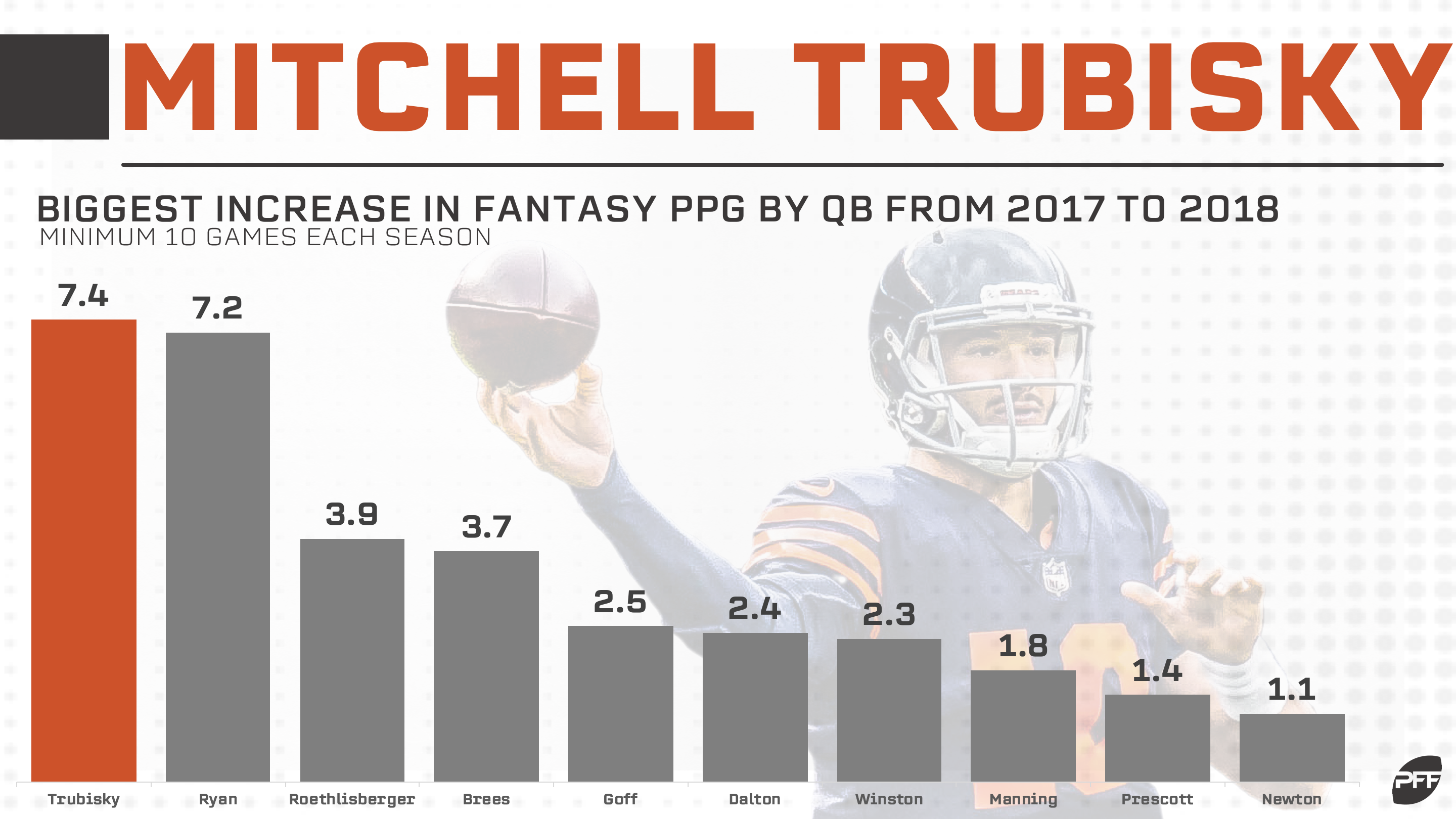 Trubisky had a rough rookie year in 2017. He averaged only 12.1 fantasy points per game and put up a 66.4 overall PFF grade that was only 28th-best out of 42 qualifying quarterbacks. In his defense, the Bears' best receivers that year were … um, Kendall Wright and Dontrelle Inman. Trubisky wasn't exactly good, but he could scarcely have been in a worse situation as a rookie. In 2018, Trubisky had a much better fantasy performance, averaging 19.5 points per game — his 7.4-point increase was the best in the league. On the other hand, his overall grade actually got worse, dropping to a 63.0 mark that was 33rd of 39 qualifiers. He had far better weapons, and his rushing was a big contributor (he was fifth in the league in QB rushing yards), but it's a reasonable question whether he was actually that much better overall.
Best guess: A better question might be whether Trubisky can maintain. Expecting him to take another leap off of a season with as poor a passing grade as he had (his overall grade was buoyed by an 88.2 rushing grade; his passing graded out at 56.5) might be asking too much, and as the rest of the league's quarterbacks are just getting better, Trubisky's fantasy finish in 2018 (No. 15) might be near his ceiling, at least for the immediate future. He's currently going off the boards as the No. 22 quarterback in drafts (per Fantasy Football Calculator) and is the No. 19 quarterback in our PFF Fantasy staff rankings — his rushing ability means he'll have a high floor, but his passing deficiencies will keep Trubisky from an exceptional season-long ceiling.
In an overall middling offense a year ago, Cohen was the star. Without even reaching 100 carries, Cohen finishes as a back-end RB1, on the backs of his receiving (he finished third among running backs with 725 receiving yards and tied for fourth with five touchdowns). It was a pretty efficient division of labor, too, as Cohen was paired with Howard, who is a LeGarrette Blount scale model — he carried the ball 250 times in 2018 with only 26 targets. Cohen and Howard played the same position, but that's where the similarities end. Well now, Howard has been shipped out to Philadelphia, and the Bears replaced him with 2019 third-rounder Montgomery (and free agent signee Mike Davis).
Best guess: Montgomery was a tackle-breaking machine in college, breaking a best-in-the-nation 99 of them a year ago. He also broke 23 just on receptions (36 of them) in 2017. Dude's hard to bring down. On the other hand, his first NFL receiving touchdown will be his first one since high school. He has receiving ability and he's tough to bring down after the catch, but he's not Cohen, who was used as a bona fide receiver a year ago, putting up the fifth-deepest average depth of target (3.75 yards) of any running back (min. 60 targets) in the last decade. Montgomery will keep Cohen from reaching his ceiling of 2018, but the veteran will still have plenty of value. In current ADP, Montgomery is going off the board 21st among running backs, Cohen 28th. It's a similar, if lower, story in our rankings, with Montgomery 28th and Cohen 32nd. But personally, I have Cohen as a low-end RB2 and Montgomery as more of a flex option. I'm a believer.
#78: Is Trey Burton worth a fantasy pick?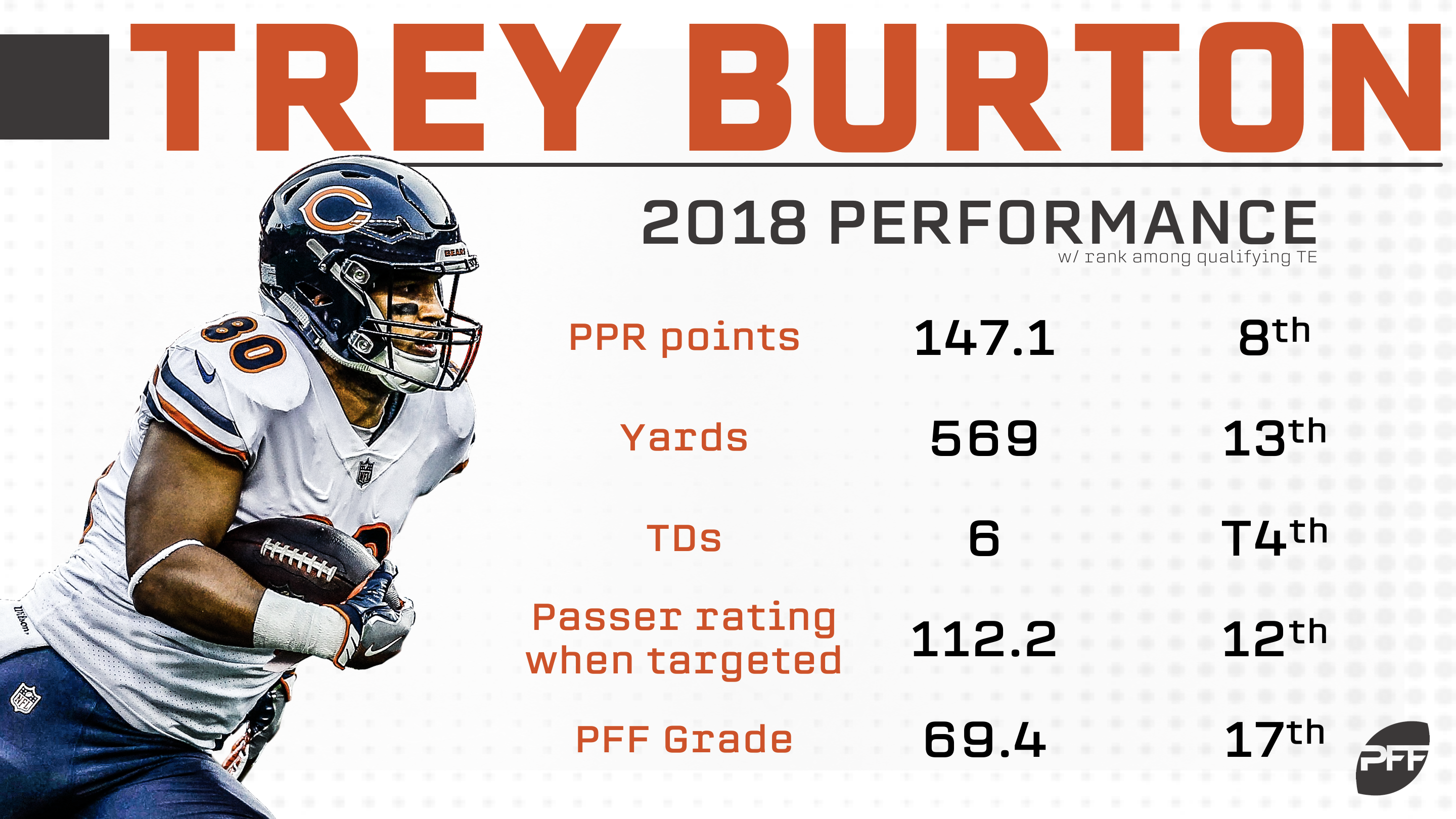 Burton signed with the Bears after spending four years as a lightly used backup in Philadelphia. He was a popular breakout pick a year ago, going off the boards sixth in drafts. If you want to call him a disappointment, I won't argue too hard, as he failed to even reach 150 PPR points on the year. On the other hand, in a down year for the position, Burton did still finish as the No. 8 fantasy tight end, and if you drafted a guy sixth at his position and he finished eighth … you can't really complain about that.
Best guess: There is the risk that Adam Shaheen — who was limited to six little-used games in 2018 because of injury — resumes his red-zone role as a 2017 rookie and vultures some of Burton's value. But absent that, not much has changed in Burton's role entering 2019. Despite that, he's going off the board 16th among tight ends in drafts. That feels low to me (he's 14th in current PFF rankings, 13th in my personal rankings). He's a borderline TE1 who you can get crazy late in drafts. Maybe you pair him with an upside play (Jordan Reed, if you're feeling lucky), but in general, there's value here.