(With training camps starting soon around the league, we're looking ahead at the 2019 fantasy football season and attempting to answer the burning questions around the league. For each team, we'll ask, and hopefully answer, 3-4 questions about their season to come in fantasy. This is 100 Questions.)
The Atlanta Falcons won three fewer games in 2018 than they did in 2017. That happened despite the team scoring 61 more points from one year to the next, almost four points a game better. The difference? The Falcons allowed 108 more points in 2018 than they did the year earlier, a disastrous turn that took the team from a 38-point positive differential to a 9-point negative one despite the offensive improvement.
The upshot of that? The Falcons managed to be a better team for fantasy in 2018 than most 7-9 teams end up being. This is a team with one bona fide fantasy superstar and multiple other names with extreme potential. The defense should be better in 2019, so it's possible the team will come back to earth offensively as well, but this is still a team that has plenty to offer fantasy managers.
#63: Matt Ryan has yo-yo'd around in recent years, but can he put up a second straight monster year?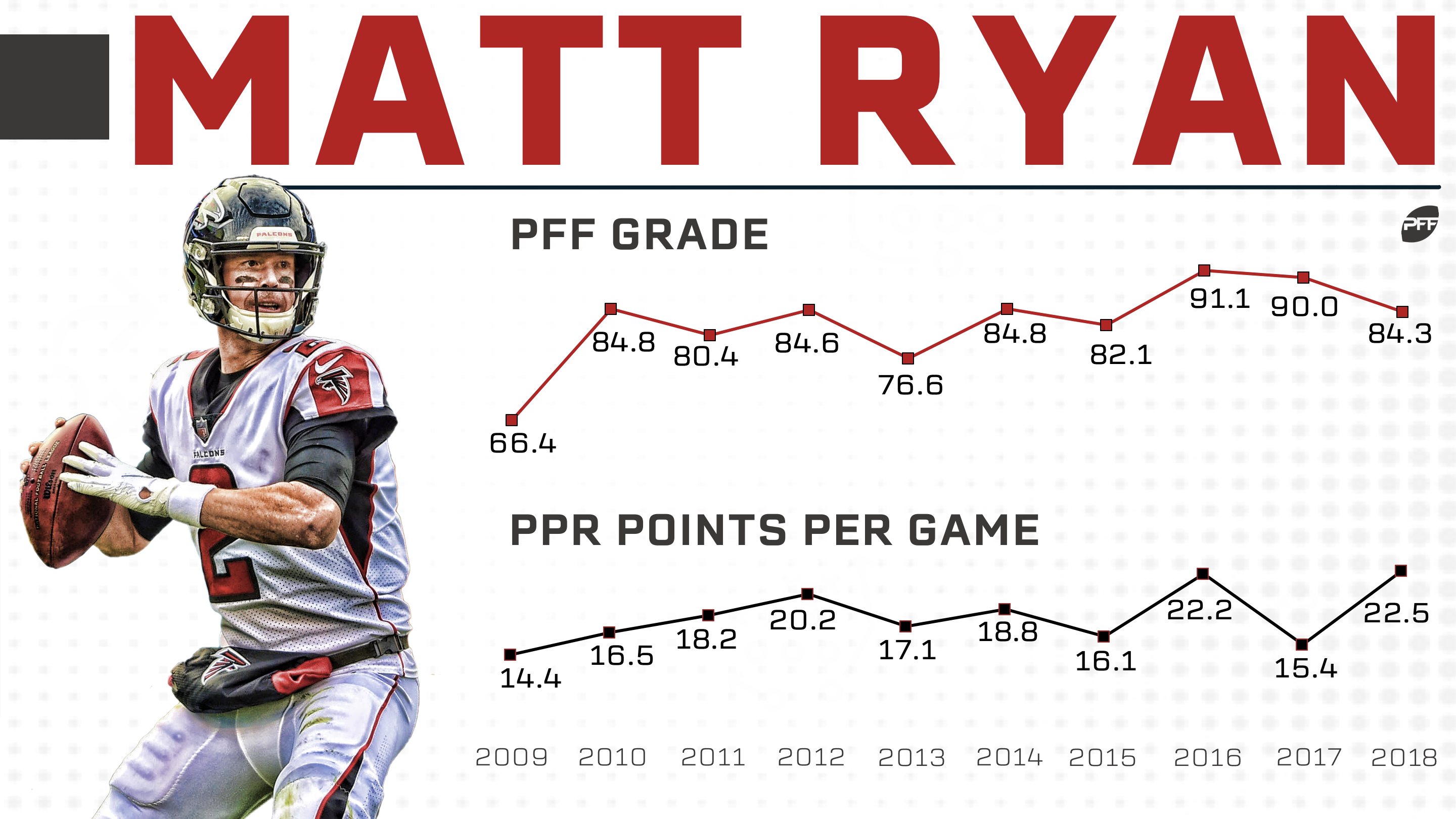 Put Ryan's 2018 performance into just about any other year, and he'd have been on the cover of magazines. His passing numbers were essentially the same as they were in his MVP 2016 (20 fewer passing yards, 3 fewer passing touchdowns, the same 7 interceptions), but he added a career-best three rushing scores (had had a total of five for his career entering the season, none since 2012). The problem is that those big years were 2016 and 2018. You might notice there is a 2017 missing in there. In even-numbered years since 2012, Ryan has averaged 4,820 yards and 33 touchdowns (never fewer than 28); in odd-numbered years, 4,400 and 22 (never more than 26). If Ryan slides again in 2019, he could let fantasy owners down in a big way.
Best guess: The reason I specified that Ryan never topped 26 touchdowns in odd-numbered years or fell below 28 in evens is because of his PFF Fantasy projection for 2019: 27.2 passing touchdowns. That illustrates the lesson: Never bet on the highs to stay high or the lows to stay low. Regression is king. Ryan might not fall right in the middle of his back-and-forth results, but expecting that is wise. In those even-numbered years, he's averaged a fourth-place fantasy finish; in the odds, 14th. Bet on the middle. Ryan is currently going off the board sixth among quarterbacks in drafts (per Fantasy Football Calculator ADP), and he's the unanimous No. 5 quarterback in the PFF Fantasy staff rankings.
#64: Can Julio Jones continue to score touchdowns?
The Falcons had their bye in Week 8. In Weeks 1-7, Jones averaged 116.0 yards per game … and scored zero touchdowns. In Weeks 9-16, he averaged 96.1 yards per game … and scored eight times in nine games. His end-of-season totals — 1,677 yards, 8 touchdowns, and a WR2 finish — are fantastic, but the way he got there was very frustrating for fantasy players, even as his raw yardage totals made him fantasy relevant across that first half. Coming on the heels of a 2017 in which Jones scored only three touchdowns in a whopping 143 targets, he's grown the reputation of a guy who is allergic to the end zone.
Best guess: Odds are, Jones is never going to have a 16-touchdown season or anything like that. His career high is 10, way back in 2012, and he's scored exactly six or eight in four of his last five years. But by touchdown percentage (scores per target), he's been fairly consistent since that career year, with one blip. Starting in 2013, his percentage is 3.5%, 3.8%, 4.1%, 4.8%, 2.1%, 4.8%. Pretty clearly, that 2.1 in 2017 is the anomaly, and while you might expect the scores to be more evenly spaced in 2019 than they were in 2018, 6-8 touchdowns is more than reasonable, and combined with Jones' well-documented massive yardage expectation, his draft stock (he's the No. 4 WR in average draft position but No. 3 in our rankings) is well deserved.
#65: Will we see vintage Devonta Freeman in 2019?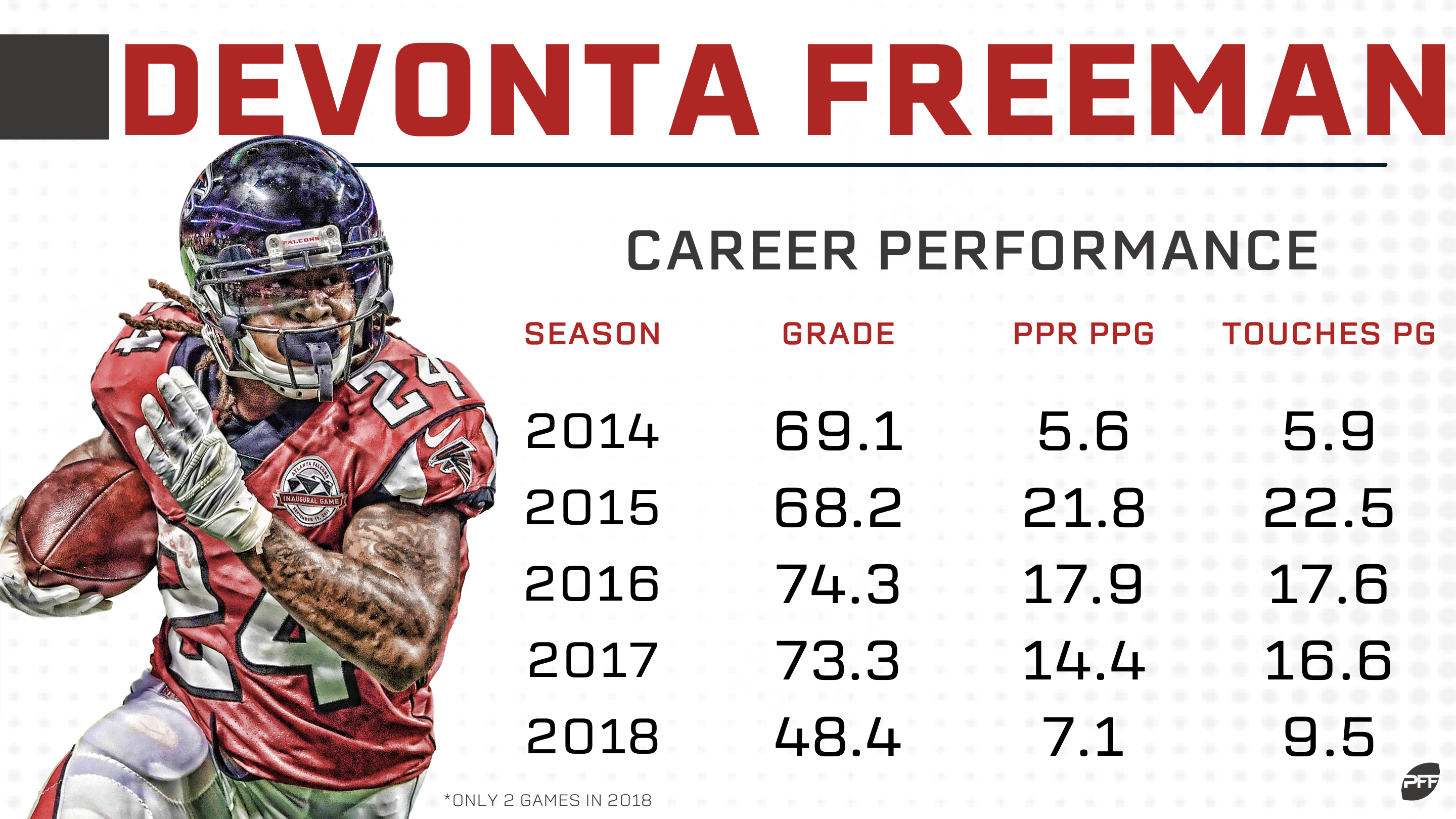 Freeman was the No. 1 fantasy quarterback in 2015 — a down year for the position overall, but a first-place finish is a first-place finish. That's the ceiling. Last year, Freeman played all of two games, Weeks 1 and 5, couldn't stay healthy, and finished the season with only 75 scoreless scrimmage yards. Freeman has positive health reports this offseason, though, and the main candidate to siphon touches from him (Tevin Coleman) is now a San Francisco 49er.
Best guess: Freeman has finished below his fantasy ADP every year since his No. 1 finish, with his PPR points per game and touches per game dropping off each year as well. Even if you want to throw out his 2018 season (and you should), Freeman in 2017 was only about two-thirds of his 2015 self as a fantasy option (14.4 points per game compared to 21.8). Considering Ito Smith is his only real competition for touches, Freeman should still be a perfectly fine fantasy option, albeit without much in the way of upside. He's going off the board 17th in drafts and is the No. 18 running back in our staff rankings, so mid-to-low RB2 feels about right.