• Early returns from the trade deadline: Jeff Wilson Jr. and T.J. Hockenson made immediate impacts on their new teams.
• James Conner returns to Arizona: The Cardinals running back was one of several players who returned from injury this week. He may now have a bigger role than he did before his injury.
• Elijah Moore's role changes again: The Jets made Moore their primary slot receiver. He didn't see any targets this week, but it's a role he could thrive in.
Estimated Reading Time: 7 mins
---
PFF's fantasy football recap focuses on player usage and stats, breaking down all the vital information you need to achieve fantasy success in 2022. Here, we only touch on players who are relevant in fantasy football leagues.
These are my 10 biggest reactions to the games from the Week 9 Sunday slate. To get a more in-depth breakdown, check out my full Sunday recap.

The Dolphins' new backfield committee
Miami traded Chase Edmonds and added Jeff Wilson Jr. at the trade deadline. Wilson may have already taken the lead in the Dolphins' backfield.
Miami started the game with a rotation by drive, with

Raheem Mostert

taking the first and third drives and Wilson taking the second and fourth. The third drive was the team's two-minute drill.

Mostert started the fifth drive, but Wilson took his place midway through. Wilson played more snaps than Mostert on the fifth, sixth and seventh drives.

Mostert took every snap on the eighth drive when the Dolphins tried to run out the clock, but Mostert lost one yard on two carries, and they passed on third down.

Wilson took the three snaps in victory formation.

Wilson looked better as both a rusher and receiver. Both backs ran the ball nine times, with Wilson gaining 51 yards to Mostert's 26.

Wilson caught three passes for 21 yards, while Mostert didn't record a catch.

Both players scored touchdowns.

It wouldn't be surprising to see Wilson start next week. Both players will likely play significantly, regardless of who starts.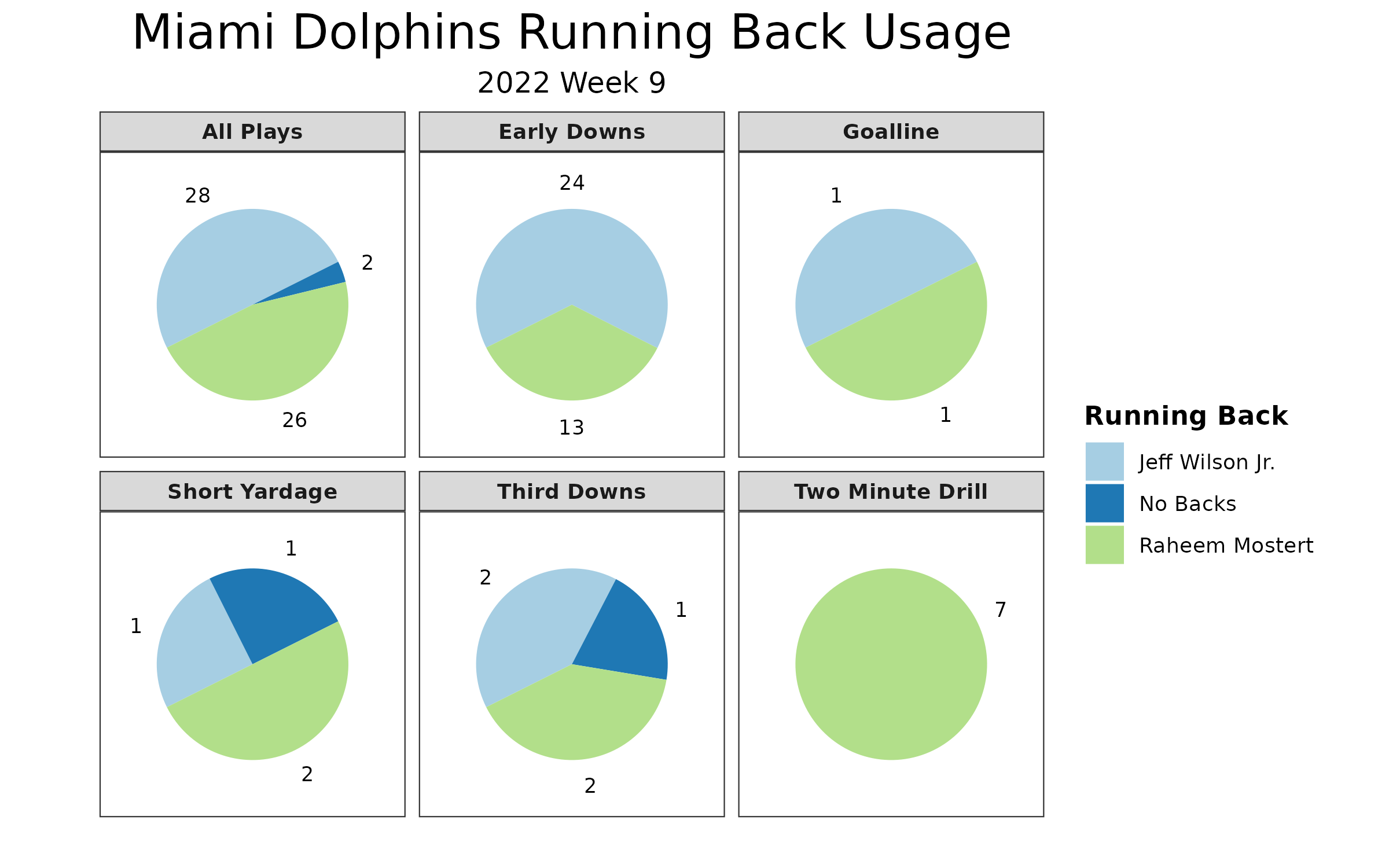 ---
The Rams' evolving running back room
All of the Rams' running backs played a different role this week compared to last, and that could change again next week.
Darrell Henderson

split time on early downs last week, taking nearly all of the passing-down snaps in the process. He lost nearly all of the passing work this week but played a higher percentage of early-down snaps.

Malcolm Brown

played a few snaps on early downs and was the short-yardage back a week ago. He took nearly all of the receiving snaps this week.

Ronnie Rivers

was the backup on early downs last week. He was active but didn't play on offense.

Cam Akers

returned to the Rams after the team failed to trade him. He was the backup on early downs and played in short-yardage situations.

Kyren Williams

returned to practice over a week ago and will ideally be ready to join the active roster before the Rams' next game. He could realistically take time from any of the three backs.

It's worth having Henderson, Akers and Williams on fantasy rosters, but none of them should be in your starting lineup. One of them could gain and keep the early-down role, which could make them a fantasy starter.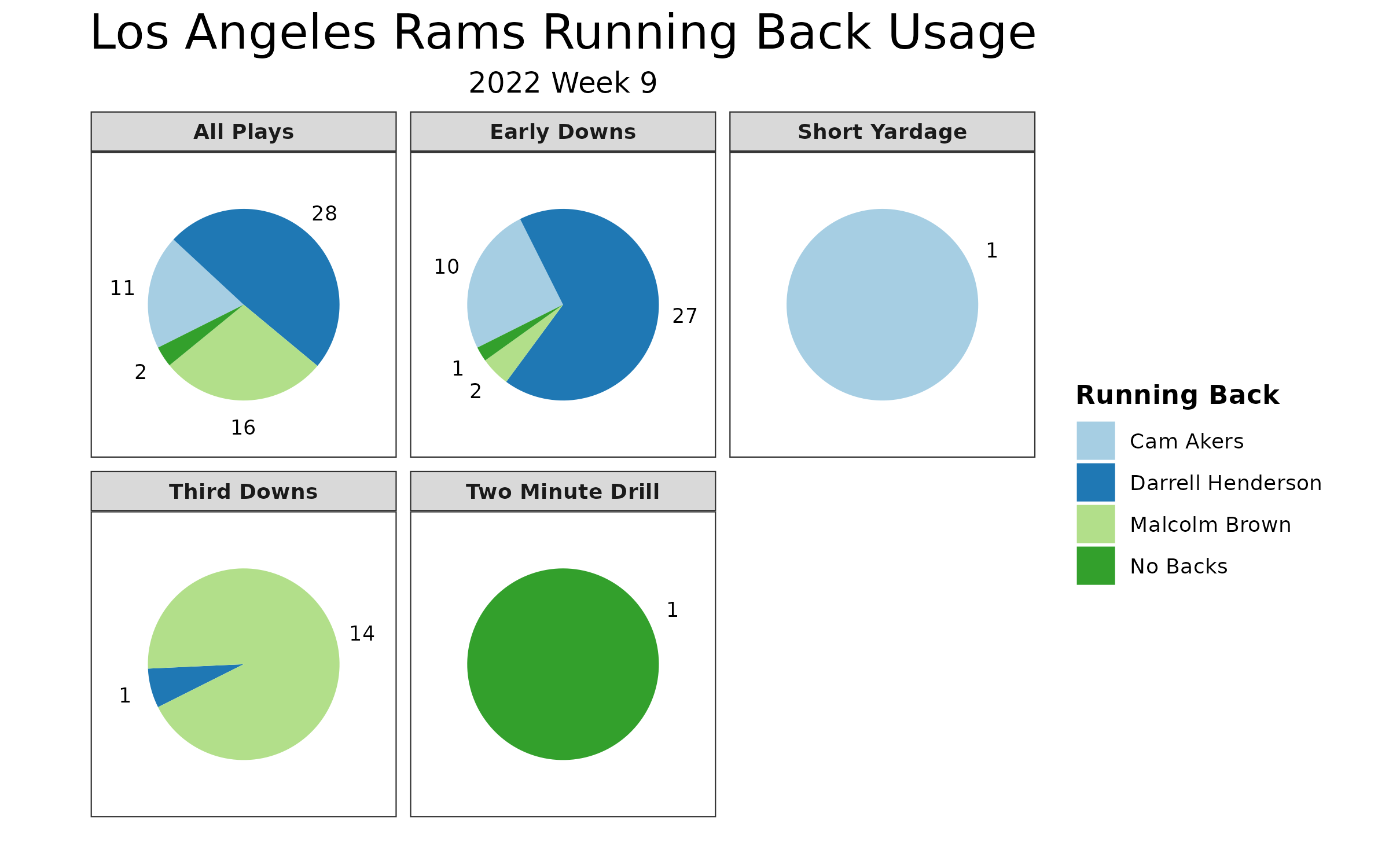 ---
Conner has been dealing with a rib injury that has kept him out since Week 5. He returned to the Cardinals lineup against the Seahawks and took hold of the same role he had in the offense before the injury.
He ran the ball only seven times for 45 yards, largely because the team was often playing from behind.

Conner also caught five passes for 19 yards.

He played a higher percentage of snaps than he played earlier in the season. This was likely due to

Eno Benjamin

's recent ineffective play.

Arizona has a difficult schedule for running backs over the next month but has the

sixth-easiest schedule

for backs from Weeks 15-17.

He is a buy-low candidate after his high usage but low numbers.