The 2022 NFL Draft is just a month away. With the long pre-draft process — including the postseason All-Star bowls, the NFL Scouting Combine and college pro days — coming to a close, big boards are in the process of being finalized. As draft day nears, it's time to unveil my prospect rankings at every position in the 2022 NFL Draft class.
Click here for more PFF tools:
Draft Guide & Big Board | Mock Draft Simulator
Dynasty Rankings & Projections | Free Agent Rankings | 2022 QB Annual
Player Grades
---
Note that the top five positional prospect rankings listed below are not what is represented on the main PFF Big Board crafted by PFF lead draft analyst Mike Renner. This differs in some cases and is my current perspective on the draft class.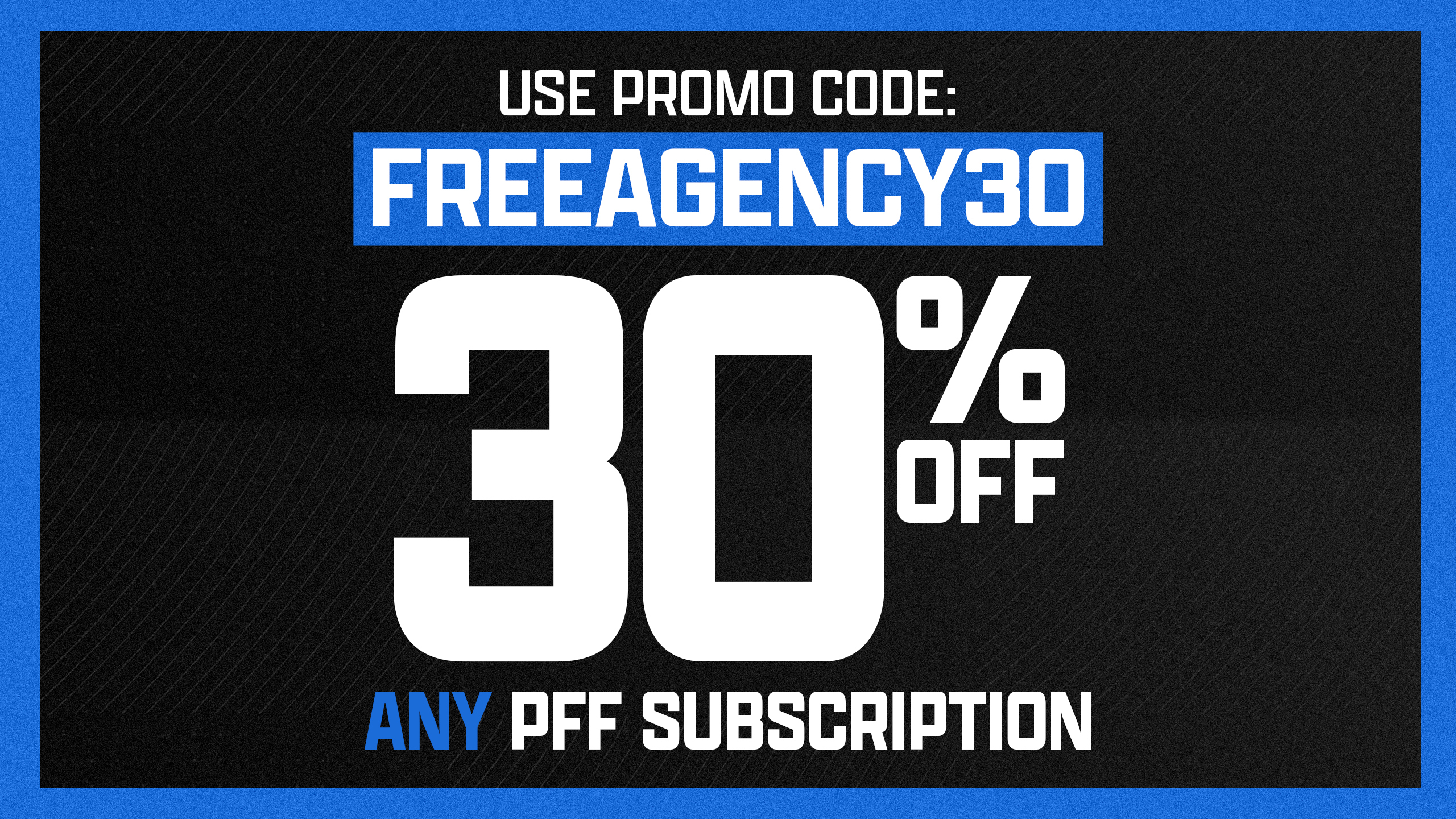 QUARTERBACK
There's a significant difference in opinion on the 2021 quarterback class, both in the media and in the league. None of the passing prospects are slam dunk top picks like Trevor Lawrence in 2021 and Joe Burrow in 2020, and all have red flags on their scouting reports. That said,  two prospects stand out above all, in my opinion: Ridder and Willis.
With Ridder, it's the fact that he's the most NFL-ready quarterback in the class. He displayed high-level processing and executed the Bearcats' pure passing concepts flawlessly this past season. The 6-foot-3, 211-pound quarterback showed an ability to get through his progressions and find the right receiver. He rarely made a bad decision, as evidenced by his FBS-leading nine games with zero turnover-worthy plays in 2021.
Most will say Ridder's accuracy is an issue, but it's not nearly as bad as it's made out to be. This past season, he ranked third among the seven top quarterback prospects in accurate pass percentage on throws beyond the line of scrimmage. He's not perfect, but his accuracy is not a liability. Ridder can deliver accurate and anticipatory throws. He's risen up NFL boards into the first-round conversation after lighting up the Senior Bowl and combine, and he's my top prospect at the position.
Desmond Ridder's Greatest Hits

2021 season, Senior Bowl & Pro Day pic.twitter.com/MuNvhVl4Fd

— Anthony Treash (@PFF_Anthony) March 24, 2022
Willis' ceiling separates him from the pack. Everyone knows he's an ultra-athletic quarterback who possesses a massive arm. He simply can do things that others in the class cannot because of his tools. Willis' traits helped him to an FBS-leading 94.5 rushing grade and 11% big-time throw rate this past season. At the same time, his accuracy, week-to-week decision-making and pocket presence are all major concerns. There's likely to be a massive learning curve going from Liberty to the NFL, making him a multi-year developmental prospect, but there's no denying his long-term potential.
RUNNING BACK
This may be a surprise to some, but Pierce is my vote for RB1. Rushing, receiving, pass-protection — he can do it all at a high level. Pierce may not have been a workhorse back in 2021, but he made the most of his touches. He earned an FBS-leading 93.5 rushing grade while ranking in the top 10 at the position in receiving grade (83.7). Pierce then went to the Senior Bowl and showcased his pass-protection chops: No running back turned in a higher pass-blocking grade in one-on-ones than him. The 5-foot-10, 218-pounder plays with brute force and possesses a game that will translate to the NFL. 
WIDE RECEIVER
Watson has been one of the biggest risers in the past few months. The 6-foot-4, 208-pound wideout earned an 89.5 receiving grade while generating an astounding 4.33 yards per route run playing in a run-heavy Bison offense last year. He followed that up with one of the best Senior Bowl showings at the position, finishing in the top three in PFF grade during one-on-ones. Watson caught the attention of coaches, scouts and executives at the event and generated even more hype with an elite combine performance.
Watson at 2022 NFL Scouting Combine (among all WR prospects historically) 
| | |
| --- | --- |
| Height | 6'4" (97th percentile) |
| Weight | 208 (65th percentile) |
| Arm | 32.5" (69th percentile) |
| 40-Yard | 4.36 (92nd percentile) |
| 10-Yard | 1.46 (99th percentile) |
| Vertical | 39" (84th percentile) |
| Broad | 11'4" (99th percentile) |
Those testing times and measurements at his size are unbelievable. Watson's all-around athleticism paired with his size, ability to get off press and continued ball skills improvement should have NFL teams excited about his potential. He can be a true X and also used in creative ways, like the San Francisco 49ers do with Deebo Samuel.
NDSU WR prospect Christian Watson (6'4", 208) has some serious juice for his size

Round 1 talent, imo. pic.twitter.com/QUYjbgjrnE

— Anthony Treash (@PFF_Anthony) March 28, 2022
TIGHT END
Likely isn't ranked nearly as high on some boards because of his size. He's considered a move tight end who isn't going to hold his own when inline blocking at 6-foot-4 and 241 pounds. At the same time, though, Likely's receiving ability is too good to ignore. He produced a top-three receiving grade among tight ends nationally in each of the past two seasons at Coastal Carolina. That success translated to the Senior Bowl, as Likely earned a 91.1 receiving grade during the practices. He's a polished route-runner with impressive speed and great ball skills for the position.
OFFENSIVE TACKLE
Cross, Neal and Ekwonu are all firmly in OT1 territory. Any of the three could be the first tackle off the board, but Cross takes the cake in my opinion. The main reason is how well he projects as a pass protector. Cross took one of the biggest steps forward in 2021, raising his pass-blocking grade from 60.7 in 2020 to 84.9. He went from allowing 44 pressures to just 16 last season despite playing 145 more pass-block snaps.
The 2019 five-star recruit showed advanced technique in his breakout campaign and has the ideal length and overall athleticism of a left tackle. While Mike Leach's Air Raid offense doesn't feature the run game and didn't give us a full taste of Cross in an NFL-style run game, he did hold his own on his few opportunities (87.2 run-blocking grade in 2021).
---
Related content for you:
2022 NFL Mock Draft: Travon Walker heads to Giants, Malik Willis lands with Panthers
via Austin Gayle
---
INTERIOR OFFENSIVE LINE
This top three is no surprise. Linderbaum is one of the most promising center prospects in recent memory after his record-breaking 95.4 PFF grade in 2021, Johnson is a first-round lock after a dominant Senior Bowl showing and the NFL will covet Green's versatility and frame. Tom might be a surprise to some, but he shines in the PFF database and opened eyes at the NFL Scouting Combine.
Tom at NFL Scouting Combine (among iOL historically)
| | |
| --- | --- |
| Height | 6'4" (53rd percentile) |
| Weight | 304 (22nd percentile) |
| Arm | 33.25" (49th percentile) |
| 40-Yard | 4.94 (97th percentile) |
| 10-Yard | 1.70 (96th percentile) |
| Vertical | 33" (96th percentile) |
| Broad | 9'10" (99th percentile) |
| Pro Agility | 4.47 (94th percentile) |
| 3-Cone | 7.32 (97th percentile) |
Tom earned the highest pass-blocking grade (92.1) of any FBS tackle in 2021. His highest-graded outing of the season in pass protection came against Florida State, which featured several matchups against first-round edge prospect Jermaine Johnson II. The Wake Forest product has adept independent hand usage and advanced technique overall. While Tom did spend the last two seasons of his college career at left tackle, he projects best along the interior, where he played his first few years on campus.
EDGE DEFENDER
Deep is an understatement when it comes to describing the 2022 edge class. There are 11 edge defenders inside the top-50 prospects on the main PFF Big Board. The five listed above are, in my opinion, the best of the bunch.
Hutchinson, Thibodeaux and Karlaftis are in the "game-wreckers" tier by themselves. Those three consistently showed an ability to take over a game and were schemed around by opposing offenses as the season progressed. They ranked first, fourth and sixth, respectively, in pass-rush grade among Power Five edge defenders last season despite each having games where they couldn't make a major impact because of the opposition scheming away from them. 
Johnson and Mafe were both high-level producers in college who have helped themselves significantly in the pre-draft process. They produced elite pass-rush grades above 90.0 at the Senior Bowl, and Johnson was so dominant the first two practices that he didn't even suit up for the third day or the game. Mafe, meanwhile, was the highest-graded defender in the exhibition and won MVP for his team. And then, they proceeded to test out at the top of their position at the NFL Scouting Combine.
Minnesota edge Boye Mafe at the Senior Bowl (per @PFF):

Practice: 92.6 pass-rush grade, 45% win rate
Game: 94.5 pass-rush grade, 41% win rate

now that's seizing the opportunity ???????????? pic.twitter.com/ySsTjW49rp

— Anthony Treash (@PFF_Anthony) February 8, 2022
INTERIOR DEFENSIVE LINE
The interior defensive line class isn't nearly as strong as the edge defender group in the 2022 NFL Draft. Wyatt and Davis are the most likely to go in Round 1, but don't sleep on Jones becoming a highly impactful player in the NFL.
His brute strength helped him become an unblockable force in all three of his seasons at UConn and the Senior Bowl. Jones is coming off a top-five overall grade among interior defensive linemen (87.6). During Senior Bowl practice, the 6-foot-4, 326-pound interior defender earned a 92.2 pass-rush grade while leading the position in pass-rush win rate (42.5%). He was the most dominant pass-rusher in attendance.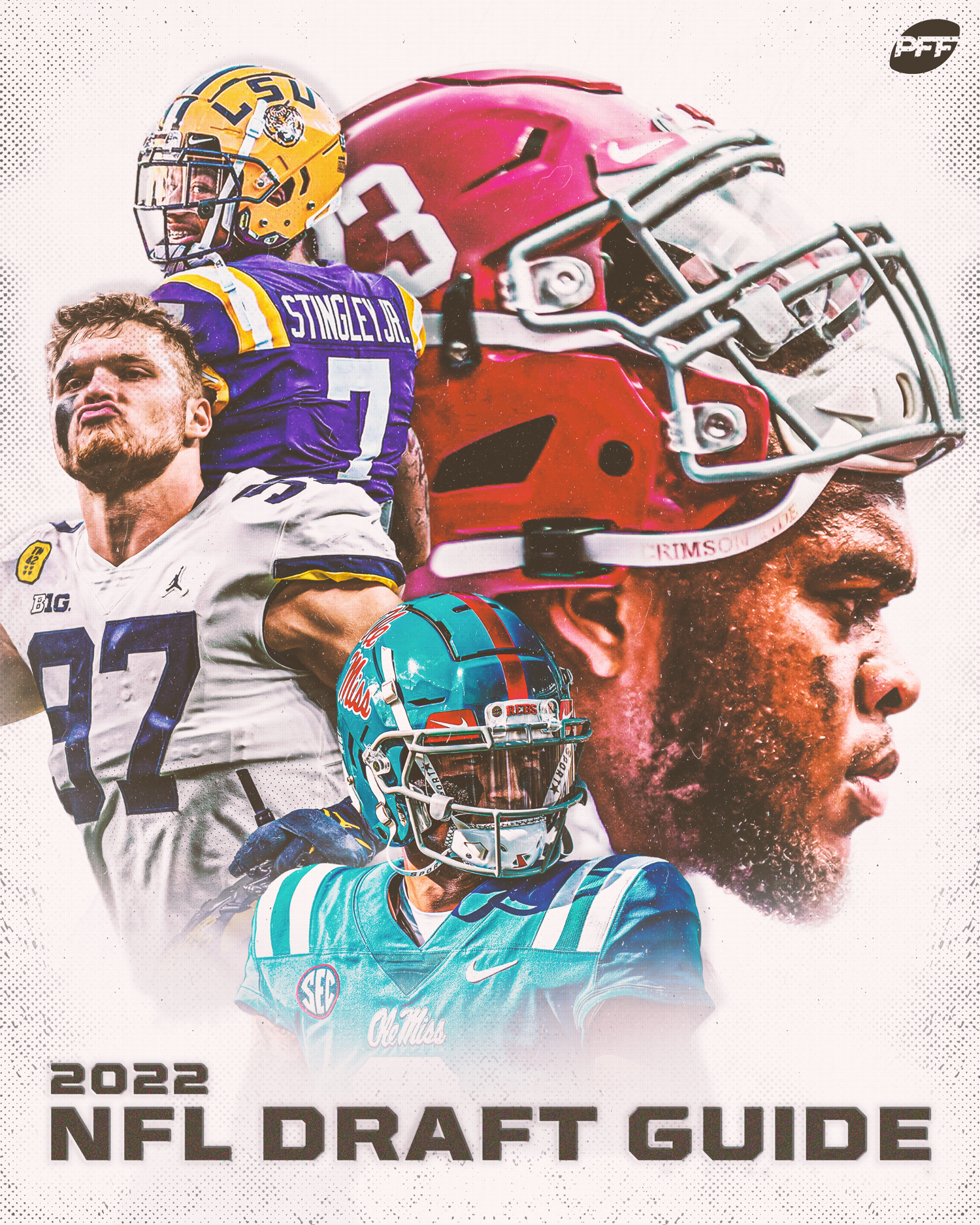 OFF-BALL LINEBACKER
Off-ball linebacker joins edge defender as one of the strongest positions of the 2022 cycle. NFL teams will be able to find highly impactful players outside of Round 1. Dean has been rumored to be sliding down boards as of late, but I still view the former Bulldog as a top-10 talent overall in the class. 
timing with the motion, shoulder reduction when crossing, gets the feet pointed back at the QB and finishes for a sack

Nakobe Dean *chef's kiss*pic.twitter.com/sCA2XRthje

— Anthony Treash (@PFF_Anthony) March 25, 2022
Andersen is the sleeper among the five listed above. He earned an 86.3 PFF grade for Montana State in 2021 and led the FCS in defensive stops (67). What makes that even more impressive is that it was his first full season at the position after playing running back and quarterback. Andersen then proceeded to be the highest-graded off-ball linebacker during Senior Bowl practices and recorded a blazing 4.42-second 40-yard dash time and an eye-popping 10-foot-8 broad jump at the NFL Scouting Combine.
His athletic profile is apparent when on the field. Andersen has legit range and plays with physicality. He may face a learning curve going from the FCS to the NFL and while still learning aspects of the position in general, but he's a promising long-term prospect. 
CORNERBACK
The top three cornerbacks listed above are top-10 prospects overall in this class.
Stingley is nearing the end of his recovery process from Lisfranc surgery, causing him to miss all the on-field drills at the combine. Despite the medical clearance, teams have become concerned with Stingley's medical issues over the past couple of seasons. Between illness, a leg injury and the recent foot injury, Stingley played just 10 games in his final two years at LSU. Now, there's chatter he could slide close to Pick No. 20. If that's the case, one team is getting a major steal, as Stingley is a top-five talent in the 2022 NFL Draft. 
He is in the conversation for the best all-around athlete in this class. At "The Opening" event in high school, the 6-foot-1, 195-pound cornerback posted a 4.3-second 40-yard dash and a 42.0-inch vertical. His rare traits showed up consistently on the field. Back in 2019, Stingley produced the best true freshman season PFF College has ever seen, earning a 91.7 PFF grade while allowing a 38% catch rate combined with 21 interceptions plus pass breakups. 
yeaaaaah Derek Stingley Jr. should still be a top 5 pick pic.twitter.com/4rIDUoeKBz

— Anthony Treash (@PFF_Anthony) February 25, 2022
Gardner is looking like a top-10, or maybe even a top-five, pick in the 2022 NFL Draft, and understandably so. The 6-foot-3, 190-pounder produced what will forever be known as one of the best seasons — and careers — from a college defensive back, allowing 131 yards across 14 games and 482 coverage snaps in 2021. Impressively, he did that while playing mostly on an island in press-man coverage. Gardner closed out his three years without a touchdown allowed despite playing over 1,100 coverage snaps.
McDuffie earned an 80.0-plus PFF grade each as a true freshman, sophomore and junior. The Washington product allowed just 111 yards across 296 coverage snaps this year. He is a fantastic zone cover corner, and his awareness, athleticism, physicality and tackling ability make him an issue for any underneath passing offense.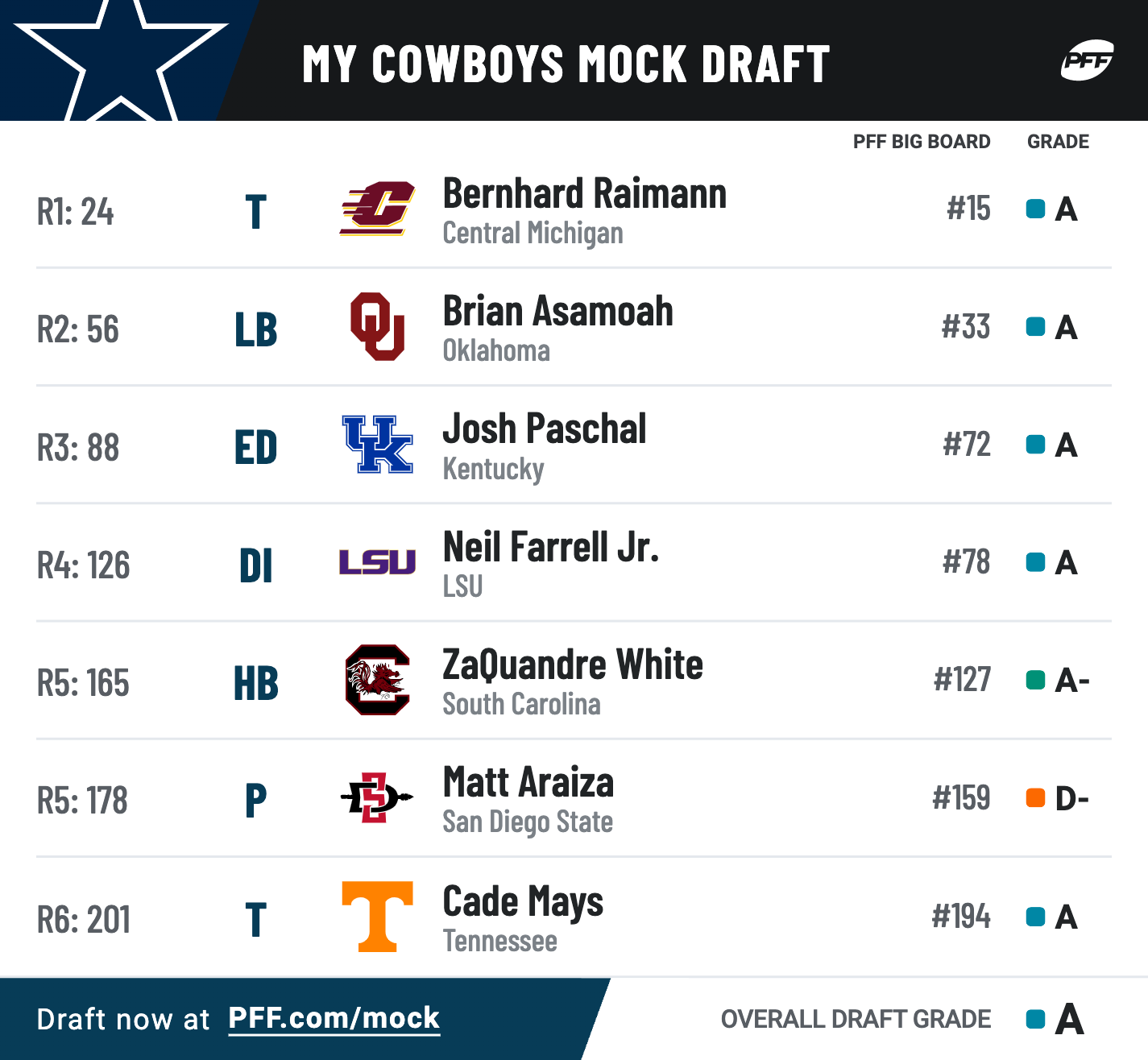 SAFETY
Hamilton deserves to be a top-five pick. Safety is often mislabeled as an "invaluable position" because of its pay structure, but that couldn't be further from the truth. It's more valuable than the front seven, according to PFF WAR. And Hamilton is one of the safest projections at the position in recent memory. One of the draft class' most explosive athletes, the 6-foot-4, 221-pound safety pairs his physical skill set with great eyes in coverage. He tallied 22 combined pass breakups and interceptions in his three-year college career, making him one of only five Power Five safeties to record more than 15 over that span.