The NFC South has produced some of the NFL's top teams over the past decade, from the 2015 Panthers to the 2016 Falcons to the 2017-2020 Saints to the 2020 Buccaneers, but some of those franchises have fallen on hard times recently.
The Falcons are looking to either rebuild or go on one last run with Matt Ryan at quarterback, while the Panthers are certainly in rebuild mode. The Saints are starting fresh after almost two decades of Drew Brees but still have a veteran cast of elite characters. The Buccaneers are Super Bowl champs and barely have any holes to fill.
Because we are trying to create the perfect environment with our picks for each team, we refresh the mock draft simulator after each team has picked. You can try your hand at building the perfect roster through the 2021 NFL Draft, too.
View PFF's 2021 NFL Draft position rankings:
QB | RB | WR | TE | T | iOL | DI | EDGE | LB | CB | S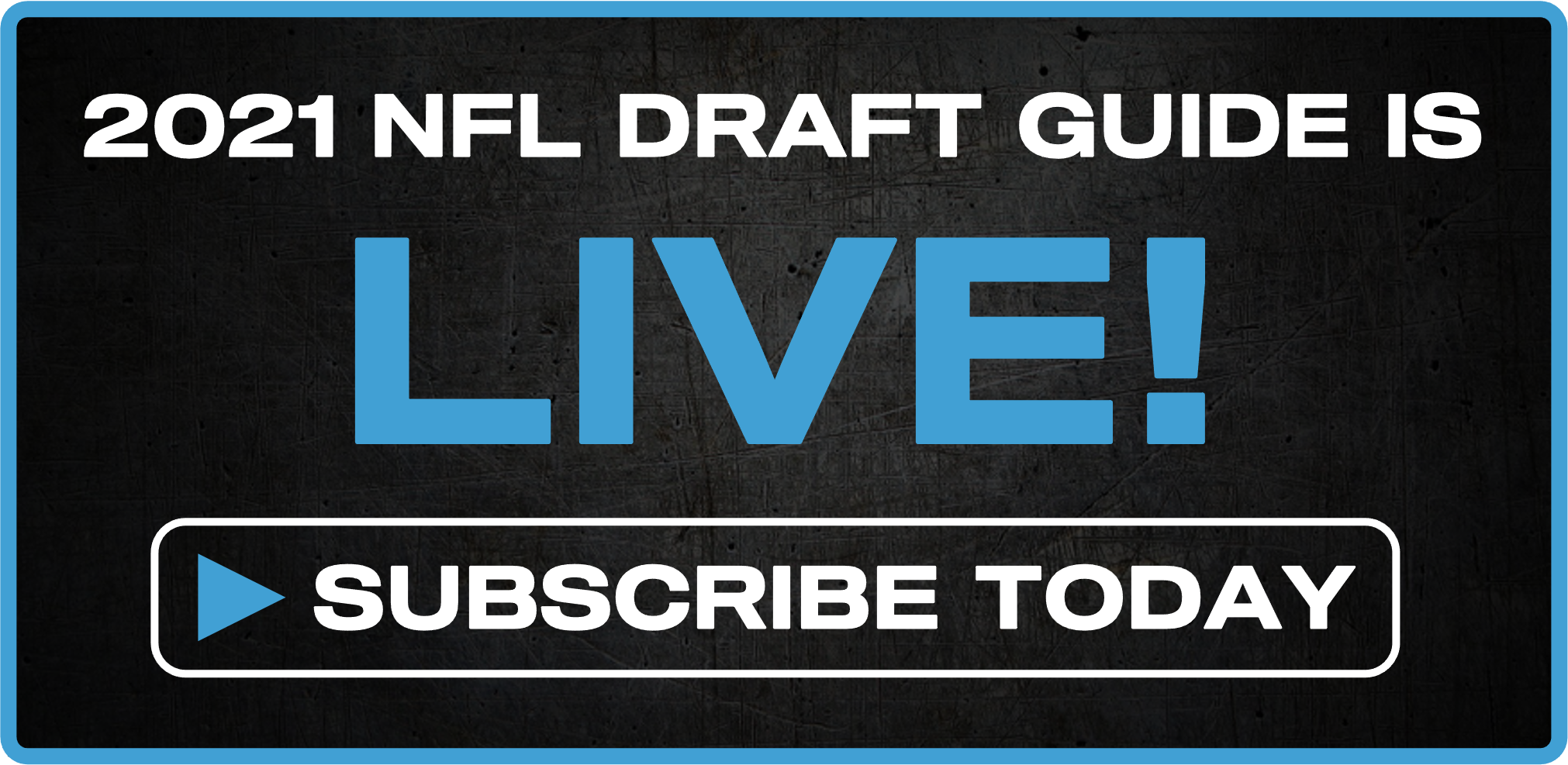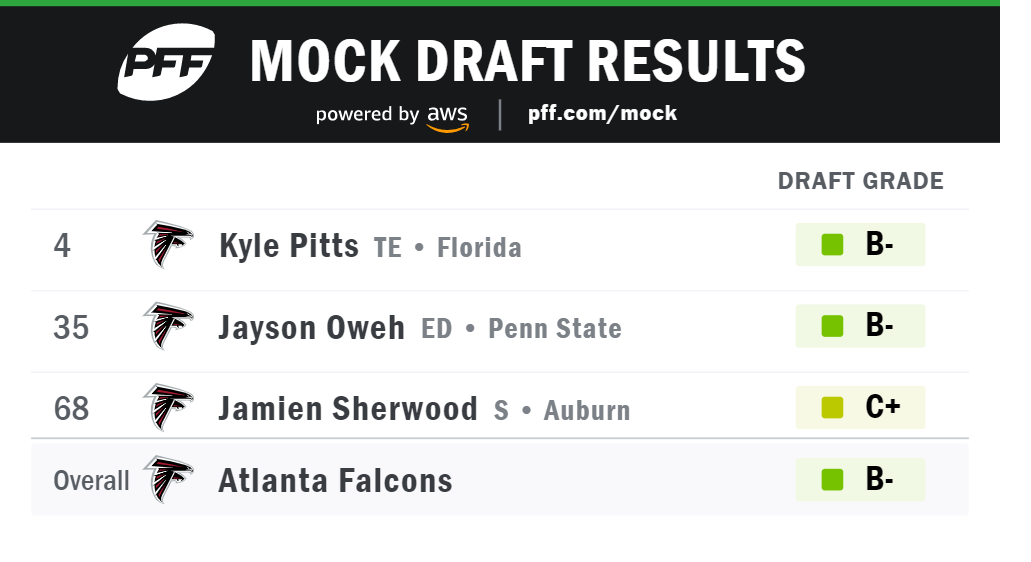 The Falcons should have their pick of the top non-quarterback in the draft after the Jaguars, Jets and 49ers all presumably take quarterbacks. There is some thought that the Falcons could take a quarterback here, too, with Matt Ryan's dead cap making him moveable as of next offseason. I don't see that happening; I think the Falcons want to give Ryan all the tools necessary to make one, if not a few, more runs at the Lombardi Trophy.
Atlanta's passing offense was secretly mediocre the past two seasons, finishing 12th and 14th in 2019 and 2020, respectively, in expected points added per play. That's quite the fall off from where they were the previous three years. One player is not going to fix their defense, but Kyle Pitts has the chance to fix their offense in a hurry.
Pitts is arguably the best all-around receiving option in the draft, regardless of his tight end designation, as Sam Monson writes: "Pitts is different. He is a tweener without the negatives. He is the best pure tight end in this class, but if he had never played inline at all and was coming into the draft as a 6-foot-5, 245-pound "X receiver," he would be the best wide receiver available in a historically great class. He would be seen as Calvin Johnson 2.0."
He's basically an "X receiver" playing tight end, so then the question becomes: Can he block? PFF's Ben Linsey provides us with the answer, writing that "the lowest PFF pass-blocking grade of his three seasons at Florida was a still respectable 69.6 overall, and he allowed a total of just seven pressures across 105 pass-blocking snaps. His work as a run-blocker was a little more hit and miss, but he enters the NFL off the back of his best season in that regard, and his tape shows a player who is willing and also capable of some high-level blocks. There is nothing there that makes you think he is simply not able to hold his own in that area of the game. He is certainly the equal of most tight ends entering the league in 2021."
There you have it. Take Kyle Pitts, line him up wherever you please and prosper.
At Pick 35, we can take a defensive player at an absolute position of need. The Falcons can't get generate quarterback pressure to save their lives, so they take the high-upside Jayson Oweh to save them. Oweh might be a bit of a reach in the first round, but he fits a perfect need in the early second round.
He's such a dynamite run-stopping defender, using elite quickness on his way to a whopping 21 run stops and an 89.8 run-defense grade in 2020. That grade was good enough for third-best in the country among edge defenders with at least 100 run-defense snaps. He is so good at using his speed to get inside of tackles and make plays in the backfield.
He's just not quite the developed pass rusher you might want at this pick. That doesn't mean he won't become one. He ran a 4.39-second 40-yard dash at Penn State's Pro Day, and his athleticism is almost off the charts:
Height: 6'5″ (78th percentile)
Weight: 257 (46th)
Arm: 34 1/2 (88th)
Vertical: 40 (96th)
Broad: 134 (100th)
Bench: 21 reps (39th)
40-yard: 4.39 (100th)
Short shuttle: 4.15 (95th)
3-cone: 6.84 (96th)
Take the athlete and hope he can become a football player later.
With a player like Sherwood, you are hoping his body type and athleticism can help him carve out a role near the box. He'd ideally be a Sam/Nickel linebacker who could stay on the field against both 11 personnel sets and base sets and maybe even get some true inside linebacker snaps.
The 2020 season was really his only campaign as a full-time player, so teams would like to see more snaps on tape, but he showed flashes of the modern safety/linebacker hybrid. That's why even with limited starts, he's projected to go as high as he is. He also brings a crushing mentality to the position, as he stated here on the 2 for 1 Drafts Podcast:
Auburn safety Jamien Sherwood has a different mentality ???? pic.twitter.com/B2kHJvamqV

— PFF Draft (@PFF_College) March 2, 2021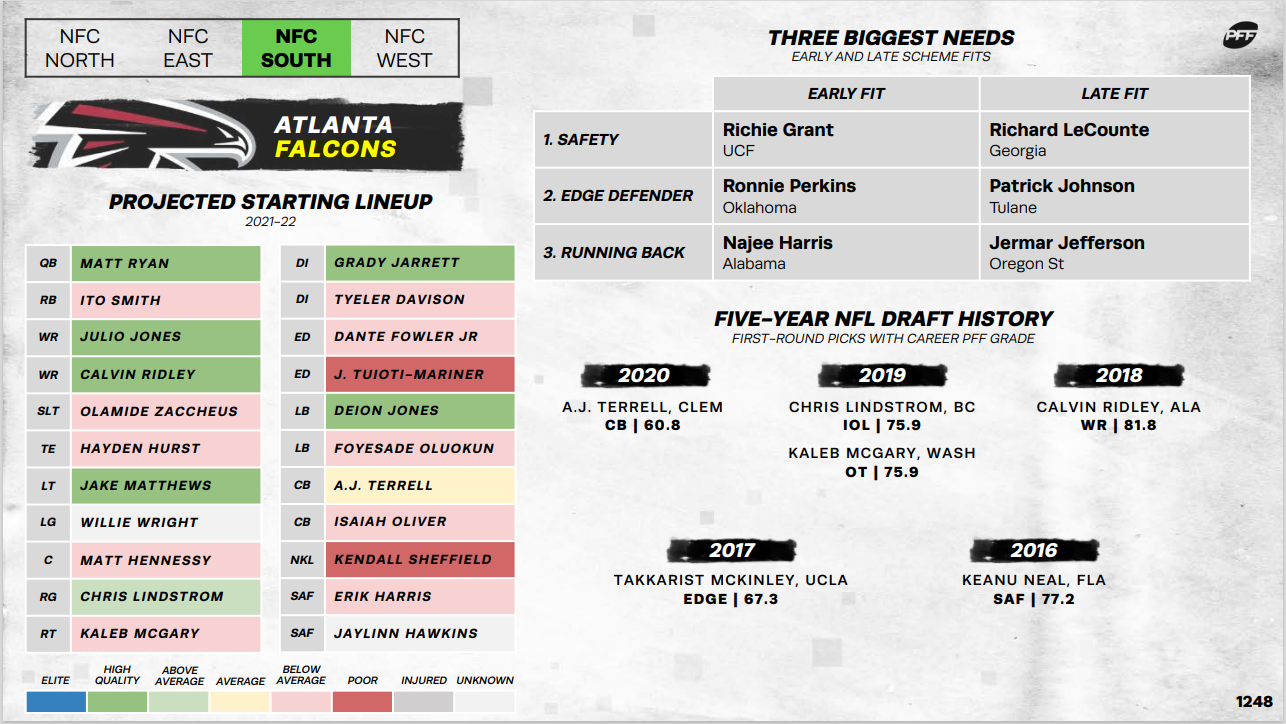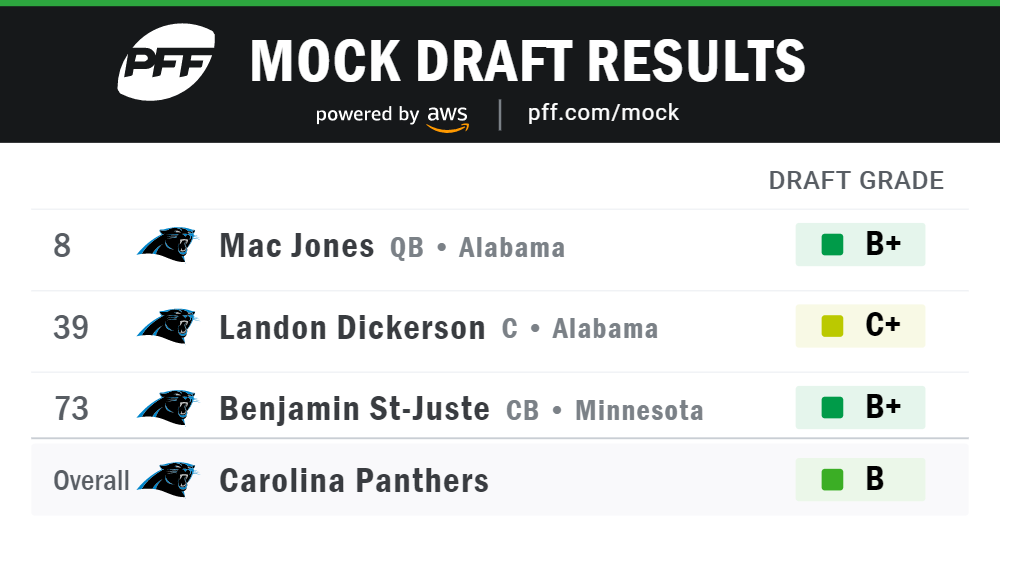 The Panthers must know what they have in Teddy Bridgewater is not enough. They banked on his 5-0 record as a starter in New Orleans in 2019 being representative of his skill, but as it turns out, he was mostly carried by the rest of the Saints that season.
The Panthers could certainly skip a quarterback and be bad enough to pick in the top 10 again — presumably another quarterback — but I doubt that's the plan. Another issue is who is left on the board when once Pick 8 rolls around. There should be three quarterbacks off the board by this time, so Carolina is left with either Jones or Trey Lance. If Bridgewater's play last season spooked them, then they should take Trey Lance, who is almost the complete opposite player. If they feel like they might want to compete right away, Mac Jones is probably a better fit.
I wrote about his game compared to his Alabama cohort Tua Tagavoiloa here.
"Tua's errors were mostly him not seeing zone defenders. In fact, of his 14 turnover-worthy throws in 2018 and 2019, every single one was of this variety. This could be either a deep safety making a play baiting him into a throw or him not seeing an underneath linebacker. You would call these read errors — not seeing the field or understanding the coverage and sometimes having bad timing. Tua has made some of those same mistakes in his little time playing for the Dolphins, as well, so it's still a slight concern. He's also added accuracy mistakes, which doesn't make for a good combo.
For Jones, we see much less of this. I charted only three of his 13 turnover-worthy throws as being in this bucket. Jones' problem was in the accuracy department. He made smart reads but then was undone by his own ball placement. He either threw over his intended receiver to a safety who had no business being in the play or just threw behind a receiver in tight man coverage for the cornerback to get his hands on the ball."
You can make the case that Jones is as good of a prospect as Tua was, and the latter went in the top five last season.
The Panthers need help along the interior of their offensive line, and Dickerson can play a few different positions: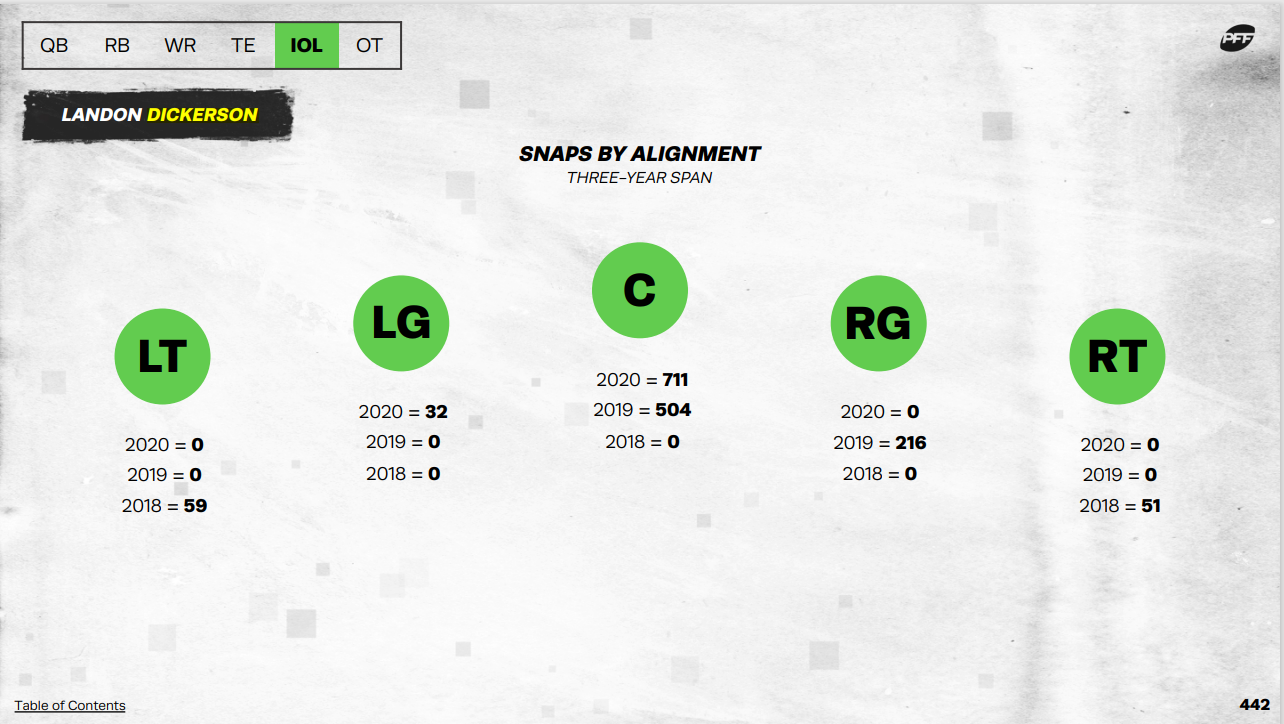 He has no problem filling in anywhere on the line. Fans will love Dickerson the moment he walks on the field for the Panthers — or whichever team takes him. His best trait is how consistent he is, as noted by PFF's Mike Renner: "He's also remarkably consistent for a man who loves to go for the big hit. He earned a 91.3 overall grade this past season to lead all centers and tied for the Power Five lead with 14 big-time blocks. You don't have to watch his tape long to find those pancakes, and he'd even get multiple on a single play."
The Panthers were close to the bottom of the league in pass defense efficiency, finishing 24th in EPA per pass last season. They could use all the help they can get, especially in the secondary where they will play with six defensive backs most of the time.
Carolina played dime personnel at the second-highest rate in the NFL last season. St-Juste gives them someone who is a little different from what they have right now — a long-armed corner with speed and height, the type of player the NFL craves right now. It would also allow the Panthers to press a little more on the outside, something they didn't do much last season whether because of scheme or talent. St-Juste had the fourth-highest forced incompletion rate, 19.1%, among Big Ten cornerbacks last year with at least 100 coverage snaps.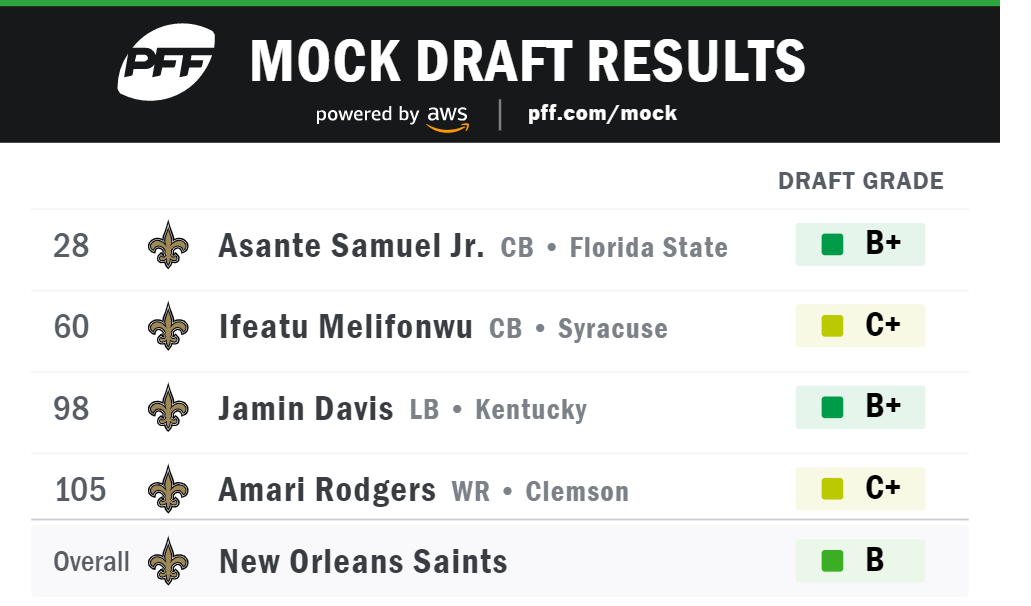 The Saints will be ecstatic if Samuel Jr. falls to them at Pick 28. He fits what they want to do schematically with their cornerbacks. He can read the game at a high level and jump routes but also has the requisite man coverage skills in a predominantly single-high league. He played mostly outside in 2020 but saw 267 snaps inside the two years prior, so there's some versatility to his game.
Samuel is not the quickest or faster player, and that's probably why you can find him available late in the first round, but his brain might be the quickest of the whole group. He loves to bait quarterbacks into throwing on him before breaking up the pass. He forced 22 incompletions over the past two seasons, the second-most in the ACC among cornerbacks.
PFF lead draft analyst Mike Renner ranked him as the fifth-best cornerback in the class, saying, "He undoubtedly got his instincts from his old man as well, as he produced three picks and five pass breakups in eight games this season. What he didn't get was the elder's tackling aversion — the Florida State prospect will come up and lay a lick if asked to."
The Saints double-dip with another cornerback here. Melifonwu is huge at 6-foot-3 and 213 pounds and would provide New Orleans a very different type of cornerback than it's used to. Unfortunately for Melifonwu, his size and athleticism haven't translated into much production for the Syracuse product.
PFF's Ben Linsey believes he could be one of those reaches all the way into the first round because even with the lack of production, teams are going to love his build.
"Melifonwu doesn't play with the physicality his size would suggest and allowed a career-worst 66.0% completion rate and 94.9 passer rating on throws into his coverage in 2020. Those aren't the same kind of lockdown coverage numbers that several other cornerbacks in this class boast.
His combination of size and movement skills is rare, though. NFL teams don't often reach for below-average athletes. They reach for the physical outliers who have high ceilings if they develop properly. Melifonwu fits that bill."
After failing to find the right player to position next to Demario Davis at linebacker, the Saints try to locate one in the draft, doing so with Jamin Davis falling to them at Pick 98 here. The former Kentucky Wildcat is what teams want their linebackers to look like, and with a lack of defensive snaps on his resume, he is certain to go in the top three rounds of the draft.
Davis' issue, as PFF's Anthony Treash notes, is inexperience in coverage.
"His role in the Wildcats' defense wasn't nearly as difficult as some of the other top linebackers in this class, as he played a lot of spot-drop zone and virtually no man coverage. Davis did make a few plays on the ball, but that's not fully indicative of the hill he has to climb to become a reliable player in coverage at the NFL level."
If the Saints pick him, they can play Demario Davis at Will and insulate Jamin Davis at Mike until they feel comfortable with the latter covering running backs and tight ends in man coverage.
The Saints are always looking for extra offensive weapons, and they get one in Amari Rodgers, who comps best to current Saint Ty Montgomery, according to PFF's Kevin Cole: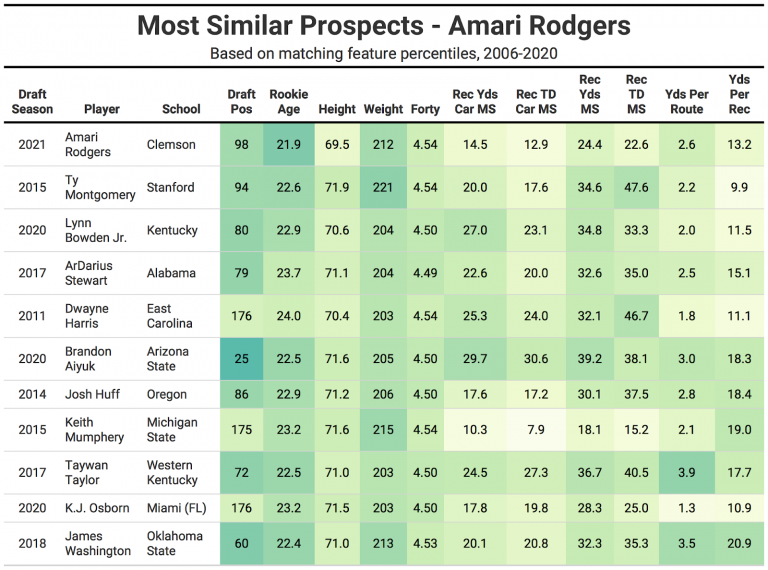 "Converted wide receiver Ty Montgomery is the top comparable player for Rodgers, followed by WR/RB hybrid Lynn Bowden Jr. Rodgers' comps also include pure wide receivers, but as you'll see later, many were used dissimilarly as deep threats."
The Saints will still need to use some draft capital on filling the void left by Emmanuel Sanders, but Rodgers gives head coach Sean Payton another weapon to toy around with.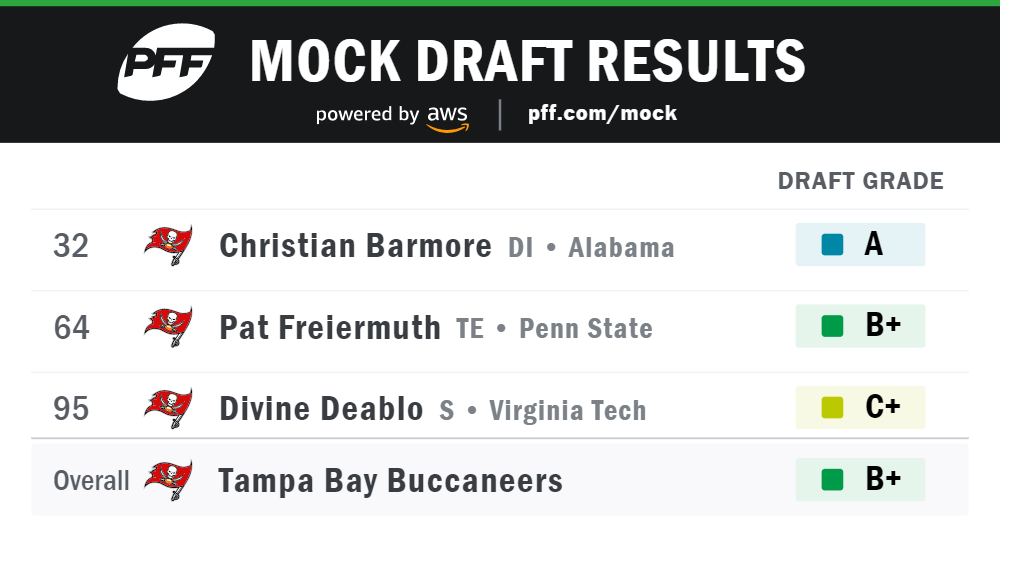 Sometimes you get a little lucky in PFF's Mock Draft Simulator. Barmore falls all the way to Pick 32 in this simulation, and the Bucs snap him up there. Tampa Bay has very few needs, but Ndamukong Suh is aging, so the team goes after a 3-technique in Barmore who can slowly develop with the veteran Suh in front of him.
The Bucs also play with two 3-techniques in their "bear" package, so there is room for him to get snaps right away. Barmore's college production was off the charts. He was the highest-graded interior pass rusher in the FBS over the past two seasons, at 92.2, with 73 total pressures and a 19.7% pass-rush win rate.
This is a similar idea to the Buccaneers taking Barmore with their first-round pick. Tampa Bay has an aging player at tight end and another coming off a major knee injury. Freiermuth could easily come in and be the Day 1 starter with the uncertainty surrounding the position for Tampa Bay.
Pat Freiermuth didn't drop a single pass in the redzone across three seasons at Penn State (30 targets) pic.twitter.com/YEbdG2SqZx

— PFF Draft (@PFF_College) April 13, 2021
He is more of the classic tight end, lining up inline but still being heavily productive. He's a solid run blocker, and while he won't be the guy you split out and find advantages on the outside or in isolated situations, he can still make plays over the middle of the field — and he is among the best in this class at that, if not the best.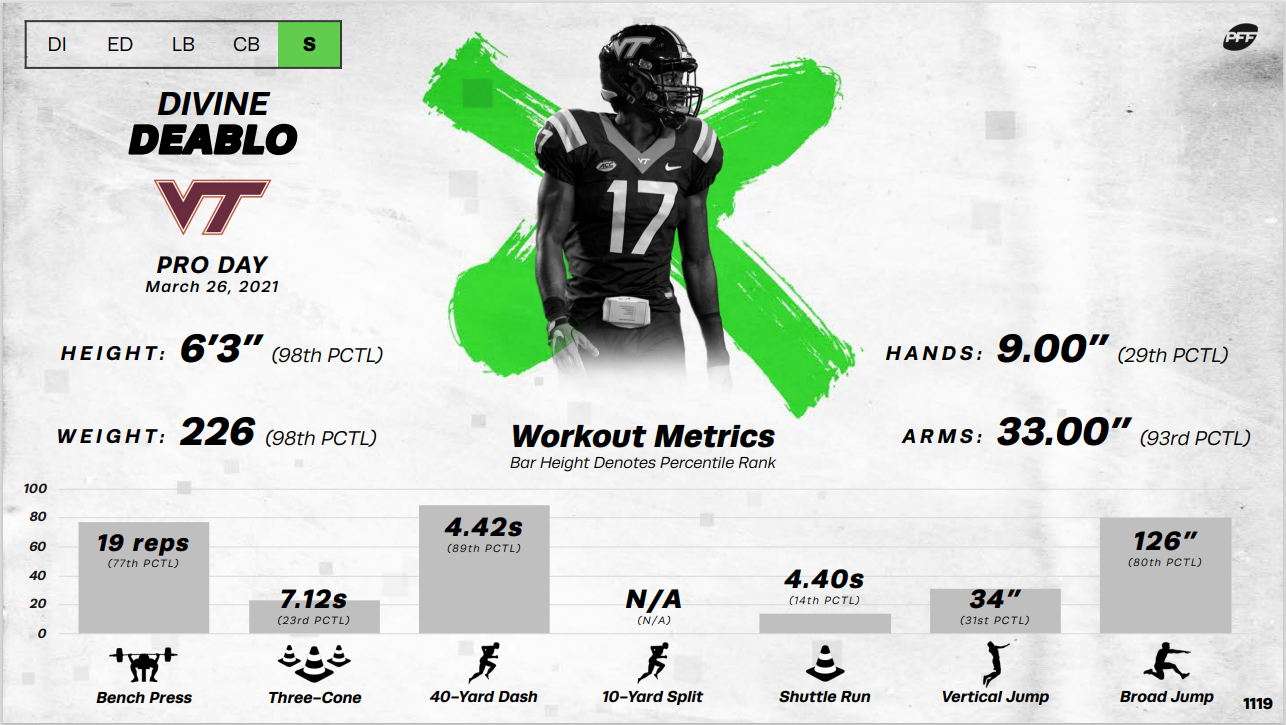 Deablo is a big safety who can fit against the run immediately in the NFL. He's not the perfect coverage guy yet, but the team that drafts him will be hoping those abilities develop with reps and practice. Of course, Deablo could put on some weight and end up as a true box player and a dominant run stopper.
His size actually projects him to be one of the top safeties in terms of expected defensive fantasy value. PFF's Jon Macri ranked him as the fifth-highest projected IDP safety:
"His size and significant role allowed him to improve his tackling ability, which was one of his weak points when he first took over as a starter in 2018. Deablo brought his missed tackle rate down from 21% in 2018 to 11.3% in 2020. There's still work to be done for him in that area, though.
Deablo also brings an ability to cover well no matter where he lines up on the field, which is something that can translate to a clearer path to snaps in the NFL. From an IDP perspective, he has a ton of box safety experience from his time in college, and he brings with him a versatility that NFL teams can get creative with."