One of the biggest criticisms we get with our draft coverage is that it is unrealistic: "'X' team would never take 'Y' player there because that's too high!" There is a public perception that surrounds where an individual player should be drafted, and taking him anywhere above that realm is blasphemous — even though nearly every single year half of the first round fizzles out while the Pro Bowl is stacked with Day 2 picks. At PFF though, we stick to our guns. These are the players who haven't received a ton of first-round hype that we'd have no problem with drafting within the first 32 picks.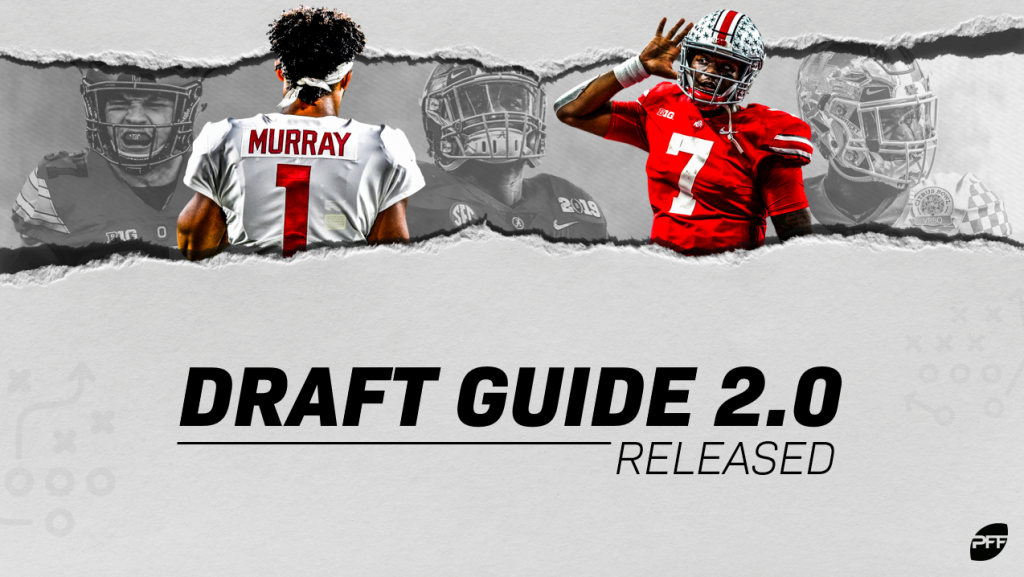 WR J.J. Arcega-Whiteside, Stanford
If you only watch Arcega-Whiteside's highlights, you'd get the impression that he struggles to separate. In Stanford's offense though, that was almost by design. They only threw go routes as back-shoulder fades, and they had him literally post up on defenders in the end zone — which resulted in seven touchdowns. The wideout's route tree simply wasn't conducive to separating. He is elite in contested situations (he led the draft class in each of the past two seasons) and he is money where it matters most. No receiver in college football last year had a higher receiving grade than Arcega-Whiteside's 90.6 on third and fourth downs.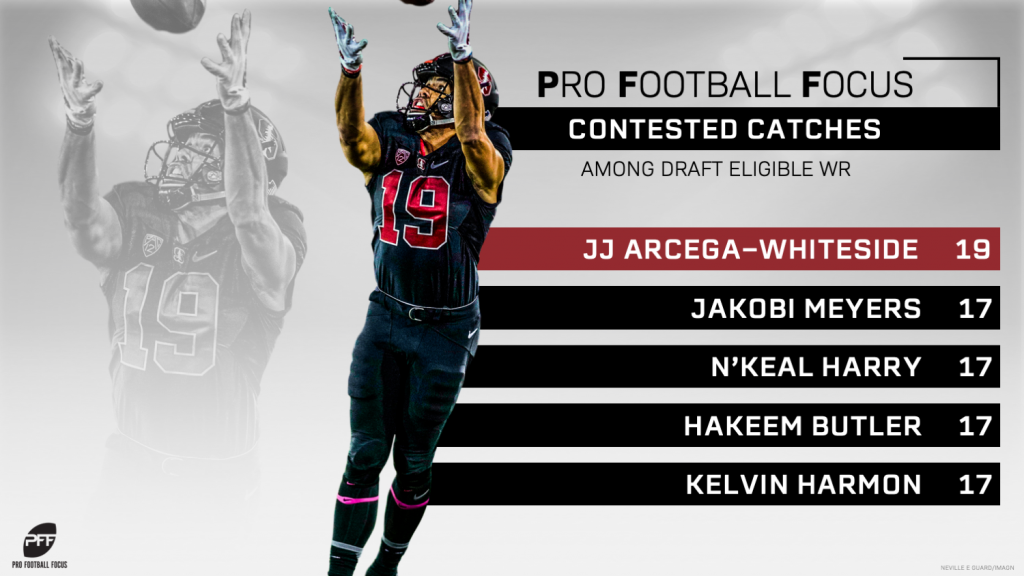 Edge Chase Winovich, Michigan
Outside of his age (already 24), I'm not sure what there is to dislike about Winovich as a prospect. His 92.3 overall grade over the past two seasons is the fourth-highest of any edge defender in their last two college seasons that we've ever seen. At the combine, he blazed an absurd 10-time (1.59) and three-cone (6.94) for a 256-pound edge. Elite production combined with elite athleticism is usually a good recipe for success on the edge.
WR Andy Isabella, Massachusetts
When evaluators see Isabella's stature, they're usually quick to pigeonhole him in the slot. The UMass receiver gets the 'undersized' label, but that's not the case. He's short, he's not small; 188 pounds is rock solid for a 5-foot-9 receiver. He'll be able to play through contact far better than a 6-foot-4, 200-pound receiver because Isabella is far more dense at his height and weight. That showed on tape too. Even on reps where he got jammed cleanly, Isabella could still stack corners and separate down the field. With 4.31 speed, once Isabella gets a step, the defender is not making it back up.
CB David Long, Michigan
Long's issues are obvious. He's undersized at a shade below 5-foot-11 and pretty much exclusively played man coverage at Michigan. Projecting forward, bigger receivers in the NFL and more diverse schemes could be an issue. However 'could' is the keyword. In the role Long was asked to execute at Michigan, he had almost no chinks in his armor and he allowed nine catches the entire season. Long is a lock-down man coverage corner who simply doesn't have the expected lock-down man size.
S Darnell Savage, Maryland
Savage offers as many tools to work with as any safety in this draft class, and the encouraging thing about him is that we've already seen it translate to production for multiple seasons at Maryland. 
C Elgton Jenkins, Mississippi State
The one trait I value above all others along the offensive line is balance. The elite linemen in the NFL almost never finish plays flat on their face (unless they brought the defender with them). It rears its head in a number of different aspects that go into offensive line play (pass sets, location in space, etc.). For my money, Jenkins has the best balance of any interior lineman in the draft class — and it showed up in the data a number of different ways. In pass protection, he allowed all of five pressures this past season and only 19 over the last three years. It also showed up with Jenkins getting flagged once all last season, and on that play (a hold against Louisiana Tech), we didn't even downgrade him as we saw it as a clean pancake. Combine that with ideal size for either center or guard and you've got a first-round grade.  
T Greg Little, Ole Miss
It's almost hard to believe that a 21-year-old who started three years at left tackle in the SEC and allowed only 46 pressures over that span is being included in an article about underrated players. Especially one who figures to stay at tackle at 6-foot-5 with 35-plus inch arms with the requisite athleticism. The obvious reason is his work, or lack thereof, in the run game where he earned a 63.2 grade a season ago. No matter, give me Little's smooth pass sets and advanced hand usage any day. To add some icing on the cake, Little has also been one of the most disciplined linemen in the class with six career penalties and only one last season.
DI Jerry Tillery, Notre Dame
Tillery isn't quite in the same boat as the rest of the guys on the list because he's landing in the first round of most mocks. I included him though because we are still so much higher on him than that. Tillery is a top-10 player on our draft board, and I've gone on record saying I wouldn't criticize the Bucs if they drafted him at No. 5 overall. I can't for the life of me see the on-field reasons why DeForest Buckner was a top-10 lock back in 2016 and Tillery isn't considered the same. Tillery had a higher pass-rushing grade (92.5 vs. 84.7) while Tillery tested out better in every single drill at the combine except for broad jump, where the difference was an inch (9-7 vs. 9-8). Someone's going to get a steal in Tillery.