I'm sure you've probably heard about the freakishly athletic defensive lineman from Michigan by now. You know, the one who's been one of the most dominant edge defenders in all of college football over the past couple seasons. In PFF's opinion, he's more than worthy of a first-round selection. That's right, I'm talking about Chase Winovich.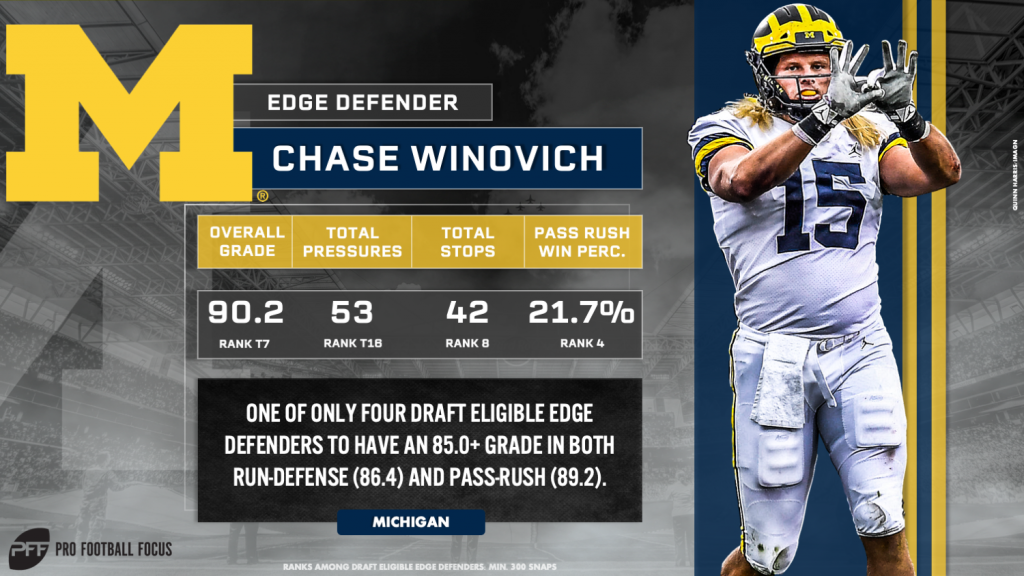 All Winovich did on the football field at Michigan was disrupt opposing offenses week after week. He earned a 92.3 overall grade over the last two seasons. Below is the full list of the Power 5 players who have earned a grade as good or better their last two seasons since we started grading:
Nick Bosa
Myles Garrett (tie)
Joey Bosa
That's it. Winovich has produced at the highest level in college football in a Big-10 conference that features some damn good offensive lines. Over the past two seasons, Winovich has the fourth-most pressures (109) and the third-most run stops (69) among all defensive linemen in college football (he'd rank second in both those categories among Power 5 defensive linemen). If you like production, Winovich is as good as it gets on the edge after Nick Bosa in this draft class.
Winovich's play style is going to see every cliche in the book thrown his way, but he's far more than just a high motor. At the combine in Indy, Winovich put up a 4.59 40-yard dash, 6.94 3-cone and 4.11 short shuttle at 256 pounds. All of those are elite figures and he ranked top-five among all defensive linemen in each drill. Here's the full list of players besides Winovich who have run 4.65 or better in the 40 with a sub 7.0 3-cone at 250+ pounds at the combine this century:
Brian Urlacher (2000)
DeMarcus Ware (2005)
Mark Anderson (2006)
Cliff Avril (2008)
Connor Barwin (2009)
Jason Worilds (2010)
Jerry Hughes (2010)
Justin Houston (2011)
Jordan Willis (2017)
Harold Landry (2018)
Leighton Vander Esch (2018)
That's some pretty darn good company. Every player that's gotten through their rookie contract on that list has been a resounding success. Jordan Willis has been the least productive of the bunch but is only heading into his third season in the NFL.
With production and athletic comps putting Winovich in elite company, it's worth asking what are the knocks keeping the Michigan defender from getting more hype? It could be that some simply didn't realize how absurdly athletic Winovich really is. His nfl.com draft profile listed his NFL comparison as Markus Golden, a man who is on the complete opposite end of the spectrum athletically after running a 4.90 40-yard dash and a 7.39 three-cone at the NFL combine in 2015. The profile even says he could be limited by his physical traits and explosiveness despite having the third-best 10-yard split of any defensive lineman at the combine (1.57). The bottom line is Winovich, a defensive lineman with already refined hand usage, incredible on-field production, and elite athleticism. When evaluating the Michigan draft-eligible defensive linemen, this is the one worthy of a first-round pick.